7 Vapor Clean Steamers | An Overview of Each Model
If you are searching for an effective and powerful cleaning machine that you can use to clean, sanitize, sterilize or disinfect surfaces, vapor steam cleaners are the best. Vapor steam cleaners are a step up from your ordinary household canister steam cleaner. The steam produced by a vapor steam cleaner contains 5% moisture content or lower. This means less water pouring out of your steam cleaner and hotter, drier steam instead.
This guide is an overview of 7 models of Vapor Clean steamers. These residential and commercial steam cleaners have extraordinary features, making them among the best vapor steam cleaners on the market. Before we come to the products, let me first explain how dry vapor steamers are different from steam cleaners.
Vapor Steamer vs Steam Cleaner: What is the Difference?
You may be tempted to consider Vapor as another word for steam. But when it comes to steam cleaners, a vapor steam cleaner is superior to regular steam cleaners. I'll explain this further below.
What are Dry Steam Vapor Cleaners?
Dry vapor cleaners have a boiler pressurized to produce scorching steam. They don't just heat to a boiling point; they heat well above, creating steam at the machine's tip that is still hotter than boiling.
The steam produced by dry vapor cleaners contains less than 5% water. It is much drier than standard steam cleaning machines. Vapor steam cleaners also operate at higher steam pressures.
As a result, these machines clean surfaces faster and with drier results. Like steam cleaners, these ones also come with different attachments to enhance versatility. You can use them to clean floors, car interiors, furniture, bathrooms, mattresses, and other home uses such as chemical-free pest control.
If you have used a steam mop or handheld steam cleaner and have been disappointed with the results, a vapor steam cleaner is probably what you've been looking for.
Another significant benefit of using vapor cleaners is that they do not damage or discolor the surface. When you use steam cleaners for a long time, the excess moisture may get into the joints between the boards, which may cause the wood to discolor or expand. The build-up of moisture may encourage mold and mildew development. They are perfect for laminate and hardwood floors since they provide a streak-free finish without damaging your floor.
In this article, we are looking at 7 different steam cleaners by Vapor Clean. Of the Vapor Clean steamers, there are 4 residential steam cleaners and 3 commercial steam cleaners. They are:
Vapor Clean Residential Steam Cleaners
Vapor Clean II Home Steam Cleaner
Vapor Clean Alfa Steam Cleaner
Vapor Clean Pro 5 Steam Cleaner (Residential and Light Commercial)
Vapor Clean Pro7 Home Plus Steam Cleaner
Vapor Clean Commercial Steam Cleaners
Vapor Clean Desiderio Plus Vacuum and Steamer
Vapor Clean Pro 6 Solo Steam Cleaner
Vapor Clean Pro 6 Duo Steam Cleaner
Vapor Clean II Home Steam Cleaner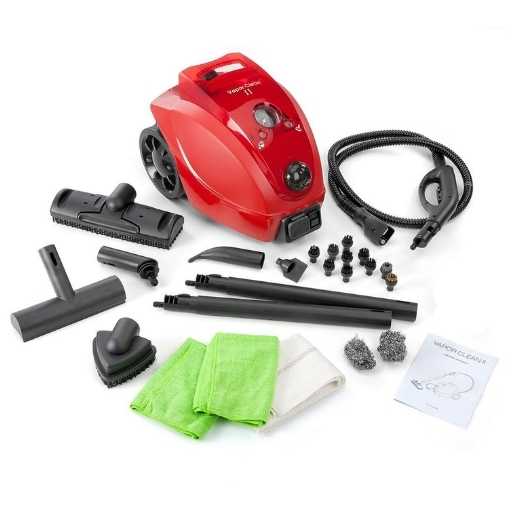 The Vapor Clean II is the base model from Vapor Clean, designed for heavy-duty residential cleaning. It is priced affordably, in fact cheaper than the Dupray One steam cleaner. It offers steam controls on the handle and a lifetime warranty on the boiler tank. It produces dry vapor steam at up to 65PSI with less than 5% water content. The boiler tank heats to a hot 298°F – much hotter than other standard residential steam cleaners. Weighing only 17 pounds when full of water, it is easy enough to carry upstairs with the integrated carry handle.
Made in Italy with top-quality materials, the Vapor Clean II has excellent features to make cleaning easier. These include caster wheels, rugged and bendable steam hoses that allow you to pull the steam cleaner along behind you, convenient cord wrap, and a carrying handle.
The unit has an easy-to-adjust steam knob, allowing you to choose 3 settings for low, medium, and high steam vapor. The high steam vapor is the best for very dirty surfaces, while the low setting is ideal for simple cleaning tasks.
This steam cleaner is equipped with a low water light, audible buzzer, and thermo sensor to stop the boiler from heating when there is not enough water in it. A visible pressure regulator displays the pressure of the boiler tank. A child lock prevents children from accidentally using the machine. The safety cap on the boiler prevents it from being opened when there is too much pressure inside.
The Vapor II Steam Cleaner is suitable for cleaning bathrooms, sinks, countertops, appliances, pet accessories, and children's items such as toys, windows, screens, mattresses, hardwoods, car interiors, furniture, among others.
Pros
Dry vapor steam with less than 5% moisture
Affordably priced
Includes 15 accessories
Free shipping via Sylvane
Lifetime warranty on the heating element and boiler tank
Tap water-friendly, with annual descaling
Made in Italy, reputable brand in steam cleaners
Cons
Plastic housing could be more durable
Short 13-foot power cord
Microfiber bonnets not included (only cloths)
No onboard storage for accessories
Vapor Clean Alfa Steam Cleaner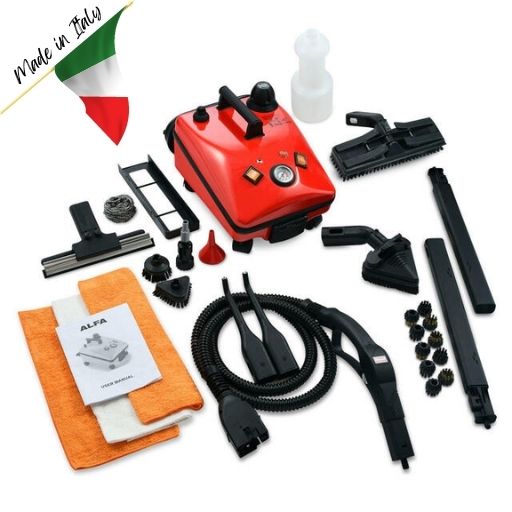 The main differences between the Alfa steam cleaner and Vapor Clean II are the boiler tank temperature and accessories. Heating to a slightly hotter 302 degrees Fahrenheit, the Alfa steam cleaner also operates up to 65 PSI.
The outer housing is stainless steel rather than plastic for those looking for more durability or who are harder on their home appliances.
You won't find any controls on the handle of the Vapor Clean Alfa; they are all on the machine itself, including a variable steam pressure knob and pressure gauge.
27 accessories are included with the Alfa. 10 accessories are detail brushes to get into every nook and cranny of your home. You can rest assured that the Vapor Clean Alfa will be helping you keep your home sparkling clean for years to come. With a lifetime warranty on the heating element and boiler system, a Vapor Clean steam cleaner may be an investment, but a worthwhile one at that.
Pros
Stainless steel housing
27 accessories
Lifetime warranty on the boiler tank and heating element
Reasonably priced
302⁰F boiler temperature
Vapor steam with less than 5% moisture
Made in Italy
Cons
No steam controls on the handle
No lockable steam trigger – can fatigue hands pressing on and off
Microfiber bonnets not included (only cloths)
No onboard storage for accessories
Lack of troubleshooting guide in the user manual
Vapor Clean Pro 5 Solo Steam Cleaner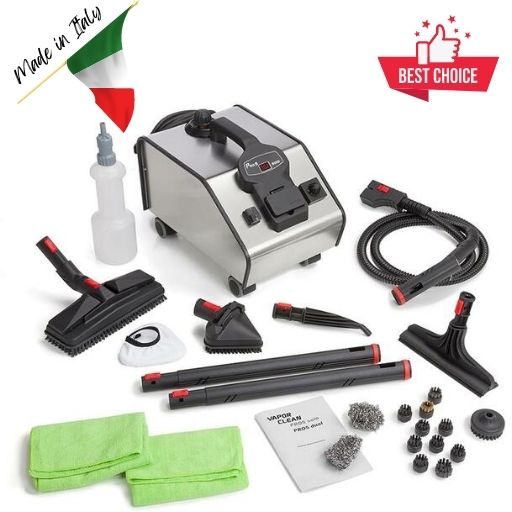 This is one of the most popular dry vapor steam cleaners models for home use due to its affordability, high heat steam generation, and massive 87 PSI steam output.
The Vapor Clean Pro 5 Solo has a rugged stainless steel exterior, copper tubing on the interior, brass fittings, heavy-duty caster wheels, double-coated circuitry on the inside, adjustable steam settings, and an abundance of accessories.
This steam cleaner is so popular that it is currently out of stock until approximately July 2022. Priced under $1000, this is definitely a steam cleaner for residential and light commercial use.
The downside with this steam cleaner is that it cannot be refilled continuously while in use. The steamer will run for approximately 1 hour. After that time, you will need to let it cool for around 5 minutes, fill it with water, then reheat, which takes approximately 10 minutes.
Pros
High heat boiler – up to 327 degrees Fahrenheit
87PSI operating pressure
Tap water-friendly (with annual descaling)
Made in Italy
Excellent range of accessories
Commercial quality fittings
Made in Italy
Cons
No onboard storage for accessories

No continuous refill
No child lock
Vapor Clean Pro 7 Home Plus Steamer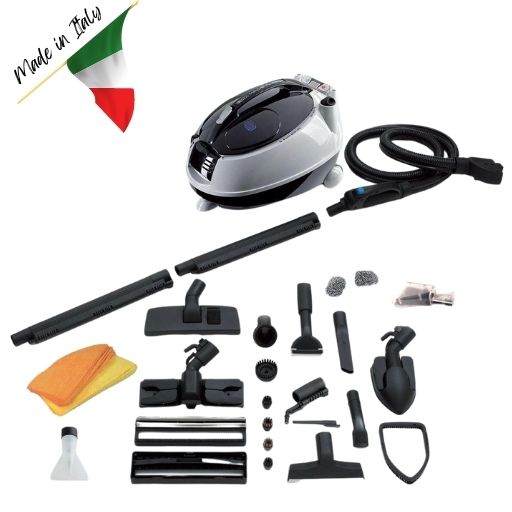 Vapor Clean Pro 7 Home Plus is a multipurpose cleaning tool that will give you unmatched results when cleaning. It uses scorching steam up to 312⁰F to sanitize and clean various parts of your home.
This machine combines the benefit of 3 machines in one:
A dry vacuum cleaner
A wet vacuum cleaner and
A steam cleaner
You can vacuum, steam, and improve the air quality of your home with the Pro 7 steam cleaner. As an added bonus, the machine can be refilled with water while in use, so you don't need any downtime for the steam cleaner to cool down, depressurize, and heat up again.
The steam pressure is adjustable, heating up to 312 degrees Fahrenheit in the boiler. The vacuum suction is also adjustable. You can use this machine to scent the air as you clean by adding a few drops of your favorite essential oil to the recovery tank.
The detergent feature allows you to add detergent as you clean (if desired) for deep cleaning.
You can use the Pro 7 on hard flooring and carpet. The steam cleaner rolls nicely behind you on the castors for easy maneuverability. It looks like a space-age vacuum and, despite its plastic appearance, is crafted from ABS plastic for durability.
This steam cleaner is a top choice for allergy sufferers. With a myriad of accessories, you'll be able to clean every area of your home with ease using this one eco-friendly machine. The filtration system captures dust mites and micro pollens, blasting them with steam as they are sucked into the water tank before pushing them down into the wastewater. This means the air output by the steamer is cleaner than before you started.
Pros
5 functions in one machine
Excellent choice for allergy sufferers
20+ attachments for a whole house clean
Continuous fill while in use
Lifetime warranty on boiler tank
Made in Italy
Cons
Price – at over $1000, this machine is not affordable for everyone. However, if you look at the cost of a quality vacuum cleaner and separate steam cleaner, I believe the price is justifiable.
Vapor Clean Desiderio Plus Commercial Steam Cleaner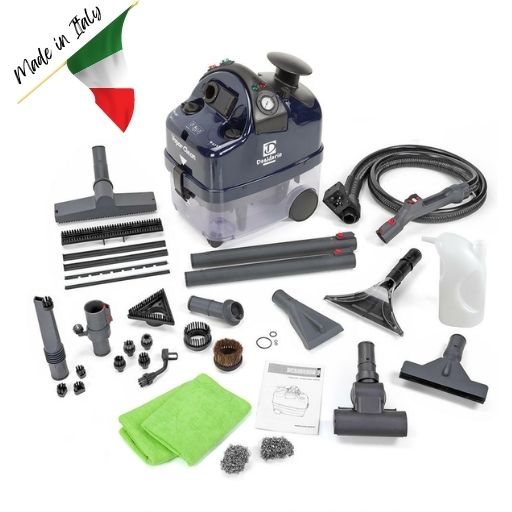 You can upgrade from the Vapor Clean Pro 7 to the Desiderio Plus Commercial steam vacuum cleaner for a couple hundred dollars more. If this is within your budget, it is a worthwhile upgrade. For those looking at other brands, this is comparable to the Dupray Carmen Inox – at a much more affordable price.
Offering the same wet/dry vacuum function, plus water and detergent injection option, you can use each function individually or combine all at once to steam clean and extract dirt and water.
The Desiderio steam cleaner is another popular choice for allergy sufferers with two-stage air filtration. The Desiderio offers chemical-free cleaning, HEPA filtered air quality, and scorching steam output between 240-290 degrees Fahrenheit at the tip.
To create steam this hot, the boiler heats up to 318 degrees Fahrenheit – over 100 degrees hotter than standard steam cleaners.
There is no downtime during use with the continuous fill boiler. 19 accessories provide a whole house clean. Some of the safety features you would expect from a top of the line steam cleaner are available on this machine, such as:
Pressure Safety Cap
Low Water Indicator
Automatic Overheat Protection
Sadly, it is missing a child safety lock, which is a con with this machine, especially as the steam controls are on the device's handle.
One of the best benefits of using this machine is that it allows a continuous refill when cleaning to ensure that you don't run out of water. The water in the boiler is pressurized at 75 PSI to create 318⁰ super-hot steam. An audible alert notifies you to add more water to the reservoir.
The unit comes with a bag-less filtration system which traps up to 99.9% of dirt and dust in the water collection tank. An extra filter also cleans the water as it exits the collection tank. The machine has an adjustable suction for cleaning delicate items such as draperies, upholstery, rugs, etc.
Pros
Steam Cleaner and Vacuum combined
Detergent and water injection feature
Continuous Fill, no downtime
Excellent choice for allergy sufferers
Lifetime warranty on boiler tank
Tap water friendly
Made in Italy
Cons
No child safety lock

No onboard storage for accessories
Need to turn off the machine when refilling if in steam mode
Instructions for use are lackluster, but YouTube videos help
Vapor Clean Pro 6 Solo Powerful Steam Cleaner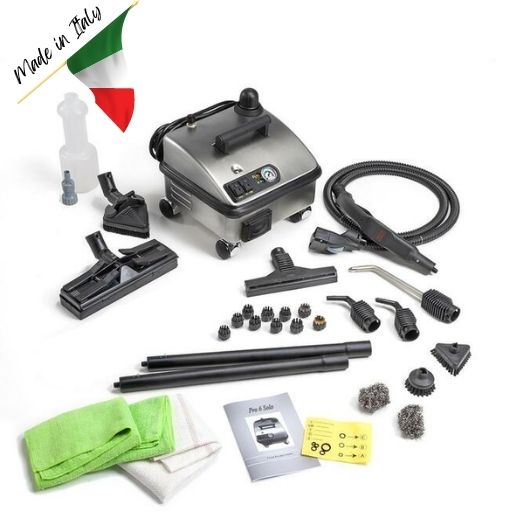 The Vapor Clean Pro 6 Solo steam cleaner is suitable for residential and commercial cleaning tasks. It is straightforward and highly effective, with up to 90 minutes of cleaning time and 24 accessories included as standard.
The Pro 6 Solo is a popular choice for auto detailing, commercial and residential cleaning with steam controls on the handle, a steam pressure up to 75 PSI, and variable steam pressure. The steam tip temperatures reach 240-294⁰F to blast away dirt, grease, and grime.
Lightweight and compact, the Pro 6 Solo weighs 14.5 lbs and measures 11.5 x 12 x 12 inches. It rolls around on stainless steel castors, and the sturdy carry handle on top makes it easy to pop in the boot of your car or carry upstairs.
The large boiler holds 2 quarts of water, heating up in just 12 minutes. If you need to refill the machine, it takes 3 minutes to cool down and depressurize. If you prefer a continuous use machine, take a look at the Pro 6 Duo, which offers dual tanks, so there is no waiting for the unit to cool before refilling with water.
A digital gauge at the top allows you to read the pressure and steam temperature easily. You can also use it to monitor different settings. Besides that, it comes with an adjustable steam knob to choose your preferred stem level.
The excellent safety features include the over-pressure safety valve and an auto diagnosis. This function checks if all the parts are working correctly when the machine is turned on.
Pros
Large boiler for long steam time
Excellent 75 PSI for strong steam
24 accessories
Steam controls on the handle
Insulated brass boiler housing
Commercial grade accessories
Priced under $1000
Made in Italy
Cons
No child safety lock

Maintenance – You need to decalcify every 3 months depending

on the hardness of your water
Vapor Clean Pro 6 Duo Steam Cleaner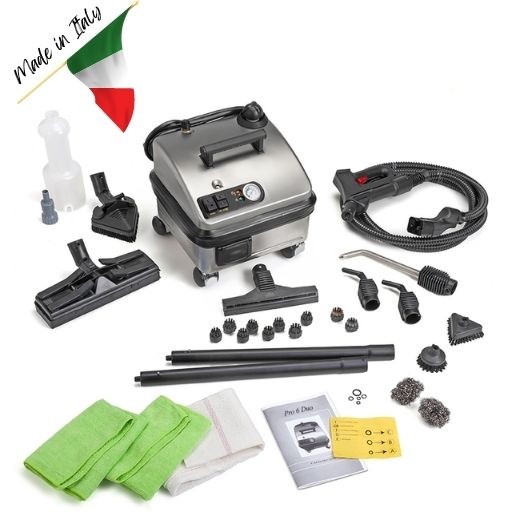 The Pro 6 Duo doesn't heat quite as hot as the Pro 5 but instead offers the ability to be refilled during use. There is no downtime waiting for the machine to cool down and heat up again after filling with water.
The steam temperature at the nozzle tip has been measured, ranging between 240 and 280 degrees Fahrenheit. To achieve this, the boiler heats to 311F.
While not as hot as other models from Vapor Clean, this is still far superior to McCulloch, Steamfast, entry-level Dupray cleaners, and even some of the Vapamore models.
A long 9.75-foot steam hose will reach higher and further than other steam cleaners. 31 accessories will clean everything, from greasy grills to powering through soap scum in the shower. This steam cleaner packs a punch in a compact size, only 11.5 x 12 x 12 inches, with a sturdy carry handle on top for easy transportation.
The steam output is 87PSI, like the Pro 5 cleaner. Unlike the Pro 5, however, the Pro 6 Duo has a child safety lock for the ultimate care when children are around. You also get the low water indicator, pressure safety cap, low voltage handle, and safety thermostat.
Pros
Powerful 87PSI
Long steam hose, perfect for auto detailing, wall and ceiling cleaning, and reaching into tight places when above-floor cleaning.
Refill while in use; no downtime
A commercially rated machine that will last for years
Tap water-friendly
Made in Italy
Cons
Priced – at just over $1000, it is not affordable for everyone

Boiler temp not as hot as other Vapor Clean steamers

3 monthly descaling required with tap water use
Are Vapor Clean Steamers a Worthwhile Buy?
Dry vapor steam cleaners are among the best cleaning appliances for chemical-free cleaning. Unlike ordinary steam cleaners, these provide steam with 5% less moisture, resulting from hotter boiler temperature and commercial grade features such as brass fittings, boilers, and accessories.
The Vapor Clean brand is undoubtedly one of the best dry vapor steam cleaners makers in 2022. They have been around for decades, showing reliability within the industry. All Vapor Clean steamers are made in Italy. Read our individual Vapor Clean steam cleaner reviews for more specific product information, videos and tutorials, or check out our other commercial steam cleaner reviews for more options.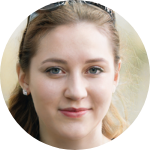 About the Author
Hi I'm Lauren. Passionate organizer, t-shirt folder and owner of a commercial garment steamer, steam cleaner and handheld steamer. I'll discuss all things steaming, so if you need help with buying or using a clothing steamer or steam cleaner, I'm here for you. Please join me on Facebook and don't hesitate to reach out if you have any questions. Happy Steaming!