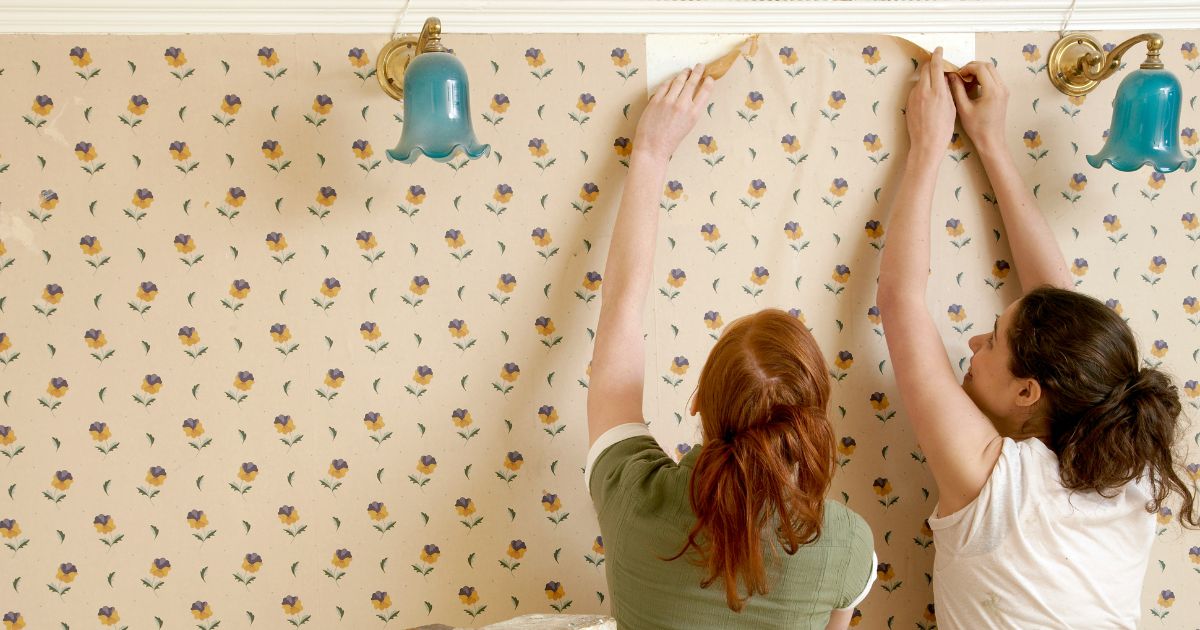 Steamers offer a faster way to remove wallpaper adhesive without the need for toxic chemicals. Often, you don't even need to score wallpaper before steaming it, wallpaper steamers are that good. If you have some old wallpaper in your home you'd like to remove, we will guide you through the process, as well as recommending the best wallpaper steamers to get the job done fast.
What are the Benefits of Wallpaper Steamers?
Versatility: Some steam cleaners come with a wallpaper attachment as standard. You can remove wallpaper efficiently; you can then use the steam cleaner on the rest of your home. They come with various attachments for cleaning floors, carpets, windows, upholstery, car interior, bathrooms, appliances, and sinks.  
Faster performance: Unlike other wallpaper removal tools, steam cleaners are more powerful, allowing them to remove even the toughest adhesives such as superglue within seconds.  
Price: In terms of price, wallpaper steamers are available at different prices to suit your budget. The most expensive ones are very versatile and come with many attachments for cleaning other parts of your home, such as floors, carpets, windows, furniture, and more. However, dedicated wallpaper steamers are inexpensive and easy to use. 
Eco-friendly: Since steamers do not require harsh chemicals, they are very friendly to the environment. They are safe for homes with kids, pets, or people who suffer allergic reactions due to cleaning chemicals.  
What are the Best Wallpaper Steamers?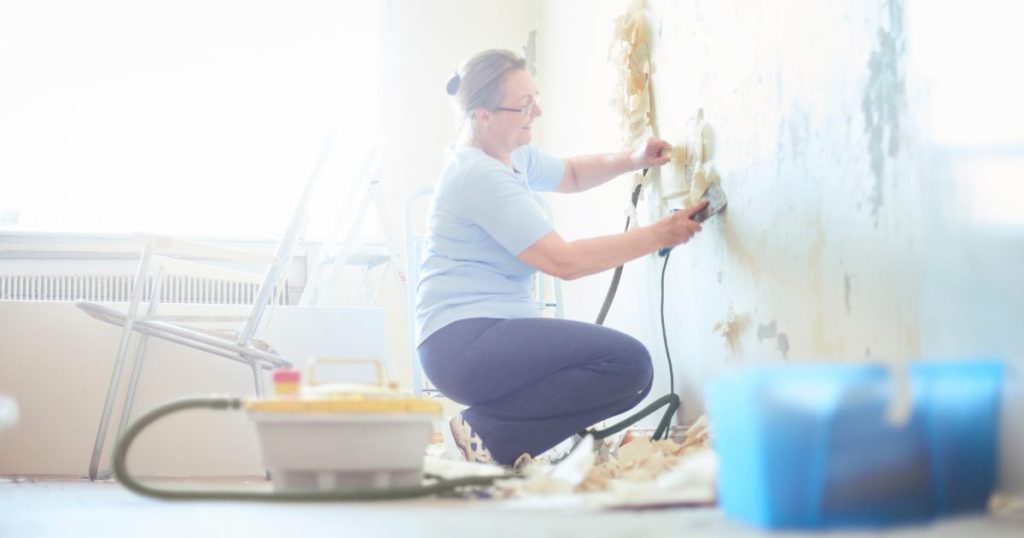 Here are 5 wallpaper steamers for sale which are worth considering.
Wagner Spraytech 725 Wallpaper Steamer
The Wagner Spraytech 725 wallpaper steamer gives you a natural and easy way to remove old wallpaper from your wall. You don't need to add chemicals that make the unit suitable for homes with kids and pets. 
In terms of design, it is among the most lightweight and portable steamers on the market. It is equipped with a 12 ft steam hose for easier maneuverability, giving you a working radius of 24 ft.  
It comes with 2 steam plates with different measurements. 
The larger steam plate measures 8 x11 inches, and it is suitable for removing wallpapers in large areas. 
The smaller steam plate measures 3 x 6 inches, perfect for smaller areas.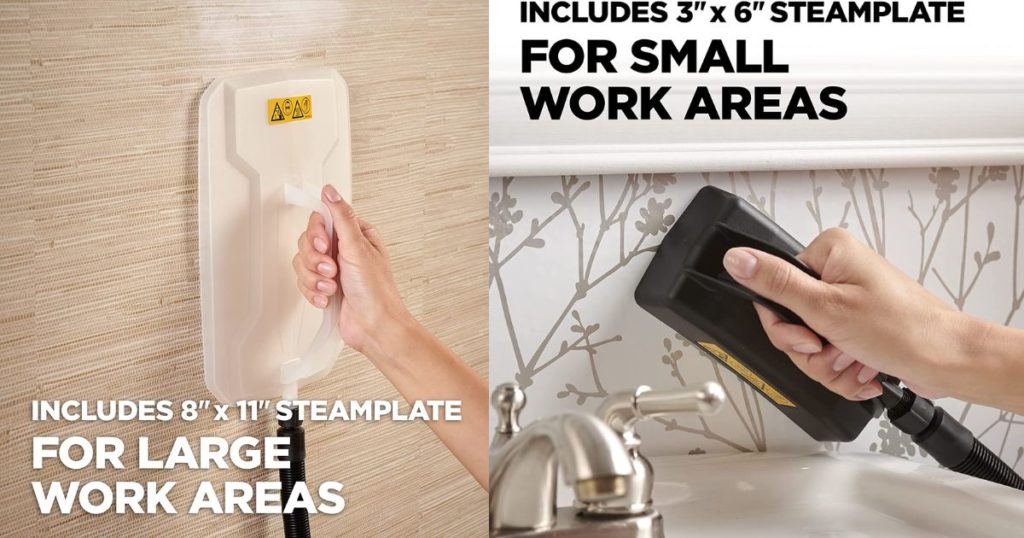 These steam plates provide equal distribution of steam, and they are very efficient in speeding up the process. The steam produced helps in softening the wallpaper adhesives for easier removal. This steamer provides continuous performance for 2 hours when the water tank is full. 
It is the most affordable option for wallpaper removal. 
Pros
Affordable price 
Advanced discharge valve design for faster filling  
Lightweight and portable design 
2 different sized steam plates included  
1 hour + of continuous wallpaper steaming
Cons
Not versatile like other steamers – just for wallpaper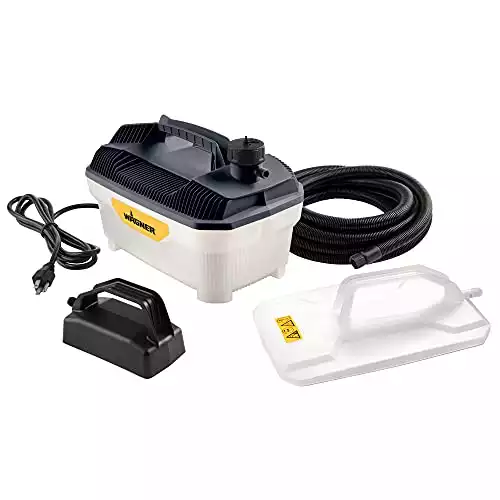 Wagner Spraytech 725 Wallpaper Steamer
Two steam plates for larger and smaller areas
12ft long hose to reach the top of the wall
Runs for up to 2 hours
Easy to hold handles
Easy to use
We earn a commission if you make a purchase, at no additional cost to you.
03/19/2023 03:22 am GMT
Wagner Spraytech 915e Steam Cleaner
Compared to other models, this one is undoubtedly the best wallpaper steamer on the market. Unlike other models, this one comes with a wallpaper steam plate which allows you to remove old or outdated wallpaper easily. You will also love the simplified design that makes it easy to use for everyone. 
You need to pour up to 40 oz of distilled water into the water tank and connect the appliance to a power outlet. It takes about 9 minutes for the steam to reach up to 212⁰F.  
After this, you can use it continuously for 40 minutes. When ready, the orange indicator will turn off. 
It comes with 18 attachments for loosening and dissolving dirt, grime, or grease on floors, kitchen appliances, carpet, toilets, sinks, bathrooms, upholstery, countertops, and more. The 8 feet steam hose allows you to navigate the top of walls to remove wallpaper. 
Pros
Multipurpose steam cleaner  
Inbuilt storage 
User-friendly design 
8 feet steam hose 
18 accessories included 
Features a large wallpaper removal tool 
Replacement accessories and parts available
Cons
Only 1 size wallpaper attachment
Kelde Multipurpose Steam Cleaner
One of the things you will enjoy when using the KELDE Multipurpose steamer is the quick heating performance. Unlike others, this one takes 60 seconds only to heat up ready to steam. 
You will find 10 accessories in the box for cleaning appliances, furniture, floors, glass, tiles, grout, countertops, as well as a wallpaper steamer attachment.
It heats up to 212⁰F for effective wallpaper removal. With an 8-foot hose and a 6-foot power cord, you can clean a radius of 14 feet using the machine.  
This steamer allows you to clean continuously for 20-40 minutes when the tank is full. 
It is equipped with different safety features to ensure that this wallpaper steamer is always working as expected. These include automatic shut-off, low energy mode, and low water indicator. 
There is also a trigger lock that protects your family from potential accidents. When removing wallpaper, you can easily control the amount of steam coming from the steam plate using the steam adjustment knob. 
Pros
Heats within 60 seconds 
Safety features 
Long power cord and steam hose 
Adjustable steam between 20-40 grams per minute
12 months warranty 
UL-certified 
Cons
Less accessories than the Wagner steam cleaner
Generic brand, no replacement accessories available on Amazon, however, you can source directly from Kelde by emailing kyd_ec_global@163.com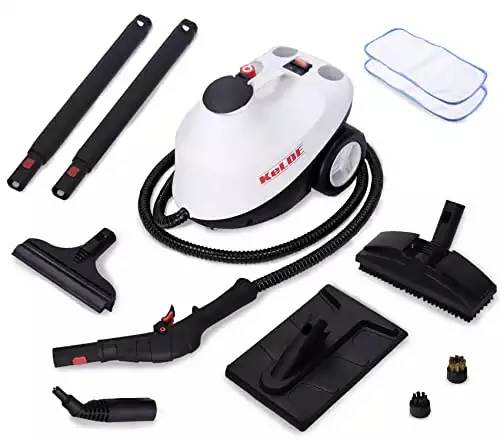 KeLDE Multi-Purpose Steam Cleaner With Wallpaper Attachment
Fast heat up time
Includes wallpaper steamer attachment, plus other cleaning tools
8ft steam hose
12 month warranty
We earn a commission if you make a purchase, at no additional cost to you.
03/19/2023 03:27 am GMT
Goplus Steamer for Wallpaper Removal
This inexpensive wallpaper steamer has a 10ft hose and runs for up to 3 hours. The hose isn't as long as the Wagner 725 wallpaper remover, but if you are on a budget the Goplus wallpaper steamer will cost you slightly less.
It only comes with 1 size steam head, which is 8 inches x 11 inches. As it heats the entire boiler tank of water, it will take around 25 minutes to warm up and start producing steam.
Pros
Budget priced
Good for large areas
Long running time of up to 3 hours
Cons
Generic brand
Shorter steam hose than the Wagner
Only one steam plate
Goplus Wallpaper Steamer
Takes 25 minutes to heat up
Steams for up to 3 hours
10ft steam hose
One 8 inch x 11 inch steam plate
We earn a commission if you make a purchase, at no additional cost to you.
03/19/2023 03:43 am GMT
Black and Decker 2400W Wallpaper Steamer 
If you are in the USA, you will likely come across the Black and Decker Wallpaper Steamer. This is a UK model and will come with a UK plug. You will need to purchase an adapter for it to work in American power outlets. 
If you are in the UK, the Black and Decker wallpaper steamer is worth considering. 
Unlike others, this one has a larger tank since it can accommodate up to 4 liters of water. As a result, you can use it continuously for about 60 minutes. In addition, it comes with large steam plate covers, which allows you to complete the job quickly. It also comes with different safety features like the boil-dry safety cut-out and safety release valves that protect it from overheating.
The best wallpaper steamers for UK buyers include the Excel Wallpaper Stripper Professional 2000W and the Earlex SS77 Steam Wallpaper Stripper.
The Denny International 2200W 5 Liter Wallpaper Steam Stripper is the cheapest wallpaper steamer I could find. 
Pros
Removes wallpaper in seconds
Large wallpaper steam plate
Best for UK buyers

Quality brand

Lightweight and portable
Safety features
Cons
Despite being advertised in the US, it is not intended for US and Canadian buyers – has a UK power plug
BLACK+DECKER Wallpaper Steamer (UK Buyers)
Quality brand
Lightweight and portable
4 litre water tank
3.65m hose (12ft)
Not for USA/Canada - has a UK plug
We earn a commission if you make a purchase, at no additional cost to you.
What to Consider When Buying a Wallpaper Steamer
When choosing the best wallpaper steamer, you should consider the following; 
Size of the water tank: The size of the water tank will determine how long you can use the steamer continuously without refilling. Therefore, you should look for a unit with a large water tank of at least 2 liters or 67 ounces.  
Versatility: In most cases, wallpaper removal is a one-time activity. When searching for a quality steamer, you should consider a model that can do other cleaning tasks, such as carpets, furniture, floor, appliances, countertops, etc. A multipurpose machine offers the best value long term. 
Construction: Before buying, you need to check the quality of the materials used to construct the steam cleaner. Ensure that all the parts are durable and sturdy enough to withstand impact or demanding conditions.  
Steam plate: The steam plates that come with wallpaper steamers are different in sizes. Look for a steam plate that best suits the size of your task. I discuss this more in my post on using a clothing steamer to remove wallpaper.
Safety features: Just like other electrical appliances, wallpaper steamers should have safety features like overheat protection, trigger lock, and low water warning.  
Reach: If you have tall ceilings or a large expanse of wallpaper, a steamer with a longer hose will help you reach right to the top without lifting the machine off the floor.
Price: Individual wallpaper steamers cost less than $100, but they only remove wallpaper. Consider how much you will use the steamer, and if spending slightly more on a steam cleaner with a wallpaper attachment (like the Wagner 915) might be a better option for you.
The Best Wallpaper Removal Tools
Even if you have a steam cleaner for removing wallpaper, you will still need some tools to help score and scrape off the wallpaper. Here are our recommended items:
How to Remove Wallpaper Using a Steamer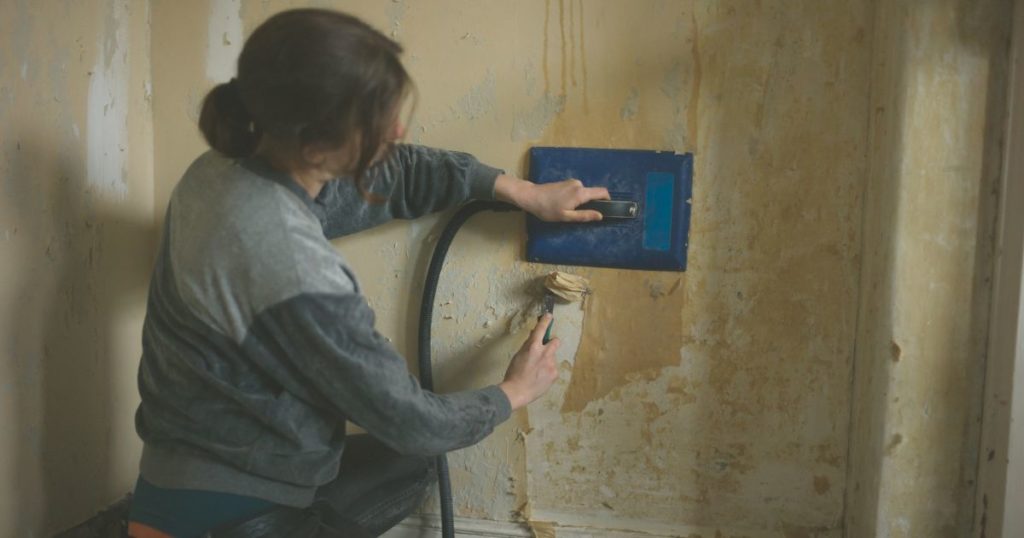 If you want to get the best results when removing wallpaper, first you need to understand what you are removing. Some newer wallpapers can easily be peeled off, whereas older wallpapers may have been on the wall for decades, possibly in multiple layers. The wall underneath your wallpaper may be painted, or it may be plaster based.
If you have a plaster based wall, use a steamer with caution – too much heat and steam can cause bubbling in the skim coat of the plaster, from any air trapped behind the plaster when it was installed. You'll likely need to make repairs to your plaster if this happens.
Prepare the Room
Before you start the process, you need to prepare the room by removing all the items such as furniture or fixtures that might prevent you from working effectively. After this, lay down something on the floor to catch the wallpaper as it falls. A disposable plastic drop cloth makes for easy clean up. I really like Dura-Gold as it is pre-taped on one side, so you can stick it flush against the baseboard of the wall.
Prepare Your Steamer
Whether using a steam cleaner with a wallpaper attachment or a designated wallpaper steamer, you'll need to ensure it is full of distilled water, have attached the wallpaper steaming plate and it is heated and ready to use.
Steam the Wallpaper
Starting from one side of the wall or against a seam, hold the heated wallpaper steam plate against the wall.
How long you will need to hold the steam plate against the wall will depend on the type of wallpaper, how many layers, whether it has been painted over and the type of wall underneath.
Try holding the steam plate against the wall for up to 10 seconds and see what effect this has on your wallpaper. Test and measure to ensure you don't damage the wall underneath. Wagner suggest holding the steam plate for up to 1-2 minutes, in my experience, I have not needed anywhere this long for the steamer to work effectively.
If you find the wallpaper isn't being easily removed with steam alone, try using a wallpaper scoring tool. This cuts small holes in the wallpaper to allow the steam to penetrate it better. Be mindful on drywall, if you press too hard, it can cause little gauges in the wall, which you will then need to fill.
Also, consider that the scorer cuts the wallpaper, so it will come off in smaller pieces.
Scrape off the Loose Wallpaper
Starting from an edge or seam of the wallpaper, pull off the wallpaper in sections. For decades old wallpaper, or multiple layers, you may need to use a scraper to scrape off the area you have just steamed. Work in small batches to ensure the wallpaper doesn't cool down too much, causing the adhesive to stick back onto the wall.
If you find some of the glue of the wallpaper has stayed stuck to the wall, steam over it again and use a scraper to remove the residue. You can see this in this video below (as well as the Wagner wallpaper steamer in action):
How Does A Wallpaper Steamer Work?
Wallpaper steamers help weaken the adhesive between the wall and the wallpaper for easier removal. Therefore, you should place the flat plate of the wallpaper steamer against the wall for 10-20 seconds and allow the steam to melt the glue, before peeling back the wallpaper.
How Do I Remove Wallpaper Using a Steamer?
After the wallpaper steamer has heated, hold it flat against the wallpaper for 10-20 seconds. The heat of the steam will help to melt the glue which attaches the wallpaper to the wall. You can then peel back the wallpaper, or use a scraper to remove.
How Hot Does a Wallpaper Steamer Get?
Wallpaper steamers heat water to 212 degrees Fahrenheit to produce hot steam. Some wallpaper steamers heat in excess of 300 degrees Fahrenheit.
Can a Wallpaper Steamer Damage Plaster?
Wallpaper steamers can cause damage to the skim coat of plaster if they are left against the wall for too long. Test your wallpaper steamer in an inconspicuous area, hold for a few seconds and see how well the wallpaper removes. Gradually increase the time held against the wall as needed. You will see bubbling of the skim coat of plaster if it becomes damaged from too much heat or steam.
Does a Wallpaper Steamer Really Work?
A steamer for wallpaper is the most efficient way of removing wallpaper from drywall, plaster or painted surfaces, especially wallpaper that has been adhered for decades. You can use a wallpaper steamer on both walls and the ceiling. When using above your head, be very careful of any drips of hot water.
Can You Put Vinegar in a Wallpaper Steamer?
Most wallpaper steamers don't require anything other than distilled water, however you can add vinegar if desired. Use 1/3 vinegar to 2/3 water. The benefit of vinegar it is can help to descale any mineral buildup in your steamer, as well as help to remove wallpaper.
Can You Put Fabric Softener in a Wallpaper Steamer?
Fabric softener should not be added to any type of steamer, including wallpaper steamers. Fabric softener and water can help to remove glue residue after wallpaper has been removed. Mix it together in a spray bottle, spray on the wall, then scrape the residue off.
Do You Put Hot or Cold Water in a Wallpaper Steamer?
You can warm your water before pouring into the tank of your wallpaper steamer to reduce the time it takes to heat up. Alternatively, use room temperature water and allow a couple of extra minutes for heating. Subsequent fills won't require as much heating time as the boiler tank is already hot.
Will a Wallpaper Steamer Remove Paint from Plaster?
Paint can be scraped off plaster after it has been loosened with steam. You can use a wallpaper steamer for this. Be careful not to overheat the plaster, it can cause bubbling from air pockets trapped behind the plaster.
Should I Buy or Rent a Wallpaper Steamer?
Wallpaper steamers are cost effective to buy, however, if you don't have an ongoing use for one, renting may be a better option for you. I've collated a list of places you can rent a wallpaper steamer in the US. UK, Canada and Australia will be coming soon!
Wrapping Up
A steamer is an excellent choice for wallpaper removal. The hot steam helps weaken the adhesives or paste used to attach the wallpaper to the wall. A scraper can help to remove any glue residue that remains on the wall.
As a result, you can use wallpaper steamers on any type of wallpaper, even the toughest. Wagner is by far the most popular steamer for wallpaper in the US, Canada and Australia. In the UK, the Black and Decker wallpaper steamer is incredibly popular, and a worthwhile buy.