8 Bissell Steam Mops – What is the Difference?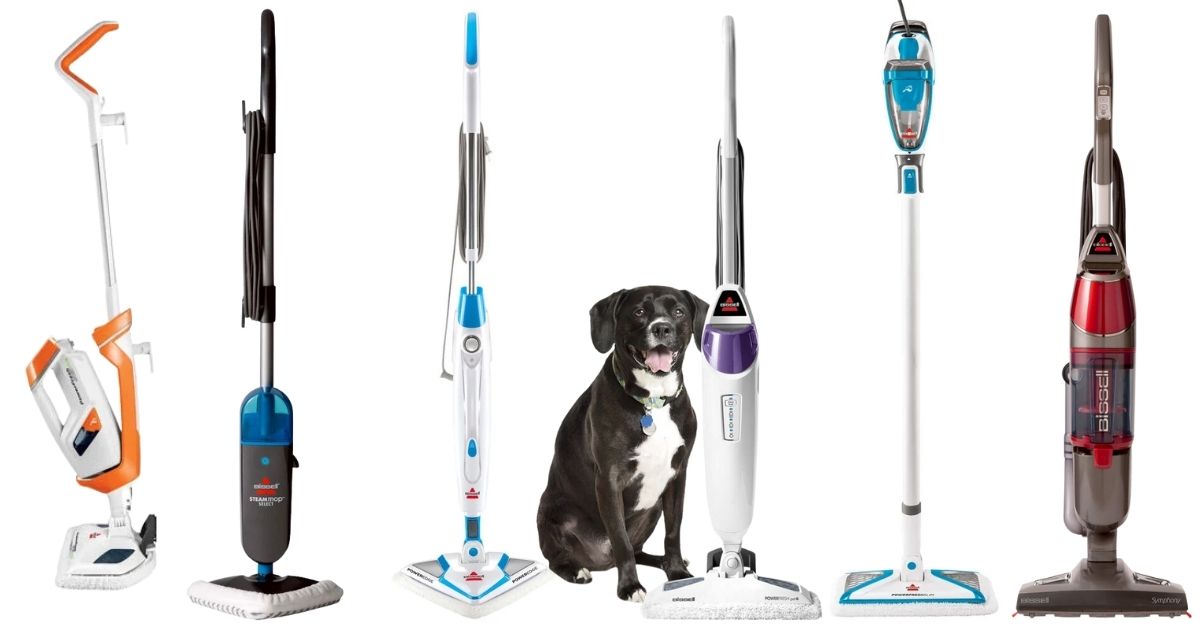 Bissell is a leading name in floor cleaners, but trying to decipher the differences between all the models can be a hard task! In this post, I've compared the 8 Bissell steam mops. These are all the steam mops on offer from Bissell as at January 2022, so you have the latest information and can make an informed choice.
For other brands of steam mops, check out our floor steamers page, or use the search bar to search for a brand.
Bissell Steam Mop Select
This is the base model of steam mop from Bissell with the traditional triangle head which is 11.7 inches wide. Offering 1500 watts of power, 18ft power cord and weighing only 6.84lbs without water, the steam mop select is a lightweight and fuss free basic steam mop.
It comes with two pads, a soft microfiber pad and a microfiber pad with coarser scrubbing. This steam mop is inexpensive, versatile and a great entry level device for those looking for a steam mop and nothing more.
Bissell PowerEdge Lift Off 2 in 1 Steam Mop
This 2-in-1 appliance offers steam cleaning capabilities for your floors and counters and a detachable handheld steamer to make cleaning even more challenging areas a breeze. The triangle mop head is 11.7 inches wide and easy to maneuver into tight corners and along edges. Backed by 1500 watts of power your floors will be clean in no time.
There are two included tools with this steam mop, a grout tool and round bristle brush. They attach to the removable handheld cleaner, offering above floor cleaning with no fuss.
 Bissell PowerFresh Steam Mop
The PowerFresh Steam mop saw Bissell convert from the triangle steam head to a 12 inch rectangle shaped steam head. This model also introduced the scent discs, variable steam levels and a flip down scrubbing pad for stuck on floor stains.
The water tank got an upgrade from the two previous models on this list, holding 16 ounces of water, and the power cord length also increased to 23 feet. The power of the machine remains the same at 1500 watts. This is the first model that included a carpet glider tool and also comes with a soft microfiber pad as well as a scrubbing pad, both machine washable.
Bissell PowerFresh Deluxe
The Bissell PowerFresh Deluxe Steam Mop is another upgrade from the original PowerFresh model. You can now detach the steam mop head and use a built in scrubber – a great option for stuck on stains or grout cleaning.
There is now a scent disc tray to place the fragrance discs. The power cord is slightly longer at 25 feet, and the water tank slightly larger at 19 ounces. Bissell have kept the steam mop lightweight, weighing only 6.2 pounds without water.
There is no longer the flip down scrubbing tool on this machine, but it isn't needed as you can detach the steam head and use the scrubber. Also, the carpet tool no longer comes as standard, but can easily be purchased separately if needed ($9.99 at Bissell).
Furthermore, this Bissell steam cleaner also features variable steam control to adjust the amount of steam emitted based on the floor surface being cleaned. The mop head pivots 90 degrees to reach under furniture and into tight spaces, so floors are clean and sanitized in less time.
Bissell PowerFresh Pet Steam Mop
The PowerFresh pet steam mop is identical to the original PowerFresh steam mop. You'll notice the cover of the water container is purple, where the original is blue. There is a slight extension to the model number – 1940 for the original PowerFresh and 19404 for the PowerFresh Pet.
The price of the machines are both the same. With the pet model you receive 2 x odor eliminating scent discs. In comparison, the original PowerFresh model includes Spring Breeze fragrance discs. These are the only differences between the two steam mops.
Bissell PowerFresh Pet Lift-Off Steam Mop
The Bissell PowerFresh Pet model is a two in one steam mop and handheld steam cleaner design. Bissell bring back the flip down floor scrubber with this model, due to included handheld cleaner design.
This model has the same steam head design as the original PowerFresh model. There is no designated place to put the scented discs in the steam head, but place them in between the steamer head and mop pad for scented steam.
Like other Bissell steam mops, this machine has 1500 watts of power. There are two steam settings on this pet model – high and low. The power cord is 25 feet, and the mop head is slightly wider than the other Bissell models at 13 inches wide. It still fits the standard Bissell Carpet Glider tool, sold separately for $9.99 at Bissell.
The water capacity is reduced due to the handheld steam cleaner design, holding 13.5 ounces of water. It is also slightly heavier, weighing 10.6 pounds. There are 13 tools that help you clean every area of your home, including windows, grout, pet bedding, upholstery and more.
Bissell PowerFresh Slim
This Slim 3-in-1 Steam Mop & Handheld Cleaner from Bissell is another versatile cleaning tool that can tackle messes in multiple home areas. This model functions as a steam mop, handheld steamer, and an extended reach steamer, with the attachments fitting on the lower end of the pole, as well onto the handheld steamer.
You can clean walls, ceiling fans and other hard to reach areas using the extension wand. The slim design weighs just over 6 pounds, so it won't be tiresome on your arms when cleaning hard to reach places.
Included are 7 accessories for cleaning grout, flat surfaces, steaming clothing, upholstery and pet bedding, all of which are stored on the handheld steamer in a little tool box underneath. What is missing from the PowerFresh Slim is a window squeegee, however, you can buy this separately from Bissell for $13.99 – which attaches to the fabric tool.
Included is a wall bracket to neatly store your steam mop away after use.
Bissell Symphony Steam Mop and Vacuum
This powerful, all-in-one appliance lets you clean and sanitize your floors quickly and easily without switching machines. Available in two models, the original is gray and burgundy in color and a pet model which is gray and purple.
You can use the Symphony three ways – vacuum and steam mop combined, vacuum function alone, or steam on its own. There are also two settings for steam – high and low. The Pet Model allows you to empty the vacuum cannister without touching the dust and debris.
The pet model is the most cost effective buy over the original model, as it includes three bottles of scented demineralized water, scented discs and disposable Swiffer pads for dirty messes that you'd rather throw away than wash. Pricing varies around $20 between the two models (direct from Bissell), making the pet model much better value with all the included cleaning products.
The Bissell Symphony is a hard flooring cleaning tool. Although it can be used as a vacuum alone, it is not recommended for carpets. Some models include a carpet glider for steaming carpets.
Which Bissell Steam Mop is the Best?
Each Bissell steam mop has its own benefits. Here are my top choices from the Bissell Steam mops:
Best All Round House Cleaner – Bissell Pet Lift Off Steam Mop. As a steam mop and handheld cleaner with 13 attachments, you can clean your home top to bottom with this one machine.
Best Steam Mop for High Traffic Areas – Bissell PowerFresh Deluxe. The lift off floor scrubber is handy for heavy traffic areas or grout scrubbing, without having to use the small attachments. The floor pad is wider, water tank larger and power cord longer than previous models. If you have a combination of hard flooring types in your home the adjustable steam settings will come in handy.
Best Steam Mop for Tight Spaces – Bissell PowerFresh Slim. The only downside with this machine is it doesn't include a window squeegee. But for less than $15 you can add one on at the time of purchase. Otherwise, this is a great steam mop and handheld steamer for getting into tight spaces.
Conclusion
Bissell are a leading name in home cleaning and their steam mops are good entry level products. You can find them easily in major countries all over the world, they generally have 1-2 year warranties, offer spare parts and accessories to buy and are overall a trusted brand.
Bissell offer many solutions for home cleaning, such as vacuums, carpet cleaners, hard floor cleaners and more. They primarily target pet owners and those who like to have the convenience of a cleaning tool available at home whenever it is needed.
Other Recommended Articles About Bissell Steam Mops