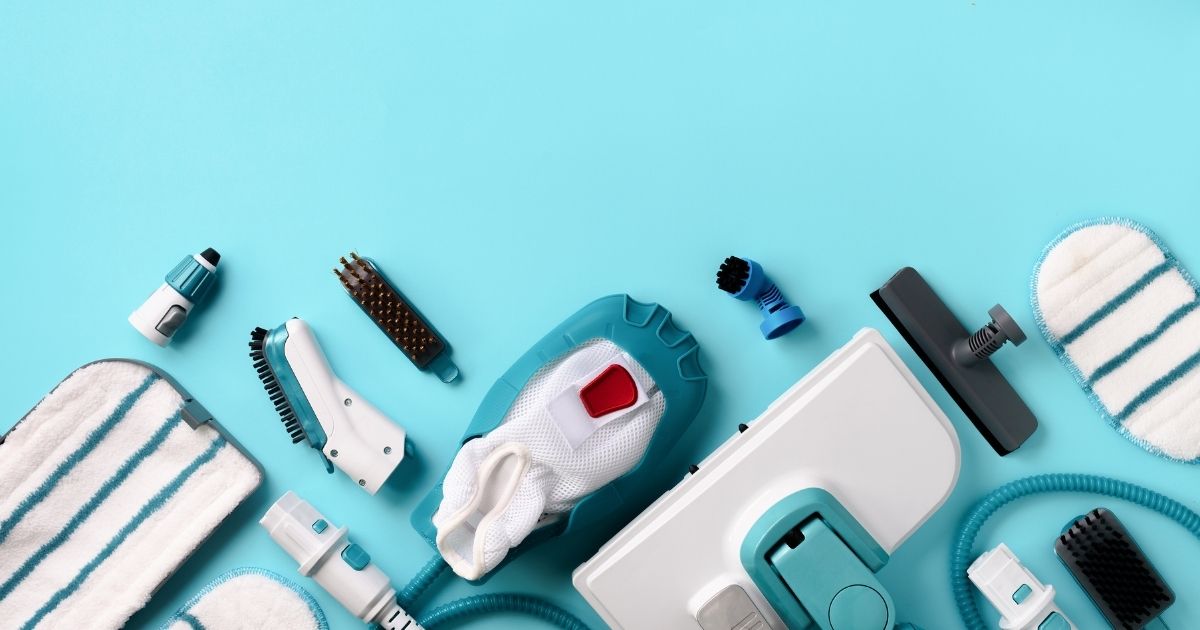 Floor steamers use hot steam and soft floor pads to sanitize and clean many different types of flooring. Steam mops and floor steamers are often used on tiles, marble, linoleum, sealed timber flooring, and laminate floors. 
Steam mops come in many shapes and sizes. There are canister steam cleaners that look like vacuum cleaners that roll around behind you. There are all in one stick style steam mops that are portable and compact to store. There are different head shapes and other features such as using on carpet, scrub floors, and more. 
There is lots of information on this page about flooring types, using a floor steamer and general advice about cleaning with steam. Use these links to navigate around our floor steamer articles or choose your flooring type below:
Browse By Brand
If you have a particular brand in mind, take a look at our individual brand reviews below.
Using Steam on Laminate Flooring
Steam mops sanitize flooring and other surfaces by eliminating approximately 99.9% germs, viruses, and other bacteria and allergens. Suppose you have a laminate floor approved for cleaning with steam. In that case, a steam mop can significantly assist with your household cleaning tasks.
When steaming delicate flooring such as laminate, it is advised to look for the following features in any prospective steam mop:
Variable steam output so you can use a lighter amount of steam to avoid damage to the floor.
Soft steam mop pads that protect your floor against scratching. 
We always recommend considering the water tank size on the steamer vs. the size of your home and the length of the power cord as well.
Before steaming laminate or timber flooring, it is good practice to vacuum it first. This helps to remove tiny dust and dirt particles that could scratch your flooring during the steaming process. 
It is crucial to be aware that a floor steamer can only be used on flooring with no cracks and is adequately sealed. Damage could occur to your flooring if the steam penetrated underneath timber, tiles, or laminate. 
Steam mops can be used on laminate, hardwood, and other sensitive floorings, but you must do so with care. Buckled laminate or rotting timber are two fundamental problems if moisture from steam becomes trapped in or under flooring. 
Steam should also not be used on waxed surfaces. As you can imagine, wax is heat sensitive, and hot moisture can cause the wax to melt away, resulting in discoloration and damage to your surface.
What Water Do I Use in My Floor Steamer?
Distilled water or demineralized water is the best choice for steam mops and floor steamers, both for the machine's longevity and for the most flawless finish on your floor. 
You can buy scented demineralized or distilled water for steam mops if you like to have a fragrance in your home after cleaning. Do not add any essential oils or perfumes to the floor steamer, as this may cause damage to the heating element and decrease the lifespan of your machine. 
How Steam Mops Clean
Steam mops and floor steamers are relatively simple machines. They heat water that then produces steam. This is diffused through a steam mop pad in between the steaming device and the flooring surface. 
The advantage of cleaning with steam mops is that hot steam eliminates 99.9% of bacteria and germs on the floorings. Steam is natural, uses no chemicals, and is an excellent choice for cleaning your home if you have children and/or pets. 
Some floor steamers have edge bristles to help get rid of the dirt from the edges and corners. In contrast, others have triangular-shaped heads to get into corners and around furniture or rectangle-shaped heads for larger surface cleaning.
Pads for your steam mop are available in different varieties, enhanced for various floorings and quantities of dirt. When they get dirty, they are quickly replaced with another pad, washed, and reused again.
Some mops feature scrubbing systems that scrub the flooring with cleaning pads up to 800-1000 times per minute, significantly boosting the cleaning power.
Remember that hot steam and bristle-type scrubbing should only be used on tough surfaces. These steamers are best used on ceramic tiles, slate or stone floors, polished concrete, and other durable surfaces. Using hot steam with a scrubbing system can damage hardwood, timber, laminate, and carpeted floors. 
Rough cleaning pads can make scratches on sensitive surface areas of wooden floors and laminate, too. Likewise, suppose the steam mop floor pad picks up a tiny stone, pebble, or even sand. In that case, the gritty substance can trigger scratches on sensitive surfaces. To avoid such damage and speed up the cleaning, vacuuming before cleaning up with a steam mop is advised.
Using a Steam Mop on Carpet
A lot of steam mops are not ideal for cleaning carpets unless you have a carpet glider attachment. Without this, the steam mop pad will grip onto the carpet, and it will be challenging to push the mop back and forth. 
Please note not all carpets can be steamed. Please check with your carpet manufacturer if the type of carpet you have can withstand hot steam. Discoloration of carpet and damage to carpet fibers can occur otherwise. 
Choosing the Size of Steam Mop
The steam mop head width identifies the area that the machine can cover in a single pass. The wider the cleaning head, the bigger the surface area that can be cleaned and, therefore, the more efficient your cleaning will be. 
Therefore, a wider steam mop head needs more steam output, a more robust water heater, and a larger power cable. The rectangle cleaning head can be challenging to clean around furniture legs, stairs, and toilets. This is where a triangle-shaped head comes in handy. 
The Importance of Distilled Water Over Tap Water
The use of tap water in your steamer can lead to limescale build-up, reduced life of your steamer, and leave streaky marks on your floor. 
Demineralized or distilled water should be used in your floor steamer. It can be purchased from Amazon or Walmart for a few dollars. 
It is worthwhile using the proper water in your floor steamer for the longevity of the machine.
If you like scented steam, specialty infused discs designed for steamers can also be purchased. As can scented demineralized water. You place the disc between the steam mop and the floor pad. This is an excellent choice for a fresh fragrance that won't damage your steamer. 
Steam Mop and Vacuum Combos
A unique kind of steam mop is a steam vacuum and mop mix. Such devices operate like little steam vacuums; they vacuum the area initially and then clean and sanitize it utilizing hot steam in a single pass. 
In this manner, mopping your floor is much quicker, considering that the machine does two tasks simultaneously. 
Steam mop and vacuum combos cost slightly more than regular steam mops. However, keep in mind that a heavily dirty floor should be initially vacuumed and then cleaned with a steam mop. Otherwise, cleaning pads must be changed frequently.
Many vacuum and mop combos offer cordless varieties, although these are limited to spray mops rather than steam mops.
Steam Mops Recommendations
Steam cleaning is a process that uses high-pressure steam to sanitize, deodorize and clean in one step. Using steam for cleaning is an effective way to kill bacteria and viruses with little leftover residue. 
The health benefits of using this method are significant as it kills bacteria while improving indoor air quality by removing pollutants. Compared to using other methods like bleach or hot soapy water, steam is natural and effective, avoiding respiratory problems with chemical use. 
Steam cleaners provide a hassle-free and straightforward cleaning method. With heat and water, you can now efficiently sanitize every corner of your home.