Is a Steam Mop Safe for Laminate Floors? A Guide to Using Steam Mops on Laminate Flooring
Laminate flooring looks impressive in many homes and is now a top choice for easy-to-install DIY flooring. It is an excellent choice for families with children, pets, and high-traffic areas around your home. 
Laminate can be challenging to maintain, and traditional cleaning methods can leave streaks and residue, making many turn to steam to clean the floor. But are steam mops safe for laminate floors? Not entirely. Let's explore this topic and find out what the experts say.
Can You Steam Clean Laminate Flooring? What the Manufacturers Have to Say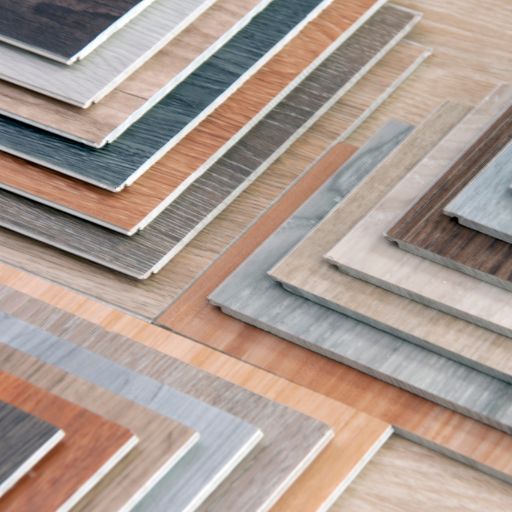 Most laminate floor manufacturers will warn against steam-cleaning laminate floors. Made from either a compressed particle board or high-density fiberboard, the top layer of laminate is a high-resolution photograph of wood.
Much of the advice online states this is because laminate flooring comprises prefinished slabs, and the seams between the slabs are not sealed. The joints can let steam reach the laminate core, which is highly susceptible to moisture. After all, it's not wood.
However, I spoke to my local flooring retailer, who advised that it is more about the polyurethane finish than steam getting into tiny gaps. The high heat of steam can melt and wear away the finish over time.
I looked to flooring manufacturers for advice:
Shaw Laminate Flooring is extremely specific in its user manual not to use steam cleaners or damp mops on its laminate. You should also not wash or wet mop the floor with soap, detergents, or other liquid cleaning products. 
They advise using a steam mop on their laminate could cause: "swelling, warping, delamination, and joint-line separation, and void the warranty and cause irreparable damage."
Given the many different flooring brands, I'd recommend you consult your manufacturer's guidelines to determine if a steam mop is safe for your laminate floor.
The brand might have particular suggestions based on the structure of the laminate. Many businesses have detailed product guides and guidelines on cleaning laminate floorings on their website.
What The Steam Mop Brands Say
Many steam mop manufacturers warn against using steam on unsealed floors but claim you can keep your laminate looking its best with steam.
This causes even greater confusion because, in reality, there is no such thing as a wholly sealed wood or laminate.
The steam mop manufacturers want you to buy their machines, so of course, they will say that steam mops are safe for laminate flooring.
But in reality, steam mops will almost certainly void any warranty on your laminate flooring. 
Can You Use a Steam Mop on Waterproof Laminate Floors?
Can You Use a Steam Mop on Waterproof Laminate Floors?
Some laminate flooring manufacturers offer water-resistant flooring. Armstrong Flooring was the only manufacturer stating that steam mopping was safe for their waterproof flooring. However, it is essential to note that this applies to their hybrid/rigid core flooring, not their traditional laminate floor products. 
Some of the collections in their hybrid and rigid core range are:
Audacity Rigid Core
Empower Reinforced Mineral Core
Natural Creations Luxury Rigid Core
Emvision Rigid Core
Armstrong Flooring manufacturer recommends:
Do not wet mop
Do not use steam mops
Do not use mops with oil-treated covers
Pergo Flooring also offers a product called Wet Protect. Here is the specific advice from Pergo: 
"The flooring must be maintained in accordance with Pergo care and maintenance instructions. Damage resulting from excessively wet maintenance or from using detergents, abrasive cleaners, soaps, waxes, or polishes is not covered by this limited warranty. Damage must not have occurred as a result of improper or inadequate maintenance or accidents, such as damage caused by scratching, impact or cutting. Damage resulting from the use of rotating beater bars, floor scrubbers, jet mops, steamers, buffers or similar products is not covered by this limited warranty."

Pergo Flooring
If You Understand the Risks, But Still Want to Use a Steam Mop on Laminate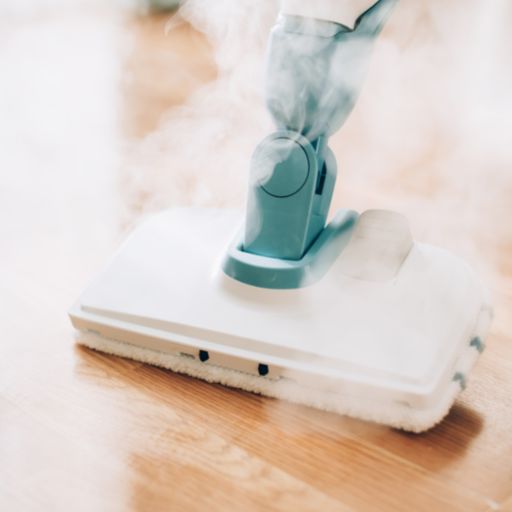 Laminate is made from layers consisting of fiberboard, a moisture barrier, a wood-like image, and a couple of other products like wood composite. The layers are topped with resin and sealed, which is called lamination. It looks like wood, similar to a hardwood floor; however, it can be more flexible, resilient, and economical.
If you know the risks but still want to use a steam mop on your laminate flooring, here is our advice:
Choose a steamer with multiple steam settings. Our list will help you choose the best steam mop to clean a laminate floor.
Switch to the lowest steam setting.
Mop in the direction of the grain.
Always keep the mop moving back and forth. 
Test your steam mop in an inconspicuous area first, such as in the corner of a room or underneath furniture. That way, it is not in a prominent position if any damage occurs immediately. 
If you have any leftover laminate pieces from the installation, test your steamer on one of these first.
Steam Mopping Engineered Hardwood Floors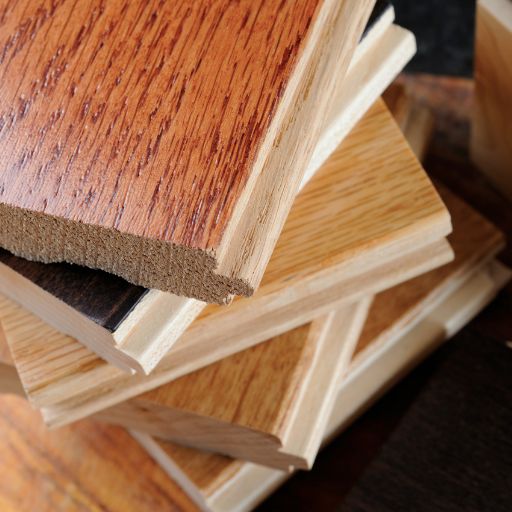 Though more resilient than laminate flooring, engineered floors are still manufactured flooring with a top layer of real hardwood. They are bonded using glue. Steam cleaning can affect the quality of those adhesives.
Moisture can leak between the layers, damaging the bond and the floors. It is best to avoid steam cleaning engineered hardwood.
How to Clean Your Laminate Floor Safely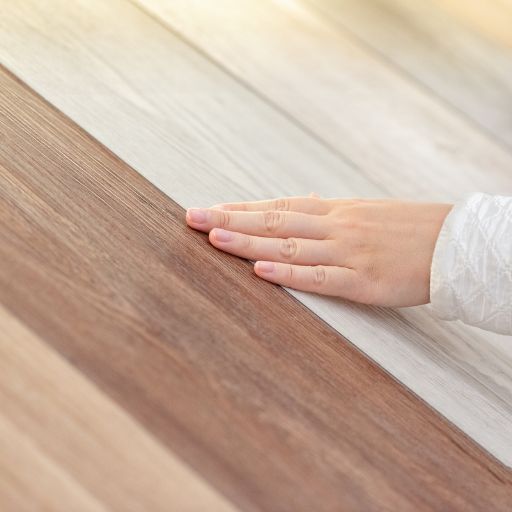 Using a Shark Steam Mop on Laminate
Some steam mops have variable heat and steam settings. We advise using a Shark steam mop with a low setting (such as the Shark S5003D Genius) to reduce the output of heat and steam that could potentially damage your wood floor.
As listed in the instruction manual, use distilled water only, and only use Shark microfiber pads for the best quality protection for your laminate.
Despite the temptation, do not use tap water.
Always clean along with the panels, not across them. Staying with the 'grain' will deliver excellent outcomes without risking the character of your flooring.
Other Frequently Asked Questions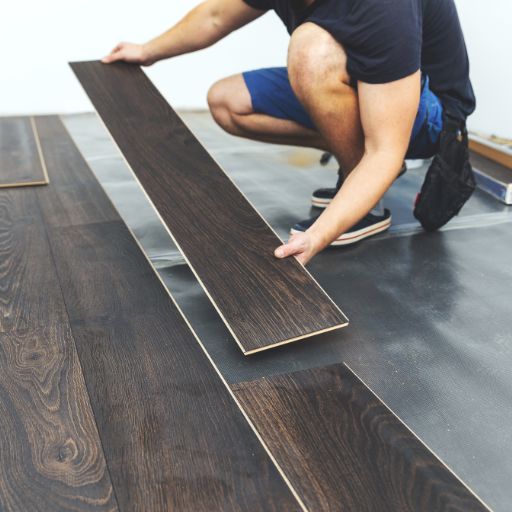 Is the Bissell Steam Mop Safe for Laminate Floors?
Many Bissell steam mops have variable steam settings, making them a popular choice for a laminate floor. Use the lowest steam setting, and do not hold the steam mop in one position. Test the steamer in an inconspicuous area on your floor first.
What is the Best Way to Clean Laminate Flooring?
Dry electrostatic mops are the very best choice to clean laminate flooring. This is a type of soft microfiber mop which attracts dust and is specially created for laminates. You can also vacuum without the beater setting or a soft broom.
What Floors Can You Not Use a Steam Mop On?
Steam mops should be avoided on laminate, luxury vinyl planks, sheeting, unglazed tiles, unsealed timber, and waxed floors. Any floor type that is not sealed or has a coating that may melt with steam should be avoided.
Many people choose a steam mop for laminate floors and have had success thus far. The risk is the long-term use of steam. Damage doesn't tend to occur immediately but rather over time.
So, if you want to use steam for laminate floor cleaning, understand there is a damage risk. Use your steam mop on the lowest setting, work quickly, and be careful. If you are concerned about damage, it is best to avoid steam entirely.