Can a Clothes Steamer Kill Bed Bugs?
If you are having a problem with bed bugs, you may be looking for a natural, cost effective way to kill them. Using your clothing steamer for bed bug home treatment can help.
Steam will kill bed bugs on contact, providing the steam is over 131 degrees Fahrenheit. Most garment steamers heat up to this level.
How to Use a Clothes Steamer to Kill Bed Bugs
Here are the steps you need to take to successfully use a clothes steamer to kill bed bugs in your linen and mattress.
Tumble Dry Your Bed Linen
Start by removing all the linen from your bed. Put it in the dryer on the highest heat setting possible, for at least 90 minutes. The heat from the dryer will kill any bed bugs that are in your linen.
You will then want to follow up with washing and re-drying of your linen.
Vacuum Your Mattress
Vacuum your mattress thoroughly. Using the largest amount of suction, vacuum the top sides and under any pillow tops and in any crevices of your mattress.
Once you have completed vacuuming your mattress, remove it from the bed frame if possible and vacuum the underside. Ideally, your mattress should be standing upright so you can access all surfaces of the mattress.
Using Steam to Kill Bed Bugs
Please keep in mind that steam will only kill the bed bugs that it comes into contact with. If you have bed bugs deep within your mattress, you may need to treat the mattress several times as the bed bugs come to the outer surface of the mattress.
With the steamer on the highest setting, run the wand, or head of the steamer over your mattress at approximately 1 inch per second. Work from the top of your mattress to the bottom, ensuring you cover every square inch of the mattress, including the underside.
If you have a pillow top mattress, or creases within your mattress, make sure the steam gets into every crevice. The steam needs to come into contact with the bed bugs, their eggs, or heat their environment up enough (above 131 degrees Fahrenheit) to kill them instantly.
Dry Your Mattress Thoroughly
Leave your mattress to dry and air out. A fan may assist with this.
Check the mattress over for any remaining bed bugs – as mentioned above, if bed bugs move deeper within a mattress, they may not die.
Make sure your mattress is fully dry before returning to your bed frame and remaking your bed. We recommend using an enclosed mattress protector to stop any further bed bugs getting into your mattress.
Can I Use a Hair Dryer to Get Rid of Bed Bugs?
The heat from a hair dryer is not as hot as steam and therefore isn't likely to kill the bed bugs on contact.
You can however, use a hairdryer to bring bed bugs to the surface and to move them easily out of cracks and crevices.
Use the hair dryer on the hottest heat setting, but lowest airflow setting. You don't want to be blowing the bed bugs across the room!
If you keep the heat on the bed bugs for around 30 seconds this should be hot enough to kill them. Once you have got the bed bugs out of crevices (for example the fold of a pillow top mattress) you can use the steam from your garment steamer to kill them.
How to Get Rid of Bed Bugs in Clothes
The first instinct is to wash your clothes, however, a washer can only do its job if the items to be washed are at an appropriate temperature. You will need to check the label to ensure your clothing can be washed in hot water, as some fabrics will shrink with heat.
You must also use the highest water setting your washer says it is capable of. After you have washed your clothing in hot water, dry them completely in the dryer.
Click here to read the full post on how to get rid of bed bugs in clothes.
Will Steam from a Clothes Steamer Kill Bed Bugs?
According to the Journal of Insects the lethal temperature for adult bed bugs is approximately 49 degrees Celsius (120 degrees Fahrenheit). The lethal temperature for bed bug eggs is higher at approximately 55 degrees Celsius (131 degrees Fahrenheit).
If you are going to use steam to kill bed bugs, make sure the steamer heats above 131 degrees Fahrenheit to kill the eggs as well as the live bed bugs. Most garment steamers will heat up above this level. Larger home steamers will also do the job.
Steam below these temperatures above will kill the bed bugs, but it takes a longer time. For example, adult bed bugs exposed to heat at 113 degrees Fahrenheit took over 90 minutes to die – with constant exposure to the heat.
To sum this up, the hotter the steam, the faster the bed bugs will die.
Which Steamer is Best for Bed Bugs?
If you have a serious bed bug problem, I would suggest a multipurpose steam cleaner rather than a garment steamer. You will get more steam output, a larger steam area, longer running time and more attachments to get into crevices.
This steam cleaner below by Dupray heats up to 275 degrees Fahrenheit (well above the temperature to kill bed bugs on contact) and runs for 50 minutes per fill. It also comes with a 2 year warranty, and in comparison to some of the other steam cleaners (think $500 and upwards), is a really affordable buy at less than $200. Click here to check the latest price.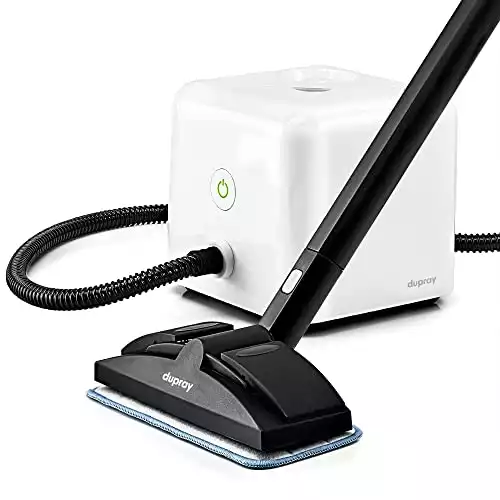 Dupray Neat Steam Cleaner
Compact yet powerful
Boiler heats to 275°F
Versatile attachments
Lifetime warranty on boiler
We earn a commission if you make a purchase, at no additional cost to you.
03/19/2023 03:17 am GMT
Is a Clothes Steamer Enough to Kill Bed Bugs?
Absolutely. If you are going to use your clothing steamer to kill bed bugs, make sure you can use your steamer in a horizontal and vertical position.
You will need to turn the steamer head sideways to do the sides of the mattress (if you leave it laying on the bed), and horizontally to do the top of the mattress.
A handheld steamer would be the most practical, given the size of a mattress. You would be able to move around the mattress more easily with a handheld steamer than with a full sized clothing steamer on a stand.
The downside with a handheld steamer is that they don't run for very long until you need to top the water up. It may take you longer to steam the bed bugs as you will need to stop and refill the water chamber, and wait around 1 minute for the steamer to heat up again.
Make sure you look for a clothing steamer that has a strong output of steam. Some clothing steamer manufacturers promote how many grams per minute of steam is produced. Look for the highest number.
A steamer that covers everything I have discussed above is the Rowenta DR8120 X-Cel 1600 Watt Professional Steamer. Check it out below:
For a full sized garment steamer at an affordable price, take a look at the Nahanco Steam Butler II, or any of the clothing steamers on the commercial steamers page.
What Mattress Cover is Best for Bed Bugs?
We recommend the use of fully encased mattress protectors to stop the spread of bed bugs such as the SafeRest Premium Zippered Mattress Encasement. 
Safe Rest offer certified bed bug proof mattress encasements, bed bug box spring encasements and bed bug pillow encasements. All SafeRest products carry a 10-year full replacement warranty and are registered with the FDA as a class one medical device.
Check out the video below to see how it works.
Safe Rest Box Spring Mattress Protector
Protects against bed bugs, dust mites, bacteria and is waterproof

54 inch x 75 inch x 5.5 inch

10 year replacement warranty

Machine washable

FDA approved class 1 medical device
Prices pulled from the Amazon Product Advertising API on:
Product prices and availability are accurate as of the date/time indicated and are subject to change. Any price and availability information displayed on [relevant Amazon Site(s), as applicable] at the time of purchase will apply to the purchase of this product.