6 Grout Steam Cleaners (+1 Surprise) for Easy Grout Cleaning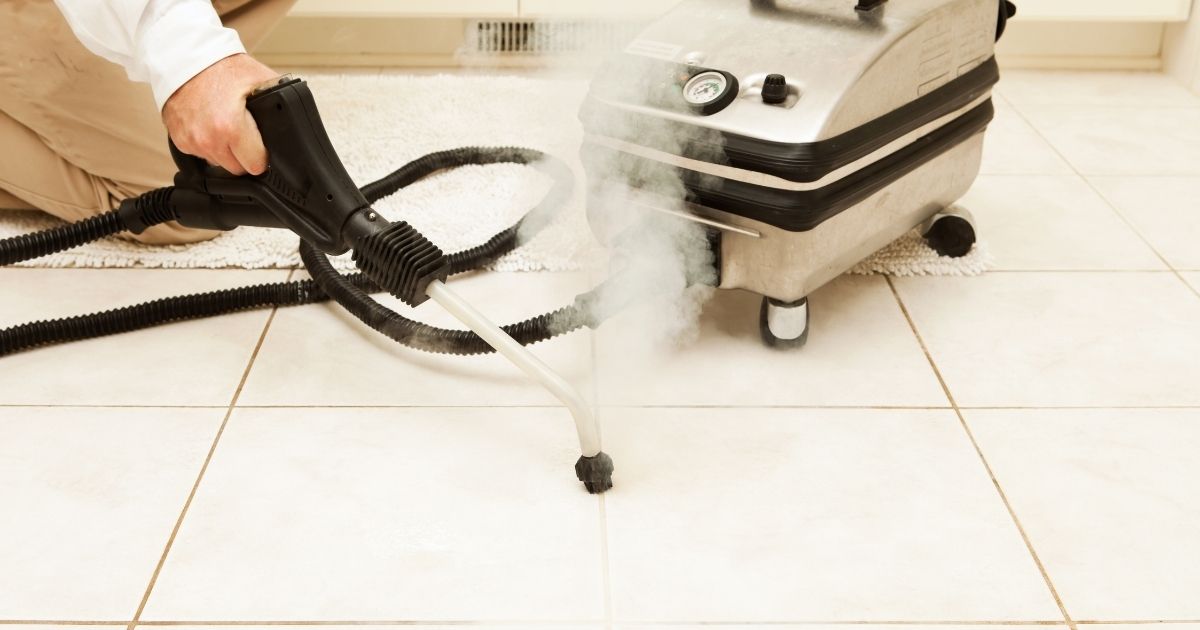 Dirty grout is something that can make even the most beautiful tile floors look ugly. Cleaning grout and tile can be tedious and time-consuming, and for many people, it is the least favorite part of their home upkeep.
But it doesn't have to be.
With these tips and tools, you'll learn how to steam clean tile and grout quickly and easily, along with the best grout steam cleaners to help. We've reviewed six top-rated steam cleaners and have a sneaky suggestion that will make easy work of large areas of grout and tile flooring.
Before long, you'll have the cleanest grout on the block.
What Are the Best Steam Cleaners for Grout?
03/19/2023 01:59 am GMT
McCulloch MC1385 Deluxe Canister Steam Cleaner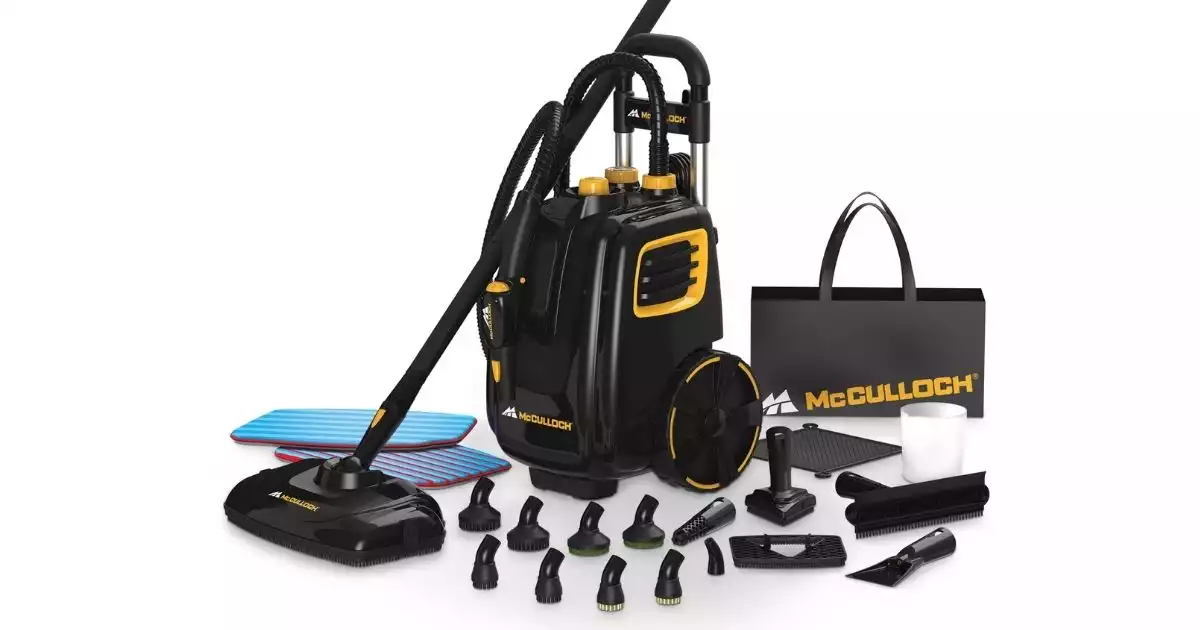 McCulloch MC1385 Steam Cleaner
Top of the line model from McCulloch
Great range of accessories for cleaning both indoors, outdoor items such as grills, boats and car interiors.
Variable steam settings
Runs for up to 2 hours, depending on steam setting
We earn a commission if you make a purchase, at no additional cost to you.
The McCulloch Deluxe Canister Steam Cleaner (model number MC1385 – full review here) is perfect for tile grout and steam cleaning other surfaces safely, quickly, and efficiently. This steam cleaner comes with various tools that make it easy to use on hard surfaces. You can control the amount of steam pressure you need based on what type of surface you're working on (for instance: high pressure for tile grout, low pressure for more delicate surfaces).
The McCulloch Steam Cleaner takes 12 minutes to heat up and provides 120 minutes of continuous steam. Just attach your cleaning tools to the steam cleaner, fill it with water, turn it on, and start cleaning. 
Pros:
It comes with a 23-piece accessories kit for various cleaning tasks, including brass bristle brushes for grout cleaning.
As a canister cleaner, you are only pushing the head of the steamer, or the handheld nozzle, making this more lightweight than other steamers. 
A 64-ounce removable water tank offers continuous steam for up to 120 minutes.
This floor steamer is ideal for cleaning grout, appliances, grills, autos, sealed surfaces, windows, and more.
The MC1385 Deluxe has a pressure of up to 58PSI, making it ideal for stubborn grout stains and dirt.
Cons:
You need to purge the cooled water in the steam hose when first using, or after taking a break from steaming.
Vapamore MR-75 Amico Steam Cleaner
Best Handheld Steam Cleaner for Grout
The Vapamore MR-75 Amico Steam Cleaner is one of the most popular grout steamers on the market. This steamer is easy to use and has 17 different tools or attachments for cleaning various surfaces. The heavy-duty 1000-watt heating element of the steam cleaner offers continuous steam for up to 75 minutes.
The Vapamore handheld Steam Cleaner offers chemical-free cleaning allowing you to clean grout with nothing but distilled water. The steamer is also lightweight and easy to hold, making it ideal for cleaning hard-to-reach areas.
Pros:
Lifetime warranty
Great for tile grout cleaning on walls as well as floors
17 accessories included 
It weighs 3.5 pounds (without water)
An included carry case to keep everything handy
Nylon, brass, and stainless steel brushes included – for a professional tile and grout clean
Cons: 
The cord is short (only 13 feet)
It only has one steam setting
Steamfast SF-370 Canister Cleaner 
Great Budget Canister Steam Cleaner
The Steamfast SF-370 Canister Cleaner is portable, easy to use, and has many valuable tools for cleaning up small messes. This unit runs on 1500 watts (heating water in as little as 8 minutes). The steam cleaner is lightweight at only 8.42 pounds, making it ideal for maneuvering into hard-to-reach areas like the grout between floor tiles.
The Steamfast Canister Cleaner comes with a Scrub Tool, Squeegee, and Corner Tool to make it easy to clean up messes quickly. The steam cleaner is also chemical-free and uses tap water to clean your floors or other surfaces without harsh chemicals, so you can keep your family safe while you clean.
Pros:
The large capacity tank provides up to 45 minutes of steam.
The product comes with 15 versatile accessories for cleaning a variety of surfaces.
It features an integrated cord wrap system for easy storage.
The On-demand steam control allows you to select your desired steam level up to 50 psi.
A 15-foot power cord is long enough to move around your home quickly.
Ideal for cleaning hard floor surfaces, including tile, stone, marble, and sealed hardwood floors.
Cons: 
Only 2 bristle brushes included
Wagner Spraytech Home Right Elite
Clean Floor Grout Without Bending Down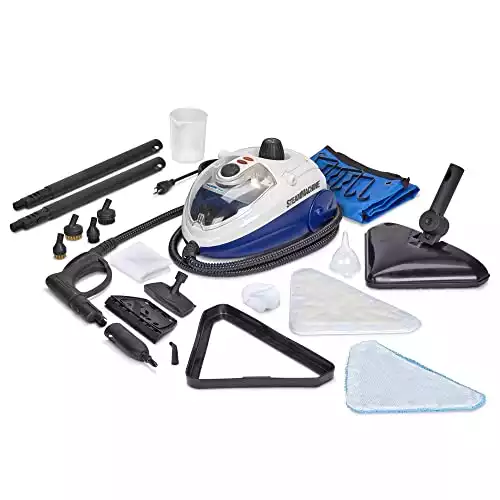 The Wagner Spraytech Home Right Elite is a multipurpose steamer that is easy to use and perfect as a grout steamer. I like this steam cleaner because you can attach the small bristle brushes to the end of the wand and steam clean the grout from a standing position. This is great if you don't like to get down on the floor. 
The Home Right Elite is a powerful floor steamer for tile cleaning. At 55 PSI, this machine will output steam at 290 degrees Fahrenheit. It is a heavy-duty steam cleaner offering excellent pressurized steam at an affordable price. 
Holding 40 ounces of water, this machine will run for up to 45 minutes allowing for some serious grout cleaning. As a boiler-style steamer, you need to allow time for the tank to heat up – allow 6-8 minutes for this. 
The Wagner Spraytech also has valuable tools and attachments for cleaning surfaces like the grout between floor tiles, windows, appliances, etc. The steamer features an integrated handle, making it easy to move around your home.
Pros: 
A grout steam cleaner you can use without having to bend down
20 accessories for whole-house cleaning, although only four are designed for grout
McCulloch accessories also fit this machine
55 PSI with pressurized steam up to 290 degrees Fahrenheit heats steam hotter than some other models on this list
Priced under $150, you get a lot of steaming time, power, and accessories overall for a reasonable price
Cons:
Only 2 brass bristle brushes are included (which are best for grout cleaning)
1-year warranty
BISSELL Powerfresh Slim Steam Mop, 2075A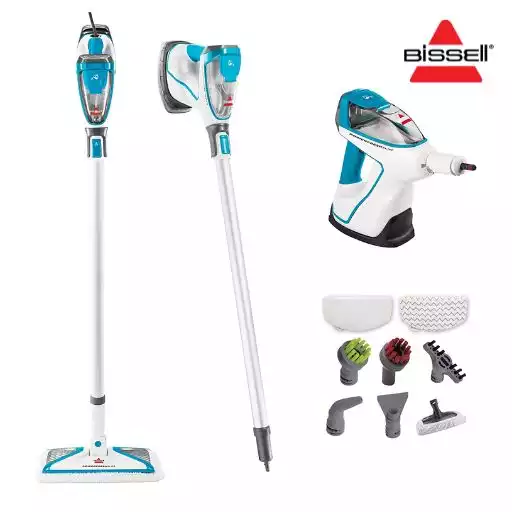 Bissell Powerfresh Slim Handheld Cleaner and Steam Mop
Steam mop that converts to a handheld steam cleaner
6 attachments and onboard storage
great for small area cleaning
We earn a commission if you make a purchase, at no additional cost to you.
The BISSELL Powerfresh Slim Steam Mop is a Powerful handheld steam cleaner and steam mop in one. This unit heats up quickly and features an easy-to-fill water tank and a removable and washable microfiber pad. The 2075A model also has an on-demand steam trigger, allowing you to choose your desired steam level to clean different surfaces.
The unit only weighs around six pounds, and the slim design makes it perfect for getting into tight spaces. It comes with an extra-long 25 ft power cord that provides enough reach to clean most areas of your home without having an extension cord.
The Bissell also features on my list of best shower steam cleaners.
Pros: 
The grout cleaning attachments can be used on the handheld steamer and attached to the extension pole, making it a versatile choice for cleaning floor tiles and grout on walls. 
Its onboard storage kit lets you easily store the attachments for quick access.
A two-year limited warranty backs the product.
Cons: 
Comparable in price to a canister steam cleaner
No brass bristle brush comes standard
Dupray One Plus Steam Cleaner
Best Continuous Use Grout Cleaner
Dupray is a leading brand in household steam cleaners, the One Plus Steam Cleaner being the model that can be refilled while in use. Rather than having to stop and wait for the steamer to reheat, you can clean grout to your heart's content, as well as every other surface in your home. 
A European-made appliance with 17 accessories, including bristle brushes for grout cleaning, this steam cleaner heats up to 320°F (160°C) and outputs steam at 65 PSI. This is the most powerful steam cleaner on this list.
One thing I find painful with many steam cleaners is the need to hold down the button continuously. This is especially true when cleaning grout and having large surface areas to clean. The Dupray One Plus alleviates that need, as it has a locking mechanism on the handle for continuous steam. 
You can also adjust the steam pressure, making the Dupray One a top choice for grout lines and steam cleaning your home.
Pros:
65PSI – the highest steam pressure on this list
Made in Europe
3 Year Warranty
Use the bristles on the floor tool to clean grout quickly
Refill with water while in use
Comparable with Vapor Clean brand
Cons:
Higher priced than other steam cleaners on this list
The high heat and pressure may deteriorate the nylon brushes quickly
Other Grout Cleaners to Consider:
Although not a steam cleaner, a large home with expansive tile floors may benefit from a specifically designed machine such as the Oreck Commercial floor scrubber, this machine makes light work of cleaning grout and polishing tile; if you have carpeted areas, you can also dry-clean these. 
Pros:
Made in the USA
Excellent for large surface areas
Deep cleans tiles, grout, travertine floors, and other flooring types with ease
Commercial grade cleaner
50ft power cord
Cons:
Not a steam cleaner
Chemicals required
You need to purchase the type of floor pad you need separately (around $10 extra) 
You will need to clean up the water after scrubbing – a wet vacuum, mop, bucket, or steam mop will help (if using a steam mop, make sure you have extra pads and can wring out as they get wet)
While I love steam cleaning, doing individual grout lines by hand is tedious. I thought I'd mention this machine as an alternative to a grout steam cleaner as it is a heavy-duty machine that cuts down on the elbow grease required to effectively deep clean grout and hard floors. 
Don't just take my word for it, though. Head over to Amazon and look at the customer photos – I spent way too long looking at these and gushing over the results! 
Frequently Asked Questions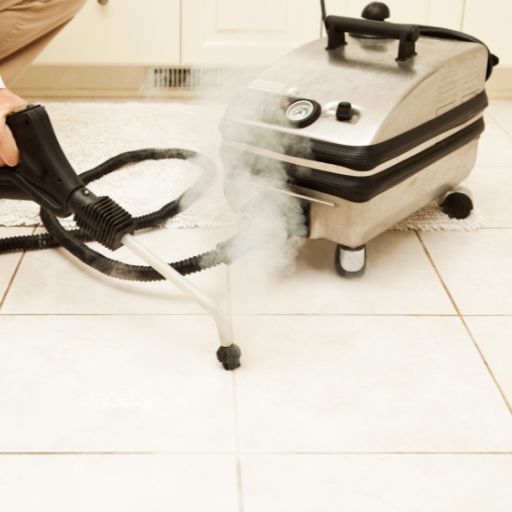 Do steam cleaners work on grout?
Yes, they do! Steam cleaners are a wonderful way to clean grout without using chemicals. Steam cleaners blow out hot steam to kill surface dirt and bacteria. The hot steam also helps loosen dirt and debris, making cleaning easier. 
Some steam cleaners are better than others at cleaning grout. The best way to maximize the cleaning potential is by using one with high temperature and pressure, which will make it more likely that you'll be able to get all the dirt out from between each grout line! 
What do professionals use to clean grout? 
Most professional cleaners use heavy-duty steamers to clean grout. These steamers use boiling water and pressurized steam to remove dirt from the grout lines. Steam cleaners are easy to use and can clean a large area in a short amount of time.
If your grout is stained or has a build-up of soap scum or hard water deposits, a heavy-duty steamer can often make it look new. If your grout is in good condition, a steam cleaner can help keep it looking that way. 
However, purchase a steamer designed explicitly for heavy-duty grout cleaning, and do not use the steam cleaner on polished stone.
What is the most effective way to clean grout?
There are a few ways to clean grout, depending on the size of the area you need to clean and what will be the most effective for you. Steam cleaning is excellent for grout; bristle brushes and scrubbers are specifically designed for cleaning grout lines. 
I have also fallen a little in love with the Oreck Commercial floor cleaner simply because of the area you can cover quickly. 
Can Steam Cleaning Damage Grout?
If your grout is old, loose, and cracked, the pressure from the steam may cause the grout to lift. If this is the case, you may need to re-grout between your tiles and seal the grout. You should not have any problems steam cleaning grout after it has adequately set and been sealed.
You will not need harmful chemicals or harsh cleaners to clean grout with a steam cleaner because heat and steam are powerful combinations that break up dirt, grease, and mildew, so they easily wipe away.
If you do not own a handheld steamer or steam cleaner, you can use a vinegar and water solution or baking soda and water solution to clean your grout. Be sure to test any solutions in an inconspicuous area before using them on the floor.
Conclusion
When it comes to grout steam cleaners, there are a lot of choices out there. We've provided seven top-rated options for you in this article so that you can make an informed decision about which one is the best fit for your needs and budget. The good news? They all have great reviews!
Now it's up to you to decide what features matter most when making your choice. Good luck tackling your grout – it is very satisfying!