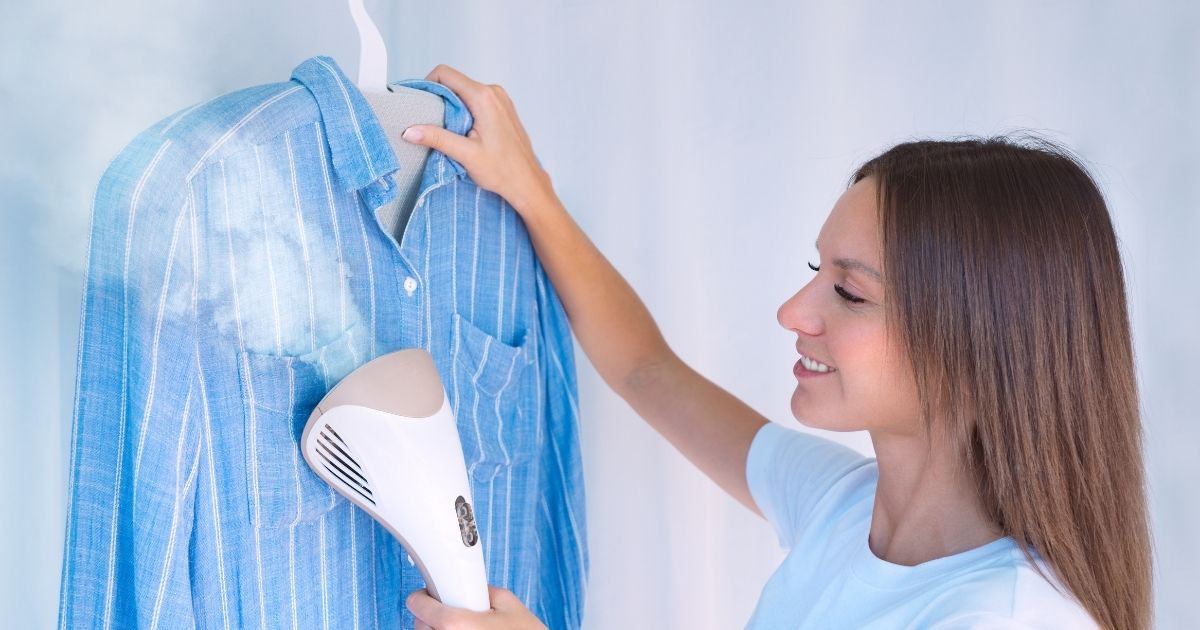 A handheld clothes steamer is a great accessory to pack in your suitcase for a weekend away, or a quick refresh of clothing before work in the morning. It's also a good investment for your home. But with so many handheld clothes steamers on the market, it can be hard to choose one.
Here are our top recommendations for 2022, as well as things to consider when buying a handheld clothing steamer.
05/18/2023 02:42 am GMT
What to Consider When Buying a Handheld Clothes Steamer
There are several things I like to consider when buying a clothing steamer, both handheld and full size versions. They are:
Wattage
The power behind the clothes steamer will directly affect the steam output, and the ability to quickly de-wrinkle your clothing. I try to look for handheld steamers that are at least 1200 watts of power, preferably 1500 watts.
The more powerful the steam output, the faster you will use the water in your tank however, which leads me to my next point…
Water Capacity
Handheld clothes steamers aren't meant to hold a gallon of water, otherwise we'd never be able to hold them in our hands and move them around! That being said, some handheld steamers hold a few ounces only, which is mighty inconvenient if you have a few items to steam, or are tackling curtains or other furnishings around your home.
I try to look for a handheld steamer that has at least a 6 fluid ounce tank (200ml), for a good balance of weight vs steaming time.
Steam Settings
Some handheld steamers have multiple steam settings which is handy for different fabrics. They will output steam at different levels to help protect your garments. These steamers have the ability to reduce their wattage for lower settings. This is handy for delicate items like lace and silk.
Whilst I tend to turn on my steamer and use the highest setting, I do like the ability to use different steam settings if I needed to. That is why I will always consider the ability to alter the steam settings when considering a handheld steamer.
Accessories
The only accessory you really need when using a handheld clothes steamer is a steaming glove on your opposite hand! Unfortunately, there aren't many manufacturers that include these with their handheld steamers. Luckily, they are inexpensive to buy.
If you have a variety of fabrics in your wardrobe you may find the accessories come in handy, which is why I like to choose steamers that include them. Accessories can include a crease tool, steam bonnet for delicate fabrics, brush for thicker fabrics, silicone bands to help pull the fabric as you steam and upholstery bonnet.
You can also buy steamer boards and over the door pads. If you have a handheld steamer, these are really useful to protect your door from damage, and give you a padded backing to help press against to remove wrinkles.
Warranty
Sometimes steamer manufacturers surprise us and provide longer than 12 month warranties, which is always a bonus for small handheld appliances. Black and Decker are one of those manufacturers who offer a 2 year warranty, which is great to see a brand supporting the longevity of their product.
Auto Shut Off
If you're one of those people who are driving to work and wonder if you've left the iron on, an auto shut off feature is something you should consider! Many handheld steamers offer this feature, which is great for peace of mind when you are in a rush.
Conclusion
Handheld clothes steamers are a great item to have around the home. They're great for steaming clothes efficiently, but they can also be used for a variety of other things, too. We hope you've gained some insight into what a handheld clothes steamer can do for you and we hope you've gained a better idea of which model will suit your needs best.
If you have any other questions about a handheld clothes steamer, please don't hesitate to comment below. Thank you for reading, we are always excited when one of our posts is able to provide useful information on a topic like this!
Read Next: