8 Steam Cleaners for Easy Shower Cleaning
If you've ever had the unfortunate experience of cleaning a shower full of mold, mildew, and soap scum, then you know just how time-consuming and difficult it can be.
Sure, you can use a variety of harsh chemicals, but these are often expensive, time-consuming, and smelly – both during use and afterward.
If you want to keep your shower sparkling clean without expensive, chemical-laden cleaning products, look no further than steam cleaning! Steam cleaners are incredibly versatile and powerful and can help you clean your shower in a fraction of the time.
Let's jump right in and take a look at the 8 steam cleaner for shower choices:
07/22/2023 12:00 pm GMT

Types of Steam Cleaners for Showers
The type of steam cleaner you choose depends on the size of your shower, the type of surfaces you're cleaning, and the level of stubborn dirt and grime you're dealing with.
The two most common steam cleaners for showers are handheld and canister steam cleaners.
Handheld steam cleaners are great for smaller showers because they're lightweight and portable. Plus, they come with various attachments, allowing you to clean hard-to-reach areas easily.
On the other hand, canister steam cleaners are perfect for larger showers because they have a larger water tank for a longer running time, include more attachments, and some heat to higher temperatures than average.
However, they're larger, bulkier, and more challenging to maneuver around tight spaces.
The Best Steam Cleaner for Showers
Here are my choices for the best steam cleaner for shower tiles, grout, glass, taps, and more.
Most Powerful Steam Cleaner for Shower
The Bilitools steam cleaner is a new-release canister cleaner with well-designed brushes for shower cleaning. Take a closer look at these: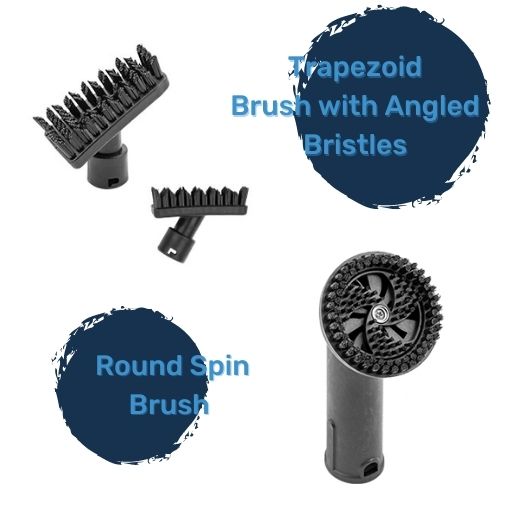 Backed by a whopping 1800 watts of power, the Bilitools steam cleaner runs for approximately 35 minutes before needing a refill. It has a squeegee for glass, nylon, brass brushes for scrubbing, and a jet nozzle to get into corners and tight spaces.
With a steam pressure of up to 65 PSI and heating to 339°F, this is the most powerful and hottest steam cleaner for bathroom showers on this list (that isn't commercially rated).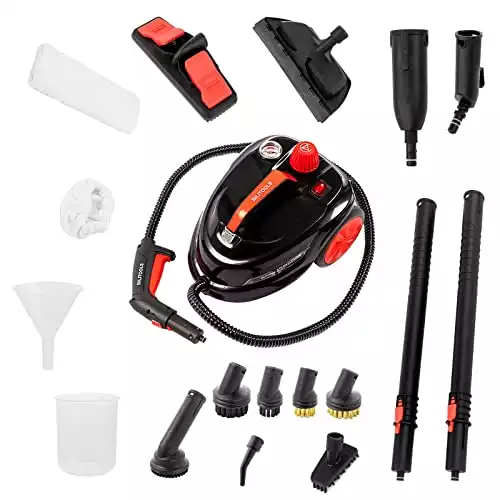 BILITOOLS Ultra Hot Steam Cleaner
Heats to a whopping 339°F
5 bars of steam pressure (up to 65 PSI)
Great range of attachments for both hard and soft surfaces
Unique textured tile and grout cleaning tools
Buy on Amazon
We earn a commission if you make a purchase, at no additional cost to you.
07/22/2023 12:00 pm GMT

Best Steam Cleaner for Shower Tile and Walls
Owning the McCulloch MC1385 steamer, I am a big fan of the green scrubbing brushes for soap scum and triangle brush, and round bristle brushes for grout cleaning.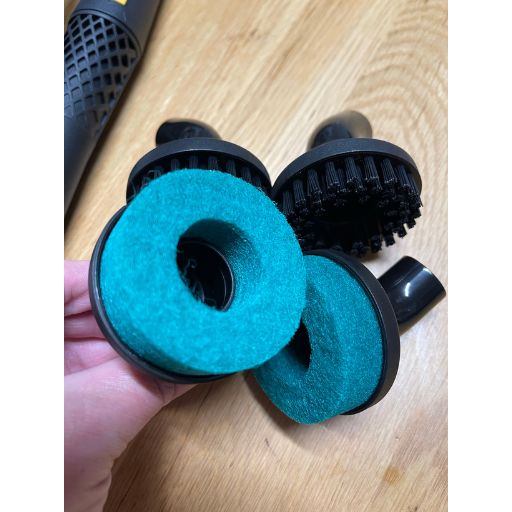 The squeegee on the McCulloch also has a scrubbing brush on the steam side to help with soap scum on shower doors and glass.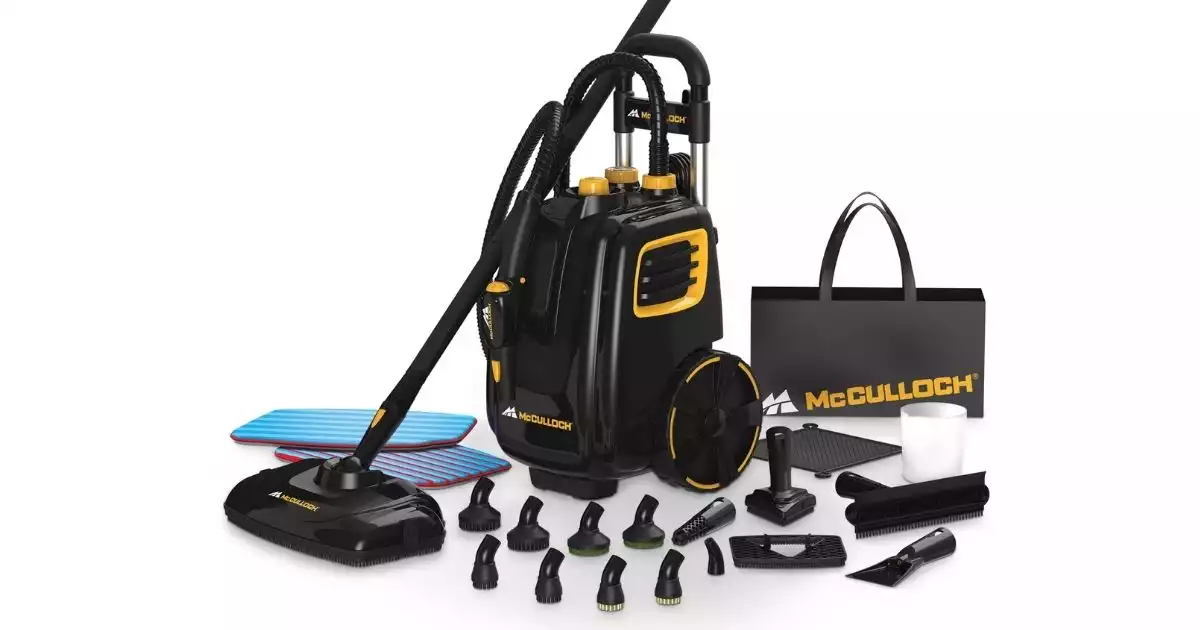 Best Steam Cleaner for Shower Grout
Any steam cleaner with a scrubbing brush attachment will clean the grout in your shower. When considering what to recommend, I thought about the different attachments and how long it would take to clean grout with a small round brush compared to a larger triangle brush.
This led me to the Dupray Tosca steam cleaner. You'll quickly scrub the grout with a triangle bristle brush and a rectangle bristle brush. Then there's the drain helper. Hot steam blasts into the drain when placed over drain holes to help clear out soap scum, limescale, built-up hair, etc.
Like the MC1385, there is a scrubbing brush on the reverse side of the squeegee. What sets the Dupray Tosca apart is the 72.5 PSI, a lifetime warranty on the boiler, which heats to up to 316°F, and it is rated for commercial use.
As the boiler heats to over 100°F hotter than the McCulloch, you get much hotter, drier steam with less than 5% moisture content. If you have the budget, the Tosca is an excellent buy.
Dupray Tosca Commercial Steam Cleaner
Boiler temp of up to 316F
Excellent range of accessories
Rubber bumper to avoid damage
72.5PSI
Up to 90 minutes of cleaning time
Lifetime warranty on the boiler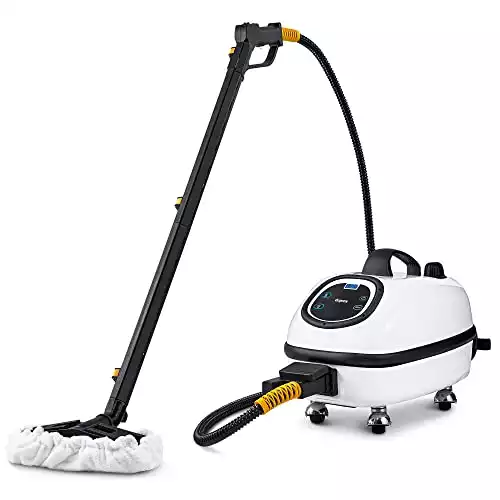 We earn a commission if you make a purchase, at no additional cost to you.

Best Steam Cleaner for Shower Mold
To kill mold, you need a high-heat steam cleaner. For this, I recommend the Ladybug Tekno 2350 with TANCS.
Ladybug steam cleaners are an investment. Using ordinary tap water, they convert the minerals (that usually clog up your steamer) into nano-crystals.
Backed by 1700 watts of power, a Ladybug steamer will generate steam up to a whopping 87 PSI. The boiler heats up to 329 degrees Fahrenheit, resulting in a tip temperature of 260°F to help kill mold spores and remove shower mold.
Ladybug® 2350 Steam Cleaner
Top of the line Ladybug steam cleaner with TANCS technology.
Includes accessories for tiles and grout, glass and shower screens, oven, stovetop and more.
Stainless steel boiler tank
Heats to a whopping 325°F for a tip temperature of 260°F
Buy on Amazon
We earn a commission if you make a purchase, at no additional cost to you.
07/22/2023 11:40 pm GMT

Best Steam Cleaner for Shower Doors and Glass
I mentioned above the McCulloch MC1385 for shower doors and glass for the scrubbing brush on the squeegee tool and the green scrubbers that help remove soap scum.
Another brand I like is Pure Enrichment. I've been recommending Pure Enrichment clothing steamers for years, and their steam cleaner is just as good.
With the same round green scrubber suitable for bathtubs or soap scum, a squeegee for glass, a jet nozzle for around tapware, and a triangle brush for grout, the Pure Enrichment steamer will have your shower sparkling clean in no time.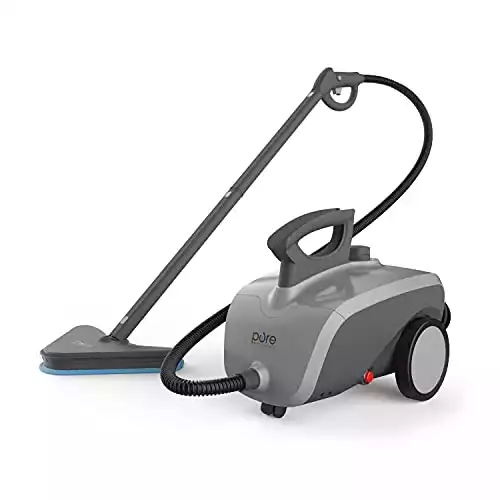 Pure Enrichment Steam Cleaner
Affordable steam cleaner from an established brand with an excellent warranty
Round scrubber brush suitable for cleaning tiles, baths, ovens, and other flat surfaces
Triangle brush for grout cleaning and getting into corners
1500 watts of power and 45 minute run time
Compact to store - but you'll need another bag to store the accessories and attachments
Buy on Amazon
We earn a commission if you make a purchase, at no additional cost to you.
07/23/2023 12:24 am GMT

Best Handheld Steam Cleaner for Shower
The PurSteam steam mop converts to a handheld steam cleaner with all the attachments you need for grout, tiles, glass, and tapware.
It's an excellent budget option, and unlike some handheld steam cleaners, you can refill this model with water anytime. When you have finished cleaning the shower, you can use it on the toilet, vanity, and tapware.
Then put the handheld steam cleaner back into the steam mop to clean your bathroom floor.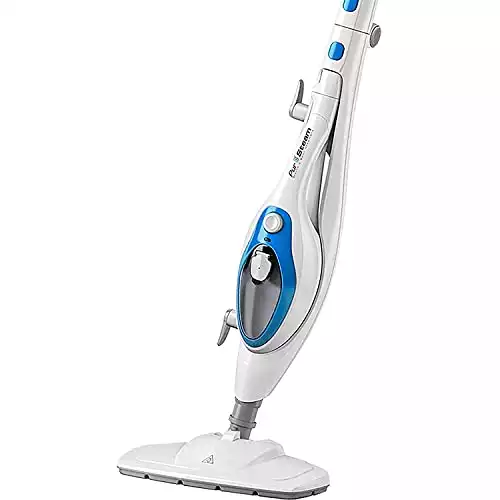 PurSteam Steam Mop Cleaner
Steam mop and handheld steam cleaner
Excellent accessories for above floor cleaning
Affordably priced
Adjustable steam settings
Lightweight
Buy on Amazon
We earn a commission if you make a purchase, at no additional cost to you.
07/22/2023 10:17 am GMT

Another lightweight option with a wide range of accessories is the Light n Easy steam mop with a detachable handheld steamer.
Commercial Steam Cleaner for Shower
The Dupray Tosca mentioned earlier in this post is a commercially rated steam cleaner and is one choice for professional results. I'm a massive fan of Vapor Clean for its wide range of commercial machines, prices, and features.
The Vapor Clean Pro 6 Duo is one of this website's most recommended steam cleaners. It is comparable to the Mondovap 2400 (a commercial cleaner from the makers of Ladybug), yet it costs far less.
Every attachment you need for a sparkling clean shower, whether you are using it at home or in commercial cleaning services.
I choose the Pro 6 Duo over the Pro 6 Solo as it can be refilled continuously when in use, so there is no stopping when the water runs low.
Quality Choice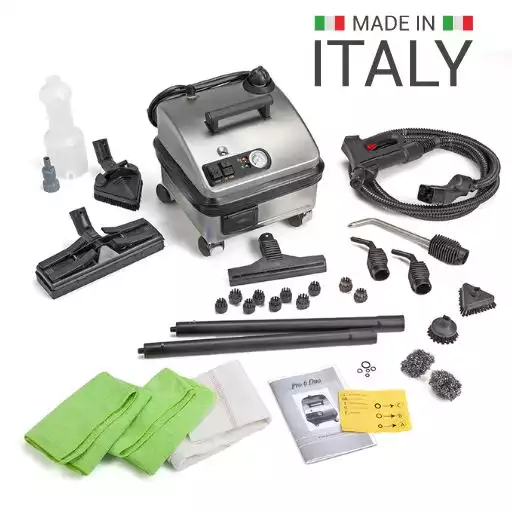 Vapor Clean Pro6 Duo Steam Cleaner
Italian made continuous refill steam cleaner with copper tubing, brass fittings, tungsten welded stainless steel boiler heating to 311°F and operating at a powerful 87PSI. This compact steam cleaner packs a punch and doesn't cost thousands of dollars - an excellent price for a continuous fill steam cleaner. A worthwhile buy for home or commercial use.
Buy at Sylvane (Authorized Reseller)
Buy on eBay
We earn a commission if you make a purchase, at no additional cost to you.

Best Bissell for Shower Cleaning
Bissell is a great brand of steam mops, and the Bissell Slim is an excellent multipurpose steamer that you can use as a steam mop and converts to a handheld steam cleaner.
The tools that come with the slim steam mop are suitable for shower cleaning. Use the round brushes for tile cleaning, scraper for build-up, long brush for grout, nozzle tool for corners, shower tracks, and taps, and the squeegee for a final finish and glass shower screen.
You can fit the attachments on the handheld steam cleaner and the end of the extension poles – perfect for reaching the top of floor-to-ceiling tiles. When you have finished cleaning the shower, convert it back to a steam mop and clean the bathroom floor. Perfect!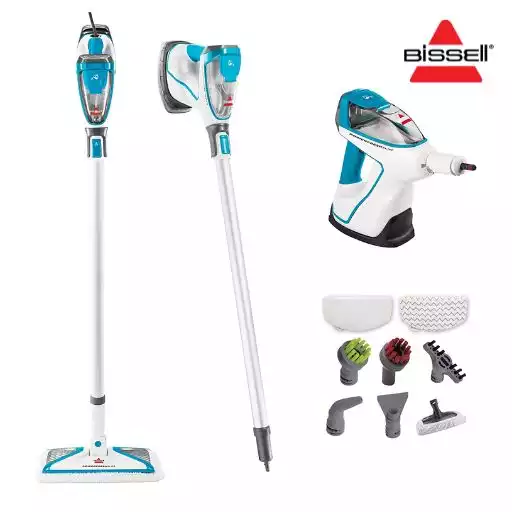 If you need more accessories, look at the Bissell Power Steamer here. It is the same design as the PowerFresh Slim but with tons more accessories for cleaning right throughout your home.
Best Practices for Steam Cleaning Your Shower
Once you've chosen the best steam cleaner for your needs, it's essential to use it correctly. Here are a few tips to help you get the most out of your steam cleaner:
Make sure to use distilled water in your steam cleaner. This will help to reduce mineral buildup and improve the performance of your steam cleaner. If you must use tap water, remember to descale a canister and handheld steam cleaners using a vinegar and water mix.
Start at the top of the shower and work your way down. This will help ensure that any dirt or soap scum loosened up is washed away. Alternatively, rinse the shower with clean water.
Don't forget about the shower curtain if you have one.
Use the squeegee attachment to wipe away any water, so you are not left with water spots on the tile and glass.
Benefits of Using a Steam Cleaner on Your Shower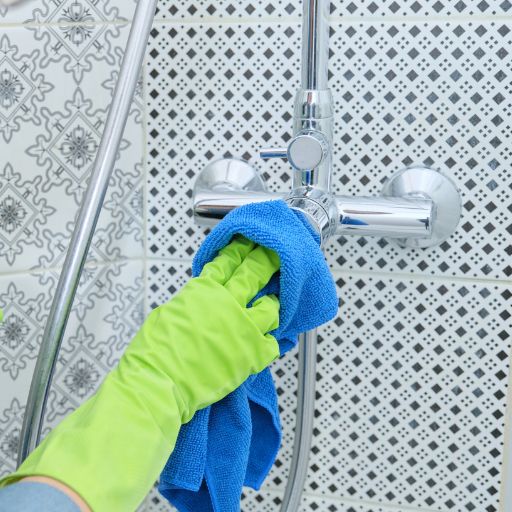 Before I discovered steam cleaning, I cleaned the shower with a bleach-based product whilst I was showering. I thought this was effective, but all I was really doing was gassing myself with the fumes and, no doubt, washing most of the shower cleaner down the drain.
Steam cleaners are incredibly effective at removing dirt, grime, and bacteria from hard surfaces. The powerful steam can easily penetrate deep into cracks and crevices, making it easy to remove even the most stubborn dirt and grime.
If you've got a swing-open shower door, you'll know how much soap scum and hair can accumulate around the hinge. Steam can easily blast that away.
Finally, steam cleaners offer a quick and easy way to clean your shower without having to scrub and scrub. Unless, of course, you've neglected your shower for some time. It may take a little longer to clean, to begin with, but maintaining a clean shower is easy.
FAQs About Steam Cleaning a Shower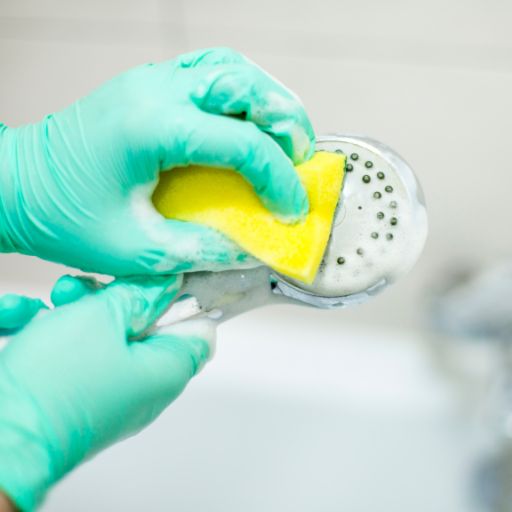 Can I Use a Steam Cleaner on Shower Glass?
Steam cleaners are safe to use on glass. The squeegee tool is designed for this. Let your shower glass warm up to room temperature before steaming. Be careful not to use stainless steel or brass scrubbing brushes on glass, which may scratch the surface.
How Often Should I Steam Clean my Shower?
A weekly deep steam clean will help prevent mold, mildew, and soap scum buildup in your shower. It all depends on how many people use the shower, how dirty it gets, and the hardness of tap water in your area.
Can You Steam Clean a Shower Curtain?
Yes, steam from top to bottom of the shower curtain. Hold the shower curtain when steaming to stop it from blowing. If you have mold on the shower curtain, try giving it a light scrub with one of the grout-cleaning brushes.
Other Uses for Steam Cleaners
The powerful steam generated by steam cleaners can be used for more than just cleaning showers.
Steam cleaners can clean and disinfect various surfaces, such as countertops, sinks, and toilets.
Additionally, steam cleaners can be used to remove tough stains from carpets and upholstery, as well as freshen up mattresses and curtains. The possibilities are endless!
Consider Different Attachments Before Buying a Steam Cleaner
The attachments and accessories with your steam cleaner are just as important as the steam cleaner itself when it comes to effectively cleaning your shower.
Steam cleaners have various attachments, such as brushes, extension wands, and squeegees. These attachments can help you clean hard-to-reach areas, tiles, grout, and other surfaces.
Also, consider your shower and the space available. Here are some things to consider:
Flat, round scrubbing brushes will be your friend if your shower is over your tub, like those with the McCulloch and Pure Enrichment steam cleaners.
A squeegee will be helpful if you have large glass panels or shower screens.
Do you have a lot of grout? Most steam cleaners come with round nylon bristle brushes, but some have rectangle-shaped or longer brushes better designed for grout cleaning.
When your shower door is open, how easy is it to get in behind the overlap? Longer angled tools and jet nozzles can be helpful here.
Is your shower fully tiled or prefabricated? These are usually made of molded acrylic or fiberglass, often with smooth walls and bases.
Where else will you be using your steam cleaner? Would any of the included attachments suit other areas in your home?
Luckily, I've considered all this before choosing the best steamers for shower cleaning, so you can pick the most suitable steam cleaner that fits your circumstances.
Conclusion
Steam cleaners are powerful, versatile cleaning tools that can help you quickly and effectively clean your shower in a fraction of the time. There are many options to choose from, and I hope this list has helped you make an informed choice.
Plus, steam cleaners offer a safe, chemical-free way to clean your shower, as well as a variety of other surfaces. So, what are you waiting for? Unlock the power of steam cleaners and transform your shower into a spotless sanctuary!