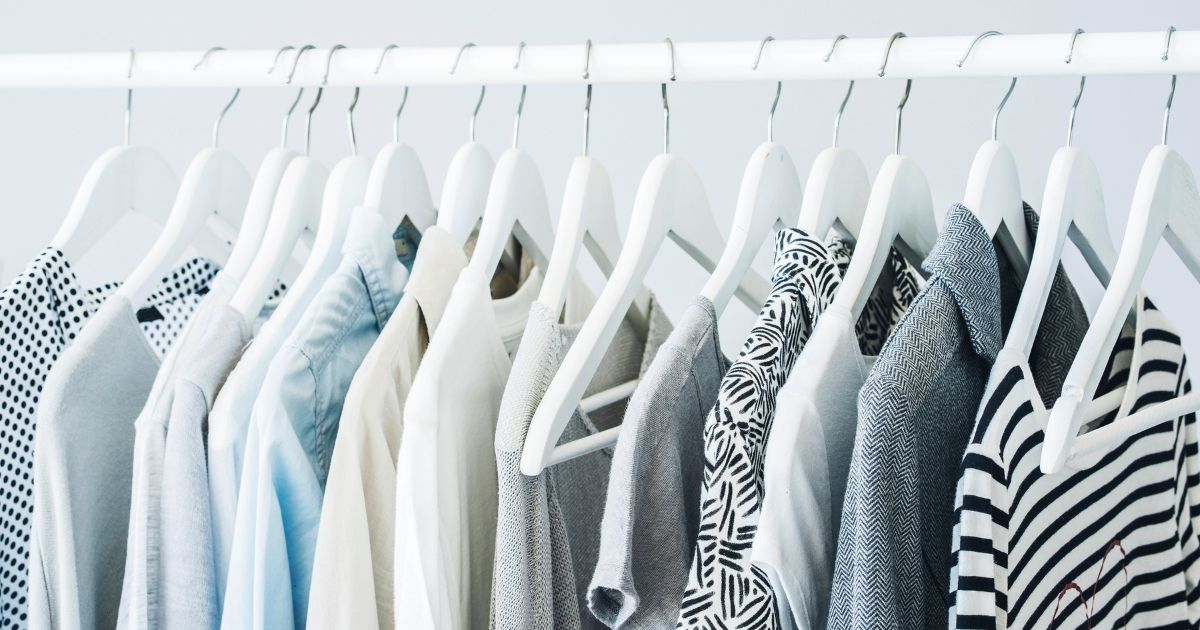 There are a lot of clothes steamers on the market today. From well known brands to no name imports, it is easy to get overwhelmed when choosing a clothing steamer to buy.
Sometimes it comes down to budget, other times functionality or ease of use. There's steam outputs to be aware of, which steamers offer electromagnetic pumps and which handheld clothes steamers can be used both horizontally and vertically.
There is also things to consider such as other uses for your clothing steamer, to get the most value out of one appliance within your home. There's also irons with vertical steam function, steam closets and steam press machines.
Types of Steamers for Clothing
This is the place to start for learning about the different types of steamers for clothing, to make the best choice – and your life easier!
Handheld Steamers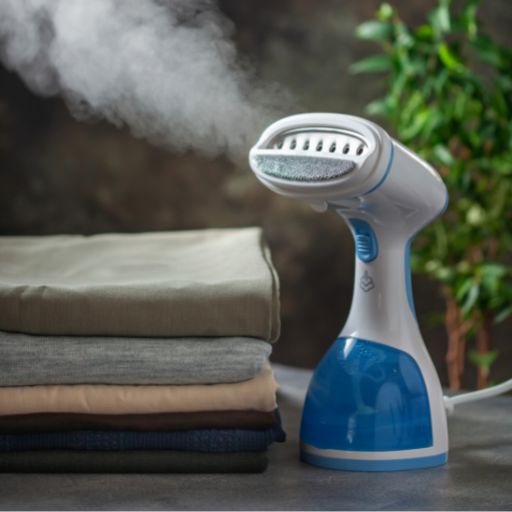 Handheld steamers are inexpensive, quick to heat up and easily portable. This makes them a great choice for most people for steaming clothes.
You have the flexibility and freedom to move around without being restricted by fixed length steam hoses.
Handheld steamers operate from 5 minutes to approximately 15 minutes, depending on water tank size. Some handheld steamers can be tilted both horizontally and vertically, others can only be tilted at a 45 degree angle.
Some handheld clothing steamers also have multiple levels of steam and built in steam pumps, giving them as much functionality as a full sized clothing steamer.
Prices vary from around $15 up to $100, with most brand name handheld steamers such as Rowenta, Conair and Electrolux around the $50-$80 mark.
Consider how many items of clothing you want to steam at any one time, as well as the type of clothing you own. If you wear a lot of denim, you may need a more powerful steamer than if you live in a tropical climate and wear lightweight clothing.
Once you have a basic idea of what you'll need, the following articles should help you choose the best hand held steamer for clothes:
Standing Clothes Steamer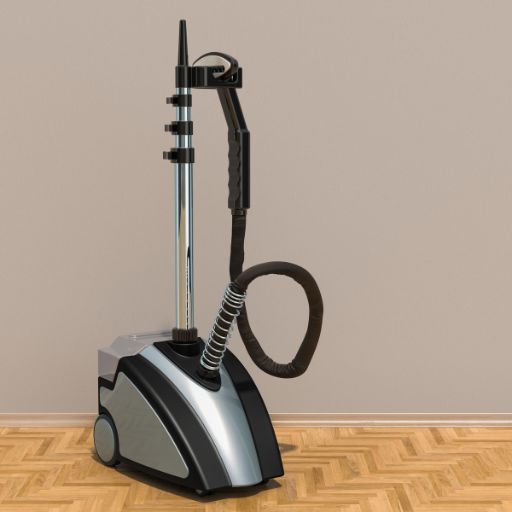 A standing clothing steamer can also be referred to as an upright steamer, vertical steamer or full sized clothing steamer (and many variations of these names).
Upright steamers have a larger water tank, steamer head attached to flexible hose and has either one or two telescopic poles to hold both your garments and the steamer head when not in use.
This type of garment steamer is excellent for larger families, or if you prefer to steam all of your laundry in one go.
With running times varying between models from 45 minutes to around 90 minutes, your arm is likely to run out of steam before your standing steamer does.
Most vertical steamers have wheels for maneuverability, removable water tanks and multiple levels of steam.
There are various models with plastic steam heads which are less weighty, other models with stainless steel heads for optimum quality and heat retention.
Pricing varies from around $70 up to $200 depending on the brand and the functionality.
Here are some articles and clothes steamer reviews to help you choose the best stand up steamer for clothes:
Commercial Clothes Steamer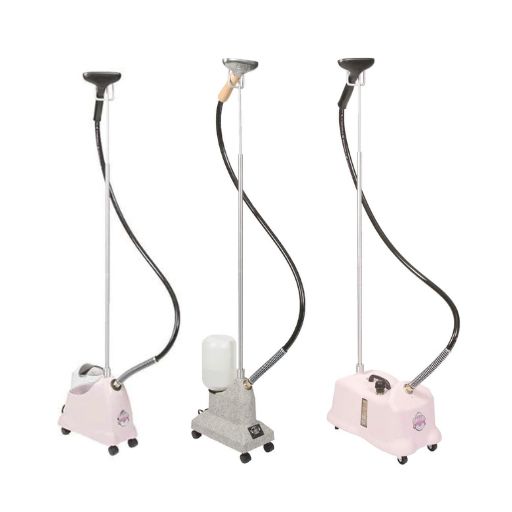 Commercial garment steamers are heavy duty machines that are suitable for both home and commercial use. You may also hear these referred to as professional steamers.
Depending on the style of water tank, commercial clothes steamers can take anywhere from 1 minute to 15 minutes to heat up. Once heated, they will run for several hours.
Priced anywhere from $200 to over $1000 commercial clothes steamers have more heavy duty parts and are built to last a long time.
A professional steamer for clothes is not only for retail use, they can also be used in the home environment. They are useful for steaming other items around your home such as upholstery and curtains, without stopping to refill the water tank.
I have used an upright commercial garment steamer to clean a mattress, fabric covered bed base, benchtops, cupboard doors, shape hats and more.
Here is some more information on commercial steamers to get you started:
Travel Steamers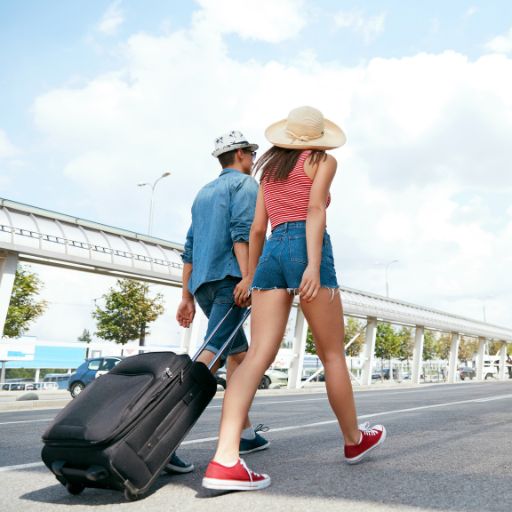 Travel steamers are mini versions of handheld steamers that usually run for 5 to 10 minutes. Small, portable and lightweight they are easily packed into luggage for your next trip away.
Some travel steamers have built in dual voltage converters so they can be used across multiple countries if you are traveling abroad. Often, all you will need is a power point adaptor for the country you are visiting.
Many handheld steamers also fall into the travel steamer category, due to their easy portability. Not all handheld steamers can be used at different voltages, so it is important to seek a specific travel steamer if you are planning an overseas trip.
Our buying guide below has all the info you need for choosing a travel steamer:
Steam Closets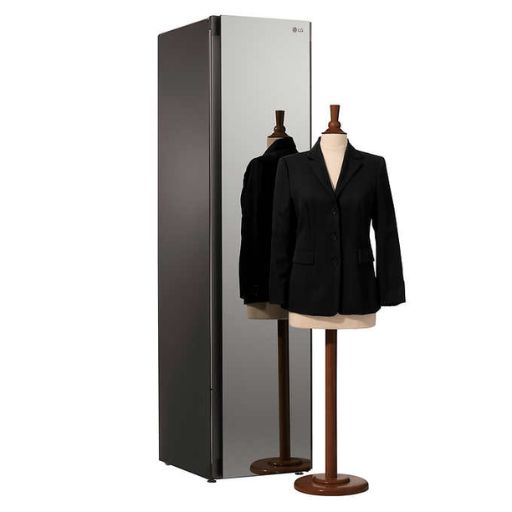 Steam closets are relatively new to the market (within the last decade) and are closet like devices that steam multiple pieces of clothing at once. They also offer dual functions, such as drying, sanitizing modes, dehumidifying and more.
Steam closets are particularly useful for steaming knitwear, sanitizing and drying suits, coats and jackets and caring for any clothing that cannot be washed in a regular washing machine.
They're not without their downsides however. They're pricey, heavy, have long running times and require regular descaling, even if you use distilled water.
There aren't many steam closets on the market in 2022. Samsung and LG are the two main contenders.
We have listed everything to consider when buying a steam closet in our full guide below.
Steam Irons
Steam irons are essential items in most households and buying the right steam iron can be a confusing task. With prices ranging from $25 up to around $300 there are vast differences between brands and functionality of irons.
There's also the sole plate to consider; which can either be a non stick coating, ceramic, adonized aluminum or stainless steel.
There's corded irons, cordless models, and irons that have built in boiler tanks that also function as a steamer. There's also the steam station model irons, where the water is held separately from the iron, for lightweight ironing and steaming function.
Consider how often you iron, the type of clothes you own and your budget, then read our steam iron buying guide below.
Steam Press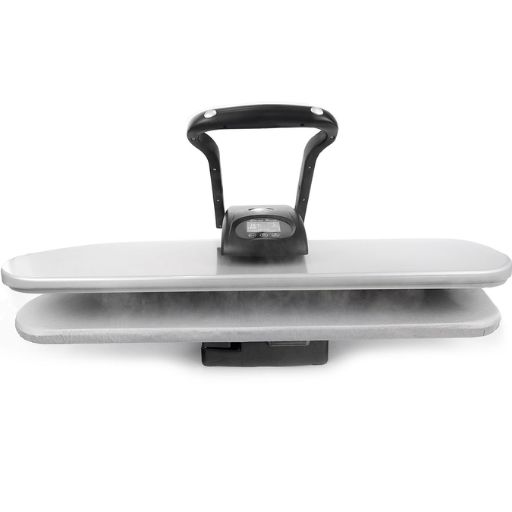 A steam press is an excellent choice for creating crisp creases like you'd expect from a dry cleaner.
Often used for business shirts, pants with firm creases and table linens a steam press is a larger machine that tackles tough wrinkles and large areas at the same time.
It can be used for most fabrics, as well as using without the steam function for dry ironing. With a much larger pressing surface than an iron, a steam press is efficient at getting through large amounts of laundry in minimal time.
Prices vary from around $200 for a tabletop steam press, up to a couple of thousand dollars for a rotary steam press (you may also know these as a mangle or a rotary iron).
If you like ironed sheets, you may find this a worthwhile investment. Here is more information to help you decide if a steam press is right for you:
Conclusion
Now you have a better understanding of the different types of steaming and pressing methods available to make doing laundry work faster and easier.
Whether you steam or iron your clothing in one go or prefer to steam just before wearing, there are many different choices available on the market.
Our guides and steamer advice will help you make the best decision to suit your needs. After all, it's about making life easier and less complicated, so you can get on with your day, in style and de-wrinkled of course!