Anthter Professional Clothes Steamer Review
The Anthter steamer offers a warranty to match Jiffy, hotter steam generation, and multiple steam settings. Does that make it a good buy? I have some reservations, and if you've landed on this page, you probably do too.
Let's take a closer look at the Anthter Professional Clothes Steamer, a budget clothing steamer that looks great at face value.
Specifications
Budget Price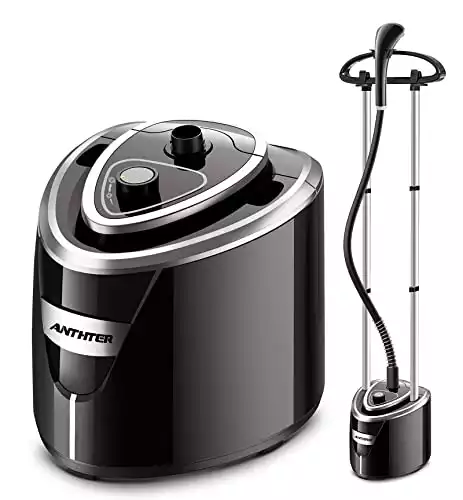 Anthter Professional Steamer
With a 3 year warranty (comparable to USA made Jiffy Steamers) the Anthter steamer offers fast heat up time, removable water tank, and multiple steam settings. The 1500 watt steamer heats water to 248 degrees - hotter than most garment steamers.
We earn a commission if you make a purchase, at no additional cost to you.
05/20/2023 10:04 pm GMT
| Specification | Anthter Steamer |
| --- | --- |
| Weight: | 12.07 pounds |
| Power: | 1500 watts |
| Steam Settings: | Two |
| Heat up Time: | 35 seconds |
| Water Tank: | 85 ounces |
| Warranty | 3 years |
| Country of Origin: | China |
What Are The Best Features of the Anthter Steamer?
Budget Price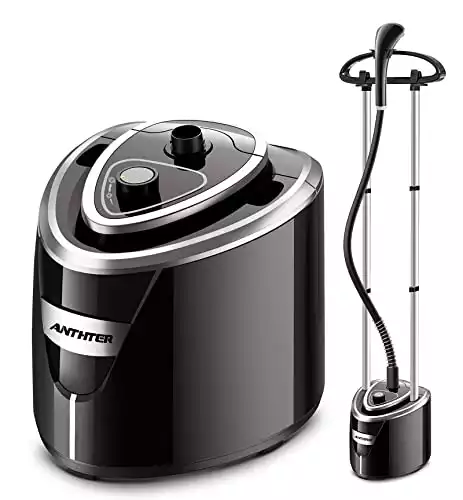 Anthter Professional Steamer
With a 3 year warranty (comparable to USA made Jiffy Steamers) the Anthter steamer offers fast heat up time, removable water tank, and multiple steam settings. The 1500 watt steamer heats water to 248 degrees - hotter than most garment steamers.
We earn a commission if you make a purchase, at no additional cost to you.
05/20/2023 10:04 pm GMT
Powerful
Compared to other upright clothes steamers, the Anthter 1500 watt clothing steamer is among the most powerful. It heats up within just 35 seconds for fast steaming. 
The 1500 watts of power provide wrinkle-busting steam continuously for up to 90 minutes. In terms of performance, it produces high-temperature steam, which can penetrate deep into the fibers to straighten or soften wrinkles. 
The Anthter steamer heats water to a temperature of 248⁰F. This means that it is effective for clothes and perfect for upholstery, drapes, etc. 
Since the steam is heated to 248 degrees, it can instantly kill all harmful microorganisms such as dust mites or odor-causing bacteria.  
Advanced Technology
Many clothing steamers can spit water onto your fabrics, which is not ideal. The Anther professional steamer has an advanced electronic pump system which ensures that water doesn't spit or splutter. 
It also has 8 steam outlets on the sole plate of the steamer, and ouputs a solid stream of steam up to 6.5 feet away.
Construction
Before purchasing any garment steamer, it is essential to check all the components to ensure that they will last. In this regard, the Anthter Professional Steamer has a heavy-duty build quality featuring a 304 stainless steel boiler. Stainless steel offers a longer lifespan than other metals such as aluminum.
Versatility
Another significant benefit of having the Anthter Professional Steamer for Clothes is versatility. Whether you want to use it on jackets, shirts, blouses, jerseys, wedding dresses, or any other type of fabric, you can count on it. Besides clothing, it is also ideal for curtains, napkins, table cloths, sofa fabrics, and beddings, among others. 
Safety Features
To ensure that the machine doesn't overheat, it features a dual safety protection system that switches it off automatically when it becomes too hot. This feature will also turn off the steamer if the water runs out.
Warranty
When it comes to durability, the Anthter Professional Clothes Steamer is made of top-quality materials to enhance durability. It also comes with a 3 year warranty. This warranty is comparable to other leading brands of commercial garment steamers, such as Jiffy, Steam Butler, and Vornado.
Price
Finding a quality garment steamer when you are on a budget is not easy. The good thing about this machine is that the price is very affordable for those on a budget.  
Pros
1500 watts power 
Heats within 35 seconds 
Large 85oz water tank capacity 
Offers super hot steam up to 248⁰F 
90 minutes of continuous steaming
Suitable for all types of fabric 
3 years warranty 
Cons
No wheels for maneuverability
No replacement parts are available
No contact details for the manufacturer online
Don't let the lack of wheels deter you, a small pot plant holder on wheels will fit the Anthter Steamer nicely. You can then move it around as you please.
About the Anthter Brand
Anthter are a Chinese manufacturer and the Anther steamer is made in China. This is certainly not a reason not to buy this steamer, many appliances are made in China in 2022, and have been for years.
I had trouble finding out information about the Anthter brand, with the seller information on Amazon showing:
Detailed Seller Information
Business Name: shenzhenshi fengruituo maoyi youxiangongsi
Business Address: longgangqu pinghujiedao hehuashequ, pingxinbeilu huananxiyuan yiqiyidong 20ceng34-35
Business Suburb: Shenzhen, Guangdong, 518111, CN
I'm not sure this is a real address.
Anthter also make blenders, binoculars, Wi-Fi extenders, and some other random small electrical items that aren't really related to clothing steamers. Both their blenders and clothing steamer were released in late 2021, which leads me to believe they are a new manufacturer/brand out of China. I also found an identical looking steamer on Amazon here. Not a suggestion to buy – its has a lower steam temperature and is higher priced.
Only time will tell if the Anthter steamer lives up to its 3 year warranty and "professional" claims. This will likely depend on how responsive customer service is within the next 3 years. User feedback on Amazon shows Anthter customer service has been good to deal with to date.
How to Choose the Best Upright Clothing Steamer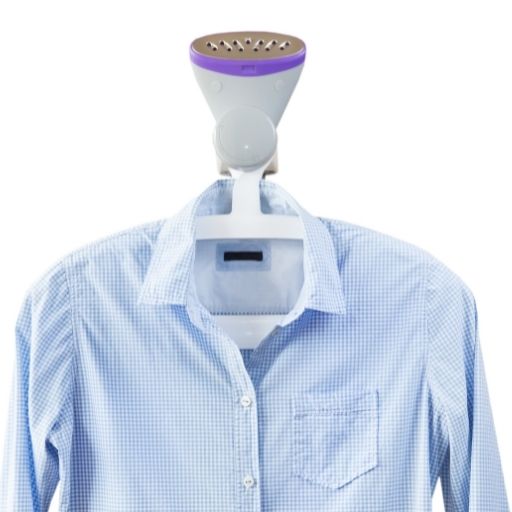 When comparing different models of upright clothing steamers, you should focus on these features:
Power
Whether you are searching for a commercial clothes steamer or one you can use at home, a model with decent wattage is a must. I generally recommend 1500 watts for the best results. 
If you have a lot of polyester, nylon, or silk clothing that needs a more gentle output of steam, you could choose a clothing steamer with a minimum of 1200 watts. 
Heating Time
Since most upright clothes steamers come with a large water tank, they take longer to heat up. The Jiffy J-4000 is a perfect example of this, heating the full boiler tank of water in around 15 minutes. 
Other models, like the Anthter Garment Steamer, heat smaller volumes of water and, as such, take less than a minute or two to fully heat to high temperatures. 
How you intend to use your garment steamer will determine the best model to purchase. If you like to do all of your ironing or steaming for the week on a Sunday afternoon, then a slower heat-up time won't be an issue. 
If you prefer to steam your outfit for the day each morning, a 15-minute heat-up time is not practical. That's where the Anthter steamer has the added benefit, heating up in just 35 seconds.
Tank Capacity
If you need a unit that you can use for a longer time, consider a model with a large water tank. Such units are a bit bulky, but they are the best if you have a larger family, like to steam all your laundry at once, or are searching for a commercial garment steamer. 
The Anthter garment steamer can be used for up to 90 minutes continuously. If you constantly use the high setting, the continuous steam time is more likely to be 60 minutes. The tank removes for easy refilling, and the fast heat-up time will have you steaming again in no time.
Type of Fabric
Even though clothes steamers are suitable for all types of fabric, you need to confirm that the one you have picked suits the kind of fabric you have. For instance, choosing a clothing steamer with multiple steam levels gives you greater flexibility for delicate clothing. You can use the lower steam setting for certain fabrics (silk, polyester, or nylon) and the higher steam setting for cotton, linen, and denim.
The benefit of the Anthter professional steamer is the two steam settings.  
Common Questions About Clothing Steamers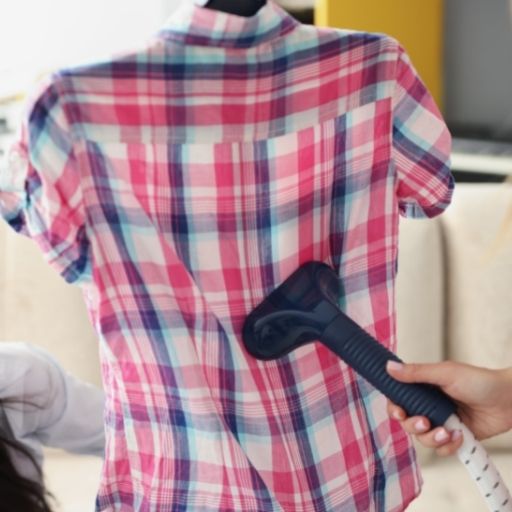 Is a Clothes Steamer Worth Buying?
A clothes steamer is undoubtedly a worthwhile buy. Once you get the hang of using a clothing steamer, you'll find it offers fast wrinkle removal and no damage to fabrics. 
A clothing steamer provides so many more benefits than ironing. However, it isn't the best for items that need definite creases and a crisp finish. If your wardrobe is full of pleated fabrics and business shirts, you may want to stick with the iron for the best results. 
Another benefit of using a clothes steamer over an iron is the longevity of your clothing. Clothing steamers are much more gentle on fabrics, relaxing and releasing wrinkles as they steam. Your clothes are likely to last longer using a clothing steamer. 
Another benefit of garment steamers is that they are available in different designs to suit your preferences. There's a design to suit every household, from sizeable commercial clothing steamers to lightweight, portable handheld steamers. 
Who Should Buy a Garment Steamer?
As we have mentioned, clothes steamers are important machines you should have in your home, especially if; 
 You don't like ironing using heavy irons or ironing boards. 
In case you have many delicate clothes that can get damaged by iron. 
If you frequently require ironing one type of cloth at a time, mostly when you are in a hurry. 
If you travel a lot and need a portable clothing steamer, you can use it to de-wrinkle your clothes faster. 
What is the Most Powerful Clothing Steamer?
The most powerful handheld clothing steamers operate between 1500-1800 watts. The most powerful upright steamers use between 1500 and 2000 watts to create a strong, hot steam output. Brands that offer high powered clothing steamers are:
Is Steaming Better than Washing Clothes?
Steam is excellent for refreshing clothing between wears when they don't need washing. A clothing steamer won't replace your washing machine, however. If you have visibly dirty, stained, sweaty, or smelly clothing, you must wash your clothes. After they have dried, you can use your steamer to remove wrinkles.
Can a Steamer Ruin Clothes?
A garment steamer is far more gentle on clothing than ironing and safe for use on delicate fabrics, including silk. I have used my garment steamer on all types of fabrics, including a dry clean only coat, with excellent results.
If used correctly, a clothing steamer should not cause any damage to clothing.
Final Thoughts on the Anthter Steamer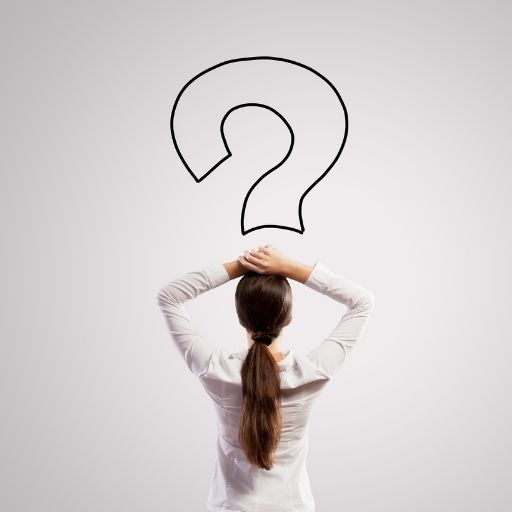 If you have been searching for a powerful clothes steamer with commercially rated components and a 3-year warranty, the Anthter steamer is among the best options. 
It is packed with many useful features which make it easy and convenient to use. Our Anthter Professional Steamer 1500W review revealed that the machine takes just 35 seconds to heat up. Its large water tank enables it to offer 90 minutes of continuous performance. 
In terms of price, it is more affordable than other commercially rated garment steamers. It is among the best clothing steamers that will give you fantastic value for your money. 
The question remains regarding the longevity of this machine, with no replacement parts available to buy. I also had trouble finding any customer service or contact details for Anthter. Some Amazon reviewers have said that this steamer stopped working in less than 6 months, but praise the excellent customer service from Anthter.
If you don't have the budget for a high-end professional steamer, the Anthter steamer is one to consider. If you have a little more to spend, I'd recommend looking at the Vornado steamer, or the Jiffy J-4000, which will last you for years to come.