8 Bathroom Steam Cleaners for Sparkling Tiles and Grout
Bathrooms and toilets are among the dirtiest places in our homes – and marketing would have you believe you need to buy expensive cleaning products effectively clean them. But you don't. A simple steam cleaner can effectively clean your bathroom grout, tiles, bathtub, shower screen, vanity and more.
Before I discovered steam cleaning, I used to try to be efficient and clean the shower when I was in it. Using toxic chemicals that shouldn't be mixed with hot water and did who knows what damage to my lungs and skin. Not only am I no longer damaging my health, or the environment, my bathroom is cleaner than its ever been, thanks to the power of steam.
So, here are my recommendations for the best bathroom steam cleaners, for naturally sparkling clean, germ free bathroom you can be proud of.
The 8 Best Bathroom Steam Cleaner Recommendations
Want to get right to it? Here are my top choices for a bathroom steam cleaner:
09/13/2022 12:54 pm GMT
Vapamore MR-100 Primo Steam Cleaner
When searching for the best bathroom steam cleaner, you need to consider a powerful machine that can handle even the most stubborn messes. In this regard, the Vapamore MR-100 Primo has amazing features which you cannot find in any other bathroom steamer.  To start with, it is made of commercial-grade steel meaning that it is very durable. As a result, it comes with a lifetime warranty unlike other models on the market.  
Besides that, this machine is extremely versatile which means that you can use it for wide variety of cleaning tasks apart from cleaning bathrooms. You can use it for living rooms, bedrooms, garages, outdoor cleaning, automotive, kitchens and any other place where you need a powerful steamer.  The water tank has a capacity of 1.6 quarts and heats water up to 212⁰F within 11 minutes. With a solid steam output at 50.7PSI (3.5 bars) you'll blast away bathroom grime easily.
The machine comes with 20 accessories and offers a continuous performance for 50 to 60 minutes. Other feature includes an 18 foot retractable power cord, 5 foot steam hose, auto shut off feature, locking mechanism for attachments and heavy-duty castors. 
Pros
Lifetime warranty 
Multipurpose steam cleaner 
Long power cord and steam hose 
Durable construction 
50 to 60 minutes runtime 
Reliable safety features 
20 accessories  
Cons
No continuous refill
Pricier than other models
POLTI Vaporetto Smart 100
POLTI Vaporetto Smart 100 Steam Cleaner is among the best shower steam cleaners. Once you connect it on a power source, it heats up within just 4 minutes. The 2.1 quarts water tank heats hot steam up to 280⁰F for sanitizing surfaces.  
 It uses a high steam pressure of 58 PSI which enables to clean even the toughest messes from bathroom floors.  You can also adjust the amount of steam pressure to suit your cleaning requirements.  
This shower steam cleaner comes with up to 10 accessories for cleaning different surfaces.  This means that apart from bathrooms, it is also perfect for floors, carpets, mirrors etc. For people who suffer from different allergic reactions, the POLTI Vaporetto 100 steamer will be an excellent choice since it is approved by the British Allergy Foundation.
The machine has a compact design and it also features durable wheels for easier movement. Unlike other steamers, this one has a steam lock located on the handle that allows you to clean without holding down the trigger. 
POLTI Vaporetto Steam Cleaner
Boiler temperature heats to 280F
Tip temperature approx 212F
Continuous refill - no downtime when water is low
Onboard accessory storage
Replacement accessories available
Buy on Amazon
We earn a commission if you make a purchase, at no additional cost to you.
09/13/2022 12:54 pm GMT
Pros
Portable design 
Allows continuous cleaning 
Powerful and multipurpose steamer 
 Preheats water within 4 minutes 
10 accessories included 
3 steam levels 
Easy to maintain
Bissell SteamShot Deluxe Handheld Steam Cleaner 
If you are on a budget and in need of a powerful handheld bathroom steam cleaner, the Bissell SteamShot Hard Surfaces Steam Cleaner will be a great choice.
One of the things that make it easier to use is the on-demand steam trigger that allows you to control the amount of steam that come from the nozzle. It also comes with 10 accessories which include 3 color-coded round brushes with bristles, flat scraper tool, grout tool, angle concentrator tool, squeegee for shower screens, windows and mirrors and a jet nozzle. 
It only weighs 3.83 pounds making it perfect for those searching for a lightweight model. Thedownside with handheld steam cleaners is they don't run for very long. You'll need to allow a few minutes for the unit to cool before depressurizing, refilling with water, and start cleaning again.
BISSELL SteamShot Deluxe
Handheld steam cleaner with 10 attachments
Versatile for cleaning small spaces
Fast heat up but short run time
Buy on Amazon
We earn a commission if you make a purchase, at no additional cost to you.
09/13/2022 01:47 pm GMT
Pros
Cheap price 
Very lightweight  
Easy to use 
Chemical free cleaning 
On-demand steam trigger 
Kills 99.9% of germs, viruses and bacteria
McCulloch MC1275 Heavy-Duty Steam Cleaner  
The McCulloch MC1275 is an excellent steamer for bathroom cleaning. It has a 9.8ft steam hose, so if you have floor to ceiling tiles and want to clean from top to bottom, you can do it with ease with this machine.
This is my favorite steam cleaner from the McCulloch range as it is compact, lightweight at 10 pounds, has as much steaming power as the more expensive McCulloch models and an excellent range of attachments. The price is decent even for those who are on a budget.
It offers 1500 watts of power but is equipped with amazing features which enables it to offer a great performance when cleaning bathrooms or bathtubs – I particularly like the round scrubber pad for bathtubs and vanity sinks.
In the box, you will find 18 accessories for cleaning various surfaces of items. This means that it is even more versatile than some expensive steamers. You can use it to clean fixtures, outdoor furniture, floors, countertops, appliances etc. 
McCulloch MC1275 Steam Cleaner
Long 9 foot steam hose
Excellent range of accessories for all surfaces
45 minute run time
Replacement accessories available
Boiler heats to 212F
Buy on Amazon
Buy at Sylvane
We earn a commission if you make a purchase, at no additional cost to you.
09/13/2022 01:06 pm GMT
Pros
Portable design 
Affordable price 
48-ounce water tank 
Steam lock switch 
45 minutes of continuous 
18 attachments included 
2 years warranty 
Cons
Lacks an adjustable steam function
Bissell PowerFresh Slim Steam Mop
If you are searching for the best kitchen and bathroom steam cleaner, the Bissell PowerFresh Slim Steam Mop 2075A is the right machine to consider. It comes with a handheld steam cleaner that has onboard storage for the included attachments, which are excellent for grout cleaning.
In the box you will find accessories to clean the toilet, colored brushes (eg use green for the bathroom and red for the kitchen), a grout brush, scraper, and fabric or upholstery tool. There is also a wall mount for easier storage and two steam mop pads for the floor.
The PowerFresh slim converts easily from a handheld steam cleaner to a steam mop to clean sealed hard floors, ceramic, marble, granite and linoleum. You can attach the accessories to the extension poles, or to the handheld steaming unit for ease of use.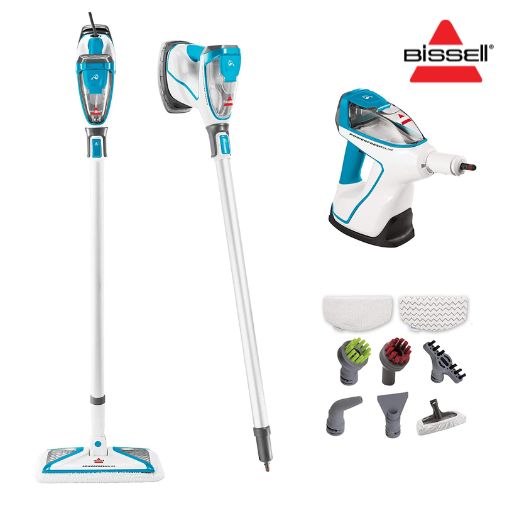 Pros
Excellent design 
It comes with a handheld steamer 
Easy to use 
6 attachments included 
On-board storage kit for attachments
Cons
Small water tank
Brushes wear out easily
Sargent Steam Cleaner Multipurpose Cleaner
You don't need a bathroom steam cleaning service when you have the professional Sargent steam cleaner at home. Yes, it's an investment, however this powerhouse heats up to 295⁰F for faster, deeper bathroom steam cleaning.
This 1450 watts machine offer up to 2 hours of continuous making it ideal for heavy-duty cleaning tasks. It takes just 8 minutes to heat water to 295⁰F. Since this steam is hotter than the one that comes from the ordinary steamers, the machine is more suitable for deep cleaning.  
It offers a higher steam pressure of 65PSI with adjustable steam flow – turn it down low for steaming the toilet without splashing water everywhere, turn it up higher for tackling mold stains in grout.
In the box, you will find 17 accessories for a complete bathroom clean. From horsehair bristle brushes for delicate surfaces, to an extra wide squeegee for your windows, mirrors and shower screens your bathroom will be sparkling clean in no time. Every replacement accessory under the sun is available to purchase – and you know you're buying a quality machine when there is a steam iron attachment to go with the steam cleaner as well (sold separately).
Once you purchase this machine, you are guaranteed lifetime support by their awesome customer care agents who have helped thousands of customers since 1993.  
Sargent Steam Cleaner
65PSI
298F Boiler Temperature
Large range of attachments
Made in Italy
Buy on Amazon
We earn a commission if you make a purchase, at no additional cost to you.
09/13/2022 01:22 pm GMT
Pros
Suitable for heavy-duty or commercial cleaning 
Heats up within 8 minutes 
65 PSI and 295⁰F steam temperature
17 attachments included 
User-friendly design 
2 hours of continuous cleaning 
Lifetime support 
Cons
Price
Warranty – given the price, I'd expect a lifetime warranty. However, it is a 2 year parts warranty, 5 year heating element and boiler warranty. You can purchase an extended warranty also.
Wagner Spraytech Steam Cleaner
Here comes another top-rated steam cleaner that will give you amazing results when cleaning bathrooms. The Wagner Spraytech is an inexpensive, all round bathroom steam cleaner that can be used for a whole house clean.
It is packed with excellent features such as 18 accessories and angled nozzles for cleaning different surfaces. I particularly like the angled nozzle for getting under the toilet bowl rim.
It is equipped with a 40oz water tank which heats water within 9 minutes. This unit offers a high steam temperature of up to 212⁰F making it one of the most effective machines for sanitizing bathrooms and toilets. When the water tank is full, you can use the machine continuously for 40 minutes. 
It's 6ft steam hose isn't as long as the McCulloch MC1275. You can store some accessories on board and easily maneuver the machine around with the wheels and the carry handle.
Pros
40 minutes of continuous cleaning 
Highly versatile 
Affordable price 
Lightweight design 
Great for toilet and grout cleaning
18 accessories 
Cons
Small squeegee
Included wallpaper steamer may not be of use to some
Dupray Neat Steam  Cleaner
Dupray Neat Steam Cleaner is a versatile bathroom steam cleaner. The squeegee works well for shower doors, mirrors and your bathroom windows. The triangle scrubbing brush gets into the corners and along edges with ease. 6 round scrubbing brushes (5 nylon, 1 brass) help with grout cleaning, around tapware and drains.
It comes with a 34oz or (1 liter) stainless steel boiler which offers continuous cleaning up to 50 minutes. The machine offers up to 1500 watts of power and up to 50PSI steam pressure. 
The boiler heats to an above average temperature of 275⁰F – and for a relatively inexpensive steam cleaner, Dupray offer a lifetime warranty on the boiler. Just be sure to use distilled water, or regularly descale as recommended.
Dupray Neat Steam Cleaner
Compact yet powerful
Boiler heats to 275F
Versatile attachments
Lifetime warranty on boiler
Buy on Amazon
We earn a commission if you make a purchase, at no additional cost to you.
09/13/2022 01:37 pm GMT
Pros
Lightweight, compact design 
1500 watts of power 
Versatile performance 
Long steam hose and power cord 
50 minutes of continuous cleaning 
14 attachments included 
Cons
Not the best for heavy-duty cleaning 
Only round grout brushes, no long grout scrubbers
How to Clean a Bathroom Using a Steam Cleaner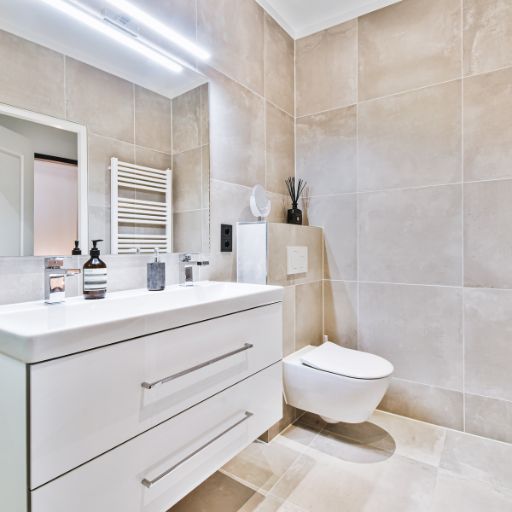 You can use a steam cleaner to clean your bathroom floors, tapware, vanity, cupboard doors, inside cupboard drawers and shelves, the toilet, grout, tile walls and tile floors. When cleaning, you should follow these steps:
Assemble the unit 
All steam cleaners come with different accessories for cleaning different surfaces.  The first thing you need to do is to ensure that you have all the important accessories you will require to clean the bathroom.  
Add water to the reservoir-  
Once you have confirmed that you have all the important accessories, you can now refill the water tank using distilled water. Each machine has different water levels and maybe a water level indicator.  Use a funnel to prevent spillage and put the fill cap back after refilling. Never add cleaning detergents or chemicals in the water tank because steam cleaners are designed to use water only. 
Plug it into a power source 
 Connect the steam cleaner into a power source and then switch it on. Wait for the water to heat up to the maximum steam temperature. This varies according to the machine.  Most unit come with a water ready indicator that alerts you when the steam is ready. 
Start cleaning 
You can now start steaming after connecting the relevant accessories that suits the type of job you are doing. 
How to Choose the Best Bathroom Steam Cleaner
When choosing the best steam cleaner for bathrooms, you need to consider the following; 
Steam pressure and temperature 
The steam pressure and stem temperature determines the effectiveness of a steam cleaner. A machine with a higher PSI or steam pressure can handle all types of dirt including the toughest stains. On the other hand, a steamer with a high steam temperature will be the most effective for killing all bacteria, germs and viruses. Apart from the steam pressure and steam temperature, you should also choose a model with a higher wattage of at least 1500 watts especially if you are intending to use it for heavy-duty cleaning.  
Versatility  
It is important you consider a machine you can use to clean almost all parts of your home.  Apart from cleaning bathrooms, you need a machine that you can use to clean carpets, mattresses, upholstery, countertops, car interior, kitchen appliances like stovetops etc. 
Accessories included  
The other thing you need to check is the type of accessories included. Make sure that the one you have picked comes with all tools you may need to clean different parts of your home. Those machines that come with a higher number of accessories will give you better value for your money.  
Run time and pre-heat time 
Depending with the size of the water tank, steam cleaner requires different amount of time to heat.  Those with a small water tank heats within 5 minutes while those with a bigger one may take up to 20 minutes to heat. Likewise, those with a bigger tank will offer a longer run-time than those with a smaller one. The choice will depend on the size of your bathroom or nature of the cleaning task. In case you need a machine you can use for heavy-duty cleaning, you should look for one that offers at least 2 hours of continuous steaming.  
Warranty  
If you want to know the durability of the machine, you should check the overall construction of the unit to ensure that it is made of commercial-grade materials. If you are not sure about the construction, you should consider a model with a reasonable warranty. Vapamore steamers come with a lifetime warranty meaning that they will give you the best value for your money.  
Frequently Asked Questions 
Are steam cleaners good for bathrooms?
Steam cleaners are an excellent choice for cleaning bathrooms without using chemicals. The high heat from steam kills bacteria, viruses and germs. Steam rids bathrooms of odors and urine smells. You should be able to clean every surface of your bathroom hygienically using only steam, saving you money on chemicals.
Will a steam cleaner clean a shower? 
A steam cleaner will clean a shower floor, shower walls, tapware, shower head, shower screens and shower curtains. You can also use a steam cleaner on bathtubs and vanities. The more powerful the steam cleaner, the better the results you will get.
Do steam cleaners clean bathroom tiles?
Steam cleaners are best suited to cleaning tiles. Sealed tiles, such as those in a bathroom, can withstand the high heat of a steam cleaner to melt away oils, soap scum and dirt. For heavy soap scum and hard water stains, use a scrubbing brush with your steam cleaner.
Will steam cleaner clean dirty grout? 
A steam cleaner can effectively clean dirty grout in the bathroom, shower, around the toilet, on walls and backsplashes. For best results, choose a grout cleaning attachment to help scrub the dirt. Work slowly and allow the steam and the scrubber to do the work.
Final Verdict: Are bathroom steam cleaners worth it? 
Choosing a steamer for bathroom cleaning comes down to the size of your bathroom and your budget. I've tried to cover most options with this list of bathroom steam cleaners above. From an inexpensive handheld steam cleaner to a powerful professional model you can get amazing results in your bathroom with the help of steam.
It's important to keep in mind that results can vary depending on the power of your steam cleaner and the existing state of your bathroom. I have very hard water at home and find I need to scrub with the steam to remove hard water stains. Using a steam cleaner doesn't negate the need for a little elbow grease at times.
I can clean confidently knowing that I'm not putting toxic chemicals down the drain, and saving money in the long run. If you persist with using a steamer for bathroom cleaning, the results will get better and better each time. As always, I'm here for you if you have any questions.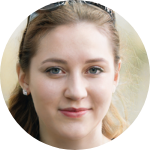 About the Author
Hi I'm Lauren. Passionate organizer, t-shirt folder and owner of a commercial garment steamer, steam cleaner and handheld steamer. I'll discuss all things steaming, so if you need help with buying or using a clothing steamer or steam cleaner, I'm here for you. Please join me on Facebook and don't hesitate to reach out if you have any questions. Happy Steaming!