Standing Clothes Steamers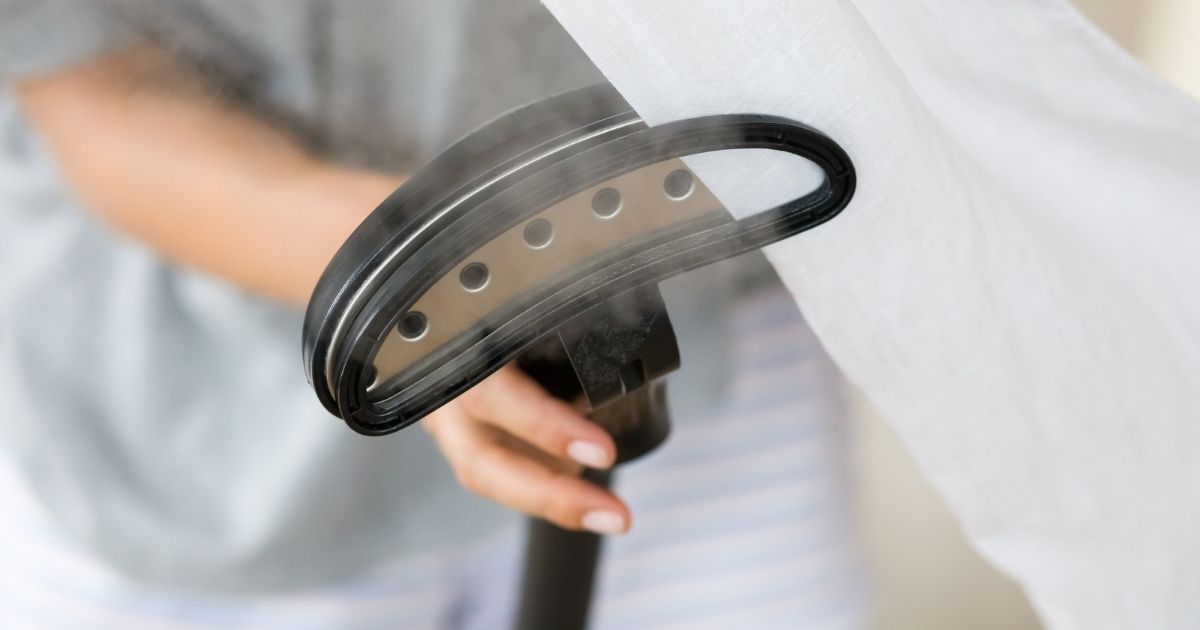 If you own a lot of delicate materials, dislike ironing with a passion (like me), or want to get more efficient with getting wrinkles out of your clothing, a standing clothes steamer will be a solid addition to your home. 
A standing clothes steamer can also save you cash usually invested at the dry cleaners by helping to refresh dry clean-only clothing in between treatments. 
The benefits of a standing clothes steamer over a handheld steamer are:
Longer running time
Less weight on your arms
Stronger steam output
Commercially rated models
More attachments
Heat Up Time
A standing clothes steamer takes anywhere from 2 minutes to 15 minutes to warm up. The difference in the heat-up times depends on the type of heating mechanism. Some upright steamers have heating elements inside boiler tanks and heat the entire water tank, offering continuous steam over a longer time. 
Other standing clothes steamers hold the water in a separate reservoir, pumping water through a heating element in smaller amounts. This allows you to start steaming more efficiently. The downside here is that the steamer may pause or produce a smaller steam output while the water heats to the desired temperature. 
Deciding between the two comes down to personal preference. If you are the type of person who does their laundry once a week, or irons a whole basket of clothes in one go, a steamer with a boiler tank will offer you consistent steaming for a couple of hours. 
If you are the type of person who wakes up in the morning, decides what they want to wear, and needs to give it a quick freshen-up, waiting 15 minutes for a complete boiler tank of water to heat up will not be ideal for you. 
Steam Controls and Attachments
Some standing clothes steamers feature different steam controls. This is handy for lowering the steam output for delicate fabrics such as silk, then pumping through on max steam to de-wrinkle linen or denim. 
Variable steam controls aren't entirely necessary, though. You can achieve less heat and steam by diffusing the vapor with a steam bonnet or moving the steamer head away from the fabric. 
Sometimes it is easy to get blinded by all the bells and whistles of fabric steamers with numerous attachments and variable steam settings. While these can come in handy, the practicality of placing a steam attachment onto the steamer head when you need it is something to be considered. 
Metal Steamer Head vs Plastic
The steamer head is hot, especially if you choose a metal steam head over plastic. Let the steam head or sole plate cool down is always recommended before adding or removing attachments. This negates the efficiency of steaming, which is why I find myself steaming without any additional attachments most of the time. 
While we're talking about the steamer head, let's consider the difference between metal and plastic:
The metal retains heat and is a good choice for heavier fabrics.
Plastic is much lighter than metal and will be easier on your wrist and arm.
The heat in the metal helps avoid drips and condensation build-up.
You may find some dripping from condensation build-up in a plastic steam head. 
Plastic is more prone to breaking if dropped; the metal could cause an injury due to its weight.
The water in a steamer can reach up to 300 degrees Fahrenheit, so it certainly can be dangerous. I always recommend a steaming glove when using any clothing steamer. You need to use your non-dominant hand to hold the clothing while aiming steam in the same direction. 
After using steamers for seven years, I still occasionally burn myself. And it hurts.
Using Distilled Water
You should be prepared to purchase distilled water to use in your steamer. This needn't be scary or offputting; you can buy gallon bottles of distilled water at Walmart for a couple of dollars. 
Of course, if you want to use tap water, go right ahead. Just be prepared for your steamer to spit, splutter, be less efficient at producing steam and stop working well before it should. This applies to you if you live in a hard water area. Read this post for further info.
You can also buy distilled water machines to make your own at home. This is helpful if you do a lot of steaming or have a steam mop or canister steam cleaner for your floors and cleaning other areas around your home. 
If you can't get distilled water, read my post on distilled water alternatives.
Other Uses for Your Standing Clothes Steamer
Speaking of cleaning other areas around your home, I have used my standing clothes steamer on my lounge, walls, artificial plants, door handles, mattress, tiles, benchtops, curtains, mirrors, and more. 
There are different opinions across the web as to whether you should let the head of your clothing steamer touch the fabric of your clothing. I do this all the time and have never melted any material, including my wedding dress, that is dry clean only. I'm not saying go for it, more so, test and measure. 
Power and Steam Output
The key to success with steaming is buying an upright steamer that is powerful enough to remove wrinkles from all types of fabrics. I generally look for a steamer with at least 1500 watts of power. 
Some steamer manufacturers also tell you the output of steam. They measure this in grams per minute; the higher the grams, the more forceful the steam vapor is. 
This may not concern you if your wardrobe consists of thin, lightweight clothing. If you need to steam denim, linen, or wool, or use your steamer on curtains or other linens, consider looking for one with decent power and steam output. 
What Steaming Your Clothing Does
When steaming, remember that garment steamers loosen the bonds between the particles in fabric to release wrinkles. To take advantage of the wrinkle-reducing power of the steam, you'll wish to use soft, sweeping motions near the material.
Standing clothes steamers don't offer the flat-pressed look of an iron. As I mentioned above, they relax wrinkles. They do a great job, and I certainly wouldn't be without one, but if you love creases and a super-pressed look, consider whether a steamer is suitable for you. 
A great example of this is when I steamed my heavy denim jeans. I ironed one leg and steamed the other. You can see the difference here.
Where steamers shine is with delicate materials like cashmere and silk. A standing clothes steamer will not just quickly get rid of wrinkles from these fabrics but will not harm the material, which is always a risk when ironing.
Most standing clothes steamers also have wheels on the bottom, making maneuverability easy. 360-degree rolling castors are simple to roll around. Other steamers have larger back wheels where you tilt the machine and pull behind you. You will not often come across an upright steamer without some mechanism to move it around. 
I like the convenience of the built-in hanger systems with standing clothes steamers. It makes it easy to hang your clothing from the top of the telescopic pole and steam above the machine. 
If you have a separate ironing stand, you can hang all your clothes ready to go. This also provides a place to hang your clothes to air dry once you have finished steaming. 
The vapor from the steam will make your clothes feel slightly damp to the touch. It shouldn't take long for this to disappear. Make sure you let them fully dry before storing them in your wardrobe. 
The Best Upright Clothes Steamers for 2022
From budget models to top-of-the-line steamers, here are my top choices for standing clothes steamers:
Costway Garment Steamer 1750 Watt
This is a new release standing steamer by Costway, released in September 2021. It is a great budget option that offers 1750 watts of steaming power, 2 steam settings, large 67 ounce water tank and dual telescopic poles for stability. You can leave your clothes on their hangers and hang them from the horizontal racks to make steaming more efficient.
The water tank is removable for easy refilling. There are hooks on both sides of the telescopic poles to hang the steamer head when not in use. You also get a crease tool and fabric brush attachments.
Like most Costway products, they only offer a 1 year warranty. The 52 inch steamer hose (approx 4.3 feet) could be a little longer, but if you are only steaming clothing, this will be sufficient.
Jiffy J-2000M Garment Steamer
Jiffy are one of my favorite brands of steamers, as they offer superior quality. Made in the USA, the J-2000 models of steamers are available with a plastic or metal steam head that is 6 inches wide. The solid brass heating element will last for years and with this particular model, it doesn't heat all the water at once, offering a 2 minute heat up time for fast steaming.
The power behind this steamer is 1300 watts. You can steam continuously for around 90 minutes. The steam hose is longer than the Costway model above, at 5.5 feet. This is standard across all the Jiffy standing steamers except the drapery steamer, which is longer.
If you want a bit more power and stronger steam for denim or linen, take a look at the commercially rated Jiffy steamer (the J-4000 models). This is otherwise and excellent unit, backed by a 3 year warranty from Jiffy, with easy to obtain replacement parts if ever needed.
Pure Enrichment PureSteam Pro Standing Steamer
I'm a big fan of manufacturers that offer decent warranties with their products, and that's exactly what Pure Enrichment do with their PureSteam Pro model. Backed by a 5 year warranty, this steamer is easy to operate with a foot pedal and runs for around 60 minutes on the highest steam setting.
With 1500 watts of power, steam heats to approximately 208 degrees Fahrenheit. It's not the hottest steamer on the market, so I would recommend this one for more lightweight clothing. The water tank is detachable and convenient for easy refilling, and there are 4 steam settings, the lowest setting which can be used as a humidifier.
For me, the downsides are the heat (I always go for max power and heat for efficiency), and the shorter steam hose. The entire unit is only 4 foot 6 inches from floor to top. The 5.5 steam hose on the Jiffy steamers will give you more room to move about.
Fumorclu Standing Steamer
This steamer is virtually identical to the Costway steamer above and emits steam at 208 degrees Fahrenheit like the Pure Enrichment steamer. There are 2 steam settings, removable water tank and after the 45 second heat up time, you can steam for around 50 minutes.
The telescopic poles support up to 36 pounds and adjust up to 63 inches in height. This is overall a well priced steamer that offers excellent features. It is let down by the 1 year warranty and should things go wrong, there are no replacement parts. Use distilled water in the steamer to help with maintaining longevity.
Rowenta Precision Valet 1550 Watt Steamer
Rowenta offer a little more with the Precision Valet IS9100 model than other steamers. You can store the included attachments on board the machine. The power cord retracts into the machine also (unlike any other steamer on this list). There are 2 steam settings and foot pedals to turn the steamer on and off as well as retract the cord.
The water tank holds 1 gallon of water and is removable for easy refilling. Depending on the steam setting you choose, you can steam for up to 2.5 hours, and if you forget to turn it off, there is an auto shut off feature.
4 attachments are included, a fabric brush, crease tool, lint brush and upholstery attachment. The downside is Rowenta offer a 1 year warranty only, although accessories and spare parts are readily available on the Rowenta website. This steamer is affordable too.
There you have it. 5 great choices of standing clothing steamers that offer longer steaming times than handheld models. For reliability, Jiffy steamers continue to be my favorite. They are proven to last decades not years, and are workhorses of fabric steamers. You can also buy replacement parts easily and their steamers don't change often. They have built a good machine and have stuck with it.
If a Jiffy isn't in your budget, Pure Enrichment offer an excellent 5 year warranty. Rowenta are a trusted brand in garment steaming and irons, with replacement parts also available. Costway and Fumorclu are competitive, cheap and cheerful. Whatever steamer you choose, use distilled water in it to avoid mineral build up and your steamer should last you for years to come.