5 Commercial Steam Cleaners For High Heat, Power & Results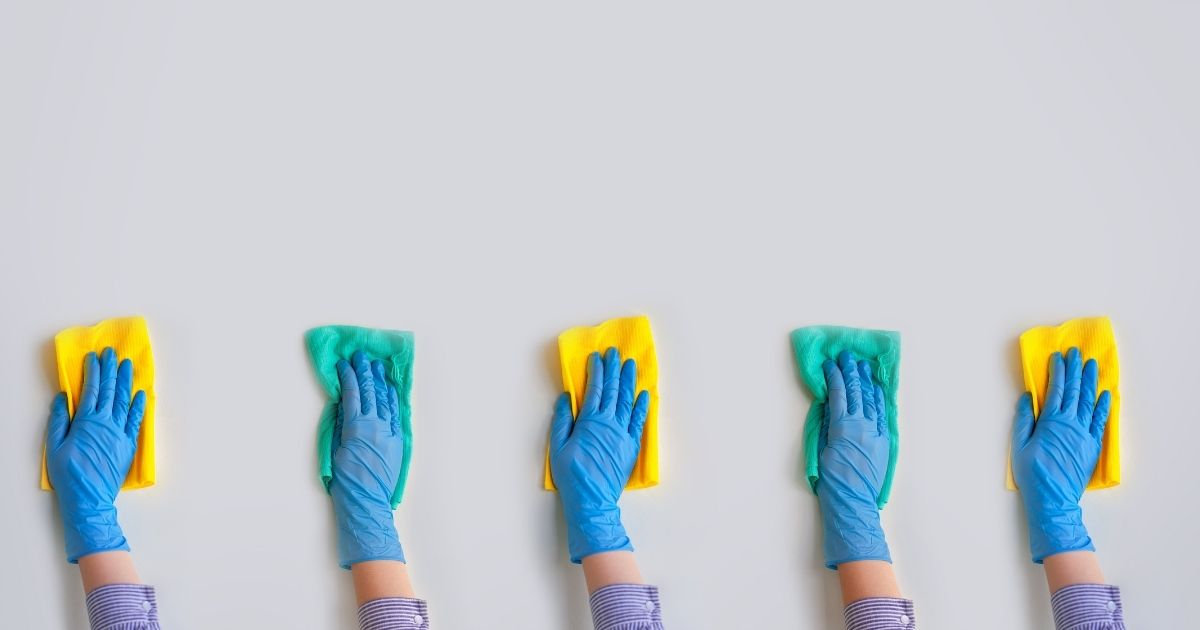 When you are looking for a steam cleaner with higher heat capabilities, greater steam pressure, and tougher, more durable parts, a commercial steam cleaner is what you need to consider.
Commercial steam cleaners are also vapored steam cleaners, emitting hotter, drier steam than home-use steamers. Whilst they are an investment in terms of cost, the durability and longevity you will get from a commercial steam cleaner far outweigh anything else.
Many users of cheaper steam cleaners are finding that the steam temperature isn't hot enough for their liking. The lower end of the market in steam cleaners may heat the water in the boiler tank to 212 degrees Fahrenheit, but by the time the steam reaches the nozzle and onto the surface, the temperature has dropped. Some user testing has shown temperature drops as low as 140 degrees Fahrenheit.
This is what sets apart commercial steam cleaners. Their boiler tanks heat up over 300°F, producing steam at the nozzle between 240°F to 290°F. This ensures that you can use your steamer for general cleaning, disinfecting, and sanitizing with steam.
A commercial steam cleaner generally has added features that you don't find on standard models, including pressure gauges, higher quality accessories, vacuum and steam models, variable steam settings, continuous fill water tanks, and low water alarms. Let's take a look at the best commercial steam cleaners on the market in 2022:
Top 5 Commercial Steam Cleaners
For those of you short on time, here are the top 5 commercial steam cleaners on the market for 2022:
Vapor Clean Pro6 Duo Steam Cleaner
The Vapor Clean Pro6 Duo is one of the lowest-priced commercially rated steam cleaners on this list. It is also top of my list for the best commercial steam cleaner for tile and grout. With continuous fill capability, there is no need to wait for the steamer to cool down before refilling with water. An alarm will sound when the water is low, avoiding boiler damage.
This unit is on four small castors and a handle on top for easy portability. The 9.75-foot steam hose is ideal for reaching the top of curtains, shower screens, windows, and walls without lifting the steam cleaner off the ground. This also makes this machine an excellent choice for car detailing.
The handy drain in the bottom of the unit also allows you to drain out any unused water without lifting and tipping the machine. It also comes with plenty of accessories for all hard surface cleaning jobs. There are no carpet accessories for this steamer, however.
This unit is compact. At 11.5 inches tall x 12 inches wide, it won't take up a huge space in your home, office, or vehicle. Weighing 18 pounds without water, it can easily be lifted by one person. You can adjust the steam pressure gauge to change the steam levels based on your cleaning needs.
Pros:
9-minute heat up time
Boiler heats to 311°F
Steam Tip Temperature 240-280°F
Adjustable steam control
Max operating pressure 87 PSI
Continuous fill boiler that holds 2.1 quarts
Long 9.75ft steam hose
Lifetime boiler and heating element warranty
Cons:
No carpet glider, spot clean carpets only
No onboard storage for accessories
Vapor Clean steam cleaners are available to buy at Sylvane. They are authorized resellers of Vapor Clean products, offer free shipping within the USA, and also offer financing through Bread.
Dupray Hill Injection Steam Cleaner
Dupray Hill Injection Steamer with Detergent
This commercial grade steamer from Dupray is made in Italy and offers unlimited cleaning time thanks to the continuous refill tank. You can also add detergent, a great option when cleaning commercial kitchens, car engines and other greasy areas that need an extra boost. The boiler heats to 345°F, has a lifetime warranty, and with the 20+ accessories you'll be finding things to clean you've never cleaned before.
Buy on Amazon
We earn a commission if you make a purchase, at no additional cost to you.
07/22/2023 02:58 pm GMT

The Dupray Hill Injection steam cleaner is another excellent option for commercial steam cleaning. It is also compact, at 13 inches in height, 10.5 inches wide, and 16.5 inches deep. It has a digital display showing the boiler temperature reaching up to 345°F.
What sets this commercial steam cleaner apart from others is the ability to add detergent. In a true eco-friendly steaming style, Dupray has created their biodegradable concentrated all-purpose cleaner, specifically designed for use within the Dupray models with a detergent tank (like this model).
The high heat of the boiler tank also ensures dry steam, with a maximum water content of only 5%. For those using the Dupray Hill at home, add the aroma diffuser to the front of your machine (sold separately) and add your favorite essential oils for a delightfully scented home.
This commercial steam cleaner comes with various accessories, including nylon, brass, and stainless steel brushes, a plunger for drains, a scraper tool, a squeegee, and more; you can easily clean hard surfaces. Like the Vapor Clean Pro6 above, this model has no carpet cleaning tools, allowing for spot cleaning only.
You can read my full review of the Dupray Hill Injection Steam Cleaner here.
Pros:
7-minute heat-up time
Boiler heats to 345°F
Adjustable steam control
Max operating pressure 121 PSI (6 bars)
Add detergent to the water tank
Continuous fill boiler that holds 0.8 gallons
Long 9ft 10 inches steam hose
Lifetime boiler warranty
Made in Italy
Cons:
Heavier than the Vapor Clean Pro6 at 28lbs without water

No onboard storage for accessories

No carpet glider, spot clean only
US Steam Sea Hawk Cleaner
You could be forgiven for thinking this simple-looking machine isn't much more than a vacuum. But it is so much more than that! This neat-looking package can operate as a steam cleaner and vacuum simultaneously, as a vacuum for all surfaces, as a hot water injector and extractor for deeply embedded stains, and as a steam cleaner on its own.
The Sea Hawk steam cleaner is comparable in price to the Dupray Hill above. Twenty-four accessories come with this vacuum and steamer for carpet, hard floors, delicate flooring, window and glass cleaning, grout cleaning, and upholstery cleaning.
The boiler tank heats the water to 300 degrees Fahrenheit, outputting steam at approximately 250°F at the steam nozzle tip. This is hot enough steam for thoroughly cleaning your home or commercial space. Running for around 60 minutes on one tank of water, you can refill whenever needed without waiting for the machine to cool down.
This is a great option for home pest control, allowing you to kill pests with steam and vacuum them simultaneously. The HEPA filter ensures cleaner air quality than before you started cleaning, making this unit an excellent option for allergy sufferers.
Pros:
5-10 minute heat up time
Boiler heats to 300°F
Steam tip temperature approx 250°F
Adjustable steam control
Adjustable vacuum control and HEPA filter
Huge range of accessories, particularly for carpet
Max operating pressure 65PSI (4.5 bars)

Continuous fill boiler

Made in Italy
Cons:
1-year warranty. Up to a 5-year commercial warranty must be purchased separately.
13ft power cord is fairly short
To vacuum and steam simultaneously, you must use low or medium settings.
Vapamore Ottimo MR750 Commercial Steam Cleaner
The Vapamore Ottimo MR-750 steam cleaner is a heavy-duty model suited for light commercial use. It is bigger and bulkier than other commercial steam cleaners on this list, but don't let that scare you off – this machine will run for around 3 hours with a full tank of water.
Like other commercial steam cleaners on this list, you can adjust the steam settings depending on your use. The boiler heats to 302°F, not the hottest on this list, but with an output steam temperature of 210-240°F, this versatile machine will still produce steam hot enough for sanitizing and disinfecting.
Twenty-four cleaning accessories come with the Vapamore steam cleaner, including attachments for mattress steaming that can also be used for clothing, brass and nylon brushes for grout, and unique to Vapamore, horse hair bristle brushes, which are good for delicate surfaces that can easily be scratched. You can also store the attachments onboard in the basket.
Outputting steam at 75PSI at its max level, this light commercial steamer offers enough power to effectively deep clean your home, office, or car.
Pros:
Boiler heats to 302°F
Steam tip temperature 210-240°F
Adjustable steam control with five settings
Maximum 75PSI
24 accessories included with onboard storage
3-hour run time

Made in Italy
Lifetime warranty on the boiler tank
MondoVap Steam Vapor System With TANCS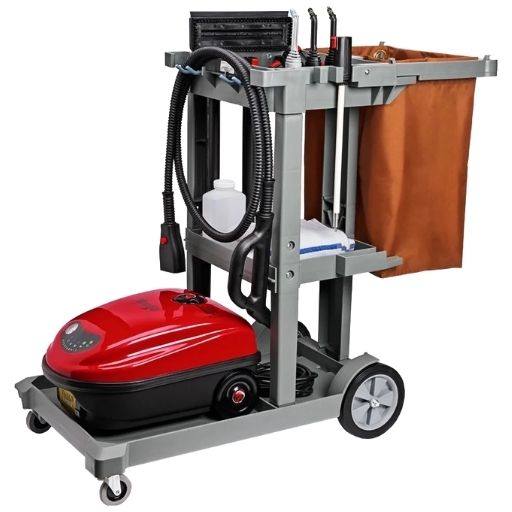 This is a high-end commercial steam cleaner by MondoVap, with studies proving the Thermo Accelerated Nano Crystal Sanitation (TANCS) technology kills pathogens in just 7 seconds. This machine offers dry steam technology, making it an excellent choice as the best commercial steamer for restaurants, hotel rooms, hospitals, and more. If you are interested in TANCS technology for your home, look at Ladybug steamers.
The boiler heats to 330°F, providing super hot and dry steam up to 98PSI, which you can monitor on the pressure gauge. The machine offers continuous fill and heats up in only 7 minutes. When you turn off the steam, the machine will refill the boiler tank from the reservoir. Any towel or microfiber cloth can be used around the steamer head and triangle head attachment.
There are three steam settings, low, medium, and high – all controllable on the steamer's handle. Most general cleaning can be performed on the lowest steam setting.
Nylon, brass, and stainless steel bristle brushes easily snap on and off. Two squeegee heads are included (different sizes), as well as 2-inch wide brushes that fit stainless steel scrubbers for efficient cleaning of stainless steel. The long 10-foot steam hose plus extension wands make floor cleaning and overhead cleaning a breeze.
This quality machine requires little ongoing maintenance. A monthly empty of the boiler tank and any mineral build-up is all it needs.
This machine is an investment but a worthwhile one for commercial steam cleaning and disinfecting without using chemicals. Take a look at this video to see this machine in action. If you are looking for a commercial steam cleaner for tile and grout, the tile floor cleaning under the urinal is a must-watch – it will fascinate you and gross you out simultaneously!
Pros:
Boiler heats to 330°F
Steam tip temperature 230°F
Heats in 7 minutes
Adjustable steam control with three settings
Maximum 98PSI
36 accessories included
Continuous Fill

3-year warranty on the boiler tank
Commercial and industrial are terms often used interchangeably. Industrial steam cleaners are designed for use in retail shopping centers, motels, aged care facilities, and hospitals. With tougher construction, better warranties, and higher quality parts than home-use steamers, industrial steam cleaners also heat to higher temperatures in the boiler and output hotter steam at higher pounds per square inch (PSI). They offer superior cleaning power and can disinfect and sanitize, not just general steam cleaning.
What is a Good Quality Steam Cleaner?
The best quality steam cleaners offer excellent warranties, some with lifetime warranties on the boilers. These are brands such as Vapamore, Polti, Dupray, Advap (makers of Ladybug and MondoVap), US Steam, and Vapor Clean. Some of these quality steam cleaners offer continuous fill water tanks, high-quality accessories, steam and vacuum capabilities, and produce hotter steam for reliable disinfecting than cheaper models on the market.
Can You Use a Commercial Steam Cleaner on Ovens?
A commercial steam cleaner is an excellent choice for use on ovens. Look for ones with brass bristle brushes and a scraper tool to help remove toughly baked-on stains. Work slowly over the area, and your oven will be sparkling clean in no time without requiring any chemicals.
What is the Best Commercial Steam Cleaner?
The MondoVap steam vapor system with TANCS technology is an excellent commercial steam cleaner for disinfecting surfaces in less than 7 seconds. Using only tap water, the Thermo Accelerated Nano Crystal Sanitation (TANCS) can rapidly kill pathogenic microorganisms faster than chemicals, including staph, E.coli, MRSA, VRE, norovirus, canine parvovirus, human coronavirus 229E, Bird Flu and multiple fungi. The link above will take you to the study.
If the MondoVap steam vapor system is out of your budget, take a look at the Ladybug steam cleaners for home use. Otherwise, any commercial steam cleaner on this list has undergone rigorous evaluation to only bring you the best.