Dupray Hill Injection Steam Cleaner Review
Without a doubt, the Dupray Hill Injection Steam Cleaner is among the most powerful steam cleaners on the market. It has extraordinary features which you can never find in cheaper models. If you are looking for a heavy-duty or commercial grade steam cleaner, this machine will give you the best value for your money.
It uses the hottest steam up to 345⁰F (174⁰C) to clean, which is very effective for deep cleaning. In our detailed Dupray Hill Injection Steam Cleaner review, we shall reveal its unique features, explain how it works, and why you'll want one of these steam cleaners in your life.
| Dupray Hill Injection | Specifications |
| --- | --- |
| Power | 1600 watts |
| PSI | 121 PSI (8 Bar) |
| Steam Temperature | 345⁰F (174⁰C) |
| Heating Time | 7 minutes |
| Continuous Refill | Yes |
| Boiler Type | Stainless Steel |
| Boiler Warranty | Lifetime |
| Parts Warranty | 3 Years |
| Country of Manufacture | Italy |
| Detergent Feature | Yes |
| Indoor and Outdoor Use | Yes |
| Commercial Use | Yes |
| Accessories | |
| Weight | 28lbs (13kg) without water |
A Quick Overview of the Dupray Hill Injection Steam Cleaner
What Features Does the Dupray Hill Injection Commercial Steam Cleaner Offer? 
Compared to other Dupray Steam cleaners, the Dupray Hill Injection steam cleaner comes with outstanding features, including the following. 
Accurate Digital Interface 
Once you set your eyes on this machine, one of the major features you will see is the advanced digital interface. Through this interface, you can check the operational temperature and steam pressure. It also has an alert that lets you know when to clean the boiler. 
Performance  
The Dupray Hill Injection Steam Cleaner is a commercial grade model suitable for both home and professional use. Unlike ordinary steam mops and other canister steam cleaners, the Dupray Hill produces high steam temperatures of up to 345⁰F/174⁰C. This means that it is the most reliable and effective steam cleaner in its class.   
You can highly rely on it for any heavy-duty cleaning task such as car detailing, cleaning dirty floors or tiles, grout cleaning, etc. 
Detergent Feature
When cleaning very grimy surfaces, the machine allows you to inject a burst of concentrated Dupray BioVap detergent which helps to dislodge stains, grease, and grime. 
Dual-tank system 
Another excellent feature of this steam cleaner is the dual-tank system that allows you to refill the water during operation. This means you don't need to stop and wait for the machine to cool down before filling it with water. The boiler holds 0.4 gallons of water (1.5 liters), the refillable water tank holds an extra 0.8 gallons (3 liters), and the detergent tank holds up to 20oz (600ml) of fluid. 
Overall, the Dupray Hill will run for hours and can be topped up at any time.
Boiler  
You will find that the boiler that comes with this unit is made of high-grade AISI 304 Stainless Steel. It is also TIG welded together to enhance strength and durability. Due to the rugged construction, it can withstand up to 3 times the operating pressure. It also comes with a lifetime warranty meaning that it is built to last. 
Unlike any other model on the market, this boiler is designed using an encapsulated heating element. This element expands and contracts during the heating process to prevent the formation of mineral deposits. It also comes with an oscillating electromagnet that prevents buildups which may clog the water sensor.  
Steam Hose and Power Cord 
Some models come with a very short power cord and steam hose, making them difficult to use. However, the Dupray Hill Injection steam cleaner allows you to navigate easily. It comes with 14 feet and 9 inches (4.5 meters) long power cord. The steam hose measures 9 feet and 10 inches (3 meters). 
Safety features 
Anytime you buy a steam cleaner, you must check the unit's safety features. In this regard, the Dupray Hill Steam Cleaner has different safety features, which include; 
Automatic shut-off to prevent overheating when the water level is low 
Electromagnetic float 
Thermal overload 
2 pressure relief valves 
Functionality 
With this machine, you are assured of getting the best results when sanitizing, degreasing, deodorizing, and removing stains from any surface. This means that it is perfect for cleaning; 
Carpets 
Furniture, chairs, leather, or any type of material 
Most flooring types, grout lines, and sealed tiles  
Windows, mirrors, and glass surfaces
Car interior, engines, hard surfaces, consoles, seats, door jams, etc. 
Disinfecting toys, strollers, nursery tables, etc. 
 Deep cleaning business premises, offices, restaurants, and hospitals 
 Bathrooms, kitchens, toilets, etc. 
 Degreasing kitchen appliances such as fridges, ovens, BBQs, sinks, countertops, among others.  
Removing dust mites and bedbugs from mattresses or furniture
Kills germs, bacteria, viruses, mold, and mildew 
Warranty and price 
Compared to other Dupray steam cleaners, this model is more expensive. This is because it has exceptional features that you can never find in ordinary residential steam cleaners. As a result, it will give you unmatched results when cleaning. It also comes with a 3-year warranty on parts and a lifetime warranty on the boiler tank.
Prices pulled from the Amazon Product Advertising API on:
Product prices and availability are accurate as of the date/time indicated and are subject to change. Any price and availability information displayed on [relevant Amazon Site(s), as applicable] at the time of purchase will apply to the purchase of this product.
27 Accessories 
Another major selling point of this commercial-grade steam cleaner is its accessories. This means that it has all the necessary tools you will require for every cleaning job. These accessories have been specially designed to give you the best results when cleaning. They include:
Steam mop: The steam mop can be used on walls, floors and the ceiling. The head of the steam mop rotates and can get underneath low furniture for a complete clean.
Rectangle Tool: The rectangle tool can be used to clean walls, floors or carpets. Use with the microfiber cloth or microfiber bonnet for concentrated steam and dirt collection on the cloth. Use without the cloth for deep cleaning tiles and grout.
Triangle Tool: This mini tool gets into corners and tight spaces when the rectangle tool cannot. Use with the included microfiber cloth and/or bonnet. This is also used for mattress, upholstery and drapery steaming.
Window Tool: You can use the window tool either with the extension hoses or directly on the steam hose. There is a foam side and a squeegee side for complete window cleaning with ease. This is a much better design than the squeegee only found on other models.
Brushes: Included with your Dupray Hill cleaner are nylon, brass and stainless steel scrubbing brushes. These attach to the lance. The nylon brushes are best used on delicate surfaces that may scratch easily. These are also the first to melt with the high heat of the steam. Use the brass brush on stubborn grout, and the stainless steel brushes on grease, rusty surfaces, outdoor grills or any tough areas that need a firmer scrub.
Scraper Tool: This handy tool takes off stickers, can help remove wallpaper and can also be used on your stovetop and oven for baked on grease.
Plunger Tool: The plunger fits neatly over the drain, blasting hot steam down into the drain to melt away debris and build up.
Carrying case: In the package, you will also find a carrying case to easily transport the appliance and accessories. This is another item you can't find in other models. 
Pros
Commercially rated with 121PSI
Heats up to 345⁰F
Continuous Use – Refill anytime
Inject detergent into the steam
Dry steam vapor with less than 5% water content
Variable steam control
Hour counter
Lifetime warranty on the boiler
Use outdoors with a suitable extension cord
Cons
Price
3 year warranty on parts
Hot steam melts the nylon brush accessory quickly
Dupray Hill Injection Vs. Tosca 
Even though Dupray Tosca and the Dupray Hill Injection are the best steam cleaners from Dupray, they do offer different features. Some of these differences include: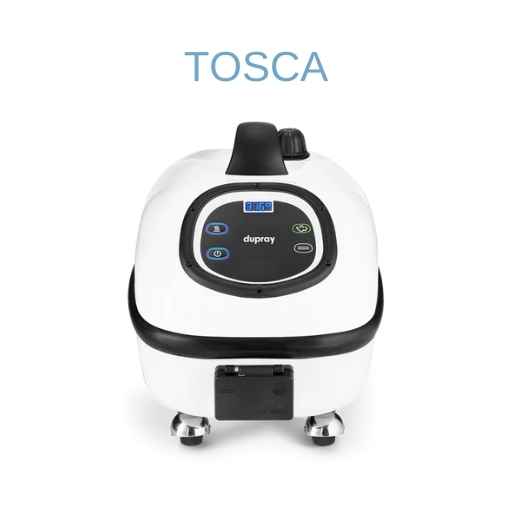 | Feature | Dupray Tosca |
| --- | --- |
| Continuous Fill | No |
| Detergent Feature | No |
| PSI | 72.5 (5 bar) |
| Max Temperature | 316⁰F |
| Commercial Use | Yes |
| Boiler Warranty | Lifetime |
| Country of Manufacture | Italy |
| Self Cleaning Boiler | No – descaling required |
| Feature | Dupray Hill Injection |
| --- | --- |
| Continuous Fill | Yes |
| Detergent Feature | Yes |
| PSI | 121 (8 bar) |
| Max Temperature | 347⁰F |
| Commercial Use | Yes |
| Boiler Warranty | Lifetime |
| Country of Manufacture | Italy |
| Self Cleaning Boiler | Yes |
Clearly, the Dupray Hill offers better features with higher PSI, continuous use, detergent feature and a self cleaning boiler. You'll also pay around $1000 more for the Dupray Hill Injection than you will for the Dupray Tosca.
My full review of the Dupray Tosca covers everything you need to know about this machine.
What is the Dupray Hill Injection PSI? 
The Dupray Hill Injection steam cleaner operates up to 121PSI (8 bars of steam). The steam pressure is adjustable with a minimum, medium, and maximum level. 
We feature this steamer on our list of best commercial steamers for 2022, as well as on our list of high pressure steam cleaners.
Where Can I Find the Dupray Hill Injection Steam Cleaner Manual? 
Dupray has electronic versions of user manuals available on their website. Here is a link to the user manual located on the support page.  
Can You Buy the Dupray Hill Injection Steam Cleaner in the UK? 
Unfortunately, the Dupray Hill Injection steamer isn't available on the UK Dupray website. Only the home use models are available in the UK at the time of writing. These include: 
Dupray Neat Steam Cleaner
Dupray One Steam Cleaner
Dupray One Plus Steam Cleaner
The Dupray One Plus is comparable to the Hill Injection steam cleaner. Although it is not a commercially rated machine, it still offers some of the excellent features found on the Dupray Hill Injection. 
This includes the ability to refill while in use, a boiler that heats up to 320⁰F (160⁰C), and all the essential accessories for home use. The boiler is also stainless steel and has a lifetime warranty. 
Click here to read our full review on the Dupray One and One Plus Steamer.
Can You Buy the Dupray Hill Injection Cleaner in Canada?
Dupray is widely available in Canada, with a head office located in Montreal. You can purchase the Dupray Hill Injection on Amazon in Canada. Dupray is one of the most recommended brands for Canadian residents due to its excellent support. If you find a problem with your steamer, you don't need to send it back to another country for returns or repairs. 
What is Vapor Steam Cleaning? 
Steam cleaners use vapor steam to remove dirt and kill up to 99.9% of viruses, germs, bacteria, etc. They have a boiler with a heating element that turns water into steam vapor. This steam vapor helps loosen dirt on different hard surfaces such as floors, walls, countertops, vanities, and more. Steam vapor is equally effective in loosening dirt from carpets, furniture, and upholstery. They come with different attachments, which make them suitable for cleaning car interiors, windows, kitchen appliances, among other items.  
The Dupray Hill Injection Steam Cleaner comes with a non-pressurized refill tank for adding water when cleaning is in progress. It also features a detergent tank that dispenses cleaning detergents to enhance performance. This is particularly beneficial for cleaning greasy kitchens, ovens, or tough soap scum in the bathroom.
Conclusion
The Dupray Hill Injection Steamer is the most powerful compared to other portable Dupray steam cleaners. There is the high end Dupray Carmen Super Inox and Steam Box steam cleaner, however, these are more suited to industrial level cleaning.
The Hill Injection steamer comes with better features than other commercial-grade steam cleaners, which will give you the best value for your money. You can use it for all deep cleaning tasks, and it is incredibly popular for automotive detailing. We hope that our Dupray Hill Injection Steam Cleaner Review has given you a clear picture of how the machine works.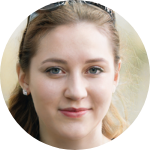 About the Author
Hi I'm Lauren. Passionate organizer, t-shirt folder and owner of a commercial garment steamer, steam cleaner and handheld steamer. I'll discuss all things steaming, so if you need help with buying or using a clothing steamer or steam cleaner, I'm here for you. Please join me on Facebook and don't hesitate to reach out if you have any questions. Happy Steaming!