Dupray Tosca Steam Cleaner
If you are looking for a commercial-grade steam cleaner for professional or home use, the Dupray Tosca Steam Cleaner is one to consider. This portable canister steam cleaner is equipped with tons of amazing features often reserved for models with much higher price tags. As a result, it is highly reliable when cleaning. 
It can kill up to 99.9% of viruses, bacteria, germs, and other harmful microorganisms quickly with it's high steam temperature and fantastic power. Read our detailed Dupray Tosca Steam Cleaner Review to know why it is worth your money. 
Specifications  
Dimensions : 10.5 inches x 13 inches x 16.5 inches 
Power : 1600 watts 
Body material : Enamel coated steel 
Boiler material : Stainless steel 
Boiler capacity : 1.05 gal/ 4 Liters 
Run Time: 50 minutes
Heating time : 7-8 minutes 
Electric cord length : 14 feet and 9 inches/4.5 Meters 
Hose length : 9 feet and 10 inches/3 meters 
Weight : 26lbs/12kgs
Cleaning time : Up to 90 minutes 
Steam pressure : 72.5 PSA/5 Bars 
Amperage : 15 A 
Voltage : 120V  
The Best Features of the Dupray Tosca
Accurate Digital Interface 
The most outstanding feature you will find in this model is the advanced and vibrant digital control (ADI) system. This digital control is responsible for all electrical functions. It also displays important data such as pressure, maintenance reminder, and steam temperature. 
Design  
In terms of design, the Dupray Tosca Steam Cleaner weighs 26lbs/12 kg since the body features an enamel-coated steel construction instead of plastic. However, it is portable and extremely powerful, making it ideal for both commercial and home use purposes. This machine is the most long-lasting model of its class. It is made in Italy using top-quality components from Germany. It is among the rare models that use the latest steam cleaning technology.  
Boiler 
The Dupray Tosca Steam Cleaner comes with a durable boiler crafted from premium AISI 304 stainless steel. All the boiler parts are TIG welded, enabling them to endure up to 4 times the pressure. This boiler comes with a lifetime warranty from Dupray.
You will need to clean the boiler tank after every 30 hours of use. A reminder on the ADI display alerts you to clean after 30 hours, so you don't need to keep track of the hours yourself. With a built-in thermal sensor, in addition to a low water indicator, the Tosca will turn itself off when out of water. 
Performance  
When it comes to performance, you will be pleased to note that this appliance can reach a steam pressure of up to 72.8PSI (5 bars). It is also pressurized up to 4 times the atmospheric pressure. This increases the boiling point to 302⁰F/150⁰C, and the steam is then heated up to 316⁰F/160⁰C.  
This gives you a dry vapor with less than 5% water content, making it ideal for various cleaning tasks within your home or business. For example, it can handle grout cleaning and car detailing, bed bug elimination, tile restoration, and removing stubborn stains. It uses ordinary tap water to clean dirt and grime. 
90 Minutes Cleaning Time
The steamer runs for around 90 minutes, depending on the steam setting you choose. The boiler holds 1 gallon of water but is best filled with 0.5 gallons of water as a maximum for optimum steaming performance. If you put too much water in the boiler, this will result in more moisture in the steam and a wetter surface. 
If you need to refill the boiler tank while cleaning, you must wait for the boiler to cool down slightly before releasing the steam pressure and refilling. For a continuous use canister steam cleaner, take a look at the One Plus Steam Cleaner (for home use) or the commercially rated Hill Injection steam cleaner (both by Dupray).
Safety features 
The Dupray Tosca steam cleaner has an integrated thermal sensor that prevents the boiler from running dry to protect the heating element and the steam cleaner from overheating. It turns the machine off automatically when there is no water in the boiler. Additionally, it has up to 3 levels of safety which include; 
Automatic shut-off 
Low water level indicator 
Blow-off valve  
Long Power Cord and Steam Hose 
The Dupray Tosca Cleaner comes with a long power cord and steam hose to make your work easier when cleaning. Once you have finished cleaning, you can wrap the power cord around the holder on the back of the steamer to keep it tidy. The power cord is 14 feet and 9 inches long (4.5 meters). The steam hose is an additional 9 foot 10 inches long, allowing you to clean large areas before moving power outlets.
Warranty 
When buying a steam cleaner, it is essential to understand the warranty. The Dupray Tosca Steam Cleaner comes with a 3 years warranty on parts and materials (excluding the accessories) and a lifetime warranty on the stainless steel boiler. 
The Dupray Tosca is designed to serve you for many years. To enhance durability, the Dupray Tosca has an enamel-coated steel casing which also protects it from rusting.  
Functionality  
Since the Dupray Tosca steam cleaner is incredibly powerful, you can use it for all types of heavy-duty cleaning. You can use it to deep clean all types of floors, car interior furniture, mattresses, kitchens, windows, bathrooms, walls, ceilings, appliances, etc. Additionally, it cuts through dirt build-up and grease more quickly due to the powerful steam. It can kill up to 99.9% of all dangerous microorganisms.  
Dupray Tosca Accessories
The Dupray Tosca Steam Cleaner is more versatile than other models since it comes with 25 accessories for cleaning. These attachments allow you to clean various surfaces and items in your home without straining. They include; 
Steam Scraper: The steam scraper blade allows you to remove adhesives, wallpapers, vinyl decals, stickers, or any stubborn dirt. It is excellent for build-up in ovens.
1 rectangular floor tool: With this tool, you can easily clean any floor or wall. You can use it together with a microfiber cloth to pick up dirt as you clean. 
Triangular tool: You just need to wrap a microfiber cloth around this tool when you want to sanitize or pick up dirt when cleaning. This is used for upholstery, mattresses, or other above-floor cleanings such as benchtops.
3 small brass brushes: You can use any 3 brass brushes for medium-duty cleaning work. These are useful for stubborn grout.
3 stainless steel brushes: These have very tough bristles, making them suitable for aggressive scrubbing. These are beneficial in commercial kitchens, BBQ, and grill cleaning.
3 small and 1 large nylon brushes: The nylon brush features soft bristles that make it ideal for scrubbing delicate surfaces. These melt easily with the heat of the steam and are often the first accessory that needs replacing.
Lance: The lance is suitable for cleaning tasks that require intensity and precision. You can use it with a small brush when scrubbing. 
2 Extension tubes (19 inches/48 cm): The two extension tubes attach to the handle for floor, wall, or ceiling cleaning.
Window tool: This tool is specially designed for cleaning all types of windows and mirrors. It has a foam scrubber and a squeegee.
Plunger tool: Whilst it doesn't suck up blocked drains, the plunger seals over the top of the drain and blasts hot steam inside to melt away grease, grime and blockages.
Steel wool: Attach to the lance when you need scrubbing or remove tough dirt. Another handy tool in commercial kitchen settings.
Refill bottle: Add two full bottles to the steamer for the perfect amount of water. Specifically designed to add water without spilling.  
Microfiber cloths, rectangle bonnet and triangle bonnet: Cover your accessories for extra concentrated heat and steam, and use to absorb moisture, dirt and grime.

Detachable steam hose

: This 9 foot long hose can reach just about anywhere.
Dupray Tosca vs Hill Injection
The Dupray Tosca and the Dupray Hill Injection are the most powerful steam cleaners from Dupray. However, they have different features that you need to understand before choosing your preferred model. Some of their significant differences are; 
Steam pressure: Steam pressure is one of the features that determine the performance of a steam cleaner. In this regard, the Dupray Hill Injection provides a high steam pressure of up to 121 PSI. This is mainly because it has a more powerful motor than other models. The Dupray Tosca has a pressure of up to 72.5 PSI. If you are comparing these models for home use, either model will have enough steam power for a sparkling clean home. For commercial use, both models are commercially rated.
Dual-tank: One of the most outstanding features you will find in the Dupray Hill cleaner is the dual tank system. The first tank provides water to the boiler, producing super hot steam up to 345⁰F. The second tank is for refilling the first tank, meaning that you don't need to stop cleaning to refill. The Dupray Tosca has a 1-gallon boiler tank, producing steam for up to 90 minutes.   
Detergent tank: If you are a fan of using detergents for cleaning as well as steam, the Dupray Hill Injection might be the better choice for you. The Dupray Hill has a separate detergent tank to add Dupray's BioVap detergent. 
Accessories: The two machines are highly versatile since they come with many attachments in terms of versatility. The Dupray Tosca comes with 25 accessories, while the Dupray Hill comes with 27 accessories. There are a few extra brushes that come with the Hill.
Price: Due to the advanced features of both machines, they are an investment in terms of price. The Dupray Hill Injection is around double the price of the Dupray Tosca. This is because of the dual tank system for continuous use and detergent features. You can read a complete review of the Dupray Hill Injection cleaner here.
 Dupray Tosca vs Ladybug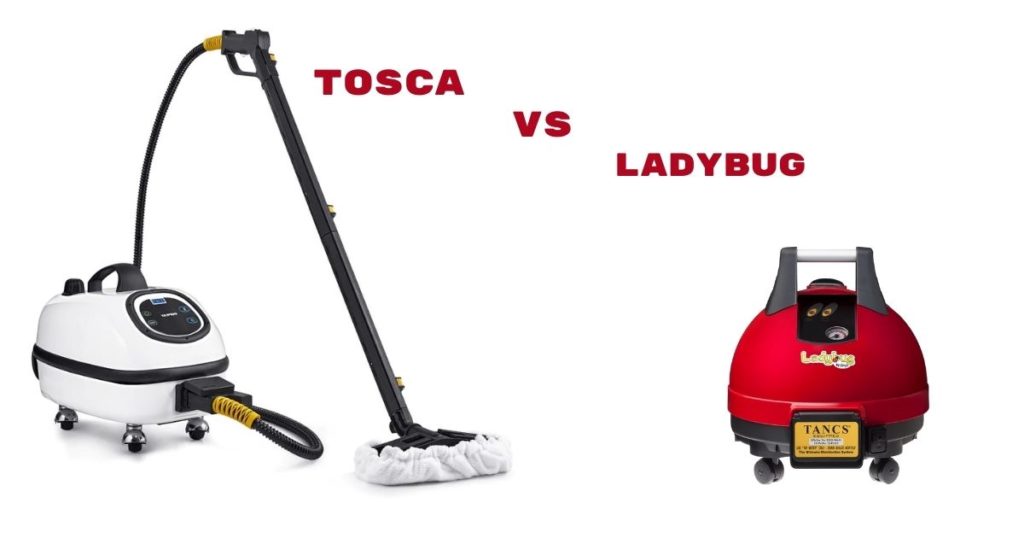 Both are popular high-end steam cleaners. Let's look at the differences between the Dupray Tosca and the Ladybug steam cleaners. For the purpose of this comparison, I'll compare the base model of Ladybug steam cleaners, which is the Ladybug 2200.
All Ladybug steam cleaners use a TANCS disinfection system, unique to Ladybug. This stands for Thermo Accelerated Nano Crystal Sanitation. Here is how it works: 
The TANCS system makes nano-crystals out of ordinary tap water by creating an electrochemical reaction.
These crystals absorb energy from the heat as they pass through the boiler of the steam cleaner. This accelerates the nano-crystals and helps to create drier steam. 
The steam disrupts microorganisms at a cellular level, destroying viruses, fungi, and embedded bacteria in seconds. 
You also never need to descale the boiler because of this technology.
Watch this video here for more information on TANCS.
PSI: The Dupray Tosca operates up to 72.5PSI, compared to 60PSI for the Ladybug steamer.
Price: The Dupray Tosca is around half the price of the Ladybug 2200.
Temperature: The Dupray Tosca heats up to 316⁰F, the Ladybug steam cleaner heats to 285⁰F.
Both cleaners offer safety features such as child lock, low water level indicators, and overheat protection.
The Ladybug can be refilled while in use. The Dupray Tosca cannot.
The Dupray Tosca has variable steam settings. The Ladybug 2200 does not.
Both steam cleaners offer a lifetime warranty on the boiler tank. Ladybug has a 1 year warranty on parts, whereas Dupray provides a 3 year warranty.
Still can't decide? Read our full Ladybug 2200 steam cleaner review, which may help your decision.
Pros of the Dupray Tosca
Commercial-grade steam cleaner 
Provides superhot steam up to 316⁰F 
Advanced digital display 
90 minutes of continuous cleaning 
1 gallon boiler with a lifetime warranty  
Heats within 8 minutes 
72.5 PSI steam pressure  
25 high-quality accessories  
3 years warranty on parts
Quality brand with good customer service
Support in countries outside the USA
Cons of the Dupray Tosca
Pricey but worth it
Not a continuous refill steamer
Brushes wear out quickly due to the high heat of the steam
Unable to see the volume of water left in the machine
Prices pulled from the Amazon Product Advertising API on:
Product prices and availability are accurate as of the date/time indicated and are subject to change. Any price and availability information displayed on [relevant Amazon Site(s), as applicable] at the time of purchase will apply to the purchase of this product.
Frequently Asked Questions
Here are some of the most asked questions about the Dupray Tosca steam cleaner, and their answers.
How Hot Does the Dupray Tosca Steam Cleaner Get? 
The Dupray Tosca heats water up to 316⁰F to produce dry steam with less than 5% water content. When choosing the best steam cleaner, you will need a machine that produces superhot steam for killing bacteria and removing all types of dirt from the surface. 
What is the PSI on the Dupray Tosca Steam Cleaner?
The Dupray Tosca Steam Cleaner provides a high steam pressure of up to 72.5 PSI. This means that it is very powerful and effective in removing stubborn dirt or stains from any surface. 
Is Dupray Tosca Steam Cleaner worth it? 
If you are searching for a powerful commercial-grade steam cleaner, the Dupray Tosca will give you an incredible performance. It comes with outstanding features for the price, making it a top choice in steam cleaners for both home and business use. It is also among the most versatile cleaners since it includes 25 accessories. With these attachments, you can clean almost everything in your home.
When you are done cleaning, you can then use your Tosca as a diffuser by adding your favorite essential oils to a diffuser attachment (sold separately). 
Where is the Dupray Steam Cleaner Made?
The Dupray Tosca steam cleaner is made in Italy. Dupray has a head office in the USA, Canada and UK for local distribution and servicing. The Dupray Tosca is among the most advanced models in terms of quality.  
What Are Commercial Steam Cleaners? 
Commercial steam cleaners such as the Dupray Tosca have advanced features which make them suitable for complex cleaning tasks. They heat steam hotter than standard steam mops and cleaners and produce steam output at a higher PSI. As a result, you can use them to clean large organizations such as hospitals, schools, businesses, etc.  
They are also suitable for the home since they come with many accessories for a complete house clean. You can use them to clean floors, including tiles, marble, stone, ceramic, or sealed timber. Due to their advanced features, they are a bit more expensive than ordinary steam cleaners.  
Conclusion
A steam cleaner is among the most important appliances you must have in your home. With the Dupray Tosca Steam Cleaner, you can clean your floors, furniture, car interior, mattresses, or anything else within a short time. If you are looking for a powerful and versatile steam cleaner that can handle any form of cleaning for years to come, the Dupray Tosca is an excellent investment. 
The Dupray Tosca has more accessories to enhance versatility compared to the cheaper models. It also provides superhot steam up to 316⁰F, enabling it to kill all microorganisms. Besides that, it can clear any stubborn dirt and stains, meaning that it is among the best steam cleaners for deep cleaning.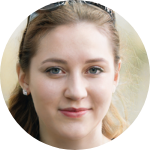 About the Author
Hi I'm Lauren. Passionate organizer, t-shirt folder and owner of a commercial garment steamer, steam cleaner and handheld steamer. I'll discuss all things steaming, so if you need help with buying or using a clothing steamer or steam cleaner, I'm here for you. Please join me on Facebook and don't hesitate to reach out if you have any questions. Happy Steaming!