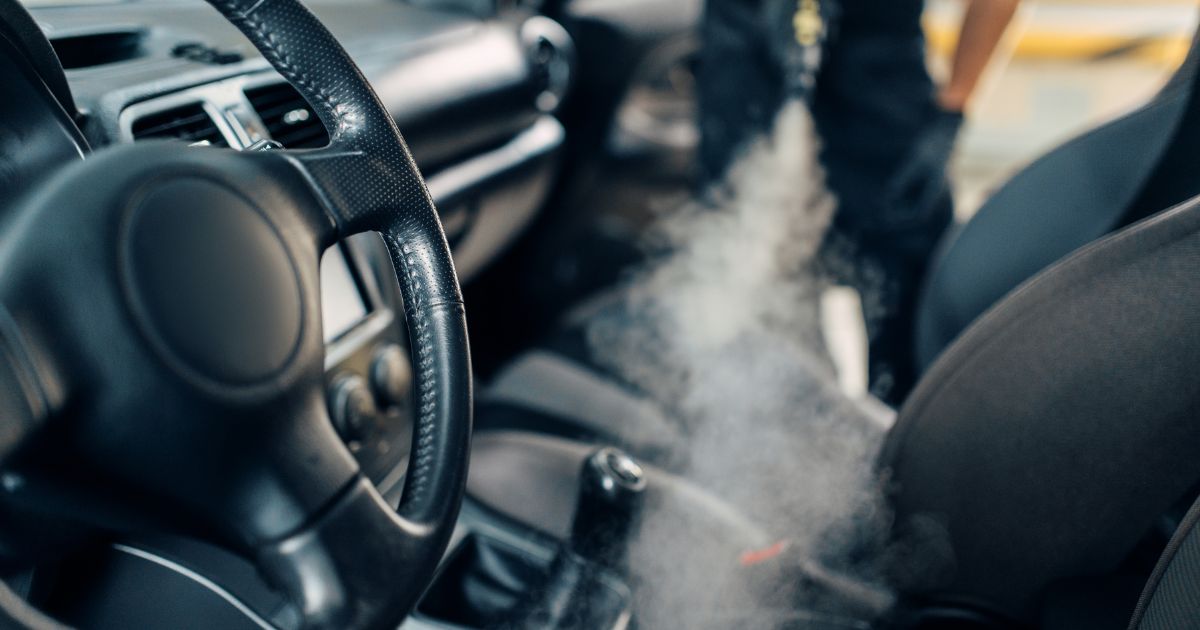 Car detailing is the art of deep cleaning a vehicle and restoring it to look new. During this process, all the visible and invisible forms of dirt or contaminants are removed from all the surfaces. It is more intensive than ordinary car washing and vacuuming and this is why most car owners prefer to take their vehicles to professional car detailers.  The good news is that you can do this by yourself in the comfort of your home once you invest in a steam cleaner for auto detailing.  
If you already have a steam mop that converts to a handheld steamer, you can try this for home use. I certainly have, and whilst it did a good job, constantly refilling the tiny tank was frustrating. Once I tackled my car interior with a commercial steam cleaner, I never looked to the handheld model again.
So, whether you are a professional car detailer looking to upgrade, or someone who wants a higher powered, longer running steam cleaner for home use, I've got you covered. Here are my choices for automotive steam cleaners that will leave your car looking like new:
Vapor Clean Pro6 Duo – Continuous Fill Commercial Steamer
Quality Choice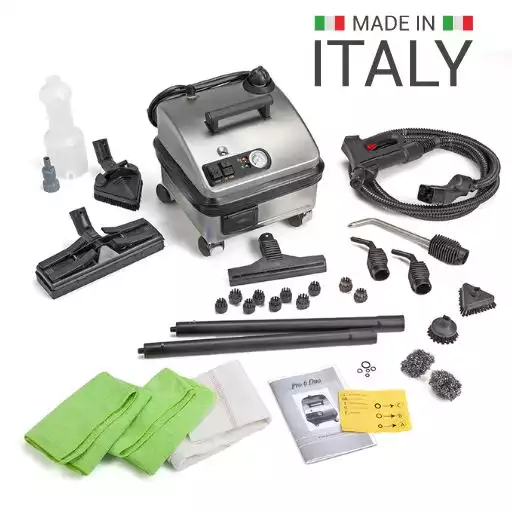 Vapor Clean Pro6 Duo Steam Cleaner
Italian made continuous refill steam cleaner with copper tubing, brass fittings, tungsten welded stainless steel boiler heating to 311°F and operating at a powerful 87PSI. This compact steam cleaner packs a punch and doesn't cost thousands of dollars - an excellent price for a continuous fill steam cleaner. A worthwhile buy for home or commercial use.
Buy at Sylvane (Authorized Reseller)
Buy on eBay
We earn a commission if you make a purchase, at no additional cost to you.

The Vapor Clean Pro6 Duo is the first choice on my list. It's small and compact, with a rubber bumper around the outside so you can bring it right up to the car without causing any damage. Despite being small in size, it packs a punch in temperature and steam output, the boiler heating to 311°F and pumping out steam at up to 87PSI.
The 'duo' with this steamer is referring to the water tank. There is a main boiler and a refillable tank, which you can refill at any stage of the cleaning process without having to wait for the steamer to cool down or heat back up again. Just put more water in and keep on steaming.
Comparatively, this is similar in functionality to the Vapamore Forza (featured below), yet costs hundreds of dollars less. Like Vapamore, Vapor Clean also has a lifetime warranty on the boiler tank and heating element – and no requirement in their warranty to use distilled water only.
From using the triangle brush to steam carpet in the car, to steaming the roof liner, seats, car mats, boot liner and more, the Vapor Clean Pro6 Duo can tackle auto detailing with ease.
This is quite similar to the Dupray Tosca, which if you're tossing up between the two, Vapor Clean is the clear winner for me based on durability, and the ability to refill the water tank whilst in use.
Pros
High heat and steam pressure
Commercially rated
Fast heat up time
Refill whilst in use
Lifetime warranty
Adjustable steam levels
31 accessories including stainless steel, brass and nylon brushes
Cons
Labor is only covered under warranty for the first year
Vapamore Forza Commercial Steam Cleaner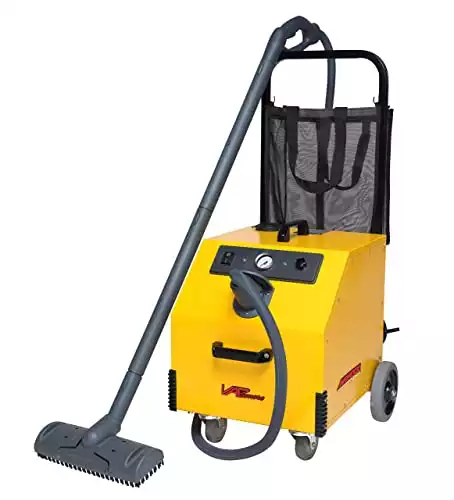 The Vapamore MR-1000 (Forza) is a solid unit with a lifetime warranty – provided you use distilled water only. With a 1700 watt heating element, the boiler heats to 320⁰F, and the steam output at the tip is a super hot 280⁰F. With a steam pressure of up to 90PSI, and steam flow of up to 40 gallons per minute, the Vapamore Forza makes our list of top high pressure commercial steam cleaners.
When it comes to car detailing, the triangle brush is excellent for lifting fibers in the carpet on the floor of your vehicle. There's a squeegee for windows and glass, a bed bug or fabric tool which can be used on upholstered seats and the roof liner. And for all those nooks and crannies that dirt accumulates in, there is an elbow nozzle, jet tool and scrubbing brushes galore.
I'm a huge fan of commercial steamers with dual tanks that can be refilled whilst in use. That's one bonus of the Vapamore MR-1000 for car detailing – if you run out of water, top it up and keep on going. The simplicity of the handle and the carry bag is also appealing – I'd put all my accessories in the bag for safe keeping, which can be hung on a hook when not in use.
The Vapamore Forza is best for those who don't need to transport the steam cleaner anywhere. Vapamore are very clear that transporting the steamer with water inside may cause damage to internal components and void the warranty. Given you also must use distilled water in this commercial steamer, it seems a waste to have to empty out water if you are a mobile car detailer.
Vapamore also doesn't offer much support outside of the USA. If you have a problem with your steamer, you will likely have to send it back to the US, which is not ideal for a steamer that weighs 45 pounds.
Pros
High heat and steam pressure
Commercially rated
Huge bundle of accessories
Refill whilst in use
Lifetime warranty
Cons
Must use distilled water
Strict warranty policy
Heavy – weighs 45lbs
Dupray Tosca Commercial Steam Cleaner
Dupray Tosca Commercial Steam Cleaner
Boiler temp of up to 316F
Excellent range of accessories
Rubber bumper to avoid damage
72.5PSI
Up to 90 minutes of cleaning time
Lifetime warranty on the boiler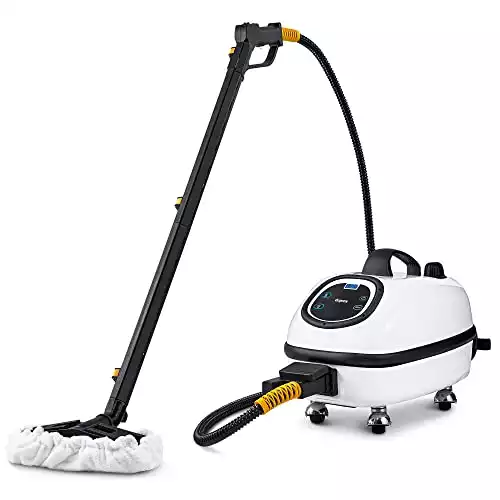 We earn a commission if you make a purchase, at no additional cost to you.

The Dupray Tosca is the baby of commercial steam cleaners, and is an excellent choice for home use. If you want to use this in commercial car detailing, I'd recommend upgrading to the Dupray Hill Injection steamer that can be refilled in use, add detergent and has a higher heat and steam pressure.
But if you want to get professional car detailing results at home, the Tosca is for you. It costs half the price of the Hill Injection, heats up to 316°F, outputs steam at 5 bars of pressure (up to 72.5PSI) and will run for up to 90 minutes. Trust me when I tell you, you'll be needing a break after 90 minutes of steam cleaning anyway!
Dupray are well supported in Canada as well as the US. The elastic trimmed steam bonnets fit easily around the small triangle head and the larger steam head. You can use the triangle head with the steam bonnet for car seats and upholstery, or without the bonnet to lift up the fibers of the carpet on the floor of the car.
The steam lance is fantastic for small detail and also holds one of the 9 small detail brushes that are included. Speaking of which, they come in brass, stainless steel, and nylon for all types of surfaces.
Pros
High heat and steam pressure
Commercially rated
25 piece accessory kit
Castor wheels
Runs for up to 90 mins
Lifetime warranty on the boiler, 3 year parts
Lighter than the Vapamore – weighs approx. 17 pounds
Cons
Unable to refill whilst in use
McCulloch MC1275 – Great Budget Automotive Steam Cleaner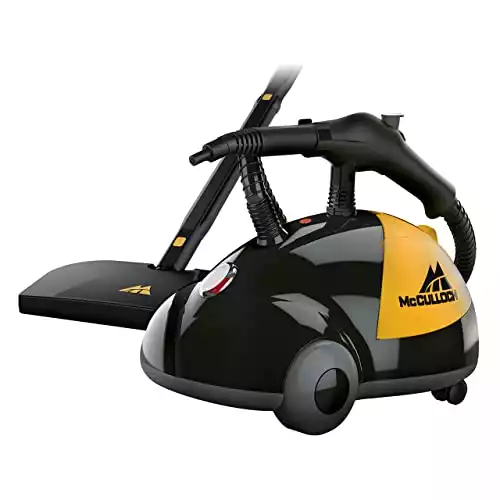 McCulloch MC1275 Steam Cleaner
Long 9 foot steam hose
Excellent range of accessories for all surfaces
45 minute run time
Replacement accessories available
Boiler heats to 212°F
Buy on Amazon
Buy at Sylvane
We earn a commission if you make a purchase, at no additional cost to you.
07/22/2023 02:44 pm GMT

The McCulloch range of steam cleaners is a popular choice among car detailers. There are three steamers that can be used:
For those on a budget, the McCulloch MC1275 Heavy-Duty Steam Cleaner will be a good choice. It has a compact and portable design to make your work easier when cleaning. It is also equipped with a large 48-ounce water tank that takes just 8 minutes to heat. You can use it continuously for 45 minutes due to the large water tank.
Additionally, it comes with 18 accessories for cleaning autos, floors, grills, appliances and many more. There is a lockable steam trigger feature that allows continuous steaming. For easier maneuverability, it has an extra-long 15.7-foot power cord plus a 9-foot steam hose.  Like most steam cleaners, this one too is equipped with a 1500 watts heating element that offers up to 212⁰F steam. Since it is made of durable materials, the machine comes with a 2 years warranty.  
Pros
43PSI
18 piece accessory kit
45 minute run time
Good accessories for car detailing
Easy to buy replacement accessories
Inexpensive
Cons
Unable to refill whilst in use
Distilled or demineralized water is recommended in the user manual
Not commercially rated, no commercial use warranty
NaceCare Commercial Steam Cleaner With Continuous Refill
NaceCare Commercial Steam Cleaner
This commercially rated steam cleaner heats up to 374°F and can be refilled whilst in use for no down time. The max 115PSI gives you whopping steam power. The versatile accessories make this a great commercial choice for everyday car detailing.
Buy at Sylvane
Buy on eBay
We earn a commission if you make a purchase, at no additional cost to you.

The Nacecare JS1600C Commercial Power Steamer is the most expensive model on our list. This is because it is the most powerful and it is also equipped with extraordinary features which are not present in other models.  This 1500 watts steamer uses super hot 374⁰F steam to clean and disinfect even extremely dirty surfaces.   
Apart from the super hot steam, it offers a higher steam pressure of 115 PSI meaning that it is very effective in cleaning grease,  hard water deposits, tough stains and other forms of tough dirt.  It has a 1.25-quart welded stainless steel boiler and a 1.25-quart boiler. The pump is connected to the boiler to provide a consistent water supply. It takes just 5 minutes to heat and it comes with 12 accessories.  
To prolong its durability, the steamer is equipped with various safety features such as 2 onboard thermostats and a high-limit thermal shut-off that protects the unit from overheating. Besides that, it has a pressure switch, 12-volt steam controls and a pressure relief valve.  If you require a powerful steam cleaner for car exterior or interior, this one will give you excellent value for your money.  
Pros
Up to 115PSI
Rated for commercial use
Boiler temp up to 374°F
Versatile accessories for car detailing
Cons
Standard warranty is only 12 months. Commercial extended warranty of up to 5 years can be purchased separately.
Other Auto Detailing Cleaners to Consider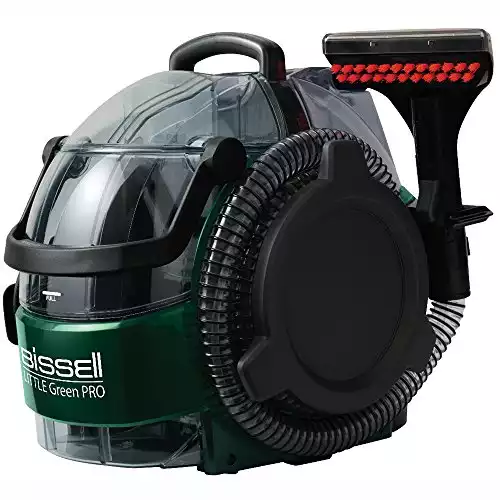 Bissell Little Green Pro Commercial Spot Cleaner
Whilst not a steam cleaner, you can use hot water and detergent in the Little Green Pro Commercial, making it a great choice for hot water extraction on fabric upholstery, carpets and more. With a larger 7 inch head (compared to a 3 inch head on the Bissell Little Green home model) you'll have those upholstered seats, carpeting and mats clean in no time.
Buy on Amazon
We earn a commission if you make a purchase, at no additional cost to you.
07/22/2023 11:22 pm GMT

The Bissell SpotClean ProHeat 2694 Steam Cleaner is among the most powerful and affordable cleaners for auto detailing. Compared to other models in our list, this machine has the highest number of positive customer reviews.  Even from its appearance, you can easily tell that it is designed to handle tough cleaning tasks such as auto detailing. If you have limited storage space, this machine will be a great choice due to its compact and portable design. 
It uses an advanced Heatwave technology which enables it to offer consistent temperatures when cleaning. Besides that, it is equipped with a 47-ounce water tank that is easy to remove when refilling. To enhance its performance, it comes with a 7 inch tough stains tool for car seats, upholstery and hard-to-reach areas.   
Pros
Compact and portable
Affordable
Hot water extraction and detergent friendly for removing tough stains
Cons
Hot water extraction, not a steam cleaner
What is the difference between car detailing and car wash? 
Both car auto detailing and car wash involve cleaning your car although the methods used are a bit different.  Car detailing is a bit complex since it involves deep cleaning all the parts to restore the car as close as possible to its original condition.  On the other hand, car washing involves removing surface-level dirt from the exterior and interior parts of your vehicle.  My post on car interior steam cleaners covers this in more detail.
Unlike a car wash, you will need a powerful machine to do car detailing and mostly it is done by professionals who understand all the internal and external components of the car. When cleaning, car detailers can clean all the nooks and crannies that ordinary car wash cannot handle.
The whole process can take longer than the ordinary car wash but it helps in the maintenance of your vehicle. It also protects your car from future or current problems that may be caused by various forms of dirt. We have explained the benefits of auto detailing below. 
What are the benefits of car detailing? 
Some of the benefits of auto detailing include: 
Preserves car upholstery 
Your car seats are among the most difficult parts to deep clean since they are made of different materials. However, auto detailing helps to deep clean them by removing tough stains or sticky dirt which affects their quality.  When cleaning leather car seats, auto detailers apply a leather moisturizer to protect them from cracking or tearing.  
Paint correction 
Different things may cause your car's paint to fade or appear dull. Such factors may include paint scratches and oxidation. During the cleaning process, detailers apply professional-grade wax to create an extra layer of protection against rust, scratches, corrosion and oxidation.  
Removes odors and stains 
If you have been wondering how you can eliminate bad odors or clean tough stains from different parts of your car, auto detailing will be the best solution. The steam produced by steamers is highly effective in killing bacteria and other microorganisms that cause bad odor.  
Prolong the durability of your vehicle 
Deep cleaning different parts of your car help to remove contaminants or dirt that may cause some parts to rust.  It also helps to preserve the exterior paint on your car which extends the car's lifespan. During the cleaning process, car detailers are also able to identify problems that may affect the durability of your car. 
Higher resale value 
Detailing your car frequently will ensure that your car always looks great. As a result, you can get better returns if you decide to sell it due to its appearance.  
Enhance the overall performance of your car 
Apart from giving your car a great appearance, auto detailing can involve cleaning the engine. Once you remove dust or sticky oil residue from the engine, your car will run more efficiently. My post on car engine steam cleaning covers this in more detail.
Which are the best cleaning machines for auto detailing?  
When deep cleaning your car, you will need a very powerful cleaning machine that can handle even the toughest forms of dirt or stains from car surfaces. In this regard, steam cleaners are the best since they use pressurized super-hot steam to sanitize and remove all forms of dirt from car surfaces including car seats, engines, floor mats, dashboard, doors, consoles, headliners and other parts of your car. 
Since car detailing is different from car washing, you cannot use just any steam cleaner. The best steam cleaners for car detailing should have a powerful heating element, sturdy construction, super hot steam and high steam pressure.  We compared different models on the market and we were able to identify the 6 best steam cleaners for automobiles. Check their features below.  
Frequently Asked Questions 
What is car detailing? 
Car detailing or auto detailing is a process of deep cleaning cars to make them look like new.  It helps to restore the car's paintwork, car seats and other parts of the car including the engine.  
Should I hire a professional for car detailing? 
Even though hiring a professional to deep clean your car is a great idea, you can still do this by yourself.  You only need to invest in a powerful or commercial-grade steam cleaner like any of those models we have reviewed in this article. These machines are very easy to use and they also come with all the necessary attachments you may require to deep clean the internal and external parts of your car. 
Why do car detailers use steam cleaners? 
Car detailers use steam cleaners for various reasons including removing chewing gum from upholstery and carpets, cleaning door liners, cleaning in between the seals on the doors, cleaning the foot pedals, engine cleaning, helping to remove oil, grease and anything that needs melting away, as well as sanitizing and deodorizing air vents.
What is the best car detailing steamer? 
McCulloch are a popular choice among car detailers, as they are budget friendly and have a good range of accessories. Consider also steam cleaners that heat the water much hotter and produce hotter, drier steam. These include the NaceCare Commercial Steamer, Vapamore Forza, Dupray Tosca, and Vapamore Pro6 Duo to name a few.
What steamer does detail geek use? 
The Detail Geek uses a variety of cleaning methods for car detailing. He uses the McCulloch MC1375 steam cleaner and the Bissell Spot Clean Professional as an extractor when he sprays and cleans upholstery and carpets. The McCulloch steamer is used for cleaning interior doors, console, removing chewing gum from upholstery, air vents, pedals and more.
What steam cleaner do car detailers use? 
Here is a list of a few different car detailers and the steam cleaners they use:
Is it okay to steam clean a car engine? 
Yes, steam cleaning a car engine makes it resistant to corrosive elements like clogs, rust or other issues that may affect the durability or performance of the engine.  You should wait until the engine stops completely to start cleaning.  
Final Verdict: Are steam cleaners for auto detailing worth it? 
Whether you are a professional car detailer or just want to get professional results at home, a steam cleaner will help you with that. McCulloch are a popular choice for auto detailers, particularly for those starting out, or when using with other chemicals, cleaners and water extraction.
If you prefer to use less chemicals and focus on steam doing the work for you, the higher end models such as the Dupray Tosca, NaceCare and Vapamore Forza will make light work of auto detailing. You can also consider a steam vacuum, which you can then use as an extractor as well as a steamer.