6 Car Interior Steam Cleaners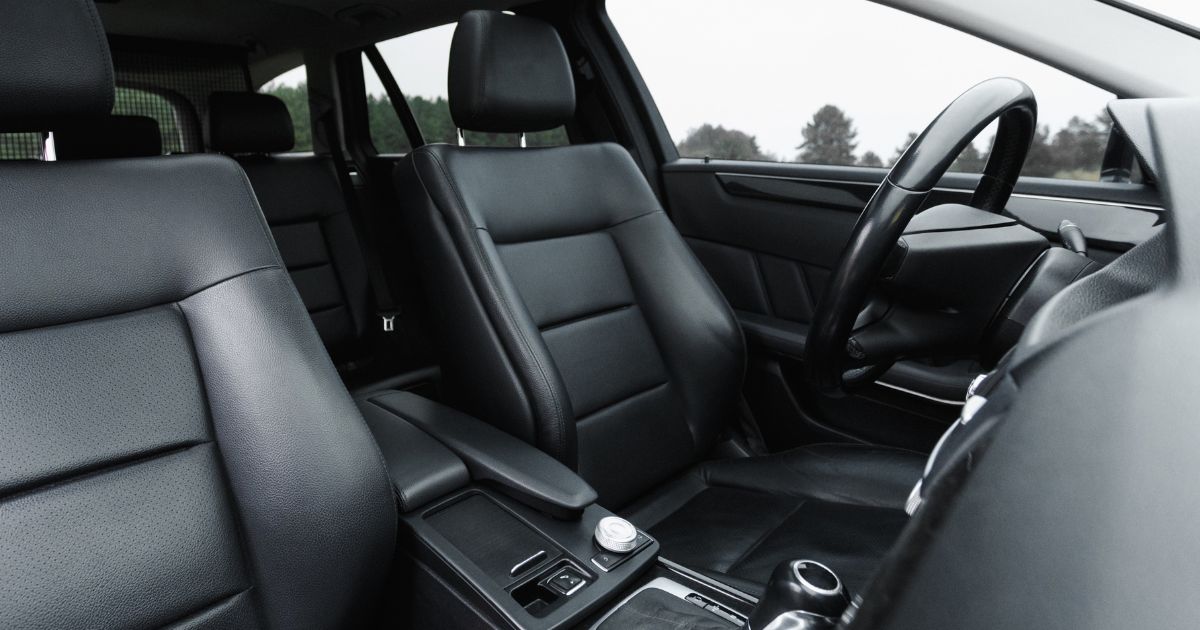 The interior of a car comprises many parts which can make it difficult to deep clean effectively. Due to this, the majority of car owners opt to take their vehicles to a drive through car wash, and race over it with a 3 minute vacuum.
But what if you want to give your car interior a really deep clean? How do you go about this? Should you use a steam cleaner, or shampoo and hot water extraction? Or both? After all, that's what professional automotive detailers do (among other things).
One of the most reliable machines you can use at home for cleaning your car interior is a steam cleaner. These machines are highly effective in cleaning car engines, floor mats, door pockets, car seats, armrests, consoles, wheels, carpets, dashboards and other parts of your car.
If you've never bought a steamer before, you might be wondering how to choose a car interior steam cleaner. That's going to come down to how you want to use it. Just for your car, or other areas around your home. Let's jump in and take a look at the different options:
A Quick Overview of the 6 Car Interior Steam Cleaners
I've chosen 6 different steam cleaners that are all suitable for cleaning vehicle interiors. From budget priced, to professional models, there's choices to suit everyone. Here is a quick breakdown of the steamers I chose, their PSI and boiler temperature. After all, how hot the steam is, affects performance overall.
| Steamer | Boiler Temp | PSI | Run Time |
| --- | --- | --- | --- |
| McCulloch MC1385 | 212°F | 58 | 2 hours |
| Vapamore MR-100 | 220°F | 50 | 60 minutes |
| Dupray Neat | 275°F | 50 | 50 minutes |
| Wagner Autoright C900054M | 290°F | 55 | 45 minutes |
| Vapor Clean Pro6 Duo | 311°F | 87 | Continuous Fill |
| NaceCare JS1600C | 374°F | 115 | Continuous Fill |
More Detailed Information on the Chosen Steam Cleaners for Cars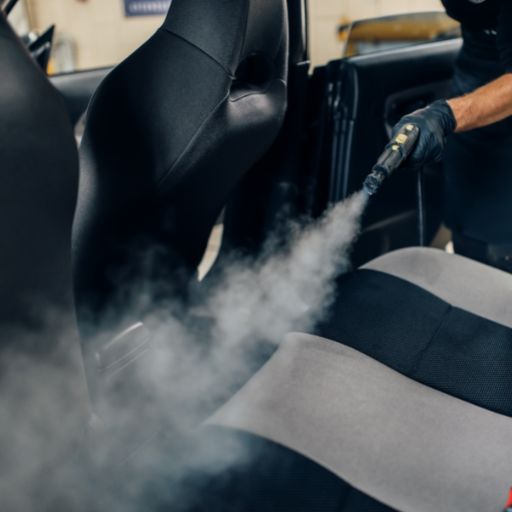 McCulloch MC1385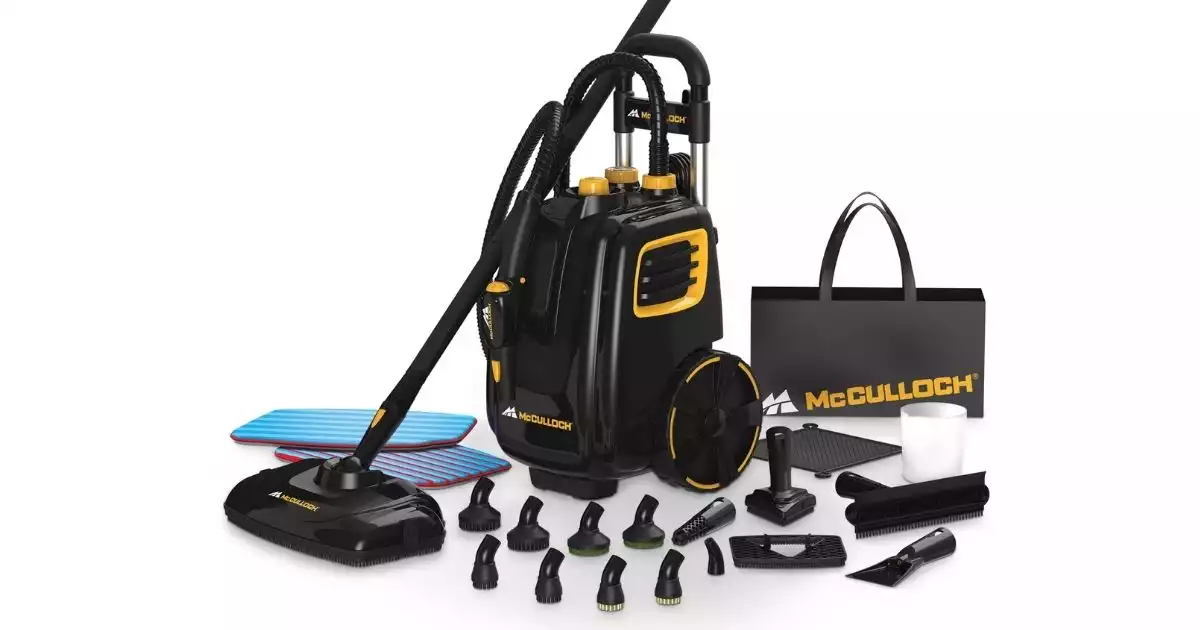 The McCulloch MC1385 Deluxe Canister Steam Cleaner comes first in our list as the best steam cleaner for car engines and interior. It uses pressurized steam to deep clean and removes stains from different parts of your car.  Besides that, you can use it to clean floors, appliances, grills, autos, carpets, mattresses, and many others. All the tools you may require to clean different parts of your home are included since they come with 23 attachments. The 1500 watts heating element provides hot steam up to 212⁰F. 
It comes with a large 64-ounce water tank that provides super hot steam within 12 minutes. Once the steam is ready, you can clean it continuously for 2 hours.  With this machine, you can easily blast away tough dirt or grime from any surface since it releases steam at a high pressure of 58PSI.    
There is an optional steam lock feature for continuous steam and a variable steam control that allows you to adjust the steam pressure according to the type of surface you are cleaning.
For easier reach, a 10-foot steam hose plus an extra-long 18-foot electric cord are included.  There is a cord wrap function for storing the cord and an integrated handle for easier carrying. Lastly, it comes with a 2 years warranty due to its sturdy construction. 
58PSI
64-ounce water tank – runs for up to 2 hours
23 accessories included 
Vertical design is good for car detailing
2 year warranty
Easy to obtain replacement accessories
12-15 minute heat up time
Only heats to boiling point – not super hot
Vapamore MR 100 Primo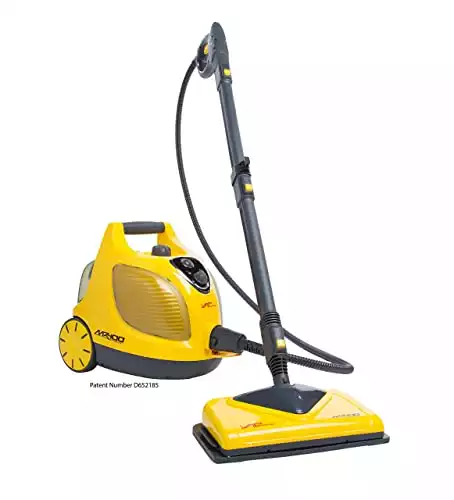 Another top-quality model for cleaning your car interior is the Vapamore MR-100 Primo Steam Cleaner. This machine has extraordinary features enabling it to perform better than most of its competitors.  To start with, this machine is made of powder-coated commercial-grade steel to enhance strength and durability. It also comes with a lifetime warranty.  
It comes with over 20 attachments, enabling you to easily clean different surfaces or items. You can use it for various tasks, such as cleaning car interiors, floors, mattresses, carpets, appliances, upholstery etc. 
In terms of design, this machine has a compact design to enhance portability.  The water tank has a capacity of 1.6 liters, and as a result, you can clean continuously for 1 hour using this steamer. The 1500 watts heating element provides 220⁰F steam in 11 minutes and this steam is produced at a high pressure of 50 PSI.  
Lifetime warranty  – must use distilled water
Heats to 220°F
50PSI with adjustable steam pressure 
60 minutes of continuous cleaning 
Easy to purchase replacement accessories
Must use distilled water or you void the warranty
Takes 10-12 minutes to heat up
Nacecare Commercial Power Steamer
NaceCare Commercial Steam Cleaner
This commercially rated steam cleaner heats up to 374°F and can be refilled whilst in use for no down time. The max 115PSI gives you whopping steam power. The versatile accessories make this a great commercial choice for everyday car detailing.
Buy at Sylvane
Buy on eBay
We earn a commission if you make a purchase, at no additional cost to you.

Compared to other steam cleaners for the car interior, the Nacecare JS1600C Steamer offers the highest steam pressure and temperatures.  The steam produced by this machine is up to 374⁰F, and it is released at a high pressure of 115 PSI. As a result, this high-pressure steam cleaner for cars is the best for commercial or large-scale cleaning tasks.  The 4 quarts stainless steel boiler takes just 5 minutes to heat water.  
There are 12 accessories included in the package box for cleaning different surfaces. Unlike other steam cleaners for cars, this one is equipped with excellent safety features such as a thermal shut-off that switches the machine off automatically if it becomes too hot. Apart from that, it has a pressure relief valve for controlling pressure, 2 onboard thermostats, a pressure switch and 12-volt steam controls for propelling steam.  
Huge steam pressure – up to 115PSI
3 steam levels
10ft steam hose
Auto shut down safety features
Boiler heats to 374°F
5 minute heat up time
Wagner AutoRight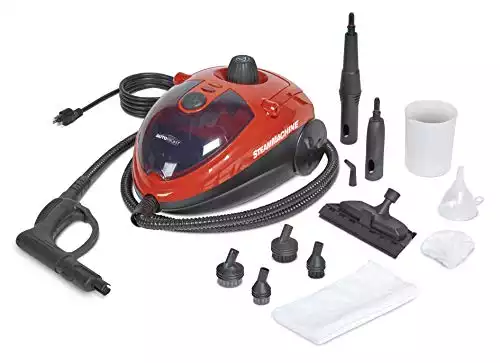 The Wagner Spraytech C900054.M AutoRight Steamer is one of the best portable steam cleaners for cars. It is designed specifically for interior car cleaning and does not come with standard house cleaning accessories such as a floor cleaning attachment. You can use it for carpets, leather car seats, upholstery, cup holders, cloth seats, floor mats, door pockets, dashboards, and windows. 
In terms of performance, this machine uses super hot steam up to 290⁰F to loosen or dissolve dirt, cut grease, and remove stains from the surface. The steam is released at a pressure of 55PSI to enhance performance.  It is extremely effective in sanitizing vehicles or dirty surfaces.   
To enhance versatility, it comes with 12 accessories.  The heating element provides up to 1500 watts of power, while the 40-ounce boiler offers up to 45 minutes of continuous cleaning. For easier transportation, it is equipped with an inbuilt handle. It's inexpensive to buy and a popular choice given it targets interior car cleaning.
290⁰F steam
Carry handle for easy portability
Affordable price
Long steam hose
55PSI
Small water tank
Not versatile to use for home floor cleaning
Dupray Neat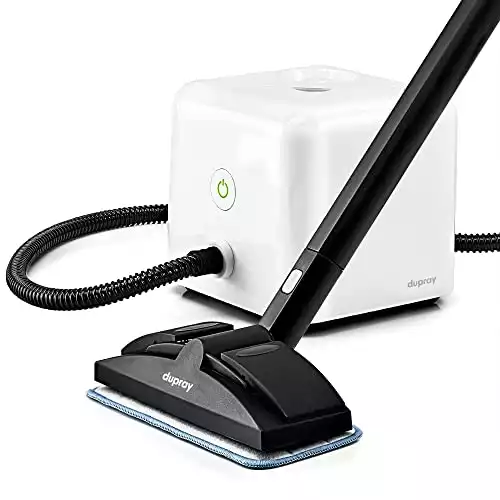 The Dupray Neat Steam Cleaner will be an excellent choice if you are searching for a portable steamer for your car interior. To start with, this machine has a compact design and a retractable handle for easier carrying.  The tank has a capacity of 4 gallons, and it offers up to 50 minutes of continuous cleaning.  
In terms of performance, it offers a maximum steam temperature of 275⁰F and a steam pressure of 50PSI. This is similar to the Vapamore above, with a slightly hotter boiler tank.
It comes with a 17-piece accessory kit to ensure you have all the tools for interior car cleaning and complete home cleaning. It has an inbuilt funnel and a steam lock feature for easier refilling for continuous steam cleaning performance. The power cord is 5 meters long, while the steam hose is 2 meters long.
Boiler heats to 275°F
Lifetime warranty on the boiler
50PSI
50 minute steam time
Compact and economical to buy
No storage for tools
Cord wraps around underneath the steamer for storage – not the best design
Vapor Clean Pro6 Duo
Quality Choice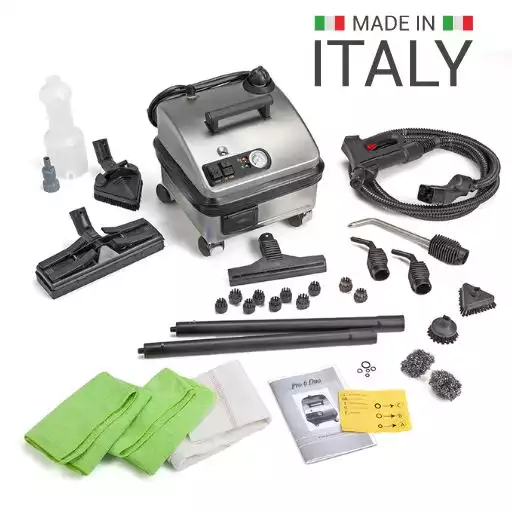 Vapor Clean Pro6 Duo Steam Cleaner
Italian made continuous refill steam cleaner with copper tubing, brass fittings, tungsten welded stainless steel boiler heating to 311°F and operating at a powerful 87PSI. This compact steam cleaner packs a punch and doesn't cost thousands of dollars - an excellent price for a continuous fill steam cleaner. A worthwhile buy for home or commercial use.
Buy at Sylvane (Authorized Reseller)
Buy on eBay
We earn a commission if you make a purchase, at no additional cost to you.

The Vapor Clean Pro6 Duo is one of my favorite commercially rated steam cleaners. Whether you use this for professional car detailing or cleaning your car interior at home, you will get fantastic results. The Pro6 Duo costs less than the NaceCare commercial steamer but also doesn't heat the boiler quite as hot, or output steam over 100PSI.
I like the compact design, stainless steel construction, rubber bumper around the outside for protection, and a huge range of accessories to clean interior car carpets, floor mats, cup holders, inside vents, seats, and more.
You can adjust the steam pressure based on how much steam is needed for what area of the car you are cleaning. And you never have to worry about running out of water, as the Pro6 Duo has dual tanks and can be refilled at any time whilst in use.
Built in Italy, this is a quality steamer that is also ETL and UL certified for safety. A 5 year parts and labor warranty and lifetime warranty on the boiler tank gives you peace of mind this steamer is built to last a lifetime.   
Industrial and commercial grade steam cleaner
Heavy duty construction
87PSI and 311°F boiler tank temperature
Refillable whilst in use
Lifetime warranty on the boiler
How to Choose a Steam Cleaner for Car Interiors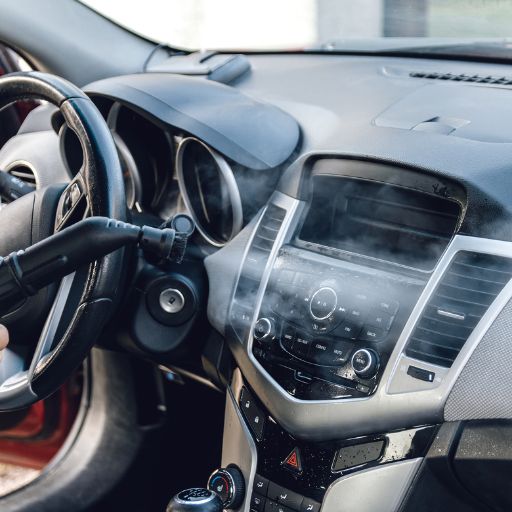 Here are some things to consider when buying a car interior steam cleaner.
Intended purpose 
Before you purchase a steam cleaner for cleaning your car interior, it is important to consider the intended purpose. If you have one small car, or only want to use the steam cleaner to clean certain parts of your car, you can consider a steam cleaner with a shorter run time. You'll pay less for these types of steamers, which still offer good performance.
Comparatively, on the upper end of the scale are continuous fill, commercially rated steam cleaners more suitable for continuous use by car detailers or if you want better performance from your steamer.
Heat and Power 
Steam cleaners are not equally powerful or as hot as others. The basic boiler temperature is 212°F, such as the McCulloch MC1385. Compare that to the NaceCare commercial steam cleaner, which heats to 374°F – the steam temperature that is output will be much hotter.
Similarly, steamers on this list that pump steam out at 50-58PSI, don't have as much steam output or as strong a steam pressure as the Vapor Clean Pro6 Duo which has a PSI of 87, or the NaceCare commercial steamer, which has a whopping 115PSI.
The hotter the boiler tank, the drier steam vapor will be. This leaves surfaces less wet, kills germs faster, can melt away grease, oil and sticky items much faster as well.
Size of Water Tank
Another important feature you should not ignore is the amount of water the boiler can hold. Some machines have a limited water capacity meaning that you will need to keep refilling when cleaning. But it's not a matter of opening the boiler tank and putting more water in.
You need to let the steam cleaner cool (sometimes 5 or 10 minutes is all that is needed), depressurize the tank, refill it, then wait for it to heat back up again.
A continuous fill steam cleaner has dual tanks and can be refilled at anytime, offering no downtime when cleaning.
Mobility
When cleaning your car interior, you will need to move the steamer around, so consider the size of the wheels, power cord length and steamer hose reach. Here are some questions to consider:
Where will the car be parked when cleaning?
Are you on a driveway, in a garage, or on the grass?
Will the steamer hose reach right into the car (if needed) or do you need to lift up the steamer and try and position it in the vehicle?
Accessories
Most steam cleaners come with basic accessories, and you don't need a lot of accessories when it comes to cleaning the interior of your car. A steam jet tool is really handy to get into cracks and crevices, and brushes can help with stubborn marks and stains. Also consider if there are replacement accessories that can be purchased, particularly the brushes, as these tend to wear down with use.
Why should you invest in an auto interior steam cleaner?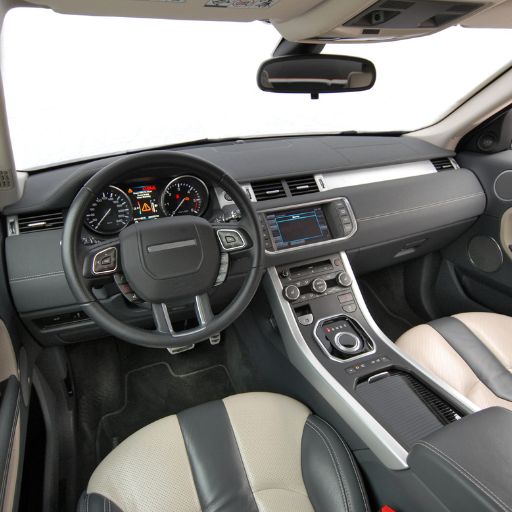 There are many benefits of steam cleaning your car interior which include; 
Easy to use
One of the major benefits of investing in the best steam cleaner for car interior is due to their user-friendly design.  They are very easy to use for everyone and they also come with a manual to guide those who are not very conversant with the machine.
Economical
Some steam cleaners are quite an investment upfront, costing over $1000 for the higher end commercial models. How is this economical you ask? A steam cleaner can clean most surfaces in and around your home, not just your car interior. If you buy a steam cleaner that offers accessories for whole house cleaning, you'll spend less on costly chemicals and help the environment too.
Multipurpose
As I mentioned above, choosing a steam cleaner that can be adapted for other areas of your home gets you better value in the long run. Do you have a boat? You can steam clean that. A BBQ or grill? Your steamer and a stainless steel or brass bristle brush will melt away grease. Want to clean the grout on your tiled floor as well as your car interior? Done.
Kills Odor Causing Germs
Did you pick up takeaway and now your car smells like fried food? Got kids who snack in the back? Odors and bacteria can get trapped in upholstered seats, car carpets, carpet mats, seat belts, even the headliner. Luckily, steam can help get rid of the smells, and kills bacteria – including inside your air vents. Aim your steamer inside the air vent on one side of the car and watch where else the steam comes out! It's fun to watch and effective.
Frequently Asked Questions About Automobile Steam Cleaning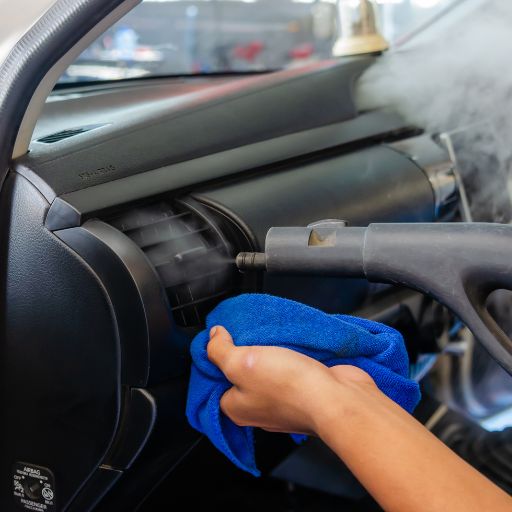 Can you steam clean the car interior? 
Yes, steam cleaning is the most effective way of sanitizing or cleaning the car interior. Some of the car interior parts you should use a steamer to clean include; 
Car seats and children's booster seats –Since car seats are made of different materials, they require a lot of time to dry after cleaning. However, steam cleaners dry the surface instantly since the steam they produce is almost dry. Apart from that, the hot steam is very effective in removing stains and dirt from the fabric. 
Carpet or floor mats- The floor mat of your car is the dirtiest part because it is the part people step on when they are in the car. Using a steamer, you can blast away even the most stubborn dirt since the steam is released at high pressure onto the surface. 
Door panels – The door panels and kick plates also need to be cleaned to remove any scuff marks. 
Cup holders – It is not easy to clean hardened or sticky liquids from the cup holders. However, a steam cleaner will get the job done within seconds and the good thing is that you don't need to scrub. 
Dashboard and air vents – Car dashboards and air vents are likely to collect dirt, pollen and dust particles. You just need to attach the right attachment for cleaning the dashboard.  
Can you use a steam cleaner on a car dashboard? 
Yes, steam cleaners come with different attachments for cleaning different surfaces including car dashboards. 
Is it worth steam cleaning a car? 
If you're looking for a way to keep your car's interior clean and free of dirt, then a steam cleaner is a great option. There are a variety of car interior steam cleaners on the market, so it's important to do your research to find the one that's right for you. Depending on how dirty your car interior is, you may want to combine steam cleaning with carpet shampoo and a hot water extractor such as the Bissell Little Green Pro.
Is steam cleaning good for car upholstery? 
Steam cleaners are very versatile machines and you can use them to remove dirt or tough stains from car upholstery irrespective of the material. You can use steam on upholstered seats as well as leather. If you have leather seats, follow up steam cleaning with a leather conditioner.

Should you shampoo or steam clean car interior? 
Professional car detailers use both shampooing and steam cleaning for cleaning car interiors. If you have inground stains in carpet or upholstery, you may need to shampoo first, use a hot water extractor (such as the Bissell Little Green Pro) to extract the water, then follow up with steam cleaning for germ killing and deodorizing. Steam will help maintain the cleanliness of your car and remove new stains and odors.
Can you steam leather seats? 
Steam cleaners are safe for cleaning leather seats when used on a lower steam pressure. Continued high heat can cause the leather to stretch, so keep the steam cleaning moving at all times. Follow up afterwards with a leather conditioner for car seats to keep them in top condition. Leather Honey is a popular leather conditioner and available on Amazon here.
Can I steam clean my headliner? 
You can steam clean the headliner of your vehicle by using the smaller triangle brush attachment covered with a microfiber cloth. For inground stains, try a nylon bristle brush also. The car's headliner is the fabric or material that is located on the inner ceiling of your car. This material is made of a combination of non-woven fabric and foam.  Even though you may not need to clean the headliner frequently, it is important to do so to remove airborne bacteria and stains. 
Enjoy a Clean Fresh Smelling Car
If you own a car, you understand how important it is to clean your vehicle, but this often gets overlooked. Let's face it, we are all busy, and taking time out to give your car a deep clean isn't high on most people's priority list. I encourage you though to give it a try. Steam is really effective in cleaning car interiors, and you'll improve the look and feel of your vehicle.
If you're planning on selling your car, I'd definitely do this – you'll be surprised at how clean your car interior comes up. I've recommended a range of steamers that are suitable for car cleaning, but at the end of the day, they all are. Work with what you have first and give it a try.