Best Steam Mop for Hardwood Floors [Dec 2022 Update]
Using a steam mop is an option if you are looking for a good alternative to a conventional mop and bucket for your hardwood flooring. However, you need to be aware of a few things to avoid damage to your timber.
This list below will cover the best steam mop for hardwood floors and a brief overview of keeping your wood floors in top condition when using steam for cleaning.
Which Steam Mops for Hardwood Floors are Best?
Here are my top three choices for the best steam mops of 2022 when it comes to wooden floors:
Best for Hardwood & Carpet
The Doker steam mop is under $100 and includes a carpet glider for hardwood floors and carpet or area rugs.
Best for Hardwood & Tile
The Bissell PowerFresh Deluxe has a low setting for hardwood, a high setting for tile, and a lift-off scrubbing brush for grout.
Best for Hardwood & Pets
The Bissell Symphony is a steam vacuum well suited to collecting pet hair and steam mopping simultaneously.
A Caution About Steam Cleaning Hardwood Floors
We recommend a steam mop with variable steam settings for cleaning wooden floors. If you use too high a heat or too much steam, you can cause damage to the floors even if they are sealed. An example is white marks or patches on the surface, as shown in the photos below.
This is my hardwood floor, which I damaged by leaving my hot steam mop sitting in one spot for too long. While I love steaming my floors, always keep the mop moving back and forth. If you have to change power outlets sit it on a rubber mat or folded towel. Never leave your steamer stationary on timber.
Now, let's get on to my top recommendations!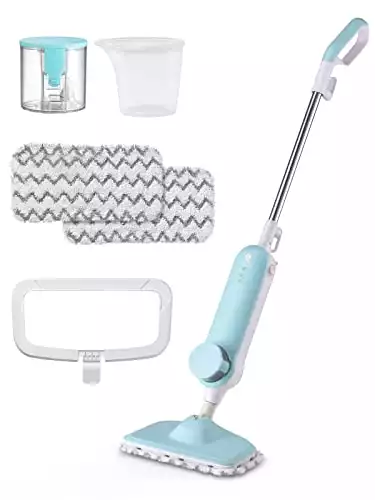 Doker Steam Mop + Carpet Glider
Budget-priced steam mop
Three steam settings
Removable water tank
Includes carpet glider
12 month warranty
We earn a commission if you make a purchase, at no additional cost to you.
05/21/2023 03:07 pm GMT
This lightweight steam mop weighing 6.6 pounds includes a carpet glider for refreshing area rugs or carpeting. Priced under $100, the Doker mop is inexpensive yet has everything I look for in a steam mop.
With three steam levels, it provides up to 15 minutes of continuous steam, includes two microfiber mop pads, and has a removable water tank for easy refilling.
It also heats between 230-285°F (hotter than Bissell and Shark), so make sure you always use the low steam settings, as the higher temperature could cause white marks on your floors.
As the power cord is shorter than others, I recommend a rubber mat to sit the steamer on when moving power outlets.
One user has complained the hot steam damaged her floor between switching on the steam mop and starting cleaning. How long she left it sitting there is unknown. Another user loves this model and raves about how well it cleans up dog urine off her hardwood floors.
Pros
Inexpensive
Includes carpet glider
Three steam levels
Wrap-around storage for the power cord
Cons
Short power cord compared to Bissell (17ft vs 25ft)
The 12-month warranty is not as good as others on this list
This is a neat-looking steam mop that does the job and doesn't cost the earth. The short power cord lets it down a little. You may want to have an extension lead handy.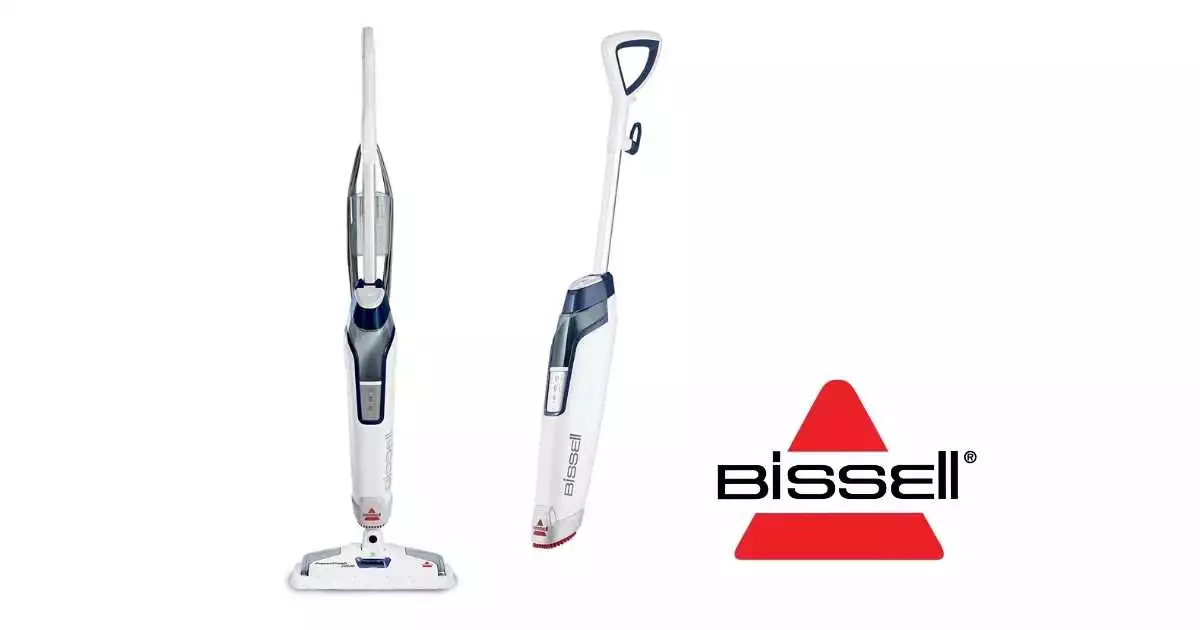 Bissell Powerfresh Deluxe
2 steam settings
Built in water tank (doesn't remove)
25ft power cord
Great brush for grout or textured tiles
2 microfiber pads included
We earn a commission if you make a purchase, at no additional cost to you.
The Bissell PowerFresh steam mop is one of the most popular steam mops on the market in 2022. With two steam settings, use this mop to clean floors throughout your home, including tile floors. Use the lift-off scrubbing brush on ceramic tile and grout and the low level of steam on laminate and wooden floors.
Pros
Scented cleaning solution friendly
Lift off scrubber for stuck-on stains and grout cleaning
Multiple steam settings
Long 25ft power cord
2-year warranty
Cons
Use distilled water for the longevity of the machine
Overall, the Bissell steam mops are one of the best steam mops available for hard floors. The adjustable steam levels are handy. You can purchase replacement parts and inexpensive microfiber cloths if you need extra pads.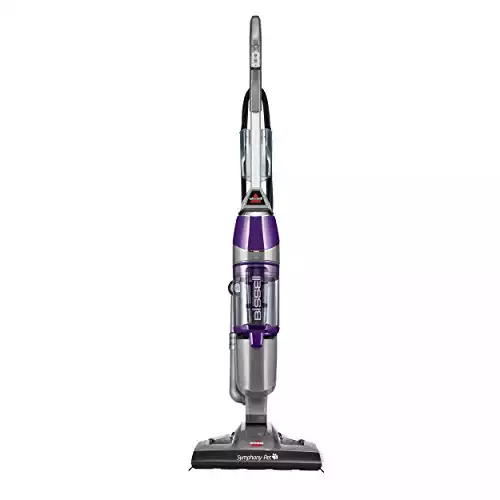 Bissell Symphony Pet Steam Mop and Vacuum
Steam mops and vacuums at the same time
Great for hard floor cleaning and picking up dust and pet hair
It can be used on area rugs as well
Buy on Amazon
We earn a commission if you make a purchase, at no additional cost to you.
05/21/2023 11:28 am GMT
This versatile machine can steam mop and vacuum your floors simultaneously and operate as a hard floor vacuum or steam mop. Compared to a steam vacuum cleaner, the Symphony is limited to floor cleaning and costs less than a canister-style steam vacuum.
With two steam settings (high and low), it offers 11-inch wide cleaning and a 15-minute cleaning time.
It's not great a sucking up heavier items such as kitty litter, dog biscuits, bird seed, etc. So if you have pets in your home, you may want to do a quick sweep before using this steamvac on your floors.
It makes up for what it lacks by steaming and vacuuming at once, saving you time. It's great for quick daily cleanups, especially if you have pets.
If you want to reduce cleaning time, a steam vacuum is a fantastic choice, and the Bissell Symphony doesn't disappoint.
Pros
Vacuum and steam separately or at the same time
Use with Bissell scented demineralized water and scent discs for extra fragrance while cleaning
2-year warranty
Cons
400-watt vacuum isn't super strong
It may not last – only some parts and accessories can be replaced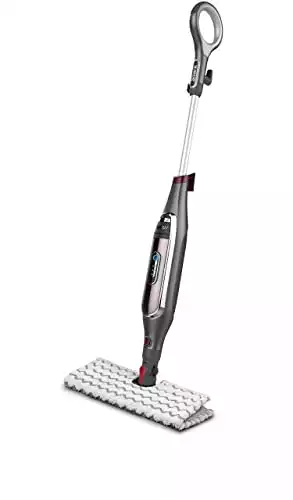 Shark S5003D Genius Hard Floor Cleaning System
Steam Mop with 2 floor pads
Electronic steam control with 3 settings
12 month warranty
We earn a commission if you make a purchase, at no additional cost to you.
05/21/2023 04:03 am GMT
The Shark Genius Steam Mop is a lightweight and easy-to-use steam mop. With three steam levels and a steam blaster function, you can use this mop to clean your floors across your home.
One of the excellent features of Shark steam mops is you don't have to hold down a button or steam trigger to make the unit work. Simply move the mop forward and backward. It will produce steam as it moves. The faster you move it, the more it generates.
The double-sided pad design is handy. When one side is dirty, flip the unit over and keep steaming with the other. When both sides are dirty, you can use a lever to remove the hot dirty microfiber pad, so you don't have to touch it until it has cooled and been placed in the wash.
The Shark Genius is a popular steam mop due to the variable steam levels. There are three steam levels on the Shark, and a steam burst function blows out a burst of steam when you tilt the mop. As always, use the lowest steam rate to minimize any potential damage. It is also easy to assemble, with pieces clipping together so you can get steaming quickly.
Pros
Lightweight, weighing under 6 pounds without water
Swivel mop head turns in any direction
Double-sided mop head
Extra steam blast
Quality brand
Cons
It doesn't stand up on its own
1-year warranty
Best used for light to medium cleaning
The Shark steam pocket mop is a great alternative to a traditional mop and bucket for those who need something lightweight and compact to clean their floors quickly and easily.
I also like how you can easily flip the mop head over when the pad is dirty and continue steaming. You get double the use of your mop head before changing the cleaning pad.
With all these features in mind, we highly recommend this for anyone looking for a Shark steam mop for hardwood floors.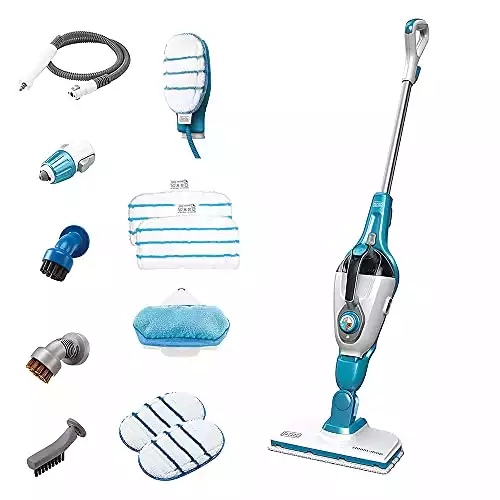 Black + Decker Multipurpose Steam Mop
Multifunction steam mop for floors and handheld steam cleaner
Uniquely styled steam glove protects your hands
Accessories for grout, tile, grill cleaning, curtains and clothing
Adjustable steam settings
We earn a commission if you make a purchase, at no additional cost to you.
05/21/2023 03:37 pm GMT
The Black and decker steam mop comes with a detachable handheld steamer, making it a versatile cleaner for above-floor cleaning and sealed hardwood. I particularly like the steam glove feature. It protects your hand, and you can also easily use steam to clean both horizontal and vertical surfaces.
There are no triggers to hold down like many steam mops. It also includes accessories for clothing, curtains, grout cleaning, grills, and more. The dial on the front controls the steam output, making it safe to use as a steam mop for your hardwood floors and above-floor cleaning.
Pros
Fast 20-second heat up
Accessories included for above floor cleaning
Versatile, multi-purpose machine
20ft power cord
Cons
Bulkier body than other models, may not fit under furniture well
Choosing the Best Steam Mop – What to Look For
Steam mops are generally safe for sealed hardwood floors if you know how to use them properly. Here is what to look for when buying a quality steam mop:
You want (not so) powerful steam. It's wonderful to clean sealed floors without the need for harsh chemicals, but when it comes to hardwood, less is more. Always choose a steam mop with low steam settings to minimize the risk of causing damage. This also applies to laminate flooring and vinyl (avoid using your steam mop on newer vinyl planks).
Cost of replacement mop pads. You generally get two microfiber pads with your steam mop, which is never enough. If it gets too wet, a dirty mop pad can cause streaks on your timber, a dull finish, or watermarks. Consider if generic replacement items are available, usually at a cheaper cost.
Decide if you want a steam mop or a canister steam cleaner. Canister steam cleaners are larger and more cumbersome but can cover a bigger area at once and run longer. Steam mops are smaller and more portable, but you have to stop to refill the water tank regularly.
Look at the mop head and consider the size of your furniture. Do you have to go around or under a lot of items? Consider how well the mop will swivel both left and right and up and down and the size of the machine's body.
Finally, consider how much you want to spend when purchasing a steam mop. An inexpensive model will likely do the trick if it's just for light cleaning purposes.
FAQ's About Hardwood Floor Steamers
What is the best way to clean hardwood floors?
Steam isn't always the best way to clean hardwood floors. You can also use a dust mop to collect dust and hair and a damp mop with a timber floor cleaner to leave floors sparkling. Dish soap can also be used. However, Murphy's oil soap is not recommended.
Can you steam clean real wood floors?
You can steam clean real wood floors. However, you should do so with care. Always use low settings and a thick microfiber cloth to protect your floors.
Can I use a steam mop on other types of floors?
Steam mops are an excellent choice for certain types of floors, especially tiles. You should use steam with caution on laminate, timber, and hybrid floors and never steam mop luxury vinyl planks.
Do you put hot or cold water in a steam mop?
Room-temperature distilled water is the best choice for steam mops. You can also use demineralized water.
What Should You Not Put on a Hardwood Floor?
Acidic or alkaline chemicals such as vinegar and ammonia damage hardwood floors, stripping away waxes and polishes and leaving your floors dull.
Why does my steam mop leave my floors streaky or cloudy?
Cloudy or streaky floors after steam mopping could be due to a build-up of previous cleaning products, using hard water in your steamer, or a dirty mop pad.
Enjoy Your Hardwood Floor for Years to Come
A traditional mop and bucket may be convenient, but it isn't always the best choice for your hardwood floor. Steam mops work well but should be used with care to avoid damage. Many steam mop manufacturers recommend using steam mops on wood flooring, but as someone who lives with an old timber floor, I know firsthand what damage they can cause.
A steam mop can make your life easier, and I hope I have helped you choose the right steam mop for your home. If you have any questions, let me know in the comments below.