Steam cleaners are a flexible tool for keeping your home in great shape without the use of chemicals. Steam cleaners help get to those hard-to-reach nooks and crevices around your home. They can be used on various hard surfaces and soft furnishings for an inclusive clean.
In this post, we will look at the different types of steam cleaners and why steam is beneficial for a healthy home.
About Steam Cleaning
Vapor steam cleaners produce dry steam that is powerful enough to remove dirt, viruses, germs, dust mites, flea eggs, dander, and more. Within a matter of minutes, and without chemicals, you can clean and sanitize your home and keep pests under control. 
Steam cleaners operate with either a small water tank or a larger internal boiler. These heat the water above 200 degrees Fahrenheit and up to 325 degrees Fahrenheit. When temperatures reach this level, the water is transformed into steam. This powerful steam can then be utilized to permeate microscopic pores on various surface areas to remove dirt, bacteria, and allergens. 
Conventional deep cleaning systems combine chemical detergents with water to remove undesirable contaminants. The deep cleaner may appear to get rid of dirt and grime. But what does it leave behind? Generally, a chemical residue that you could potentially touch, inhale or ingest. Cleaning with steam is faster and more effective at cleaning and sanitization than using liquid chemical cleaners. 
One of the appeals of dry vapor steam cleaning is that it not just cleans without chemicals, it won't leave a long-lasting damp residue behind. 
Steam cleaning technology achieves this by utilizing a relatively small amount of water to produce the steam. This efficient cleaning method provides a high-temperature mist with only about 5 to 6 percent moisture. Any residue left behind dries within a few short minutes, no matter the surface cleaned.
Steam cleaners likewise decrease the risk of cross-contamination. When cleaning with a traditional sponge and detergent, you risk transferring bacteria, germs, and other contaminants across your home. This makes your cleaning efforts less effective.
Bacteria are likewise adept at surviving in wet environments, making sanitization increasingly complex. The high heat of the steam kills germs, bacteria, and pollutants, reducing your risk of moving these impurities to other surfaces. 
What Can Be Cleaned with Steam?
Steam cleaners are excellent for most surfaces around the home. Here are some ideas for using steam to clean and sanitize:
Glass and Windows
Walls (but be careful if you have wallpaper, the steam could melt the glue)
Tabletops
Stovetops
Door handles
Kitchen appliances
Automobile interiors
Wheel Rims
Family pet toys, beds, and cages
BBQ grills
Tile floors
Sealed wood floors
Some laminate flooring
Linoleum
Grout
Ovens
Rangehood
M

irrors

Some carpets
Gym equipment
Kitchen, bathroom and laundry sinks
Toilets
Taps, spouts and cupboard handles
Bathtubs
Remove soap scum from shower floors and shower screens

Refrigerators

Defrost freezers and clean exterior of freezer
Children's toys, both hard plastic and soft stuffed animals
Kill bed bugs and other allergens in m

attresses

Sealed timber blinds

Upholstery

, cushions and pillows
Clothing
Clean Jewelry
Remove spilt wax
Sanitize sporting equipment
There are various steam cleaners, such as upright, handheld, and portable. Always choose the most suitable steamer to suit the surface you wish to clean. Some steamers are not appropriate to use on drapes or bed mattresses. We'll cover this further when talking about individual types of steam cleaners.
How Does Steam Clean?
When hot, dry steam is pushed onto a surface area, the tiny vapor particles permeate the pores on the surface. The vapor molecules quickly and strongly expand to displace dirt, grease, detergents, germs, and basically any particles that do not naturally belong on the surface.
An included benefit is the high temperature of the vapor particles, which kills germs and other pathogens like mold, fleas, flea eggs, and allergens. The surface is then sanitized and deodorized. 
Steam cleaners sound like complicated machines, but they are actually quite easy to use. Steam cleaning is so user-friendly that it's as simple as using a vacuum when you understand the fundamentals. 
Here's how steam cleaners work: you pour tap or distilled water into the stainless-steel boiler or cold water tank. Turn on the machine, and the water in the boiler will heat above 200 degrees Fahrenheit. Your steamer is then ready to emit this steam to clean and sanitize surfaces. 
There is a wide variety of attachments and brushes available for steam cleaners. These are particularly useful for grout and hard-to-reach places.
Choosing a Steam Cleaner
With so many steam cleaning machines on the market today, how do you know which one is right for you? Luckily, we are here to help. There are five main categories of steam cleaners. They are:
Let's take a closer look at each, and how they may benefit you at home:
Steam Mop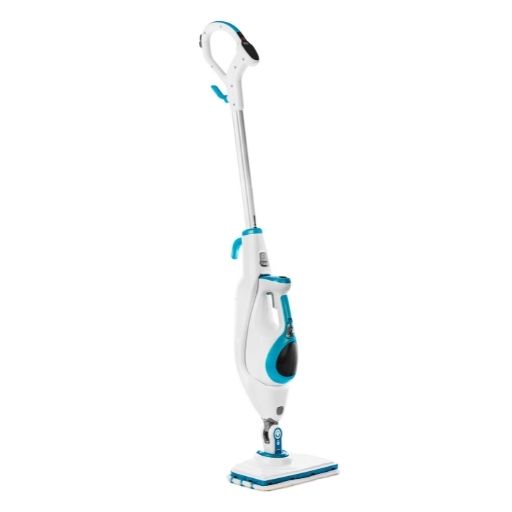 A steam mop is a compact device that looks a little like a stick vacuum. Steam mops are limited to cleaning the floor, unless you have a hybrid steam mop that includes a handheld steamer.
If you have wood, tile, laminate, or marble floorings and you're searching for a fantastic alternative to hauling around that mop and bucket, choose a steam mop. Steam mops leave your hard floors completely clean and sterilized in less time.
They include reusable mop pads and scrubbing pads for more challenging spots. Carpet glider accessories are included with some, enabling you to use your steam mop on rugs and carpet. 
Steam mops are best suited to smaller spaces, as they hold less water than larger steam cleaners. They are fast to heat up so you can get on with steaming efficiently. Some steam mops have manual steam control, more advanced models have electronic steam control, multiple steam settings and various attachments.
Furthermore, there's cordless steam mops, steam mop and scrubber combinations, and vacuum and steam mop all-in-one machines. Confused? Don't worry, we've covered everything you need to know about steam mops (as well as our top choices for 2022) in this post here.
Handheld Steam Cleaners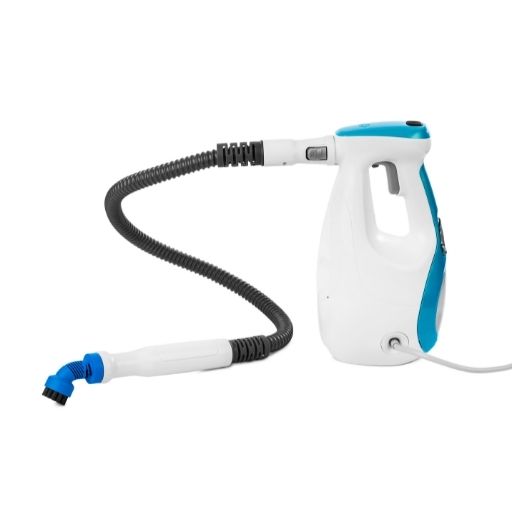 Lightweight, compact, and easy to use, handheld steam cleaners are usually utilized for cleaning ovens, windows, and showers. These highly portable steam cleaners make it simple to clean and sanitize countertops and difficult surface areas. They generally include helpful attachments to make small jobs easy, such as grout brushes, window squeegee, and upholstery tools. Handheld steam cleaners are also beneficial in sanitizing mattresses.
Handheld steam cleaners are fantastic for cleaning:.
Windows
Mirrors
Showers
Bathroom tiles
Tabletops
Stovetops
Other hard surfaces
Clothing
Mattresses
Toys
Car interiors
The downside with a handheld steam cleaner is you generally have to wait for it to cool down before you can refill it and continue cleaning. They heat up quickly though, making handheld steam cleaning machines great for small jobs around the home. The portability is convenient also, especially if you are cleaning hard to reach areas, or inside your car.
Canister Steam Cleaners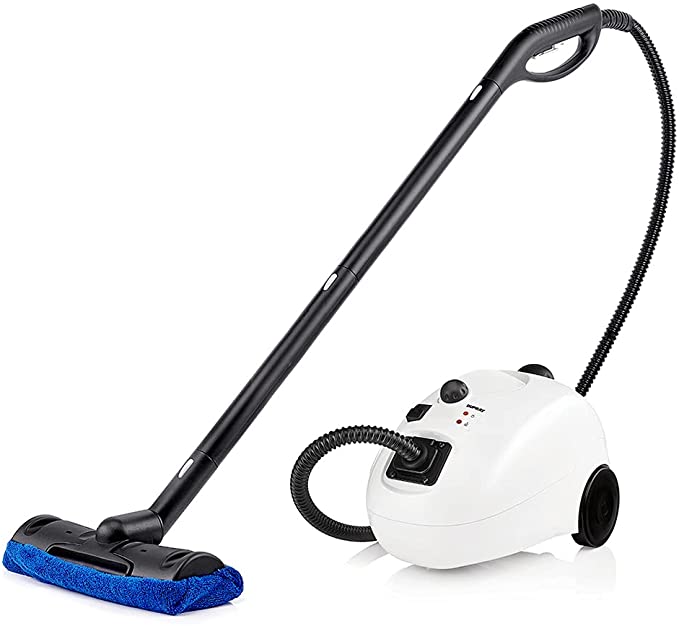 Home steam cleaners offer the most versatility. These powerful deep-cleaning devices can be utilized to clean and disinfect hard floors, carpets, upholstery, automobile interiors, and more. They come with a choice of attachments for various applications around the home, including garment steaming and even cleaning the walls.
Canister Steam Cleaners carry a higher volume of water, offering a longer running time. They are best used for larger surface areas such as: 
Hard Floors
Carpets
Upholstery and soft furnishings
Walls
Cupboards
Kitchen benchtops and appliances
Toys
Tiles and grout
Expect to pay from a few hundred dollars up to several thousand dollars for a canister steam cleaner. Our buying guide and best rated steam cleaners will help you make the right choice. Click on the button below for our top canister steam cleaners for 2022.
Multipurpose 2-in-1 Steam Mops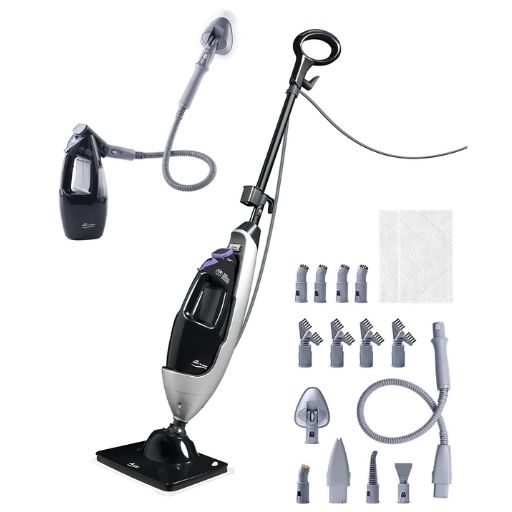 Multipurpose two-in-one steamer mops are just as they sound. They are generally a bulkier steaming machine with a detachable steaming device to use as a handheld steamer. These are sometimes referred to as multi purpose steam cleaners, and can be utilized on a vast array of surface areas.
A two-in-one multifunction steam mop is an excellent choice for an effortlessly spotless home, and you have the benefit of a hard floor cleaner and handheld cleaning device.
Detergent Steam Cleaners
Most steam cleaners create steam hot enough to kill 99.9% of bacteria utilizing just water. Some steam cleaners are detergent-capable, giving you a choice to include detergent to increase your cleaning power. 
This seems a little counterintuitive, especially if you prefer to clean without chemicals! You might choose a detergent-capable steam cleaner if you feel that steam alone is not enough to remove tough dirt and grime. Detergent steam cleaners can also be used in commercial settings, particularly in restaurant and commercial kitchen cleaning, to help remove built up grease and grime.
If you like to add scents to your cleaning, you can purchase fragrance discs that can be used with steam mops. Rather than scenting the water, the steam travels through the disc and emits a lovely scent. 
Steam cleaners are excellent for houses with children and pets that may be sensitive to potentially hazardous cleaning products. They just need water to offer a comprehensive clean, restricting the need to utilize poisonous chemicals. This also conserves your money in the long run as you're not forking out to change detergent as you use it.
Commercial Steam Cleaners
There are some amazing commercially rated steam cleaners on the market that put the home steam cleaners to shame. If you really want to get serious about steam cleaning your home, want the best of the best, or need to use the steam cleaning machine in a commercial setting (such as car detailing, or cleaning contractor), these are the steam cleaners for you.
What sets commercial steam cleaners apart from home use cleaners are:
Steam Temperature – commercial steam cleaners get hotter, up to 345 degrees Fahrenheit.
PSI – this is the pressure of steam as it comes out of the machine. Some commercial machines are double that of home steam cleaners.
Better warranty (some with lifetime warranty on the entire machine, not just boiler tank)
Larger water capacity = longer running time
Usually more accessories and options to store them
What to Consider When Purchasing a Steam Cleaning Machine
Accessories: Make sure you'll get the attachments you need to do the tasks you wish to do throughout your house.
Warm-up time: Some heat up in under a minute; others heat the entire boiler of water, which can take up to 15 minutes. 
Water Tank Size: Did you just wait 15 minutes for the steamer to heat up, only to have it run for 5 minutes? The more water the steamer holds, the longer you can clean before stopping to refill and reheat. Machines with 'continuous fill' allow you to refill the tank without waiting for the steamer to cool down. 
Heat: To efficiently sterilize, water should be heated to above 200 degrees Fahrenheit. Most steamers will do this. Keep in mind the hotter the water heats, the drier the steam will be, and the less time it takes to sterilize surfaces. 
Budget: Steam Cleaners range in price. A higher price may purchase you better customer service, a strong guarantee, replacement parts and longevity of the machine.
Replacement Items: What is the cost of replacement nozzles, spare parts and steam mop pads, if needed? Are they easily accessible?
Manufacturer: Does the manufacturer offer a decent warranty, service options and spare parts? Where do you need to send the machine to if it requires repair?
Is There Anything You Can't Steam?
Chemical-free cleaning with steam is excellent for your indoor air quality. Still, some surface areas simply should not be steamed and risk permanent damage. They are:
Cardboard and paper items
Water based paint
Porous surface areas, such as unsealed marble, brick, and stucco
Unsealed timber
Thin plastics
Waxed surfaces
Anything that may melt with heat
Some types of carpet (check with your manufacturer)
Some types of laminate (check with your manufacturer)
Some types of luxury vinyl flooring
Cleaning a Steam Cleaner
In time, many steam cleaners require you to descale them, considering that the minerals found in water can build up within the steam cleaner's boiler system. Descaling your steam cleaner is easy – just run a mix of water and vinegar through the system, then flush it a 2nd time with clean water.
Alternatively, use distilled water or demineralized water in your steamer. This helps to protect your machine against mineral deposits and scale build-up, and leaves a nicer finish on your surfaces after steaming.
If you like fresh smells when you are cleaning, you can also buy scented demineralized water for use in your steam mop or steam cleaning machine.
How Long Will a Steam Cleaner Last?
Many quality steam cleaners are developed to last for several years. They are not a throwaway cleaning tool! Some systems have aluminum water tanks that tend to oxidize, jeopardizing the stability of the tank.
Attempt to look for designs with stainless steel or brass boiler tanks and fixtures and fittings for superior longevity.
Steam cleaner warranties range from simply a year or two to up to 8 years for some models, and lifetime warranties on some commercial models.
Should I Invest in a Steam Cleaning Machine?
A steam cleaner is a much larger upfront investment than a mop and bucket. The benefit of using steam to clean however, is it requires no chemicals to effectively sanitize and clean your home. Steam pads are washable and reusable, saving you money in the long run.
We believe a steamer is a wonderful investment and wouldn't live without one. In fact, I own two steam mops, one that converts to a handheld steam cleaner and a commercially rated steam vacuum, which I love. If you're unsure, read our helpful guides to make an informed decision before you buy, and be confident you have made the right choice for your home.