Is There a Cordless Steam Mop?
In 2022, Thane IP Limited (the maker of H20 steam mops) released a hybrid model called the H20 iGO. This steam mop can be used when plugged into power, then unplugged, and used as a cordless steam mop.
This is the first hybrid corded and cordless steam mop to come to the market. It is referred to as a hybrid model, as it can't function solely as a cordless mop.
Once the pressure builds up, you can unplug the steam mop from the cord and use it until the pressure runs out. There are no batteries; once the pressure has depleted, you must plug the wireless floor steamer back in until the pressure builds up again.
You can read a full review of the H20 iGO here. Alternatively, take a look at the cordless steam mop alternatives below.
Why Aren't There Cordless Steam Mops Yet?
There are numerous cordless floor cleaners on the market. The closest alternative would be spray mops, which use a cleaning solution to loosen dirt and debris before mopping up with a microfiber pad. 
In 2023, there are no true cordless steam mops. This is likely because of the power required for a battery to heat water to produce steam long enough to clean your floor. While the technology may exist, the cost of producing such a device would far outweigh a reasonable purchase price.
The power and water requirements for a cordless steam mop would likely exceed the capabilities of any current battery technology. Even with advancements in batteries, such as lithium-ion batteries, the cost of such batteries to provide enough power to produce steam would not be affordable for the average consumer.
However, there are a few alternative cordless floor cleaners on the market. These include spray mops, cordless vacuum cleaners, and spin mops for hard surface cleaning. Consider one of the following cleaning tools: 
Spray Mops
Cordless Spray Mop and Vacuum Combo
Steam and Scrub Mop Combo
Corded Steam Mop/Vac Combos
Robot Vacuum and Mop Combo
All these floor cleaners come in different shapes and sizes, so it is difficult to pick which one is best for you as each has pros and cons. This blog post will help make your decision easier by listing the best cordless steam mop alternatives in today's market.
Cordless Spray Mops
Cordless spray mops are a great alternative to steam mops, particularly for luxury vinyl plank and laminate flooring. They are lightweight, easy to maneuver, and cheap to buy, and unlike most steam mops, you can safely use tap water in them. 
Detergents and other cleaning agents can easily be added to spray mops for extra cleaning power and fresh scents.
Many generic brands of cordless spray mops are available at most department stores. I particularly like the Rubbermaid Spray Microfiber Floor Mop. 
You can wash and reuse the microfiber pads up to 100 times. The unit comes with two water bottles. You control the spray with a trigger, allowing you to use as much or little cleaning solution as you like. There is also an extra no-scratch scrubbing pad for tough dirt and debris.
Unlike other spray mops, the Rubbermaid water bottles are hot water friendly. They hold 650mls of water, so you can get a lot of cleaning done without needing to refill. 
If your budget doesn't allow for the Rubbermaid Spray Mop, take a look at a cheaper alternative below: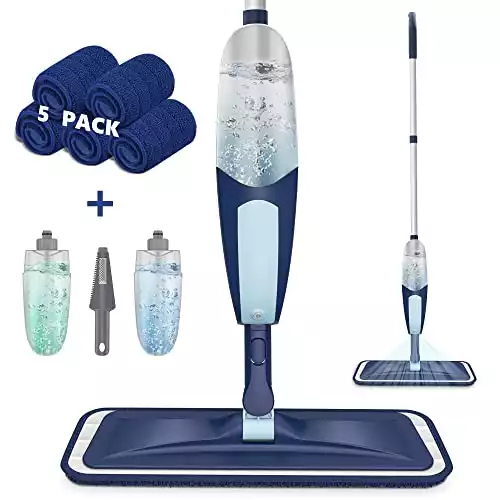 Spray Mop for Floor Cleaning
Spray mop with two refillable bottles, excellent for different flooring surfaces and cleaning products
360 degree rotatable head for cleaning under low furniture and tight spaces
Includes 5 microfiber mop replacements, plenty for a whole house clean
Use as a wet mop or dry mop
12 month warranty
Buy on Amazon
We earn a commission if you make a purchase, at no additional cost to you.
01/18/2023 01:36 am GMT
Spray mops are often considered one of the best cordless hardwood floor mop choices because the soft microfiber won't cause damage and can collect dust easily.
Cordless Spray Mop and Vacuum Combos
These products are similar to the cordless spray mops mentioned above. The most significant difference is that they usually come with a rechargeable battery and can be used as a vacuum cleaner and a hard floor spray mop.
Some models come with separate tanks for the solution and vacuum. In contrast, others have a removable tray that can be put in the dishwasher when you are done.
The Shark VM252 VACMOP Pro Cordless Hard Floor Vacuum Mop is the most popular cordless spray mop and vacuum combo. This is an excellent unit with disposable mop pads for quick clean-ups and household spills.
This product is an excellent choice for people who want the convenience of a cordless vacuum cleaner and floor spray mop in one unit. It comes with a rechargeable lithium-ion battery, which allows you to clean for up to 30 minutes without interruption. Included is a 12 oz. cleaning solution to remove dirt and debris from your floors.
Taking around 1 hour to charge, the Shark Vacmop is best suited to light cleanups (for example, daily kitchen or bathroom floor cleaning). Don't forget to stock up on disposable pads.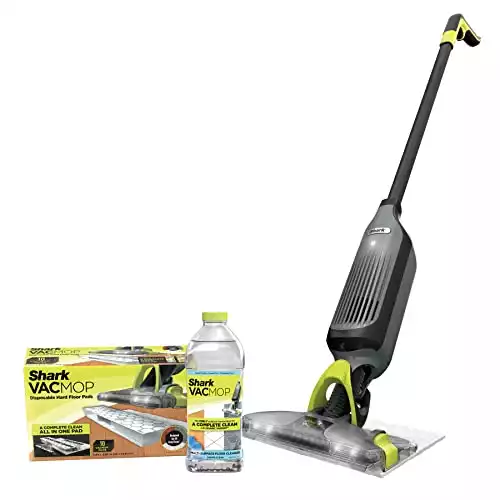 Shark Vac Mop Pro
Lightweight and portable, this vacmop weighs less than 5 pounds.
Vacuums dry matter, a spray mop wets surfaces for an extra cleaning boost and uses disposable pads to wipe away mess on the floor.
Great for quick clean-ups
Buy on Amazon
We earn a commission if you make a purchase, at no additional cost to you.
01/18/2023 01:47 am GMT
Steam and Scrub Mop Combos
These are the most advanced floor steam mops on the market. They combine rotating scrubbing pads and a steam cleaner to remove dirt and debris from your floors. 
These are best used on sealed hard flooring, ceramic tile, stone floors, or marble. 
I particularly like the Shark Steam Mop Scrubber system, which has three steam levels, lights on the front to see under furniture, and darker corners and comes with four washable floor pads.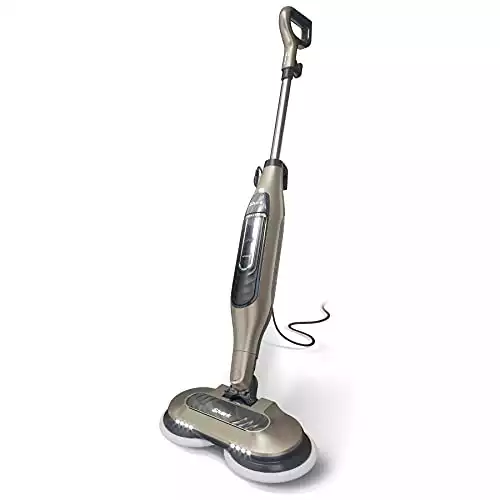 Shark Steam & Scrub S7001
Choose from three steam modes
Rotating floor scrubbing discs
Suitable for most flooring types
Buy on Amazon
We earn a commission if you make a purchase, at no additional cost to you.
01/18/2023 02:02 am GMT
Mop and Vacuum Combos
Mop and vacuum combos offer the best of both worlds. Just as they sound, they simultaneously mop hard floors and vacuum dirt, pet hair, and debris. 
You can use them as a wet and dry vacuum on hard floors – great if you have pets. A mop and vacuum combo saves time cleaning, particularly if you have a large home.
Bissell makes a cordless mop and vacuum combo, the Crosswave Cordless Max. Use this machine on hard floors and rugs for quick clean-ups. It also runs for around 30 minutes per battery charge.
If you are undecided, read a complete comparison of Bissell Crosswave machines. The Bissell Crosswave Cordless Max is a popular alternative to wet mopping and has a separate tank for dirty water.
Another option is the Tineco Floor One Cordless Wet and Dry Vacuum. Like the Bissell above, it vacuums and washes your floors simultaneously, automatically adjusts suction power for wet spills that need more suction, and has a self-cleaning system. 
Take a look below:
Steam Mop and Vacuum Combo
If you prefer cleaning with steam, Bissell also makes a steam mop and vacuum combo, the Symphony Pet Steam Mop. This isn't a cordless floor mop; however, you must plug it in.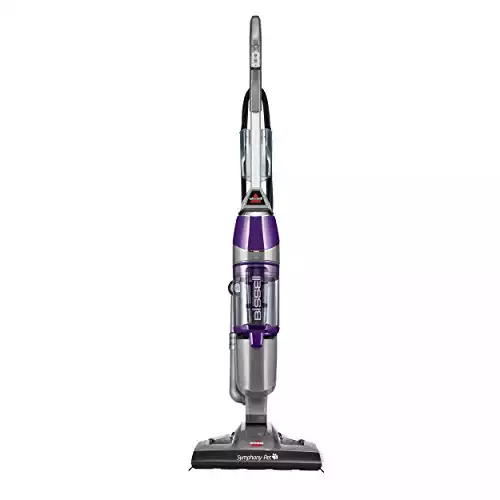 Bissell Symphony Pet Steam Mop and Vacuum
Steam mops and vacuums at the same time
Great for hard floor cleaning and picking up dust and pet hair
It can be used on area rugs as well
Buy on Amazon
We earn a commission if you make a purchase, at no additional cost to you.
01/18/2023 02:09 am GMT
This product is perfect for homes with pets, thanks to its deep cleaning power and superior performance. The Bissell Symphony combines the convenience of a corded steam mop with the powerful suction of a vacuum cleaner. 
This steam mop's Exclusive Drop-It Tank Emptying System makes it easy to empty the tank without touching any vacuumed dust. 
The product also comes with Disposable Pads, which make it easy to clean up pet hair and other messes. The Symphony can clean your home's sealed wood floors and other hard floorings. Its adjustable handle lets you quickly clean low under furniture and other areas.
Robot Vacuum and Mop Combo
For a complete done-for-you system, in 2023, there are now robot vacuums that mop for you, learn the layout of your home, and empty their waste bins automatically!
Naturally, these systems come with a decent price tag. The two leading brands are iRobot Roomba S9 and the Roborock S7, which can distinguish between carpet and hard floors, lifting the mop feature to avoid wetting the carpet. 
Don't despair if you don't have the budget for top-of-the-line brands. Robot vacuum and mop combos start from under $200, making them reasonably affordable. 
A great example is the ILIFE Pro 2, released in 2021. It cleans for 2 hours, offering vacuuming and mopping of your home while you relax. 
Is There a Cordless Handheld Steam Cleaner?
At the time of writing, no cordless handheld steam cleaner has been manufactured yet. The H20 iGO steam mop offers a hybrid cordless function but is not available in a handheld steam cleaner.
Conclusion
If you're looking for a powerful, deep-cleaning floor cleaner that doesn't require harsh chemicals or detergents, then a steam mop is a great choice. However, if you need a cordless, rechargeable machine, you won't find a proper cordless steam mop yet.
If you have flooring that steam cleaners may damage or don't want to deal with the hassle of a cord, these alternatives may be better for you than a steam mop.
Otherwise, look for a steam mop or canister steam cleaner with a long power cord to give you more flexibility in cleaning more extensive areas of your home with ease.