Bissell Symphony Steam Mop and Vacuum Review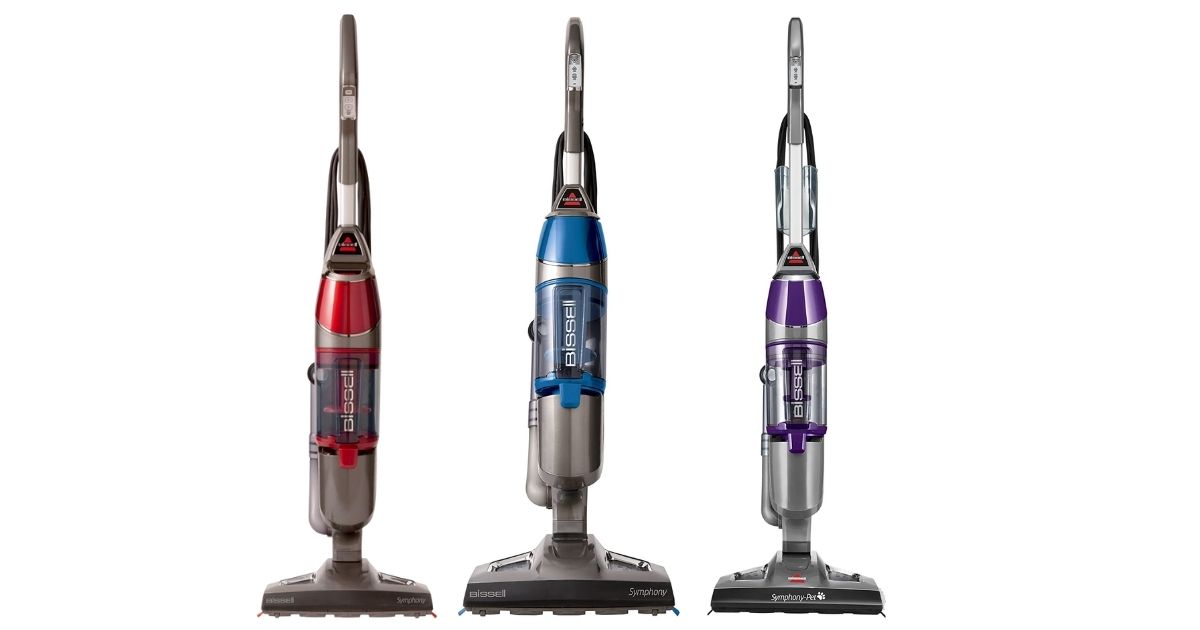 The Bissell Symphony is a steam mop and vacuum combo designed for hard floors. This sounds like a dream come true for pet owners, being able to vacuum dirt, dust, and dog hair while steam cleaning your floor simultaneously.
Let's take a closer look at the Bissell Symphony to see if it lives up to the expectations and whether this is a worthwhile buy in 2022.
An Overview of the Bissell Symphony Steam Mop and Vacuum
This versatile machine can steam mop and vacuum your floors at the same time, as well as operate as a hard floor vacuum or only as a steam mop. Compared to a steam vacuum cleaner, the Symphony is limited to floor cleaning only.
With two steam settings (high and low), it offers 11-inch wide cleaning and a 15-minute steam time. Here are the basic specifications:
| | |
| --- | --- |
| Wattage | 1500 watts |
| Model Number | 1132 (or variations of this) |
| Cord Length | 25 Feet |
| Floor Type | Hard Floors Only |
| Water Tank Capacity | 12.8 ounces |
| Weight (without water) | 10.1 pounds |
| Warranty | 2 years |
There are two models of the Bissell Symphony steam mop and vacuum. The base model is burgundy and gray or blue and gray, and the pet model is purple and gray.
The model numbers vary with the color options. The bolded options below are still available. They are:
Model Number 1132 – Burgundy
Model Number 1132A – Blue
Model Number 11322 – Lime Green and Gray
Model Number 1132P – Blue (no longer available)
Model Number 1543 + 1543A – Purple (Pet)
Model Number 1543T – Turquoise (no longer available)
Model Number 2747A – Green and White (PowerFresh Vac & Steam Mop – discontinued)
The pet model has a detachable tray that holds Swiffer Steam Boost disposable pads. These are designed to clean up pet messes and then throw them away rather than trying to wash and reuse them.
These are great for accidents such as pet vomit and feces. The pet model also comes with scented demineralized water and odor-eliminator discs.
How Do You Use a Bissell Symphony?
After you have assembled the Bissell Symphony steam mop and vacuum, you will need to fill the water tank. This is a 12.8-ounce tank and is located on the back of the steam mop.
You should have received a small water cup with the symphony. Fill this cup with distilled or demineralized water and gently pour it into the water chamber.
Be careful not to overfill this. If you do, you may find water leaks as you tilt back the handle for steaming. Ensure you close the easy fill opening securely.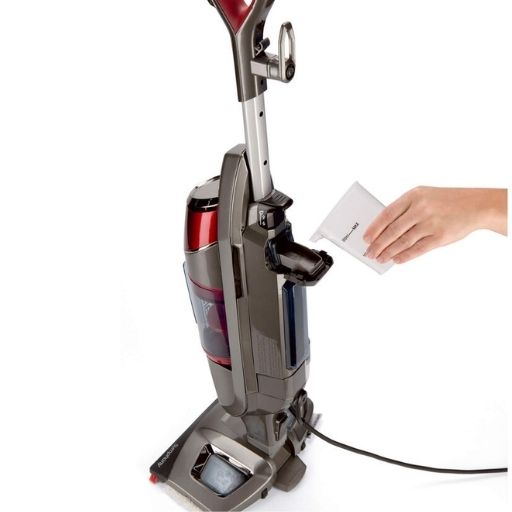 Ensure you have placed the microfiber pad and any scented discs on the Symphony before plugging in and turning it on. There is no space on the machine for the discs; you need to place them inside the microfiber pad holder.
Cut the disc in half for a lighter scent and to maximize the longevity of these, or use a full disc for a stronger aroma.
Getting Started Steaming
You might hear a knocking when you first turn on the machine. This is normal and also happens when the machine runs out of water. This a great audio clue when mopping that you need to refill.
Around 30 seconds after you have switched the machine on, the steam-ready light will illuminate. You can then choose your steam setting, low or high.
There is a steam trigger on the inside of the handle. You need to press this to start the machine steaming (after you have selected the low or high steam setting), but you don't need to hold it down at all times.
Squeeze the steam trigger on and off multiple times to get started steaming. This is called priming and will help the steam flow easily from the machine.
Low is best suited to delicate flooring or for light cleaning. Use the high setting on sealed tile floors, sticky spots, and dirtier floors. If you are using the throw-away Swiffer steam boost pads, use the lowest steam setting.
Depress the trigger now and again to continue emitting steam. To use the vacuum function at the same time, push down the VAC switch on the front of the handle. You don't need to hold this down; push to turn it on.
Emptying the Vacuum Canister
Ensure your Symphony is switched off and unplugged before refilling with water or emptying the dirt tank on the vacuum. There are slightly different functions to empty the dirt tank between the Symphony Pet and the base model.
The base model has a lock button on the front of the unit, which you push. The bottom of the dirt tank will flip down, and the dust and debris will fall out. Hold it over your garbage bin before you press this, or you'll end up with dirt on the floor.
The pet model has a lever on top of the canister, which you use to empty the dust. This is demonstrated in the image below: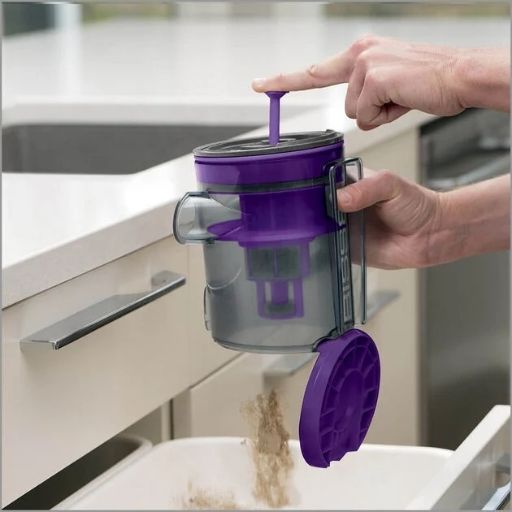 Switching Between Vacuum and Mop Modes
The vacuum is designed for light cleaning. It works at 3.3 amps or 400 watts. It is designed to collect pet hair, light dirt, and dust.
The vacuum won't pick up heavier items such as marbles, stones, crayons, and other larger debris. An on-off switch is on the front of the handle to operate the vacuum. Simply press it on, or press it off.
Please note the vacuum is not designed for carpet; this is a hard floor tool. You can vacuum a low pile rug, but nothing plusher than this.
The steamer is 1100 watts and can operate at low or high steam. These controls are digital, like the vacuum control. Press once to turn on and once again to turn off. If switching into the steam mode, you must select a steam setting before holding down the steam trigger on the handle.
Care and Maintenance
You can wash the dirt tank in warm water with mild detergent. It is not designed as a wet vacuum and will clog with water, so make sure it is completely dry before returning it to your Symphony steam mop.
There are two styles of microfiber pads – soft microfiber, which is suitable for everyday use, and for delicate flooring.
The gray and white microfiber pad has firmer plastic-style bristles built in (these are the gray stripes) and is best suited to scrubbing tougher dried-on dirt or for cleaning floors that are not prone to scratching. Please be very careful if you use these on hardwood or laminate flooring, they could scratch.
Wash the microfiber pads after each use in the washing machine. Do not allow them to sit; the dirt may dry and cause staining. Also, do not use fabric softeners, washing detergents with built-in softeners, or dryer sheets with microfiber. Dry them on the clothesline if possible.
As with all cyclonic vacuum cleaners, you must wash the foam filter and change the paper filter around every six months. You can purchase replacement filters direct from Bissell.
Can I Use a Bissell Symphony on Carpet?
You can use the Bissell Symphony on low-pile rugs around your home, but it is not designed for carpets. For improved vacuuming performance on rugs, remove the pad tray for the steam mop and use it as a vacuum.
Is a Bissell Symphony Safe for Hardwood Floors?
Care should be exercised when using any steam mop on hardwood floors, including the Bissell Symphony. Prolonged exposure of steam to hardwood flooring can cause damage, premature wearing of timber floor varnish, and white marks on your wood.
If you decide to steam mop hardwood floors, use the Bissell Symphony on the lowest steam setting. Always keep the steam mop moving, and if you stop to refill the water, don't let the hot steam pad sit on the hardwood floor.
Is the Bissell Symphony Safe for Laminate Floors?
All steam mops should be used with caution on laminate flooring. The quality of the laminate may be affected by steam, and it has the potential to cause swelling and warping of your boards. Some laminate flooring manufacturers recommend against using steam mops, citing this will void a warranty.
Some consumers love to steam laminate and have no problems – yet. I recommend using the softest microfiber pad and lowest steam setting if you decide to steam laminate. Never hold the steam mop in one place; always keep it moving.
What's the Difference Between the Bissell Crosswave and Bissell Symphony?
The Bissell Crosswave is a wet and dry vacuum and floor-cleaning tool that produces no steam. It has a clean water tank that is used to push water out onto the floor whilst the roller spins to scrub the flooring. The Crosswave then sucks the dirty water back up into a different tank. The Bissell Symphony is a dry vacuum that has steam capabilities, allowing you to vacuum and steam simultaneously.
What's the Difference Between the Bissell Symphony and Bissell PowerFresh Vac and Steam?
The Bissell Vac and Steam is available in the UK and is identical to the Bissell Symphony.
Bissell Crosswave vs Symphony – Which is Better?
They are dynamically two different machines, one is a steam mop, and one isn't. When deciding between the two, we aren't comparing like for like. Take a look at my head-to-head review of the Crosswave vs Symphony, or round up review on all the different Crosswave models, to make an informed choice before you buy!