Bissell Symphony vs Crosswave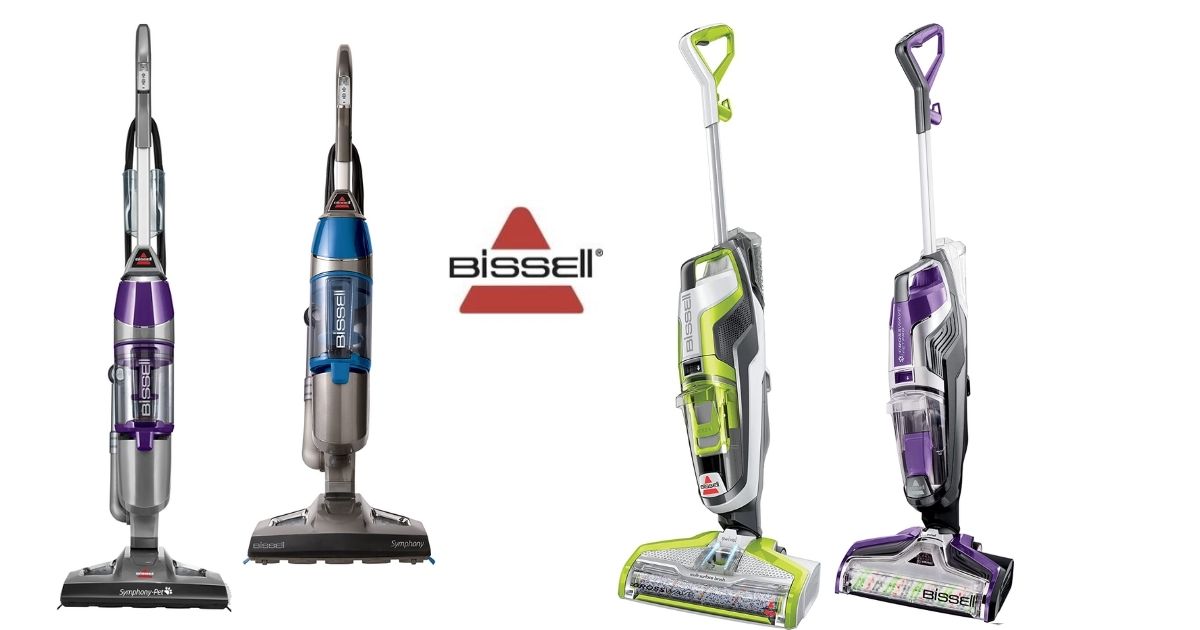 The Bissell Symphony and Bissell Crosswave are two cleaning machines that have been around for years. They are similar in appearance and function in terms of vacuuming, yet one offers steam mopping and the other doesn't.
This article will compare the Bissell Crosswave and Symphony in terms of their price, features, and usability to help you decide which one is right for you. Both of these vacuums have pros and cons, but ultimately one may be a better fit for your home than the other. Keep reading to learn more! 
Bissell Symphony vs Crosswave: What's the Difference?
The main difference between the Bissell Symphony vs. Crosswave is the Symphony is a steam mop and vacuum in one. The Crosswave is a wet mop and vacuum in one. 
Both of these models are made by Bissell. They have similar features like multi-surface cleaning, water tanks, and vacuums. Still, they also have some unique differences that set them apart from other vacuums. Let's take a closer look at these differences: 
Unboxing & Assembly
The Bissell Symphony and Crosswave come unassembled and may require some quick assembly before first use. All of their pieces were individually wrapped, and you need to unwrap and put the pieces together to complete assembly.  
To assemble the Crosswave, insert the handle into the body, align the clean water tank with the grooves on the back of the machine, and tighten. Finally, wrap the cord around the quick release cord wrap. 
The Symphony was also easy to put together. Insert the body into the foot of the unit and then insert the handle into the unit's body. Finally, attach your desired microfiber pad to the mop pad tray to start cleaning. 
Both models come with a user manual, and an assembly video is also available on the Bissell website. 
Style
The aesthetics of both models are very similar. They both feature a vacuum, adjustable handle, water tank, and a cleaning head, all within the same frame and design. Cleaning mode buttons are located on the handle of each vacuum, and dust cups of both models are present in the center of their bodies.  
However, the colors are different. The Bissell Symphony is available in blue and gray color combinations. At the same time, the Crosswave is offered in a lime green and gray color scheme. Plus, the weight of each model varies slightly; The Bissell Crosswave weighs 11.5 lbs while the Symphony weights 10.1lbs. 
Bissell Symphony and Crosswave are also available in pet models:
BISSELL CrossWave Pet Pro: This vacuum comes with two Tangle-Free Brush Rolls and two 8 oz. PET Multi-Surface formula that kills 99.9% of pet odors and stains and cleans everyday spills and messes. It retails for $269.59. 
BISSELL Symphony Pet All-in-One: This model comes with Odor Eliminating Scent Discs, Steamboost tray, and (4) disposable Steamboost pads that make cleaning up your pet messes easy by allowing you to vacuum and steam at the same time or separately. This model retails for $226.59. 
Cleaning Head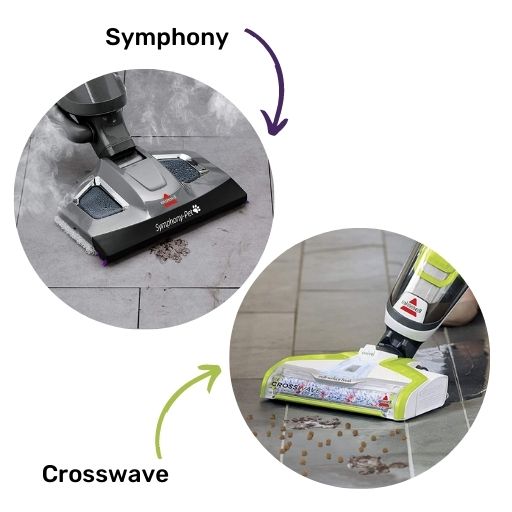 The cleaning head of the Bissell Crosswave looks like a vacuum that uses a dual-action motorized brush roll. This innovative microfiber and nylon brush rotates at 3000rpm to pull in fine dust and hair. The dual-action helps you to mop and pick up dry debris simultaneously. 
On the other hand, the cleaning head of the Bissell Symphony uses machine-washable microfiber pads with Spring Breeze Freshening Discs that eliminate odors. The cleaning pad is fixed to the back half of the head while the front half is left open for vacuuming. Its powerful, cyclonic vacuum helps provide consistent suction power so that each clean is thorough.  
Cleaning Performance
These vacuums are designed to clean your floors quickly and easily. The Crosswave is specifically designed hard flooring and rugs, while the Symphony can be used on hard flooring only.
The Crosswave uses vacuum and washing action to clean your floors and carpets, and the Symphony uses vacuum and steam to get rid of dirt and grime on your hardwood floors or tile. The steam power of Symphony can kill 99.99% of germs and bacteria without using harsh chemicals. 
Both of these methods effectively clean your floors, but they have different strengths. For example, the Crosswave has a larger water tank than the Symphony. That means you can clean for a longer period of time.  
Accessories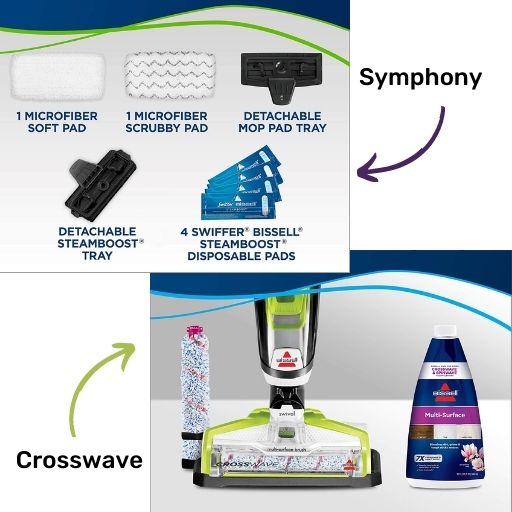 The Bissell Symphony includes a soft microfiber pad, a scrubby microfiber pad, and a detachable mop pad tray. The Symphony also comes with Spring Breeze Freshening Discs and demineralized scent water that will keep your home fresh and clean smelling. 
On the other hand, the Bissell Crosswave comes with two Dual-Action Brush Rolls and a multi-surface cleaning solution specifically designed to work with the Crosswave's vacuum and washing action.  
Water Tank Capacity
The size of the water tank is different for each model. The Bissell Crosswave has a larger water tank than the Symphony- it can hold up to 28 oz. of water and features two water reservoirs, one for keeping clean water and one for dirty water. 
In contrast, the Bissell Symphony has a single non-removable water tank. The Symphony can hold up to 12.80 oz of water, and the unit features a Drop-IT Tank Emptying System that makes it easy to empty the tank when you are done cleaning. 
Filtration System
The Bissell Crosswave uses a rectangular and washable filter that can be easily removed and cleaned. In contrast, the Symphony comes with a circular and washable filter that absorbs hair, dirt, and other grime from the floor. However, these filters wear down and require replacement depending on how much you use your vacuum. 
Size and Weight
The Bissell Symphony measures 9 x 11 x 46.5 inches and weighs 10.1 pounds, while the Bissell Crosswave measures 10.5 x 12 x 46 inches and weighs 11.5 pounds (including water tank). This means that the Crosswave is larger and heavier than the Symphony. 
Cord Length
Both of these vacuums have corded power, including a cord rewind feature. Both models have similar cord lengths, like a 25-foot cord that will help you reach a distant plug. 
Price and Warranty
The Bissell Symphony is a little cheaper than the Crosswave. However, both models are backed by Bissell's 2-Year Warranty. 
Bissell Crosswave Pet Pro vs Symphony Pet
The Bissell Crosswave Pet Pro is more expensive than the Symphony All-in-One Pet Vacuum and Steam Mop. So, there are a few differences between the two you should probably know about. 
The Bissell CrossWave Pet Pro is designed to remove dirt, debris, and pet hair from your rugs and hard floors. In contrast, the Bissell Symphony Pet is designed to vacuum up pet hair and debris while steam cleaning your hard flooring.   
The CrossWave Pet Pro features a 28 oz. tank, which is removable for easy filling, cleaning, and emptying. The Symphony Pet's tank can hold only 12.8 oz of water for steam cleaning your flooring surfaces.  
The CrossWave has a motorized pet brush with counter-rotating brushes to pull up the dirt from flooring. At the same time, the Symphony comes with disposable microfiber pads for removing pet messes from your hard floors.  
The Crosswave pet pro uses 4.4 amps of power to clean your carpets and flooring. In contrast, the Symphony uses 3.3 amps of power for vacuuming pet hair from your flooring surfaces. 
The Crosswave features a swivel head and a long, 25-inch power cord which allows you to clean more areas without unplugging. The Symphony Pet also has a 25-inch power cord but no swivel head for better maneuverability.  
The Crosswave pet pro comes with a 3-year limited warranty, while the Symphony has a 2-year limited warranty.  
So, if you're looking for a better, deeper, and more efficient cleaning of your floors, then the Crosswave Pet Pro is your best bet. 
Pros and Cons of the Bissell Symphony
Pros
Two steam settings
Can use as a vacuum or steam mop on its own, or vacuum and steam at the same time
Great output of steam
Loved by dog owners
Doesn't leave the floor wet
Cons
Carpet glider sold separately
Vacuum can clog if you have a lot of pet hair
Doesn't steam to the edge of the base boards due to the vacuum being in front of the steam mop
Not great for grout cleaning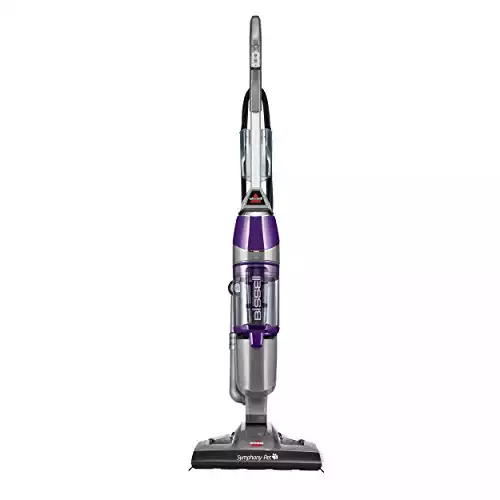 Bissell Symphony Pet Steam Mop and Vacuum
Steam mops and vacuums at the same time
Great for hard floor cleaning and picking up dust and pet hair
It can be used on area rugs as well
Buy on Amazon
We earn a commission if you make a purchase, at no additional cost to you.
07/22/2023 11:15 pm GMT

Pros and Cons of the Bissell Crosswave
Pros
Excellent for pet urine
Use on rugs and low pile carpet
Pet model has extra filters for separating dog hair and debris – this is a better choice over the original crosswave
Picks up dog hair well
Lightweight
Cons
Had a hard time picking up kitty litter
Many complaints about cleaning out the dirty water tank – the dirtier your house is, the grosser it will be
Can leave water on the floor if left in one spot
Complaints about streaking (generally the roller brush needs cleaning)
Prices pulled from the Amazon Product Advertising API on:
Product prices and availability are accurate as of the date/time indicated and are subject to change. Any price and availability information displayed on [relevant Amazon Site(s), as applicable] at the time of purchase will apply to the purchase of this product.
Can You Use the Bissell Symphony on Carpet?
You can use the Bissell Symphony to lightly steam carpet, however, you will need to purchase a carpet glider separately. This isn't included with the steam vacuum as standard. The Symphony is not designed for deep cleaning of carpets, more so for refreshing low pile carpets and rugs.
What is Comparable to the Bissell Crosswave?
The Bissell Crosswave is handy wet/dry vacuum, but it's also priced upwards of $200. If you're looking for something that has similar cleaning performance, at less of a cost, take a look at the Hoover FloorMate Deluxe Hard Floor Cleaner.  
Hoover FloorMate features dual-tank technology, wash-dry mode, and SpinScrub brushes to clean your hard flooring surfaces effectively. However, it is not intended to be used as a vacuum, but it does a fantastic job picking up debris, dirt, and pet hair. 
Having used both machines, I would recommend the Crosswave for flat hard flooring, such as timber, laminate and smooth tile with even grout. For tile with deep grout, or textured surfaces the spinning scrubbing brushes of the floor mate will do a better job.
Alternatively, Tineco make the iFloor and Floor One which are very similar wet mops and vacuums to the Crosswave.
Bissell Symphony vs Crosswave: Which is Better?
These are great machines by Bissell, so it really comes down to your specific needs. The Bissell Symphony is best for people who need a versatile vacuum + steam cleaner that can be used on all types of floors. If you love to clean with steam, without chemicals, you'll most likely gravitate to the Symphony.
If you're looking for something more heavy duty or for larger homes, take a look at our round up of steam vacuums.
If you have pets, kids, or a combination of hard flooring, rugs and low pile carpet in your home, the Crosswave may be a better choice. If you like to clean with detergents, the Crosswave is the one for you.