Vapor Clean Pro7 Steam Cleaner and Vacuum
Vapor Clean Pro7 Home Plus is a multipurpose steam cleaner with a built in vacuum that will save you time cleaning your home. It comes with advanced features which you simply don't find in your basic steam cleaner models.
There aren't a lot of high powered steam cleaner and vacuum combos on the market. Bissell make the Symphony (which I don't put in the high powered category at all), which is ok for small cleaning jobs, but if you have a big home, pets who live in the house, suffer from allergies or are sensitive to chemicals, you are likely to appreciate a machine such as the Vapor Clean Pro7 Home Plus Steamer.
Having recently bought a steam cleaner and vacuum myself (here in Australia I bought the Eurogem Liberty Pro, which looks quite similar to this model), I am super impressed with its capability to steam clean and vacuum at the same time. So, I'm excited to talk to you about the Vapor Clean Pro7 steam vacuum.
First up, let's take a look at the basic specifications:
| Specification | Vapor Clean Pro 7 |
| --- | --- |
| Dimensions | 13 inches x 14 inches x 18.5 inches |
| Weight | 24 pounds |
| Preheat Time | 2 minutes |
| Boiler Capacity | 50oz boiler + 50oz reservoir + 50oz recovery tank |
| Continuous Refill | Yes |
| Power | 1750 watts |
| Boiler Temperature | 318⁰F |
| Steam Tip Temperature | 300⁰F |
| Operating Pressure | Up to 7 Bars / 101 PSI |
| Steam hose length | 8.5 feet |
| Country of Manufacture | Italy |
| Warranty | 5 years parts, Lifetime on the Boiler |
40 Second Video of the Pro7 in Action
This quick video shows the steam capacity on a filthy floor, and the vacuum sucking back up the water. They use the steam and vacuum separately, but it isn't entirely necessary – you can use them both together at the same time. Watch the video here:
5 Functions of the Vapor Clean Pro7:
With the Vapor Clean Pro 7, you can do many things that are not possible with other steam cleaners. Some of its functions include; 
Wet and Dry Vacuuming: Vapor Clean call this the Cyclon feature. Vacuum liquid spills and dry debris simultaneously. Dirt and debris are blasted with a shot of hot steam as they are sucked into a water tank, capturing tiny particles. Vapor Clean call this the vap filter, which traps micro-dust, pollen and dust mites. You can use this on both carpets and hard flooring.
High Powered Steam Cleaner: Vapor Clean call this the Geiser function. Use the steam cleaner both on hard flooring, carpets or for above floor cleaning. With a tip temperature of 300 degrees Fahrenheit, you can clean and sanitize your home in no time.
Steam and Vacuum at the same time: Vapor Clean call this the Comby function. This is where you really get the benefit of two machines in one.
Optional Detergent Feature: A separate bottle of detergent attaches to the back of the machine. You can disperse detergent and steam at the same time for amazing cleaning power on grills, ovens, stovetops, rangehoods etc. Please note this is an optional extra and not included as standard.
Air Purification and Humidification: Using the vacuum feature and recovery tank, you can refresh rooms by sucking stale or smoke filled air into the recovery tank. The steam and water trap odors, emitting clean fresh filtered air. If you like scents in your home, you can add a few drops of essential oils into the recovery tank, for lightly scented air.
Other Benefits of the Vapor Clean Pro7 Steam Vacuum Cleaner
Heavy Duty Construction 
When purchasing a multipurpose steam cleaner, one of the most important things you should check is the overall construction. In this regard, the Vapor Clean Home Plus comes with a heavy-duty ABS casing to enhance durability. This also enables it to withstand impact when cleaning. It measures 18.5 inches x 14 inches x 13 inches, making it relatively compact and easy to store. 
Easy To Use 
Unlike other steam cleaners, the Vapor Clean Pro 7 comes with unique components that make it easy to use. The unit features an advanced digital control panel where you can check the steam pressure, boiler temperature, or water level. It is also equipped with an 8.5 foot steam hose for easier maneuverability. You can adjust the steam flow using the steam regulator to suit the type of surface you are cleaning. 
Continuous Refill 
Another exciting feature most people love about this unit is the continuous refill function. This feature lets you add water as you clean, so you don't need to stop and wait for the boiler to cool down before refilling. It has a low water alarm that alerts you when it is time to fill the boiler. The unit takes just a couple of minutes to heat up.
Deep Cleaning 
I've mentioned a couple of times already that the tip temperature of the Vapor Clean Pro7 is 300⁰F. Most standard steam mops and canister steam cleaners heat the water to 212⁰F. The high temperature of the Vapor Clean Pro 7 melts away dirt, grease and grime, allowing you to clean, then sanitize your home effectively.
For steam to kill most viruses and bacteria, it needs to be at least 175⁰F and in contact with surfaces for at least 3 minutes. The Pro 7 has a tip temperature of 300⁰F. Bacteria and viruses don't stand a chance.
The steam cleaners that heat the water in the boiler to 212⁰F, have tip temperatures that are generally lower than 175⁰F. What I love about higher powered steam cleaners such as the Vapor Clean Pro 7 is the high boiler temperature and high tip temperature. The hotter the steam, the faster you can sanitize for really effective germ removal.
Warranty 
The other great thing about this vapor steamer is its lifetime warranty for the housing, heating element, and boiler. Other parts have a warranty of 5 years. This gives you the assurance that you are investing in a top-quality product that will serve you for many years. 
Accessories  
The Vapor Clean Pro7 steam cleaner comes with 20 accessories which ensure that you have all the tools you need to clean every part of your home; 
Multipurpose floor brush plus clips 
Nozzle holder plus curved attachment and straight attachment 
Professional clear upholstery and carpet tool 
2 extension wands 
Bristle attachment 
Bristled insert for triangular tool 
Flexible hose 
Large round horsehair brush 
Medium round nylon brush 
Carpet protection glide 
2 stainless steel scrubbies 
Steam/ vacuum transparent tool 
2 microfiber pads  
Straight nozzle 
Curved nozzle 
Large window squeegee 
Small detail brushes 
Triangle tool with clips 
Small glass wiper 
User manual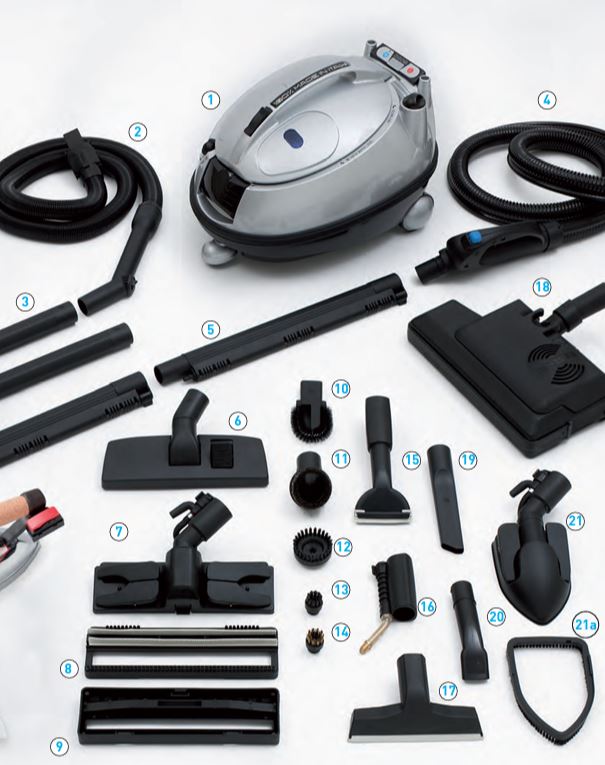 If you are ready to buy the Vapor Clean Pro7 Home Plus steam cleaner, it is available at Sylvane with free shipping.
How to use the Vapor Clean Pro7 Cleaner
The first thing you need to do is add water to the boiler. Remove the cap by turning it counter-clockwise. You should never put an anti-scale addictive or perfume into the reservoir. You should avoid using 100% distilled water in dry vapor steamers. Instead, you should dilute it using 10% tap water.  
Turn the main switch on. 
Allow the pressure to build up to 5 bars. You should wait for about 2 minutes for the machine to produce steam. When heating, the digital display will indicate the steam temperatures in the boiler. 
Once it has attained the maximum steam temperatures of 318⁰F, you should attach the appropriate accessory and press the red button on the handle. You can start the cleaning process by directing the steam to the surface. 
To get the best results, you should clean small portions until all the dirt or stains disappear. It is also vital you vacuum the surface first before you start cleaning. Use the vacuum also to dry surfaces after steam cleaning. There won't be a lot of moisture due to the dry vapor steam.
This machine allows you to adjust the steam flow according to the surface you are cleaning. It is pretty powerful; most cleaning tasks can be successfully achieved using the lowest steam level. If you are tackling tough grease on the grill or very dirty surfaces, you may need to increase the steam pressure. Keep in mind that higher steam pressures should be used for less time to allow the steam to build back up.
What should you not clean using the Vapor Clean Pro7 Steamer?
Even if this machine is highly versatile, there are some items it cannot clean. They include:
Walls that are painted in a water-based finish. 
Delicate items like thing plastic and velour upholstery. 
Porous surfaces such as bamboo, cardboard, and paper. 
Floors with cracks or gaps can get damaged by the high pressure and steam. 

Furniture accessories are covered with velvet, simulated leather, or other delicate materials

without a protective cloth over the head to diffuse the steam.
Pros and Cons of the Vapor Clean Pro7 Home Plus Steamer
Pros
Quality machine made in Italy
Super hot steam temperature
Steam and Vacuum function
Continuous Refill
Included accessories for a whole house clean
5 years warranty on parts
Lifetime warranty on boiler
Excellent filtration for allergy sufferers
Overheat safety features
Cons
Expensive – you'll pay around $1500 for this machine
No child safety lock
What are the benefits of using a multipurpose vapor steam machine?
Multipurpose steam cleaners such as the Vapor Clean Pro7 Home Plus are more powerful than standard canister steam cleaners. They have additional benefits such as:
Accessories: The significant benefit of multipurpose steam cleaners is that they come with more accessories than other models. For example, the Vapor Clean Pro 7 Steamer comes with 20 accessories meaning that you can use it to clean virtually all surfaces in your home.
Powerful: Since vapor steam cleaners are designed to handle deep cleaning tasks, they usually have a higher wattage than your basic steam cleaner. For instance, the Vapor Clean Pro 7 has 1750 watts of power, heating the boiler to 315 degrees Fahrenheit. Most standard canister steam cleaners heat the boiler to 212 degrees Fahrenheit. To produce steam that has less than 5% moisture content, you need to be able to heat the water to hotter temperatures. The rugged body enables it to withstand tough cleaning conditions.  
User-friendly design: Another benefit of vapor steam cleaners is that they are straightforward to operate, just like other steam cleaners. They are also lightweight, so you can move them around comfortably when cleaning. 
Safety features: To protect the machine from potential damage, vapor steam cleaners have safety features such as low water alert and overheat protection. Some have a child safety lock to prevent accidental burns if a child was to try to operate the machine. 
Eco-friendly: When using an all-in-one steam cleaner, you do not need to add chemicals. As a result, they are very friendly to the environment. They are also safe for those who suffer from allergic reactions due to chemicals.  
Safety Measures to Consider When Using the Vapor Clean Pro7 Steamer
Never direct steam towards appliances with electrical components. 
You should never immerse the steam cleaner in water or any other liquid. 
Always check the power cable to ensure that it is in good condition. 
Avoid using the steamer near other people. 
Always wear shoes when steam cleaning. 
You should place it horizontally when cleaning to prevent falling.  
Never touch the nozzle to avoid burns. 
You should never steam flammable substances such as petrol, paints, or solvents.  
Remember to unplug it from the power outlet after use.  
Maintaining the Vapor Clean Pro7 Steam Cleaner
It is really easy to keep the Vapor Clean Pro 7 steam vacuum in excellent working order. After each use you should such up a small amount of water through the vacuum hose to rinse out the inside of the hose.
Follow by emptying and rinsing out the collection tank ready for next time. There is no need to empty the boiler after every use.
Check the filters regularly and wash with clean water if they are dirty. Wipe the outside of the steam cleaner with a damp cloth if needed.
Boiler Maintenance
Vapor Clean recommend cleaning the boiler every 6-8 months. This will depend on the hardness of the water in your area or if you use a combination of tap water and distilled water. The latter will require less maintenance. To descale and clean the boiler, use the following steps:
Ensure the steam cleaner is cool and disconnect from power source.
Remove the lid and recovery tank bucket. Set aside.
Turn the steam cleaner upside down and remove the cover over the boiler cap. A small screwdriver is helpful here.
Using the key provided with the steam cleaner, unscrew the boiler cap.
Empty the water from the boiler.
Pour 2 cups of clean water and 2 cups of white vinegar into the boiler.
Let the steamer stand for at least 3 hours, or overnight. Do not turn on the steamer or heat the vinegar and water solution.
Empty the vinegar and water solution from the boiler.
Pour 2 cups of water into the boiler, swirl around and empty again, to remove any vinegar residue.
Replace the boiler cap and cover. Refill the boiler with clean water and you are ready to use the steamer again.
Final Verdict: Is Vapor Clean Pro7 Home Plus Worth it?
Having a large home with inside pets, I was looking for a steam vacuum combined to cut down on my cleaning time. Considering the cost of a quality steam cleaner and a quality vacuum if bought separately, I could justify buying a steam vacuum cleaner similar to the Vapor Clean Pro7. Whether you can justify it or not is going to come down to your individual circumstances and budget.
Some of the feedback from buyers of the Vapor Clean Pro7 is:
This is by far the best steam cleaner I have ever purchased. Like night and day over the others.

I love this machine. I love the fact that you can steam and vacuum all at once. This is a must for any tile floors that are polished. I can't imagine life without it. I had the ladybug 2350 with tancs and I like the functions on this one better!

Exceeds expectation – definitely worth the investment.

via Vapor Clean
Here is the link to buy the Vapor Clean Pro7 online at Sylvane with free shipping.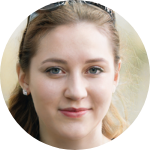 About the Author
Hi I'm Lauren. Passionate organizer, t-shirt folder and owner of a commercial garment steamer, steam cleaner and handheld steamer. I'll discuss all things steaming, so if you need help with buying or using a clothing steamer or steam cleaner, I'm here for you. Please join me on Facebook and don't hesitate to reach out if you have any questions. Happy Steaming!