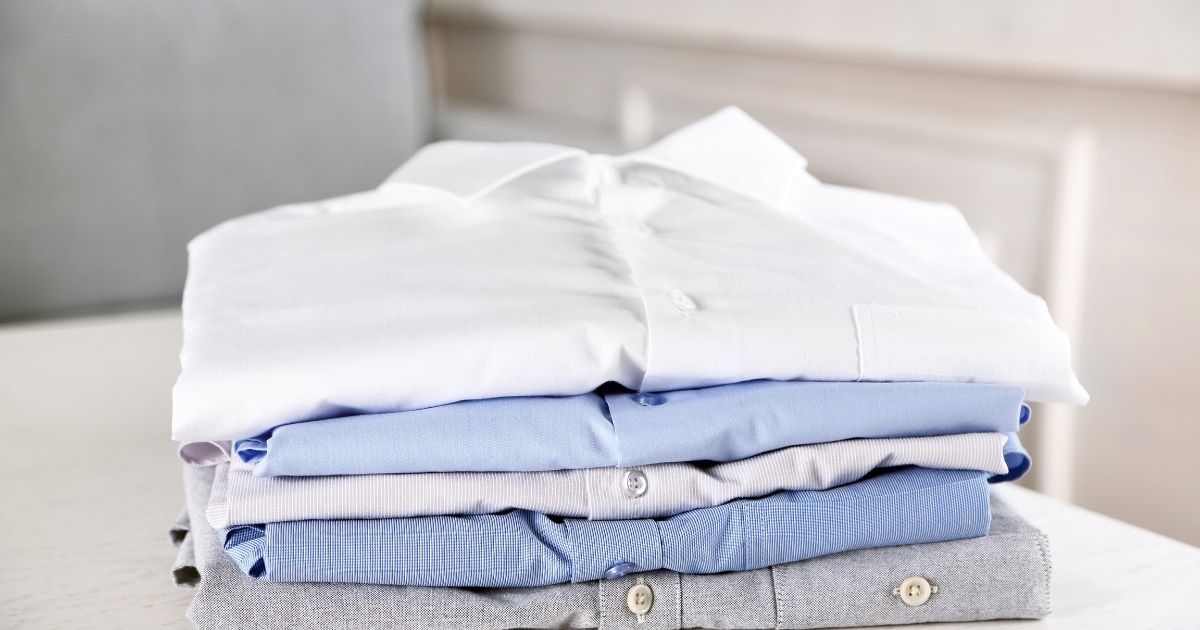 New inventions in home appliances are designed to make our lives easier, and a steam press machine does just that. You may also know this as an iron press or clothes press machine. 
There's also a larger and slightly different machine called a rotary iron press, extremely popular in the 1950s. Previous to this, the original mangle was first introduced in 1902 by the Steel Mangle Company.
What is a Home Steam Press?
A steam press has a large smooth surface area that you press down on with your clothes, linens, or other textiles in between. The steam combined with the pressure of the press over the flat surface allows your clothes to be ironed efficiently. Some presses report they push up to 100lbs of pressure, to quickly eliminate wrinkles in your clothing.
Unlike a standard iron, you do not need to move a steam press back and forth. You likewise don't need an ironing board because a steam press serves as both an iron and ironing board. A steam press iron for laundry removes wrinkles faster with less effort and minimal risk of harming your clothes than a standard iron.
Most steam presses have various heat and steam settings, allowing you to pick the very best options for ironing materials. They are great for stubborn wrinkles and suit a variety of fabrics. 
A clothing press machine weighs anywhere from 10 to 25 pounds. They are relatively compact to store, comparable to an ironing board, but on a smaller scale. Many digital steam press models are available that include safety features to ensure you don't burn any clothing. Many also offer automatic shutoff in addition to their high steaming power.
Compared to traditional irons, clothes pressing machines hold a larger volume of water, in particular, the Singer model featured lower in this post. This enables more clothing to be pressed before refilling. The appliance's weight also ensures you don't have to worry about the clothes or pressing machine moving during use.
Benefits of a Steam Press for Laundry
Faster Than a Traditional Iron – with a significantly larger surface than a standard iron, you can press your clothing far more efficiently. 
More Suitable for Larger Items – If you like to iron your tablecloths, sheets, duvet covers, or other linens, a clothes press machine will create light work of this. The same applies to pants and trousers.
Less Risk of Damage to Clothing – The bottom of the steam press iron machine is covered with a padded material (much like an ironing board), reducing the risk of scorching fabrics. Steam presses are suitable for delicate fabrics that you would not usually iron. 
Less Risk of Injury or Accident – Irons can easily be pulled down by a child underneath or knocked off an ironing board. A steam press is a stationary machine that isn't likely to be accidentally moved.
Things to Consider Before Buying a Clothes Press
Steam presses and irons each have different functions, benefits, and drawbacks to think about. The item that is best for you may vary from what another person prefers.
A steam press will take up a little more space than an iron and ironing board. 
There is a higher upfront cost with a steam press.
A steam press machine can be easier to utilize but does take some practice positioning the clothing correctly. 
Pleated or embellished clothing may be tricky to press. This is where a handheld clothes steamer will come in handy.
You need to allow a longer cool-down time than traditional irons.
Is a Steam Press Machine Better Than an Iron?
A steam press is lightning-fast and can manage large items like sheets, table linens, bed linen, pillowcases, and bed linen like a dream.
A steam press makes light work of trousers, denim jeans, and shirts when it comes to garment care. It can even manage more complex items like dress shirts quickly but gets a little harder around shoulders and collars.
Steam irons, on the other hand, are more affordable and far more compact. They can also tackle wrinkles in more complex locations like collars, pockets and cuffs.
Top 3 Steam Press Machines for 2022
Our top three choices for home clothes press machines are:
Best Seller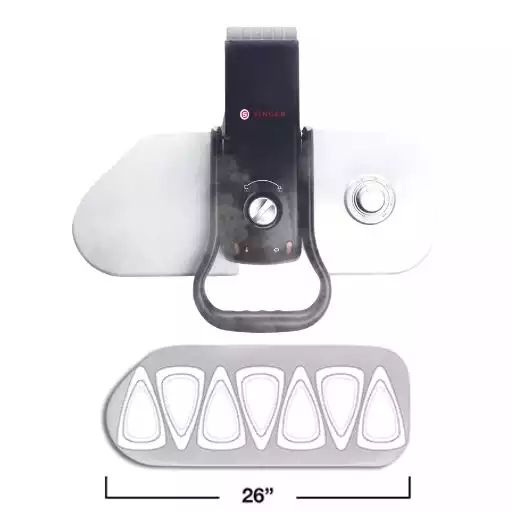 Singer Steam Press 26 inch
1500 watts
70g/minute steam
Large 27 ounce water tank
Digital display and selection
Weighs 22.3 pounds
We earn a commission if you make a purchase, at no additional cost to you.
03/21/2023 10:49 pm GMT
Click here to read our full Singer Steam Press Review.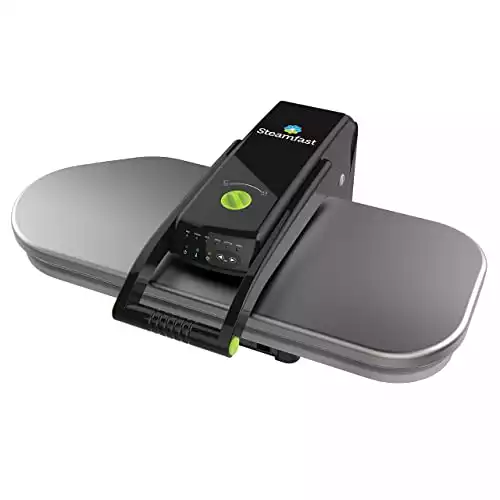 Steamfast SF-680 Digital Steam Press
1350 watts
25 x 10.5 inch steaming size
10 ounce water capacity
5 fabric settings
2 year warranty
weighs 21.4 pounds
We earn a commission if you make a purchase, at no additional cost to you.
Click here to read our full Steamfast SF-680 review.
Best Seller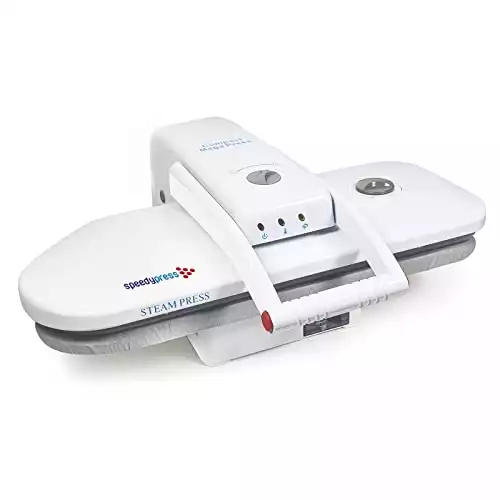 Speedypress Compact 22" Steam Press
Pros:
Lightweight and portable

As much pressure as larger machines (100lbs)

5 temperature settings

Safety features (auto shut off)
Cons:
6 month warranty

Small pressing area
We earn a commission if you make a purchase, at no additional cost to you.
03/21/2023 08:47 pm GMT
Read our full Speedypress Steam Press Review here.
Steam Press vs Trouser Presser
A pants press or trouser presser is either a wall mounted or free standing machine that gives your trousers a professionally pressed creasing and finish, just like you've been to the dry cleaners.
Pants press machines usually have various cycles ranging from 15 to 45 minutes. A trouser press is suitable for all fabrics – from polyester pants to thicker denim jeans. Depending on the model you choose, you either have a choice of one, two or three time settings.
The downside with a pants press is the temperature isn't adjustable, running at a consistent 140 degrees Fahrenheit. The time settings are what make it versatile, for example, pressing polyester for 15 minutes only vs a thicker fabric like corduroy, or easier wrinkling fabric like linen which would be better suited to the 45 minute cycle.
Most modern trouser press machines for home are free standing, with a coat hanger attached to the back where you can hang your suit jacket or dress shirt (also known as a valet).
Our trouser press of choice are the Corby of Windsor brand. There are three models available, all offering an impressive 3 year warranty:
The beauty of a pants press is you can set the machine to your desired cycle and walk away. Head to bed for the night and wake up in the morning with freshly pressed trousers ready to wear. Whilst the machines will set you back $250-$300 upfront, they will save you money in the long run considering the cost of laundering, drying, ironing and/or dry cleaning.
Unlike a steam press, which is manually operated and suitable for all types of clothing, a pants press really is only suitable for pants, trousers or jeans. There's no facility to hang a shirt or any other type of clothing. It also does not use any steam.
Rotary Steam Press
A rotary steam press is a modern day take on the old "mangle". It is basically a roller system that you feed clothing, linen, tablecloths or any fabric suitable for steaming through.
These a fairly large machines with a price tag to match. They are generally operated with a foot pedal, and have multiple temperature and steam settings for different fabrics.
If you love to iron your linen sheets, pillow cases and duvet covers, a rotary steam press could be worth the investment for you.