Speedypress Steam Press Review
Ironing is an essential part of any laundry routine, but can be tedious and time-consuming. Imagine if you can save your time, your energy and your money! If you are fed up with inefficient ironing, or not being able to iron delicate fabrics, you need a home steam pressing machine like the Speedypress steam press.
There are 4 different models to choose, and in this post, I break down each model, their pros and cons so you can determine which one is best for you.
What makes Speedypress Steam Presses Unique?
Steam presses are designed to give your clothes a professional finish since they can remove even the toughest wrinkles irrespective of the type of fabric. You'll look like you just stepped out of the dry cleaners.
Their products are designed with their customers in mind. Each model has a stand available to purchase separately. Other notable features that come with the Speedypress steam presses are:
Automated steam or manual steam control 
Large LED touch screen display on all models except the 22″
Large capacity water tanks, some with built in anti-calcification filters
Additional accessories included with all models, some with replacement board covers
Safety features such as auto sleep mode if the steamer is left open or closed for too long
Pricing comparable to other steam press brands on the market
Check out the different models below for everything you need to know about a Speedypress clothes press.
The 4 Best Speedypress Steam Press Machines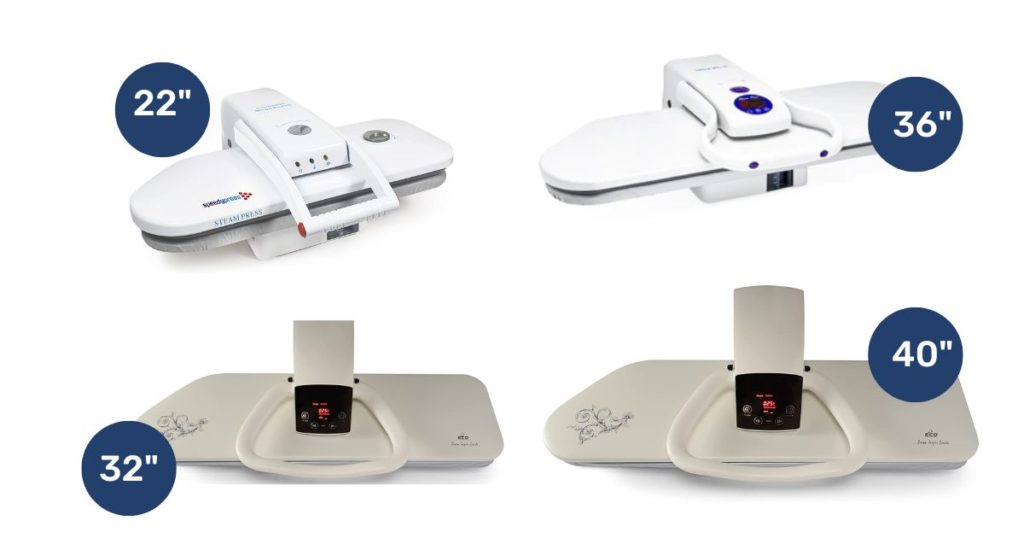 Speedypress 100HD 
Compared to other Speedypress steam pressers, the 100HD is the biggest. Apart from the large size (allowing you to iron multiple items at once) it has a beautiful design with a large digital display plus a sleek look that will fit perfectly even in rooms with limited space. The extra-long power cord is convenient.
The oversized steam area of 40 x 12 inches (note, some have complained the actual pressing area is 39 inches, not 40) area makes it easy to use and gives a professional quality finish. With this length of board, you can press a standard sized trouser leg in one go! Even at 39 inches, it is longer than any Singer or Steamfast steam press.
Its design features a large 23-ounce water tank with a built in anti-scale water filter, making the 100HD model tap water friendly. Unlike other steam press brands, the water tank can be fully removed for easy emptying and refilling.
The multiple temperatures and steam settings allow you to adjust its performance according to the type of clothes you are ironing. You can choose from dry ironing or steam ironing at the press of a button. Another thing that enables it to stand out from the rest is the top-quality heating element plus the burn-proof cover that is washable.  
It contains safety locks on both sides to ensure it is always locked. This prevents kids or pets from moving it. In terms of price, it is a bit more expensive than the rest since it comes with a stand, but you get what you pay for with this steam press iron.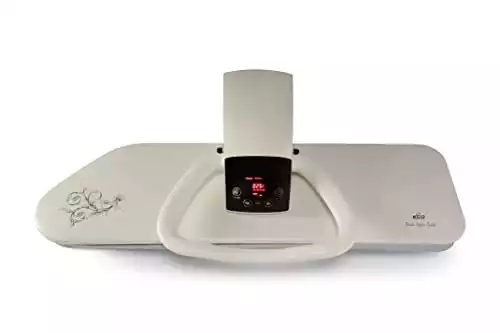 Speedypress 100HD 40" Steam Press
Pros:
Large 39-40 inch pressing surface

Washable burn proof ironing board cover

Large 23 ounce water tank with anti-scale filter built in
Cons:
Price

Weight - at 38 pounds, you'll likely want to leave this set up

6 month warranty - and complaints that consumers have needed to use the warranty during this time
We earn a commission if you make a purchase, at no additional cost to you.
05/24/2023 06:01 pm GMT
Speedypress Ultra XL 
The Speedypress Ultra XL Oversized Iron Press is designed for those who frequently iron a lot of clothes. The first thing you will love about it is the user-friendly design that allows one-hand operation. The large digital touch screen display has temperature indicator lights for different fabric types. You can choose manual or automatic steam burst functions through this digital display.  
It is versatile and packed with an automatic feature for easier use. With the Ultra XL, you can remove the most stubborn wrinkles within seconds, backed by 1900 watts of power. The large surface area of 35.5 x 12 inches can easily accommodate oversize materials like drapes and tablecloths.  
Another great thing about it is that it heats up fast and provides a high pressure of up to 100lbs. The fully padded heat reflective cover cushions delicate materials.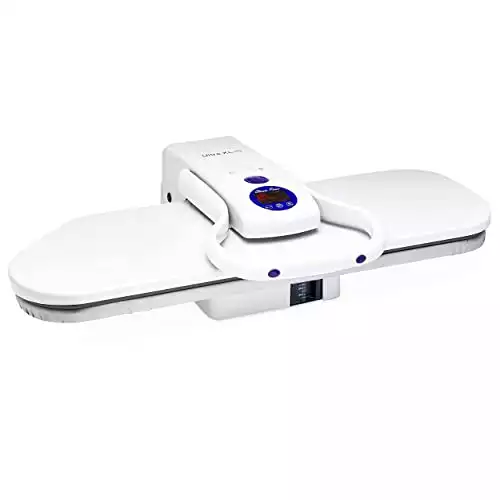 Speedypress Ultra XL 36" Steam Press
Pros:
35.5 inch pressing surface

100lbs of pressure

Bonus replacement ironing board cover

Automatic and manual settings
Cons:
Stand sold separately (and is short)

6 month warranty

You cannot completely remove the water tank

No anti-calcification filter built in
We earn a commission if you make a purchase, at no additional cost to you.
05/24/2023 06:17 pm GMT
Speedypress 80HD 
This steam press machine has a measurement of 32 x 12 inches and runs at 1800 watts, making it a compact but powerful device. Outputting steam at 90 grams per minute you can choose from 5 temperature settings and switch between dry and steam pressing.
It is equipped with 4 legs with slip-resistant grippers to enhance stability. The safety locks keep the steam press locked shut when not in use, so you can leave it out without worry with children or pets in the house. It also has built in safety features such as auto shut off after 15 minutes of being left open, or if left closed for more than 15 seconds.
In terms of design, it has a large digital display where you can choose your preferred temperature settings. It also has a removable 23-ounce water tank with anti calc filter and a burn-proof ironing cover. Other features include a Teflon heating plate, heat reflective base cover, and power steam jets. 
Lastly, the unit is backed by a 6-month manufacturer warranty, which is a little disappointing compared to other brands. There are two models of this unit. The only difference is one includes the stand, the other doesn't. Feedback from users is all Speedypress stands are short and require you to sit down when pressing.
Our suggestion is to forgo the stand and place the press on a table or your existing ironing board.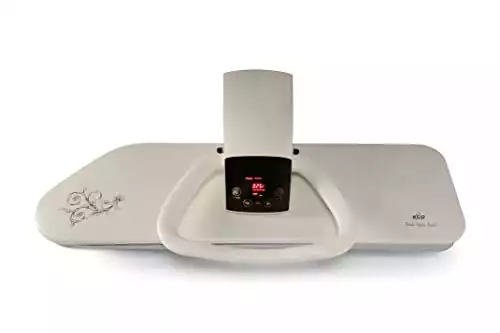 Speedypress 80HD 32" Steam Press
Pros:
32 inch steam press

Outputs steam at 90g/min

23oz water tank with anti-scale filter

2-3 minute heat up time

Built in safety features (auto shut off)
Cons:
6 month warranty

Weighs 35 pounds
We earn a commission if you make a purchase, at no additional cost to you.
05/25/2023 03:11 am GMT
Speedypress Compact Ironing Steam Press
This compact steam press is the most affordable model by Speedypress. Measuring 22 inches x 10 inches, it is an excellent machine for sewing or quilting enthusiasts, casual clothing, or children's clothes. Despite its compact size, it is still larger than 7 irons combined.
If you don't have a large budget or have never owned a steam press, the Compact Steam Press is an excellent introduction to the market.
The machine is lightweight and sleek, ideal for homes with limited space. It weighs 19.8lbs, not too heavy to take with you to sewing club or move between rooms. 
Like other models, there are 5 temperature settings plus a steam burst function. The steam burst allows you to choose if and when you use the steam. You will also love its large opening that allows you to iron any type of cloth irrespective of size or thickness, the opening allowing you room to position the clothing without touching the plate. The steam burst enables you to eliminate the most stubborn wrinkles.  
Rather than digital controls, the compact steam press has a dial to select your temperature setting. With a smaller machine comes a smaller wattage, this unit running at 1350 watts of power. In the box, you will find a measuring cup for water, spray bottle, replacement ironing board cover, and a pressing cushion.
Best Seller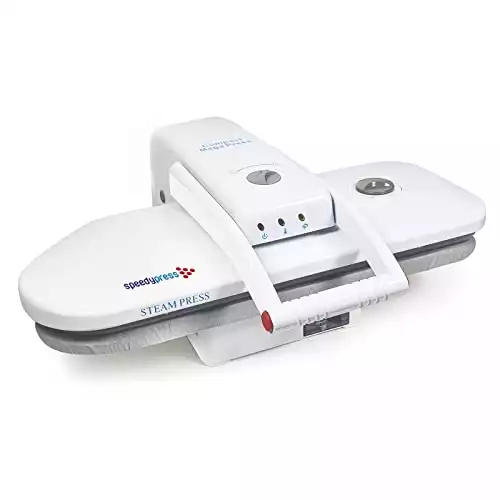 Speedypress Compact 22" Steam Press
Pros:
Lightweight and portable

As much pressure as larger machines (100lbs)

5 temperature settings

Safety features (auto shut off)
Cons:
6 month warranty

Small pressing area
We earn a commission if you make a purchase, at no additional cost to you.
05/24/2023 05:20 pm GMT
Are Steam Presses Better Than Irons?
Without a doubt, an electronic steam press is better than an iron. They have a larger surface area than iron, enabling them to provide instant results. The heated surface is well padded to protect the fabric from burns. Conventional irons often lose their ceramic surfaces and can cause burns to clothing, which means you'll have to replace them more often than a steam press. The steam presser might cost more up front, but it will save you time and money in the long run.
Are Steam Presses Worth It?
If you're trying to decide between a conventional iron and a steam press, it really depends on what your priorities are. If you're looking to save money in the short-term, then a conventional iron is the way to go. However, if you're looking to save time and money in the long-term, then a steam press is worth the investment. If you have large loads of laundry to do each week, you will enjoy the efficiency of a steam press over traditional ironing equipment. Like irons or clothing steamers, a learning curve exists in using an electronic clothes presser. Once you get the hang of it, you will fly through your ironing pile, saving you time in the long run. We absolutely believe steam presses are worth it for the time saving alone. 
What Does a Steam Press Do?
A steam press performs the same duties of removing wrinkles from fabrics, just like irons. Since they have a sizeable pressing area, they give instant results and are far more efficient than a steam iron. They usually rely on a flat surface, steam, and heat to remove even the most stubborn wrinkles. Some are 7-10 times larger than irons. 
What is the Main Difference Between Speedypress Models?
The main difference between the Speedypress models is the size. All models output 100lbs of pressure. Larger steam presses may operate at a higher wattage than their smaller counterparts, and emit larger volumes of steam. Some models have anti-calcification filters built in to their water tanks, others do not.
What is the Difference Between a Steam Press and a Roll Press?
A steam press has a flat pressing surface like a mini ironing board, and a lid that closes to press your clothes. A roll press (also known as a rotary press) has a large roller that feeds the clothing through and is operated with a foot pedal. Roll presses also cost significantly more than steam presses.
How to Use a Steam Press
This video (with thanks to Sew Much Easier) shows you how to use a steam press on a dress shirt. It's not a Speedypress steam press, but it's a very helpful video showing you how to use the press pad, and position the shirt on the ironing board for easy steaming.
Enjoy Your New Steam Press
There's a lot to consider when it comes to choosing between a conventional iron and a steam press. On one hand, conventional irons are usually cheaper. But on the other hand, steam presses can save you time and money in the long run. With a steam press, you don't have to worry about the ceramic surface wearing down or causing burns to your clothes. That means you can spend more time doing things you enjoy, and your clothes will always look wrinkle-free.
When considering which model of Speedypress steam press to buy, I'd recommend you think about the size of your clothing. Ask yourself, can you press the sleeve of a business shirt in one go? What about a trouser leg?
Take a look at our other review articles and compare the Speedypress to Singer Steam Presses and Steamfast Steam Presses. Both Singer and Steamfast offer better warranties, but Speedypress have larger water tanks for longer ironing time. Whatever you decide, I strongly recommend only using distilled water in your steam press, even those with the anti-calc filters.
This will help prolong the longevity of your steam press, so hopefully you will be using yours for years to come.