Is the Singer Steam Press a Good Clothes Pressing Machine?
SINGER® Steam Presses are among the preferred models on the market. With 3 different sized models available, Singer® steam presses, combine efficient ironing and steaming at the same time, offering dry-cleaning style results at home.
If you're considering purchasing a Singer® steam press, I'm going to compare the 3 different sized models in this post. They are:
Singer® Professional Steam Press – 20 inch x 8.4 inch pressing area
Singer® Intelligent Steam Press – 26 inch x 11 inch pressing area
Singer® Intelligent Steam Press – 36 inch x 12.8 inch pressing area
Let's jump right in.
Comparison Table Between the 3 Sizes
Best Seller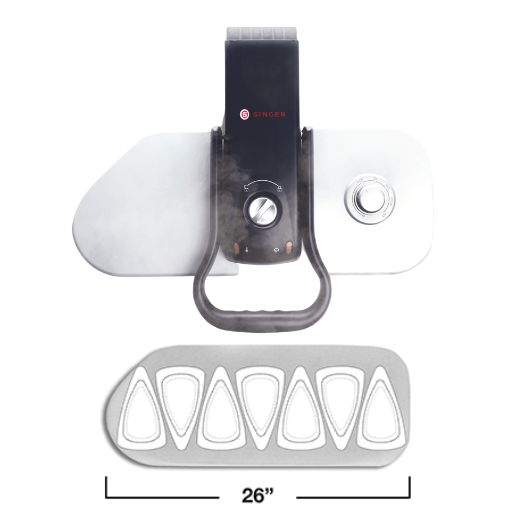 Singer Steam Press 26 inch
1500 watts
70g/minute steam
Large 27 ounce water tank
Digital display and selection
Weighs 22.3 pounds
Buy on Amazon
Buy on eBay
We earn a commission if you make a purchase, at no additional cost to you.
09/06/2022 10:34 pm GMT
Common Features Across All Singer Steam Presses
I have not included these features in the comparison table above, as they are standard across all models:
5 Fabric Settings: They are nylon, silk, wool, cotton, linen.
Auto Shut-Off: All Singer® clothes presses will automatically shut off if the press is closed for longer than 10 seconds. A sound also alerts you on the 26 inch and 36 inch models.
Steam Burst Function: All machines offer a steam burst function, with the 26 and 36 inch models allowing you to choose between manually pressing the steam burst button, or setting this to automatically steaming. The 20 inch steam press has the manual setting only.
Standard inclusions with all Singer® Steam Presses are: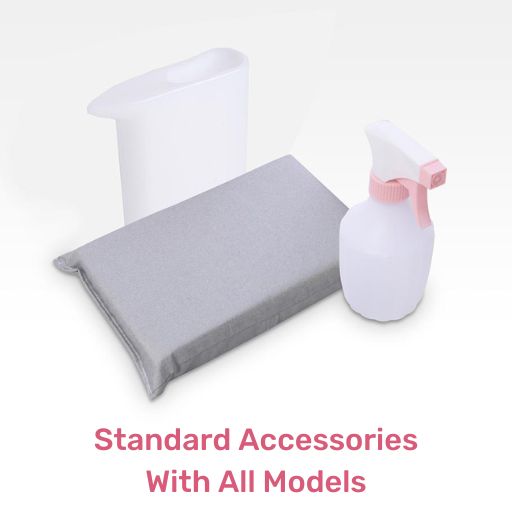 Measuring cup – for refilling the water
Spray bottle – for spraying fabrics that have stubborn wrinkles, or are heavier in nature. Damp fabric, combined with heat and steam will effectively press away any wrinkles.
Pressing cushion – this is a fabric covered pad that you place between buttons, collars, yokes, darts, waistbands, sleeves (etc) and the steam press. This helps any gathered or contoured areas to press neatly and not end up with extra creases.
One of the major selling points of a clothes press machine is the sizeable pressing area that allows you to quickly press all types of fabric. You can use it to iron shirts, trousers, bedding, dresses, drapes, tablecloths, curtains, and delicate garments.
If you need a larger unit for larger clothing, table clothes, bed sheets or commercial purposes, consider the 36-inch pressing surface. Due to the wide surface area, this machine is a bit heavier than others.
What Does a Steam Press Do?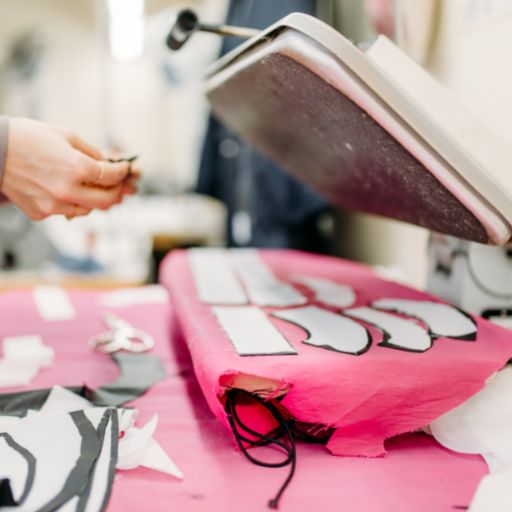 A steam press machine provides an advanced way of removing wrinkles from clothes. Like traditional irons, it uses steam, pressure, and heat to remove wrinkles. Besides that, it has different steam settings making it ideal for all fabric types, including delicate ones like silk. 
Unlike when you are ironing, you don't need to move this machine from side to side. Instead, you just press it on the fabric, enabling it to provide instant results. As a result, you can use it to press multiple simple items at once or press a larger area of clothing, saving you time when ironing.
Are Steam Presses Any Good?
Steam presses offer efficiency over traditional irons. Here are some of the benefits of owning a steam pressing machine: 
Quick performance: Compared to ironing, steam press machines provide faster results. Unlike ironing, you don't need to move the machine over the fabric frequently. 
Removes stubborn wrinkles: When using a steam press, you can remove even the most stubborn wrinkles from the fabric. Steam press machines give collars and cuffs a more pressed appearance than irons. 
Safe for Various Fabrics: Steam press machines are equipped with different fabric settings. This allows you to choose the heat and steam setting that matches the type of fabric you want to iron. They do not come into contact with the material since the heating element is usually padded. Ordinary irons can quickly burn your clothing because they use an exposed soleplate that gets into contact with the material.  
Ideal for oversized items: The other significant benefit of a steam press machine is it can easily handle large items like curtains, bedding, tablecloths, etc. They can also iron multiple layers at once.  
Easy to use: Even if they are bigger than irons, steam press machines are straightforward and effortless. Due to their design, you can use a steam press standing or seated.
Is Singer a Good Brand?
Singer is a global leader in producing quality sewing machines. The company was started by an American businessman named Isaac Singer in 1851. Mostly, Singer is known for its quality sewing machines, although it produces a wide range of other products, such as clothing steamers and steam pressing machines.
Since the company has been on the market for more than 170 years, they understand what their customers want. As a result, their products are made of robust materials to enhance durability and strength. Singer® steam press machines are reasonably priced to suit most customers. 
How to Use a Singer® Steam Press
All Singer® steam press machines follow the same operating instructions. You should fill the tank with water before powering on the steam press machine. See the paragraph below for instructions on how to fill the water tank.
Press the On button and allow the steam press to heat. Depending on the size of your steam press, it will take between 1-2 minutes to heat to the nylon setting. Allow an extra minute or so to heat to hotter settings.
Select the temperature setting that suit the type of fabric you want to iron. If you are unsure, you should start with the lowest. 
Lay the fabric on the pressing surface.
For manual steaming, press the steam button before you close the lid. Around 3 inches above the fabric is ideal.
Use the handle to fully close the lid of the steam press machine.
Hold it for a few seconds before you release it. 
Move on to the next part of the garment until all areas have been pressed. 
Top Tip: Embroidery, buttons and embellishments should be placed face down on the steam press and covered with the pressing cushion.
Safety Precautions to Consider when using Singer Intelligent Steam Press Machine  
Only use the machine for the intended purpose 
Always switch it off before you unplug it. 
Never allow the machine to get into contact with any liquid. 
Always unplug it from the socket after use.
Add distilled water only to the water tank.  
Never insert items in any opening. 
Avoid using an extension cord when operating the machine. 
Keep the cord away from hot surfaces. You should also allow it to cool before you store it. 
Never use your steam press if the cord is damaged or you think the machine isn't working correctly. 
How to Clean a Singer® Steam Press
Cleaning your Singer® steam press is the same steps across all models. The steps are:
Fill the water tank with distilled water or demineralized water.
Place the pressing cushion in the middle of the lower ironing board.
Place a clean towel over the top of the pressing cushion, covering the length of the ironing board.
Set the temperature control on the steam press to the linen setting. This is the hottest setting.
When the steam press has heated, use the handle to lower the top plate onto the pressing pad.
Press the steam burst button six (6) times.
Open the clothes press back up.
Turn it off and allow it to cool.
Clean the top pressing plate (when cold) with a damp cloth only. Do not use any abrasive cleaners, they may damage the plate.
The bottom cover of the ironing board can be removed and hand washed with mild detergent, if needed.
Your clothes press has now been cleaned and is ready for use again.
For longevity of your clothes press, you should only ever use distilled water. If you cannot get distilled water, demineralized water can also be used. Here is an example of someone who didn't use distilled water:
It is not likely to be the Singer® press causing brown stains, it would be the minerals in tap water. My post on using tap water in your steamer will give you more information on this.
How Hot Does a Singer® Steam Press Get? 
Singer® Steam Presses heat between 275 degrees Fahrenheit (135C) to 445 degrees Fahrenheit (230C) depending on the setting you choose. The lowest heat is the nylon setting, the highest heat is the linen setting.
Do You Have to Use Steam?
Each model has the option to turn off the steam setting, so if you need to press a garment or fabric without steam you have the ability to do so.
Do You Need to Use a Stand with a Steam Press?
Steam presses can be placed on a flat surface such as a dining table. You do not need to use them on a stand, however, this is an optional accessory. Many people find the stand a more comfortable height for using the steam press. There are 3 different sized stands, that correspond with each size of steam press. They are:
Stand model number ST-07A – fits the 20 inch steam press
Stand model number ST-07H – fits the 26 inch steam press
Stand model number ST-09H – fits the 36 inch steam press
It should be noted that the stands are not height adjustable, and need to be purchased seprately from the clothes pressing machine. I couldn't find the stands on Amazon, but I did find them on eBay: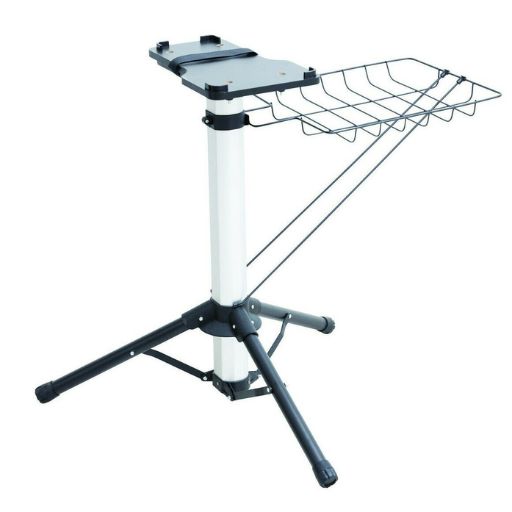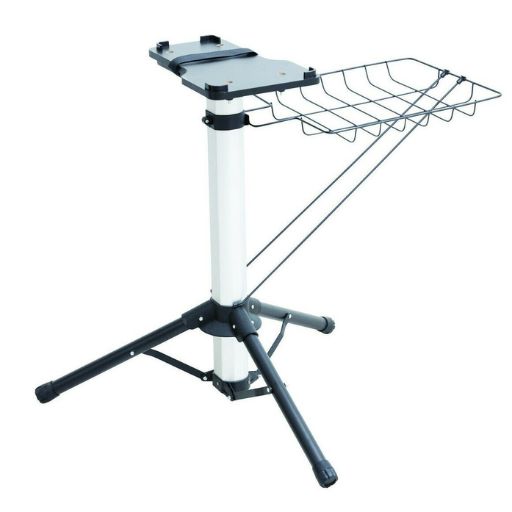 Biggest Complaints About Singer® Steam Presses
A Singer® steam press isn't everyone's cup of tea. Here are the biggest cons, or complaints from consumers:
12 month warranty – for the price you pay, a longer warranty would be appreciated by many consumers.
You cannot purchase replacement covers for the bottom ironing board. Not even direct from Singer.
One consumer feels that the actual pressing surface on the 26″ model is only 24.75 inches. If you need to press a specific length of fabric, consider choosing the larger 36 inch steam press to ensure you have enough space.
Can be tricky to use for sheets and duvet covers.
The 20 inch machine is too small for adult sized clothing.
The 36 inch is large, heavy and not easy to store. Best suited to leaving it set up permanently if you have the space.
Some felt the instruction manual was inadequate. Use the link in the paragraph below to download the instruction manuals and read before purchasing, if desired.
Singer® Steam Press Manual
If you are looking for the Singer® steam press manual, you can find this on the support page of the official Singer® website.
What Materials are Not Suitable for Steam Pressing?  
Even if steam press machines have different fabric settings, it doesn't work with all types of fabrics. Some of the materials you should never steam press include:
Suede 
Graphic printed fabrics (unless you use a protective cover over the printing such as a cotton pillow case, handkerchief or white parchment paper). The same applies if you want to use your steam press to put decals on shirts 🙂
Satin 
Faux fur 
Velvet  
Can You Use a Steam Press on Vinyl? 
Steam press machines have different fabric settings, even for delicate materials like vinyl. As a result, you can use them to press vinyl t-shirts and tote bags, among others. The recommended temperature for vinyl is 275 degrees Fahrenheit, so if you are using the machine for vinyl embellishments or vinyl clothing, use the lowest setting.
If you have a scrap piece of vinyl, use this to test with the steam press just to be sure.
Are Steam Press Machines Better Than Irons?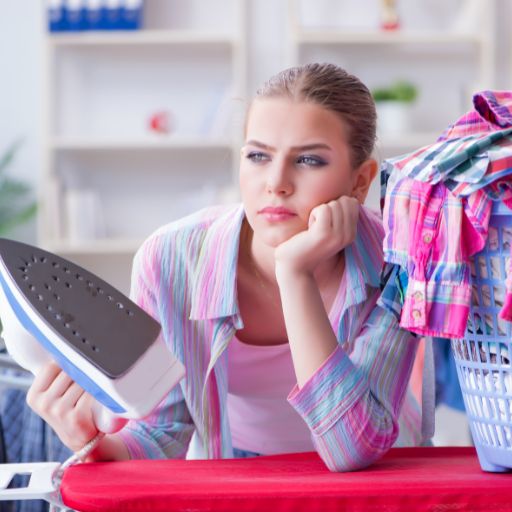 Compared to an iron, a steam press is quite an investment. Most consumers who have upgraded from an iron to a steam press have been incredibly happy with the results.
Steam press machines offer faster ironing and professional looking results. There can be a learning curve, especially with items like dress shirts, or placing creases in pants. This is not unlike an iron, or a clothing steamer, or any new appliance.
The 5 fabric settings on a steam press make it easy to choose what is right for you. With a larger surface area, a steam press can be up to 50% more efficient than ironing.
There's no right or wrong when comparing steam presses or irons. If you like to iron all in one go, then a steam press will be more efficient. You also need to consider that they are heavier, larger, not as easy to store and cost more. Consider the pros and cons for your individual circumstances before deciding to buy.
What is the Difference Between a Garment Steamer and a Steam Press?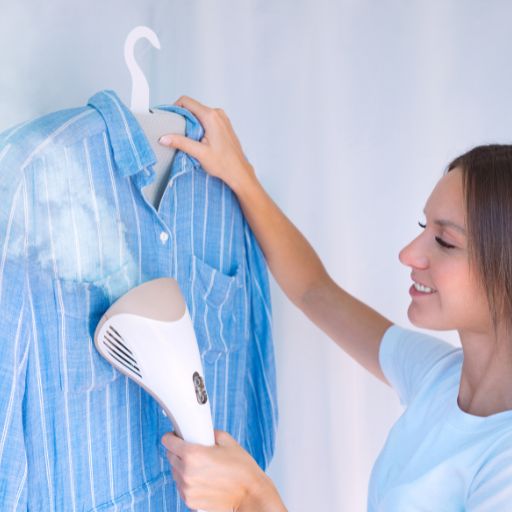 The main difference between a garment steamer and a steam press machine is the amount of pressure against the clothing. A garment steamer uses steam only remove wrinkles from fabric, generally in a vertical fashion. A steam press combines heat, steam and pressure to flat press clothing.
Some of the other differences include:
Appearance: Most garment steamers have a handheld design for easier use. They have small holes in the sole plate, which release steam onto the fabric. You will need to hang the clothing and then direct the steamer on the material to remove wrinkles. On the other hand, steam press machines are much larger and work by pressing the fabric between two plates with a heating element and steam. 
Applications: Garment steamers are great for those who dislike ironing or have a wardrobe of casual-style clothing. If you wear dress shirts or like creases ironed into your clothing, a steam press is predominantly better for this. 
Performance: Unlike the steam press machines, which come into contact with the fabric, garment steamers don't always need to touch the fabric. They direct steam on the material at a distance, making them an excellent option for delicate fabrics. 
Enjoy Your Singer® Steam Press
If you have been searching for a steam press machine from a reputable company, Singer Steam Presses are ones to consider. It is available in 3 sizes to suit people with different requirements, although the 26 inch model is by far the most popular and offers excellent steam output. It is quite a big jump in price to upgrade to the 36 inch model, although if you're a heavy duty ironer, you'll likely appreciate the larger model. Here are the links again:
Best Seller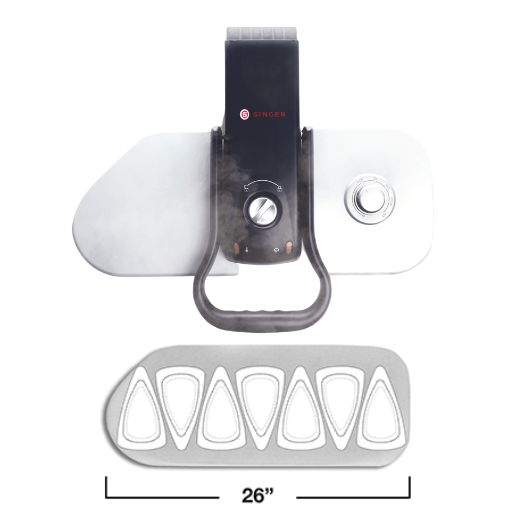 Singer Steam Press 26 inch
1500 watts
70g/minute steam
Large 27 ounce water tank
Digital display and selection
Weighs 22.3 pounds
Buy on Amazon
Buy on eBay
We earn a commission if you make a purchase, at no additional cost to you.
09/06/2022 10:34 pm GMT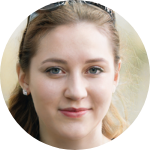 About the Author
Hi I'm Lauren. Passionate organizer, t-shirt folder and owner of a commercial garment steamer, steam cleaner and handheld steamer. I'll discuss all things steaming, so if you need help with buying or using a clothing steamer or steam cleaner, I'm here for you. Please join me on Facebook and don't hesitate to reach out if you have any questions. Happy Steaming!