These handheld steam cleaners of 2022 are fantastic. If you're looking for a way to clean your home without the hassle and expense of hiring a professional, these machines will be perfect for you. They're straightforward to use – all you need to do is fill the tank with water, plug in the power cord, and in a short time, they are ready to steam. You can then start cleaning and sanitizing your home with nothing more than hot water turned into steam.
In this comprehensive guide, I'll cover the 6 best handheld steam cleaners for 2022, as well as their key features and benefits. We hope that by reading this article before making your purchase decision, you will be able to make an informed choice about which handheld steam cleaner is right for you!
Puetz Golf Handheld Steam Cleaner
The Puetz Golf Handheld Steam Cleaner is perfect for use on household surfaces, such as floors, countertops, and grout lines. This handheld steam cleaner comes with 1050 watts power element that heats up to 230° F. It features a water tank capacity of 11.8 ounces (350ml – although recommended fill amount is 280mls) producing steam for 8-10 minutes on one fill.
It includes a steam head, two extension tubes, and four different nozzles, including a brass bristle brush for tough cleaning.
The Puetz Golf Handheld Steam Cleaner is a compact unit for small spaces. It weighs four pounds and can be easily carried from one location to another as you clean your home.
Pros:
Up to 3.5 bar pressure, which equates to approximately 50 PSI. 
The steamer includes an 11-piece accessory set that allows you to target tough stains and debris on all your surfaces.
The unit features a safety child lock system that prevents accidental spills and injuries.
Cons:
The 9.4 ft power cord may be too short for some.
The machine does not have an automatic shut-off feature, so you need to be careful not to overheat the unit.
McCulloch MC1230 Handheld Steam Cleaner
The McCulloch MC1230 handheld steam cleaner is an excellent choice for people who want an affordable and easy-to-use model. It has an ergonomic design, making it comfortable to hold in your hand while using it. With a 15-foot cord and 34-inch extension hose, you can reach all of the nooks and crannies in your home.
The McCulloch MC1230 has 900 watts of power and 11 versatile accessories. McCulloch states that this handheld steamer cleaner outputs steam at 58 PSI despite the smaller wattage.
Pros:
At just under three pounds, this is a lightweight unit that you won't find difficult to hold for an extended period.
The unit takes only 3 minutes to heat up, so you can start cleaning quickly.
The built-in boiler tank heats the water to 212 degrees Fahrenheit, outputting steam at around 200 degrees Fahrenheit at the tip.
The Lockable Steam Trigger allows you to steam continuously without holding down the button. 
This handheld steam cleaner comes with a storage bag that makes it easy to take your machine with you wherever you go.
Two-year warranty
Cons:
6oz water tank capacity – could be a pro if you're looking for a machine that's not too heavy, but 6oz of water won't give you a lot of steaming time.
Direct fill water tank – you will need to wait for the machine to cool before refilling.
900 watts of power, the least powerful machine on this list.
Commercial Care Handheld Steam Cleaner
Just when I thought I wasn't going to find a handheld steamer greater than 1050 watts, I came across this Commercial Care steam cleaner. It has 1200 watts of power to create pressurized steam at around 30 grams per minute. The extra power combined with the budget-friendly price earned the Commercial Care steamer a place on this list.
Like most other steamers on this list, the water tank capacity is 11.8 ounces, offering a steam time of 8-10 minutes. It provides all the accessories you need to thoroughly clean your home, such as a grout brush, garment steamer attachment, window attachment, and extension hose.
Filling the machine is easy with the included measuring cup and funnel. 
Pros:
Powerful handheld steamer
Excellent range of accessories
Lightweight – weighs 3.5lbs without water
Child safety lock on the handle
The clear section on the side shows you how much water is left.
Cons:
6.6 foot power cord, the shortest on this list
Need to hold down the button for steam, no continuous steam option
Costway Handheld Steam Cleaner
Take a look at this new release Costway handheld steam cleaner for a little extra cost but a lot more versatility. With all the benefits of a handheld steam cleaner, plus turn it into a steam mop for your floors with an added extension wand. The only thing it is missing is a carpet tool.
With 1400 watts of power, it is the most powerful handheld steam cleaner on this list. This power will heat the steam to 257 degrees Fahrenheit. You don't have to worry about too much steam or the machine overheating, as safety shut-offs are in place when the water runs out. If too much steam builds up inside the cleaner, the device will automatically release some pressure. 
Most handheld steamers come with one grout brush; this machine has 4 – including a much-needed brass brush, not found with many other cleaners on this list. 
Pros:
1400 watts of power
Safety lock on the handle
Auto shut off when water is empty
Transparent water container so you can see how much water is left
Converts to a steam mop for floors
Cons:
Weighing 5lbs, it is the heaviest machine on this list
8.83ft power cord, not the shortest on this list, but not the longest either
Despite the higher wattage, steam output is 2 bars – much less than the 3.5 bars with the Puetz Golf cleaner
BISSELL SteamShot Deluxe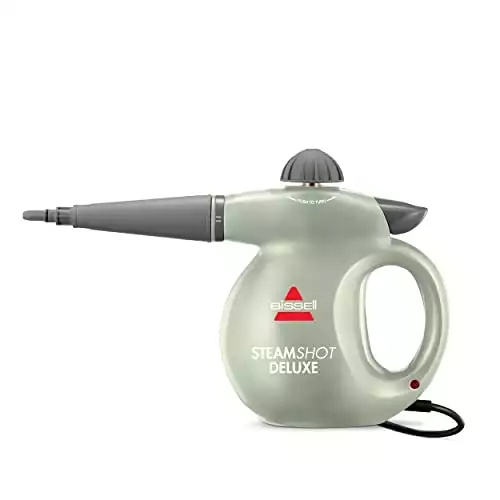 BISSELL SteamShot Deluxe
Handheld steam cleaner with 10 attachments
Versatile for cleaning small spaces
Fast heat up but short run time
Buy on Amazon
We earn a commission if you make a purchase, at no additional cost to you.
11/07/2022 02:55 pm GMT
The BISSELL SteamShot is a small and compact handheld steam cleaner perfect for cleaning all surfaces, including sealed hardwood, vinyl, tile, or stone. The steamer heats up in 30 seconds, one of the fastest heat-up times on this list. The steam-on-demand trigger lets you release steam only when you need it.
The BISSELL SteamShot comes with several attachments that make it easy to clean tight spaces and difficult-to-reach areas. It comes with a squeegee attachment for windows, a scrubby pad attachment for grout lines and tough stains, and an angle concentrator tool for cleaning those hard-to-reach areas.
Pros:
Three bristle brushes and a range of attachments. The bristle brushes are different colors, making it easy to use a specific color in one area of the home compared to another (e.g. red for bathroom and green for kitchen).
1000 watts of power, heats up in 30 seconds.
The steamer is easy to operate, with just one-touch steam control.
The 20-foot power cord allows you to clean various surfaces without stopping and restarting.
Cons:
It weighs 4.8 pounds without water
Read a full review of the Bissell Steam Shot Deluxe here.
Vminno Handheld Cleaner
This generic branded handheld steamer holds 11.8 ounces of water and steams for around 8-10 minutes. It's not the cheapest handheld steamer on the list, but it is an all-around good buy with a good-sized water tank and accessories for glass, clothing, grout, and crevices. 
The safety features are a benefit, where you need to depress a button (it is locked when in the pressed position) to allow the steamer to work. Also, a little red marker on the steamer's lid alerts you when the steam has depressurized inside, and you can open the cap. This avoids any sudden bursts of steam out the top of the machine, which may cause burns.
Pros: 
The water tank holds up to 15oz of water, although it is recommended not to fill more than 12 ounces.
Child safety lock on the side; the steamer will not work until this is unlocked.
Efficient to refill – you can depressurize the unit and release the final amount of steam pressure so you can fill the water efficiently.
Visual cues on the lid, so you know when the unit has depressurized.
Cons:
The 9.8ft power cord is much shorter than the 20ft cord on the Bissell SteamShot Deluxe.
You need to keep the steam cleaner in an upright position during use. Tilting it greater than 45 degrees will cause water to leak out.
You have to hold the lever down to produce steam – this is tiring on your hand over prolonged periods.
What can you clean with a handheld steam cleaner? 
You can clean almost anything with a handheld steam cleaner around your home or office, including countertops, appliances (stove tops), computer keyboards, window blinds, tile grout lines in the bathroom flooring & more! You can also clean up broken glass, pet accidents, and soiled areas quickly without harsh chemicals.
What is the best handheld steam cleaner for carpets?
The Bissell 20037 Pet Stain Eraser Cordless Portable Carpet Cleaner is the best handheld steam cleaner for carpets. It performs three functions: spray, scrub, and suction to perfectly remove stains and dirt from your carpets. The cordless design means you can clean anywhere without worrying about finding an outlet.
What is the best handheld steam cleaner for upholstery? 
The answer to this question will vary depending on the fabric you are using. If you're dealing with heavy materials, then any upholstery steam cleaner that has a good burst of power is going to be able to clean it effectively enough for your purposes.
However, for lighter-weight or delicate fabrics, specific handheld steam cleaners are designed to be gentle and not damage the fabric. Choose wisely and consult your upholstery's cleaning instructions before using any steam cleaner on it.
What is the best handheld steam cleaner for cars? 
AutoRight C900054.M Wagner Spraytech Steam Machine is the best handheld steam cleaner for cars. It comes with an angled nozzle that makes it easy to clean tight spaces, and it also has a powerful 1500-watt motor that quickly removes dirt and grime. You can easily clean and disinfect your Leather Seats, Floor Mats, Dashboards, Vinyl Seats, Tires, and more. 
Conclusion
So, here is our comprehensive guide to the 6 Best Handheld Steam Cleaners of 2022. Whether you've been looking for a handheld steam cleaner to tackle those tough jobs around your home or need something that can quickly clean the mess from an accidental spill, we hope this comprehensive guide has been helpful.