Looking for a way to clean your home without hiring a professional? These handheld steam cleaners of 2023 are perfect for you! They're easy to use – fill the tank with water, plug in the power cord, and they'll be ready to steam quickly. Then start cleaning and sanitizing your home with nothing more than hot water turned into steam.
In this comprehensive guide, I'll cover the six best handheld steam cleaners for 2023 and their key features and benefits. I hope that by reading this article before making your purchase decision, you will know which steam cleaner is right for you!
What is the Best Handheld Steam Cleaner in 2023?
Here are my top choices for the best handheld steam cleaners, why I like them, and where to find them.
07/22/2023 10:20 pm GMT

Kiato
Heating to 248°F in just 20 seconds, you will be cleaning in no time. Like the Eave handheld steamer below, you can also add water at any time, something that could be done with steam mops that convert to handheld steam cleaners, but not with handheld steam cleaners on their own.
You can see how much water is left in both water tanks. Each water tank provides around 10 minutes of steam.
A grout brush, nozzle tool, window cleaner, garment steamer, and small extension hose are included. There is a steam lock button, descale function for tap water, and you can tilt the steamer over to clean soft furnishings such as car seats, sofa and upholstery, and mattress cleaning.
Eave
The Eave continuous-use model also makes the list of the best hand held steam cleaners. Most steam cleaners need to cool after use, depressurize before opening the top, refill the water and heat up again.
This makes for a frustrating cleaning experience, particularly if you have a lot of cleaning to get through.
But not with the Eave continuous-use machine. This portable handheld steam cleaner can be opened and topped up anytime. The key is to let it sit for 30 seconds to 1 minute after topping up to let the heat and steam regenerate.
Puetz Golf
If you like adding extra detergents when steam cleaning, the Puetz Golf Handheld Steam Cleaner is the portable steam cleaner for you.
On the bottom of the machine is an extra detergent tank where you can add any detergent that can be heated – such as dish soap. It is perfect for cleaning those extra grimy surfaces like range hoods, stove tops, oven cleaning, and more.
This handheld steam cleaner comes with 1250 watts power element that heats up to 230°F. It features a water tank capacity of 16 ounces (although the recommended fill amount is 12.7oz), producing steam for 8-10 minutes on one fill.
Puetz Golf Handheld Steam Cleaner + Detergent
Handheld steam cleaner that you can add detergent (such as dish soap) to for extra cleaning power
Includes brushes for scrubbing, squeegee for windows, a garment steaming tool, and jet and angled nozzles to get into all nooks and crannies.
Two microfiber cloths are included
Steam lock function so you don't have to hold down the button continuously
Long 16ft power cord
Child safety lock
Buy on Amazon
We earn a commission if you make a purchase, at no additional cost to you.
07/22/2023 11:56 am GMT

Bissell Power Steamer
I used to recommend the Bissell SteamShot or Steam Shot Deluxe handheld steam cleaners. However, in 2023 I found they are both out of stock. So, I've replaced that with the Bissell Power Steamer.
This is Bissell's attempt at marketing to men, with a darker-colored steamer, images of it being used outside, and a storage bag for the accessories. It's exactly the same as the Bissell Slim (steam mop and handheld steam cleaner) but with many more accessories, including a squeegee (something missing from the Bissell Slim).
It costs a little more than the handheld steamers by Bissell, but you also get so much more value, as you can clean your entire home using steam. Take a look below: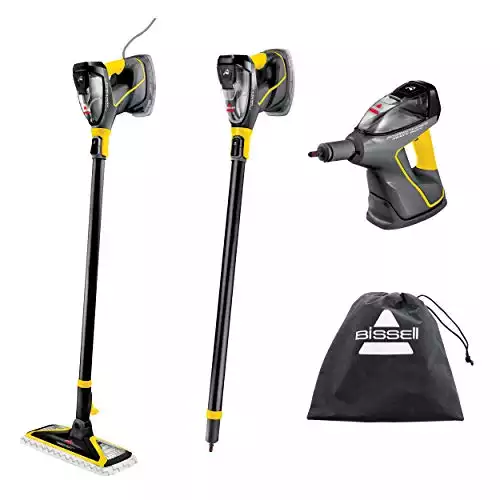 Bissell Power Steamer
This Bissell steam mop converts to a handheld steam cleaner with onboard accessory storage.
It comes with 14 scrubbing brushes for grout, ovens, grills, toilets, tapware, etc.
Includes a flat surface cleaning tool for the handheld steamer
Includes a garment steamer accessory tool and window squeegee.
Accessories fit on both the handheld steam cleaner and the end of the steam mop
Includes two steam mop pads for floor cleaning
Buy on Amazon
We earn a commission if you make a purchase, at no additional cost to you.
07/22/2023 06:43 pm GMT

PurSteam
This pressurized handheld steam cleaner by PurSteam is more cost-effective and cheaper than others on this list.
It has nine steaming attachments for above-floor cleaning. Comparatively, it doesn't offer continuous refill, and the boiler temperature heats to 212°F, the standard for most steamers but not as hot as the Kiato or Puetz Golf steam cleaners.
It has a warranty for three years in the US, so if you are looking for a reputable brand, consider PurSteam.
If you are outside the US, the seller on Amazon will happily ship worldwide, but you will get a US plug, need an adaptor, and the warranty doesn't extend outside the US. Please keep that in mind.
Comforday
This budget steamer has all the basic accessories for general cleaning. If you are looking for an affordable handheld steamer, consider Comforday.
Here are the details: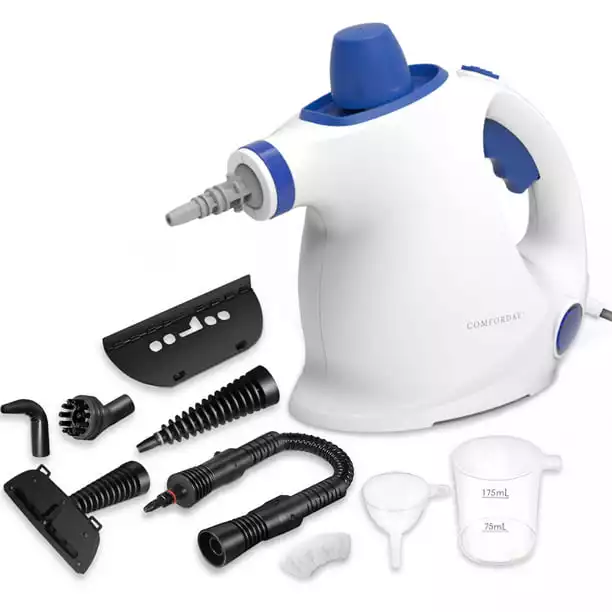 Comforday Handheld Steamer
Affordable handheld steam cleaner with basic attachments for general cleaning around your home.
Outputs steam at 25 to 28 grams per minute.
Runs for 10 to 15 minutes
Includes 7 attachments
Buy at Walmart
We earn a commission if you make a purchase, at no additional cost to you.

I could continue with more steam cleaner choices. However, the six I have identified above really are the best options.
Frequently Asked Questions About Using a Handheld Steam Cleaner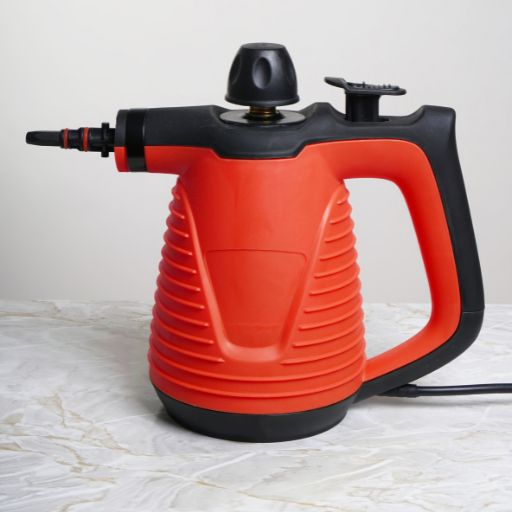 What can you use a handheld steam cleaner for?
You can clean almost anything with a handheld steam cleaner around your home or office, including countertops, large appliances, window blinds and shutters, tile grout lines, sinks, the shower and bath, chairs, upholstery, and even your curtains!
What is the best handheld steam cleaner for carpets?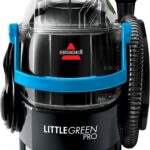 The Puetz Golf handheld steam cleaner has an added detergent section, which can help clean carpet stains. Alternatively, the Bissell Little Green Pro portable carpet cleaner is a handy machine for cleaning carpets using hot water rather than steam.
Can a handheld steam cleaner be used on a birdcage?
Yes, if you have a metal birdcage, a steam cleaner will do an excellent job. For plastic bottoms of birdcages, vacuum any loose debris, then use a scraper tool for bird poop or the garment steamer to diffuse and concentrate the steam across a wider surface.
What is the most powerful handheld steam cleaner?
The Puetz Golf steam cleaner is backed by 1250 watts of power. This provides hotter steam faster for effective deep cleaning.
Can you use a handheld steam cleaner on bed bugs?
A handheld steam cleaner is an excellent way to kill bed bugs. The hot steam destroys bed bugs and their eggs quickly. The key is to use a cover over the garment steamer tool to contain the heat and steam and not blow the bed bugs away.
Can I use a handheld steam cleaner on carpet?
A handheld steam cleaner is an excellent choice for spot-cleaning stains on carpets. Aim the nozzle at the stain and gently use a microfiber cloth to blot away the stain and any excess moisture from the steam.
Is There a Cordless Handheld Steam Cleaner?
Cordless handheld steamers have not yet come to the market in 2023. Watch this space however, the technology is improving quickly and sure to be available in the coming years.
Enjoy Your Clean Home With Steam
So, now you know the handheld steam cleaners I consider the best. I've covered many options, from refillable models to quality brands to those with loads of accessories.
Now it's time to choose the model that best suits your needs. Once you start steaming, you'll likely find it oddly satisfying, and you will find many uses for a handheld steamer. Let me know in the comments below how you use yours!