Best Commercial Clothes Steamers for 2023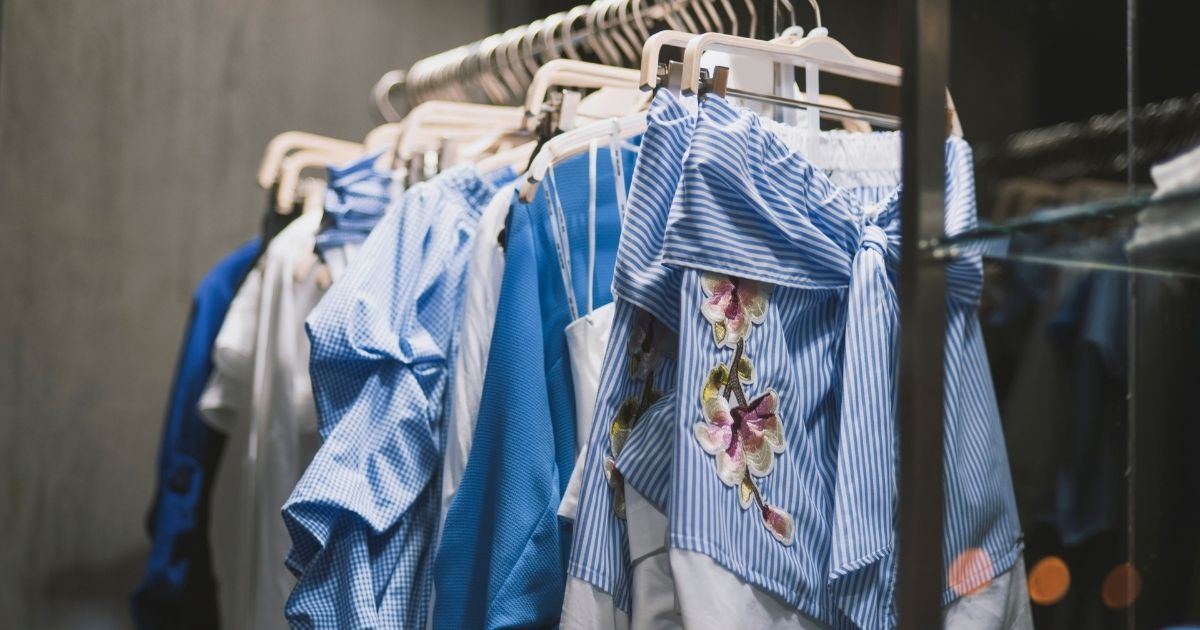 Commercial clothes steamers don't look all that different from regular standing clothing steamers, however, they are more heavy duty. It's usually what you don't see that makes all the difference, such as brass fittings and commercial grade parts inside the machines. Most professional clothing steamers also have a 3 year warranty.
Here are our top recommendations for 2022, as well as things to consider when comparing standing steamers with their commercial or professional counterparts.
There are a few other contenders that make this list which you may also like to consider:
Jiffy J-4000 Garment Steamer
Jiffy Steamers are made in the USA and are considered the workhorse of clothing steamers. They are not the most attractive looking machines, however, Jiffy steamers are built to last with die cast aluminum housing and a stainless steel boiler tank on the J-4000 model. They are renowned to last decades, not just a few years.
A heavy duty garment steamer suitable for everyday commercial use, the Jiffy J-4000 features a five and a half foot hose and large one gallon water tank. This commercial garment steamer powers steam out at 1500 watts, and will keep going for around 2 hours of continuous steaming. There are two color options for the steaming machine, and a choice of plastic or metal steam head.
Jiffy offer replacement parts, excellent service, is available across 47 countries worldwide and has been a leading name in steamers since their inception in the 1940s.
Vornado VS-570 Commercial Clothes Steamer
Vornado is another great choice in commercial clothing steamers and comparable to the Jiffy steamers in terms of quality. Where Jiffy are made in the USA, Vornado steamers are made in China. They have excellent components such as brass boilers and die cast aluminum body.
Vornado make filling the steamer a little more convenient than the J-4000 with a removable water tank. This also means the water heats up faster, as you are not heating up the entirety of the water at once.
There are also two steam settings on the Vordando, compared to the Jiffy with one setting. You only have the option of a plastic steam head with the Vornado steamer.
Anthter Professional Clothes Steamer
Budget Price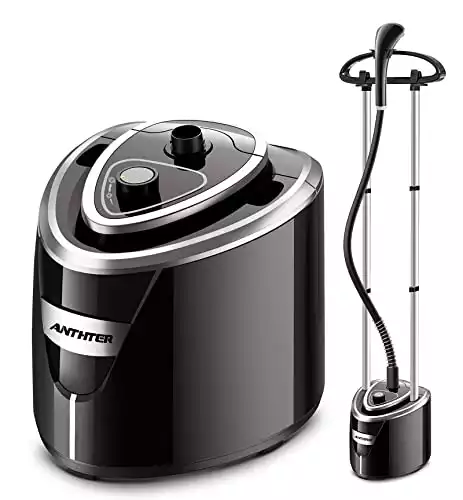 Anthter Professional Steamer
With a 3 year warranty (comparable to USA made Jiffy Steamers) the Anthter steamer offers fast heat up time, removable water tank, and multiple steam settings. The 1500 watt steamer heats water to 248 degrees - hotter than most garment steamers.
Buy Now
Our Review
We earn a commission if you make a purchase, at no additional cost to you.
07/22/2023 04:45 am GMT

Anthter are giving leading brands like Rowenta and Conair a run for their money when it comes to this professional clothing steamer. With a warranty to match both Jiffy and Vornado, the Anthter machine costs about half the price.
Granted, it is a Chinese manufactured machine, however, so is the Vornado steamer above. The Anthter steamer boasts electronic steam pump technology that reduces water spitting or leaking. An auto shut off protection is included if the machine overheats or the water level is low. Steam heats up to a super hot 248 degrees Fahrenheit.
Overall, this steamer has some excellent features at a budget price, backed by a good warranty.
Reliable Vivio Commercial Grade Steamer
The Reliable Vivio 120GC is a heavy duty clothes steamer built with commercial grade parts. With a brass heating element, anti spill water tank and heavy duty steam head, this commercial clothes steamer has everything you need to efficiently steam your clothes.
Operating at 1300 watts, this produces steam up to 208 degrees Fahrenheit. This isn't quite as hot as the Anthter steamer above, but still hot enough to kill germs and sanitize, as well as smooth wrinkles in clothing.
With a one gallon water tank the steamer will operate for up to two hours. There's also casters on the bottom for easy maneuverability.
Reliable is a Canadian brand, so if you're looking for a quality commercial clothes steamer in Canada, Reliable could be a good choice. The warranty is comparable to Jiffy, Vornado and Anthter and the price is appealing too.
Steam Butler II
Nahanco (shortened for National Hanger Company) ST400 Steam Butler clothing steamer is very similar to the Reliable Vivio steamer above. There are two main differences, which are the steamer hose length and wattage of the machine.
The Steam Butler operates at 1350 watts, a tiny 50 watts more powerful than Reliable Vivio. This changes the temperate output of steam slightly, from 208 degrees with the Vivio to 212 degrees Fahrenheit with the Steam Butler.
The most appealing aspect of the Nahanco commercial clothes steamer is the 66 inch (5.5 foot) steam hose. Many home steamers have hoses that are far too short to reach across larger garments or long clothing.
This makes the Nahanco steamer an excellent choice for both commercial use and also at home steaming curtains, upholstery and linens.
Rowenta IS8440 Professional Steamer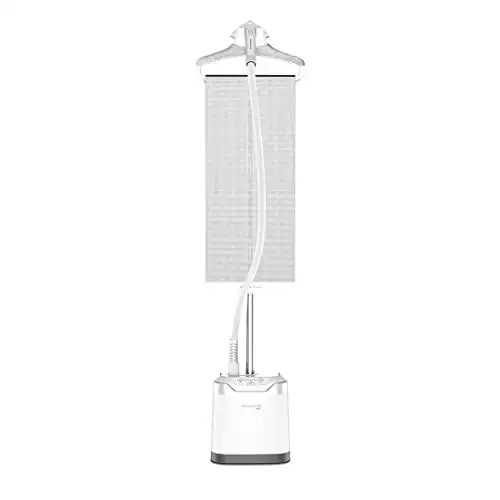 The Rowenta professional grade steamer has a lot going for it. With 1700 watts of power, it outputs steam at 35 grams per minute. It has 4 steam settings, so you can adjust the steam flow and heat between different garments. The triangle design of the delta head would be great for getting in under under collars, in pockets or in between buttons easily.
There is also a pull down screen you can press your garments against, to make steaming your clothes faster and easier.
That's where the promising features end however. The steamer hose is relatively short compared to others on this list. Rowenta do not offer any warranty for professional or commercial use, domestic use warranty is limited to 12 months and consumer feedback is pretty average.
If you are looking at buying the Rowenta IS8440 professional steamer, consider whether one of the others on this list with higher quality fixtures and fittings, and less bells and whistles might offer more longevity for commercial use.