Reliable Vivio Professional Garment Steamer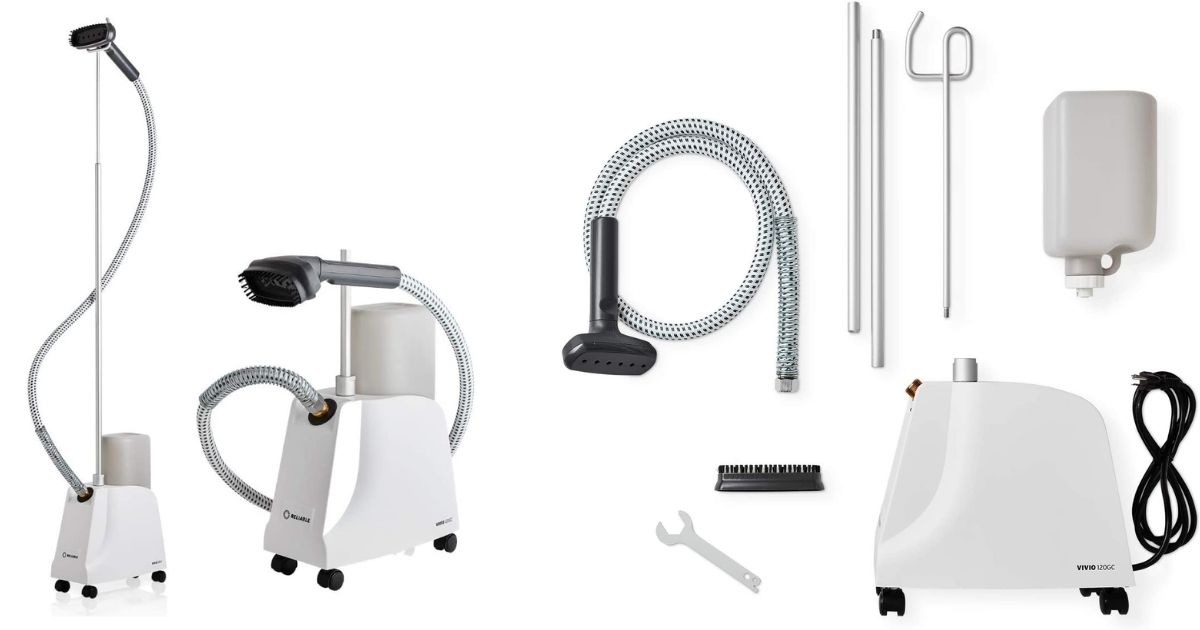 If you are looking for a quality fabric steamer that can handle both home and commercial use, the Reliable Vivio Professional garment steamer is one to consider. Comparable to the Jiffy J-2000 model, it gives Jiffy a run for its money in terms of construction, steam power and warranty.
We'll give you an overview of the features and specs of this steamer and a comprehensive review based on our own experience using it. So if you're in the market for a new garment steamer, keep reading! 
Key Features of the Reliable Vivio Professional Garment Steamer  
Large Water Tank and Brass Heating Element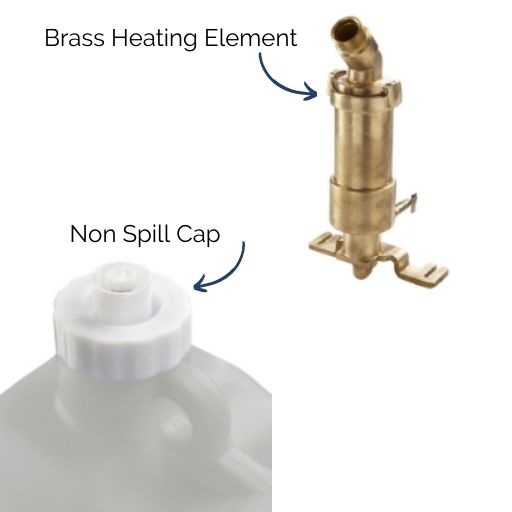 The Reliable Vivio Professional Garment Steamer has a one-gallon water capacity. This is a good amount of water that will let you steam multiple items at once without refilling the tank. The water tank allows you to steam for up to 120 minutes continuously.
The Reliable Vivio Professional Garment Steamer also comes with an automatic shut-off feature that kicks in when the water tank runs out. This prevents the steamer from overheating and damaging itself.  
As the water tank is easily removed from the steaming unit, you can leave the steamer in place and take the water tank only back to the sink for a refill. The anti-spill cap ensures no drips occur when positioning the water reservoir back onto the steamer.
Heavy Duty Plastic Steam Head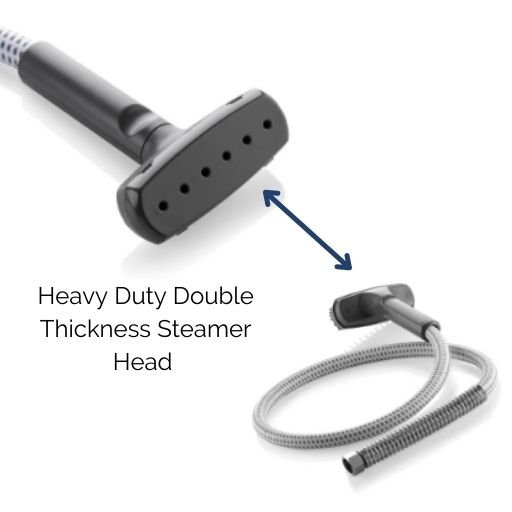 The Vivio steamer 120GC has a pvc steam head that is extra thick and strong for the ultimate in durability. The steamer head is attached to a long Fabric Covered Steam Hose that gives you plenty of room to move around while you're steaming. And the steam hose is also detachable, so you can easily store it away when you're not using the steamer.  
Easy-Roll Non-Skid Wheels  
The Reliable Vivio Professional Garment Steamer has four small casters that roll in a 360 degree direction, making the steamer easy to move around. The steamer also has a wider base than top that makes it stable and prevents tipping over. Furthermore, the Reliable Vivio Fabric Steamer is lightweight at only 13.4 pounds, making it easy to move around, even when it's full of water. The compact design means that it takes up less space than a traditional ironing board. 
3 Year Warranty
The Vivio Professional garment steamer has a 3 year warranty. This is comparable to the warranty on Jiffy steamers. With brass fittings and commercial grade parts, the Vivio steamer is likely to last you for many years to come, provided you use distilled water.
Near Boiling Steam Temperature
The fabric steamer has a powerful 1300W brass heating element, which quickly produces up to 203°F of steam temperature, ensuring your fabrics will be steamed quickly and effectively. Plus, its 145°F temperature at the steamer head protects your delicate fabrics from being scorched. It is designed with professionals in mind, perfect for use in the home or retail clothing store. 
Accessories and Replacement Parts
It is wonderful to see brands make replacement parts and accessories for their steamers. There is nothing worse than purchasing something, only to find it is useless if something breaks as it cannot be replaced or repaired.
Reliable Corporation make many replacement parts for their garment steamers, including steamer heads, hoses, switches, wheels and water bottles. At reasonable prices (a replacement steamer head will cost $18), it won't break the bank to replace a worn part after the warranty period is over.
Pros
Comparable to a Jiffy Steamer in terms of price and quality
Commercial grade fittings and components
120 minute running time
Compact and easy to move around
3 year warranty
Replacement parts available
Cons
1300 watt machine, so steam isn't as hot or powerful as other brands
Manufactured in China (compared to USA made Jiffy steamers)
Something else to be aware of with this design of clothing steamer (not specific to the Reliable brand) is that the water is continually being drained from the tank and into the brass boiler unit, where it then heats. This design of steamer will have a constant boiling sound when using. This has been described as a "coffee percolator" type sound, and I have to agree. This is normal, and nothing to worry about.
How To Use The Reliable Vivio Professional Garment Steamer
The Reliable Vivio Professional Garment Steamer is easy to use.  
Simply fill the water tank with distilled water, insert the plug into a standard outlet, and wait for the steamer to heat up. Heat up time is approximately 2 minutes.
Once the steamer is heated, hold the steamer head close to the fabric surface and steam in long strokes from top to bottom of the garment. Ensure that the steam hose is upright so that the steam can flow freely. 
You don't need to "push" the steam head onto the fabric; just hold it close enough so that the steam can penetrate the fabric and loosen the wrinkles. For stubborn wrinkles you may benefit from touching the fabric. You may need to go over some areas more than once to remove all the wrinkles. 
When you're finished using the steamer, unplug it from the outlet and allow the steamer to cool down before storing. If you frequently use your Vivio steamer, you don't need to worry about emptying the water.
Frequently Asked Questions
Here are our most asked questions about the Reliable Vivio Professional garment steamer.
Reliable Vivio 120GC vs 170GC – What is the Difference?
There are two models of the Vivio steamer, 120GC and 170GC. The difference between the two models is the steam head. On the 120GC model the steam head is a heavy duty plastic. On the 170GC model the steam head is crafted from stainless steel with a wooden handle. You will also pay slightly more for the metal steam head.
Having used both plastic and stainless steel steam heads, there are pros and cons to both. Plastic is more lightweight, but can get some condensation build up. A metal steam head retains heat better, so less condensation, but is heavier to use on your wrist and arm.
Reliable Vivio Professional vs Jiffy J-2 – Is One Better Than the Other?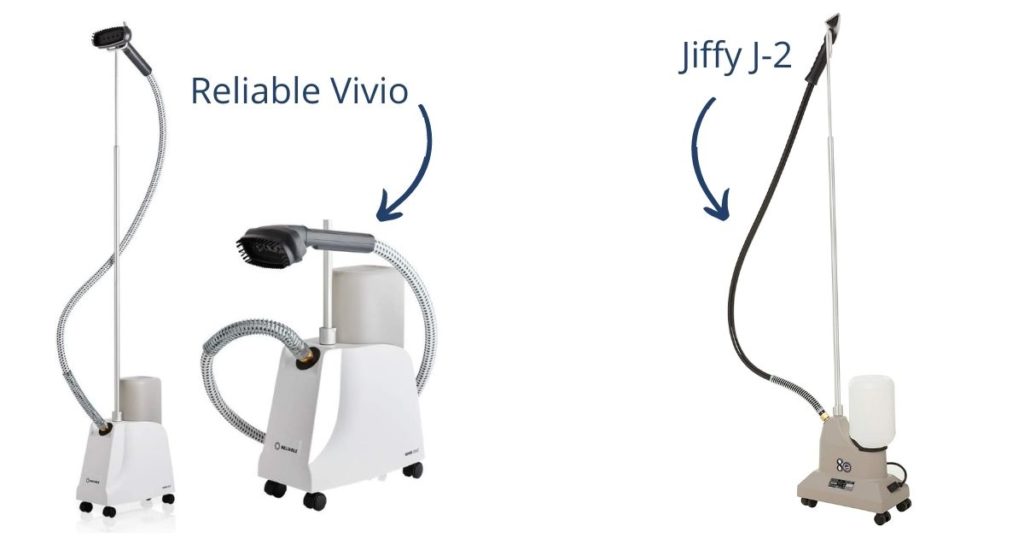 When comparing the Reliable Vivio GC120 vs Jiffy J-2, you will find these are two very similar clothing steamers. Here are the similarities:
Both operate at 1300 watts
Both have castors for easy moving
Both have removable water tanks
Both run for around 2 hours
Both have brass fittings and are commercial quality
Both have a 3 year warranty
The differences between the Vivio GC120 and Jiffy J-2 Steamer are:
Jiffy has a 5.5 foot long steamer hose which is not insulated The Reliable hose is slightly longer at approximately 6 feet. It is also fabric covered for insulation.
Jiffy is slightly heavier than the Reliable Vivio.
The Vivio steamer is costs slightly less than the Jiffy J-2.
Compare both steamers on Amazon below:
Prices pulled from the Amazon Product Advertising API on:
Product prices and availability are accurate as of the date/time indicated and are subject to change. Any price and availability information displayed on [relevant Amazon Site(s), as applicable] at the time of purchase will apply to the purchase of this product.
Prices pulled from the Amazon Product Advertising API on:
Product prices and availability are accurate as of the date/time indicated and are subject to change. Any price and availability information displayed on [relevant Amazon Site(s), as applicable] at the time of purchase will apply to the purchase of this product.
Is A Professional Garment Steamer Worth It? 
A garment steamer is an excellent investment, particularly if you have a lot of clothes that need to be steamed regularly. In addition, a garment steamer can be used for other tasks such as steaming curtains, upholstery, and bedding. You can use it for some cleaning tasks as well.
Buying a professional clothing steamer is an investment, but one that is likely to last you for many years to come. It is not unheard of for commercial quality clothing steamers to last over a decade. Of course, using distilled water always helps to reduce scale build up and keep the steamer functioning correctly.
Having purchased a professional garment steamer myself in 2015, it is still working as well in 2022 as it was 7 years ago. Whilst it was a significant monetary investment at the time, I don't regret my purchase and firmly believe based on my experience, it is worth it.
Do Garment Steamers Work Better Than Irons? 
Garment steaming is more efficient than ironing, with less damage to your clothing. But do they work better? I have to say, it depends on what you are steaming. If you need to wear crisp business shirts with defined creases, an iron might be better for you. If you have a lot of dry clean only clothing, a garment steamer will be your new best friend in reducing your dry cleaning bills.
For easy wear fabrics, delicate fabrics and polyester fabrics that can burn and melt under the heat of an iron, a garment steamer will work better than an iron. This is because they evenly distribute the steam across the fabric, which helps to remove wrinkles more effectively. Additionally, garment steamers do not require an ironing board, which can be cumbersome and take up a lot of space. Finally, garment steamers are much gentler on fabric than irons, so they are less likely to cause damage. 
How Many Watts Should A Garment Steamer Be? 
I recommend choosing a garment steamer that is at least 1200 watts for the best performance. Anything less than 1000 watts may not produce enough steam to remove wrinkles from clothing effectively. Additionally, a higher wattage steamer will likely heat up faster, meaning you can get to work on your clothes more quickly. 
About the Reliable Brand
Reliable Corporation has a head office in Ontario, Canada. The company was originally founded in 1955 and is still operated by the son of the original founder. Commencing with sewing machines, Reliable Corporation specializes in products that relate to the sewing and textile industries, with clothing steamers and steam cleaners being a natural progression from the original sewing machine.
Is the Reliable Vivio Professional Steamer a Worthwhile Buy?
I was so impressed with the Reliable Vivio Professional garment steamer that I featured it on my list of best commercial clothes steamers for 2022. The combination of durability, affordability and excellent warranty has won me over. The longstanding family owned company, plentiful replacement parts and compact design of this clothing steamer ticks all the boxes.
I'm a little bit disappointed that this steamer is made in China, however, understand the manufacturing costs of Western made equipment. If you are looking for a clothing steamer in Canada, I'd definitely consider the Reliable brand given their head office is there. It is also reassuring to note that if anything does go wrong in the first 12 months, Reliable will pay for both inbound and outbound shipping for repair of the steamer.
After reading this Reliable Vivio Professional Garment Steamer review, you should understand what to expect if you decide to purchase this product. It is one of the most reliable and durable fabric steamers today and provides excellent value for the price. If you are in the market for a quality garment steamer, we highly recommend giving the Vivio Garment Steamer a try.