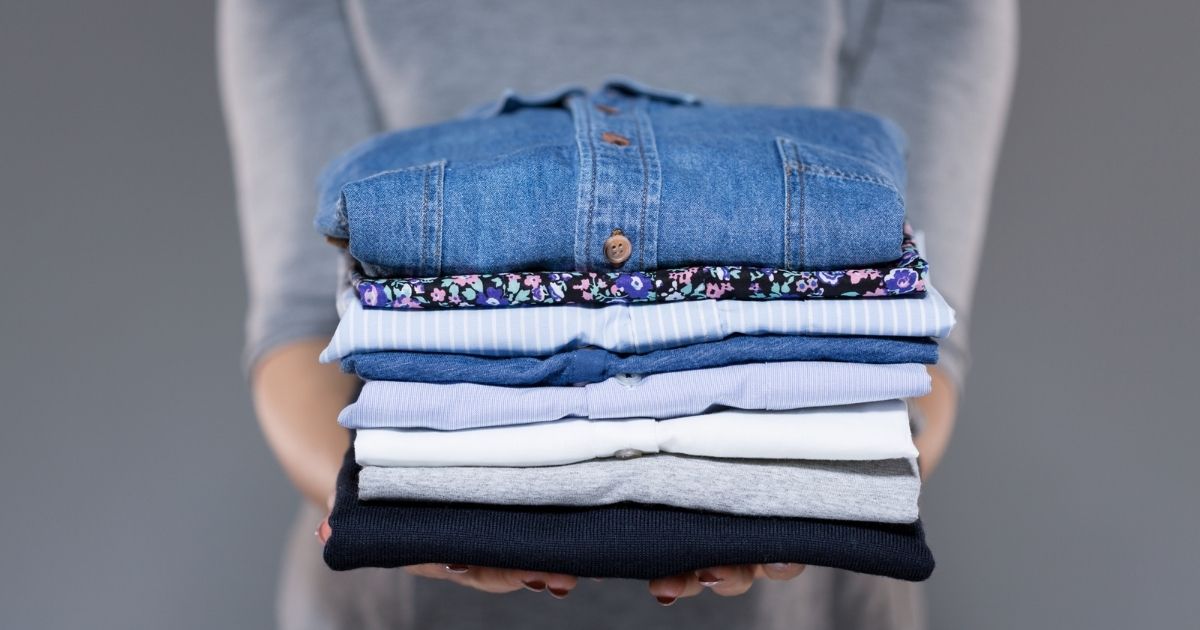 If you are considering buying a clothing steamer, you might be wondering if it is possible to give up ironing altogether. There are pros and cons to both clothing steamers and steam irons; and newer hybrid style models that offer the best of both worlds in a smaller footprint.
In this post, I will weigh up using a clothes steamer vs iron, so you can make an informed choice before you buy.
Standing Clothes Steamers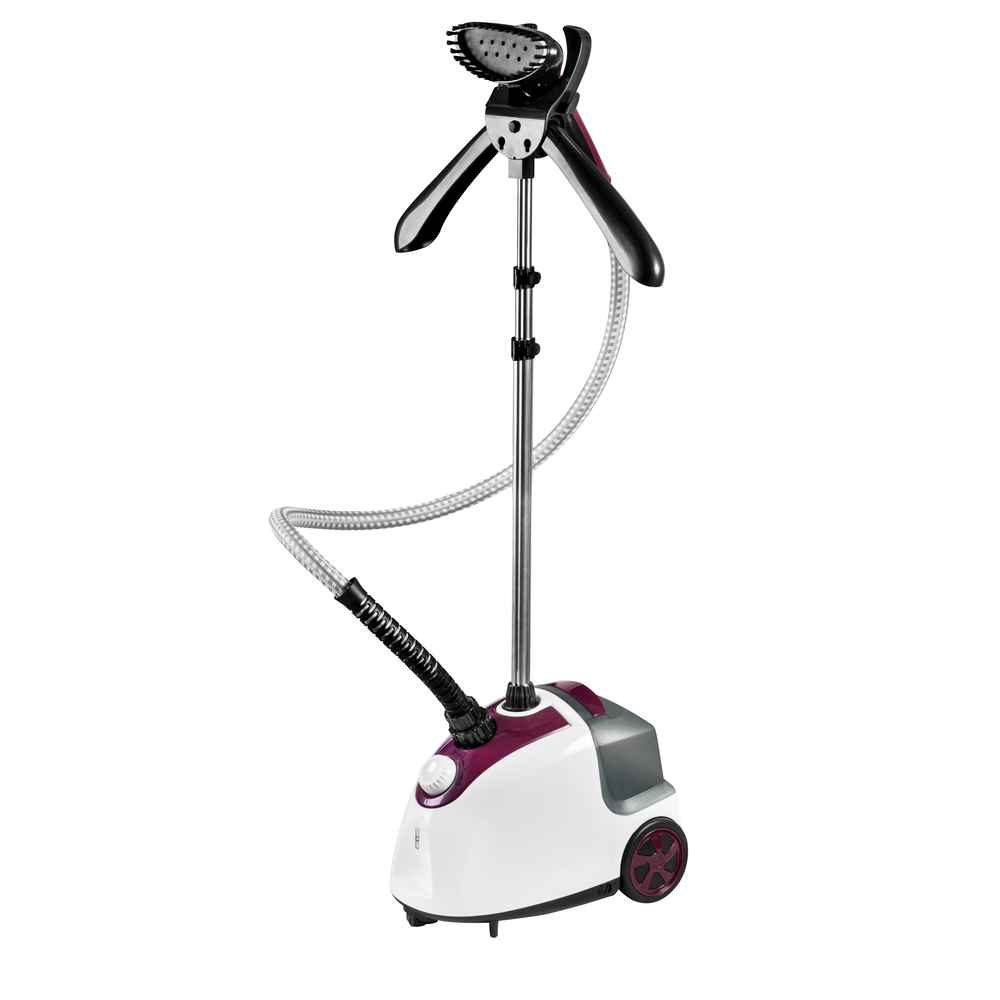 Best For:
Dry Clean only fabrics
Larger loads of laundry
Heat sensitive fabrics
Efficiency
For a large family or a large wardrobe, a standing clothes steamer or commercial steamer would be our choice as the most efficient way to get through your laundry each week.
Smoothing out wrinkles from clothing using steam is faster than ironing clothing. It offers more gentle care for heat-sensitive and delicate fabrics such as polyester, silk, and wool.
If you wear clothing that requires dry cleaning, a garment steamer can help refresh and release wrinkles between professional treatments. Many garment steamer models offer variable heat and steam settings, making them safe to use on fabrics like cashmere or silk.
Full-size fabric steamers typically run for 60 to 80 minutes, more than enough time to get through an oversized pile of wrinkled clothes.
Most full-size clothes steamers also come with attachments suited for different clothing styles, such as a fabric brush for lint or a creasing tool to add pleats into sleeves and trouser legs. 
While these aren't as effective as creating crisp and sharp creases as ironing, they are practical tools for a tailored look with a bit of practice. 
Depending on your fabric type, you can also use the steamer head to help press stubborn wrinkles from fabrics and smooth collars and cuffs.
Steam Iron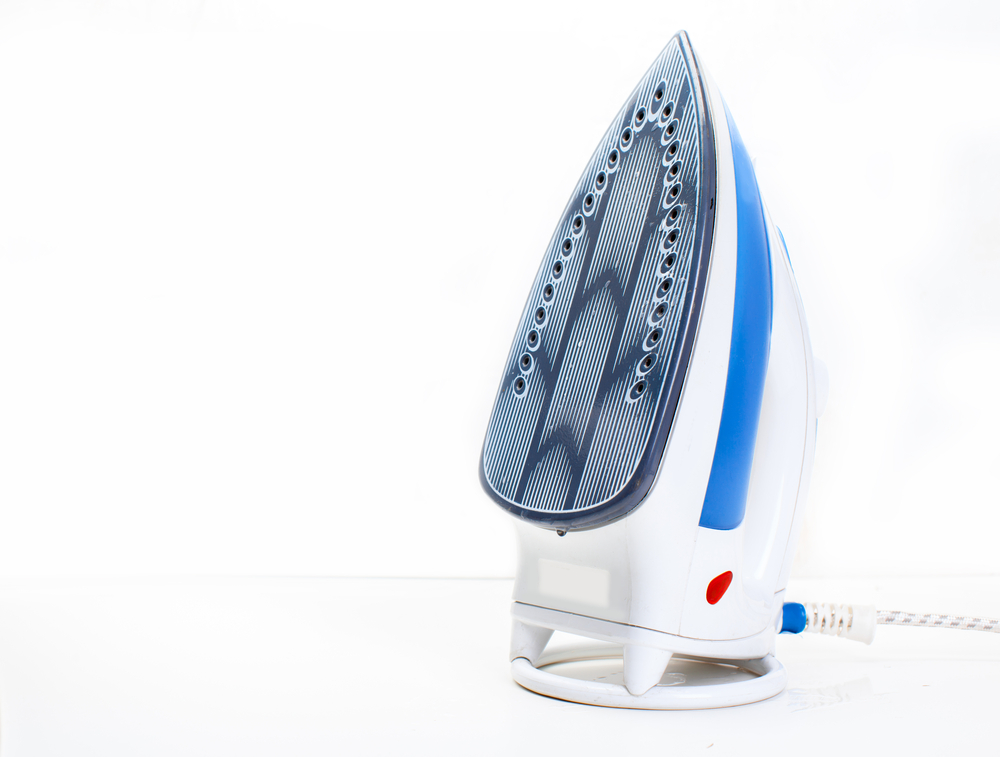 Best For:
Denim and Linen fabrics
Creasing business shirts
Pleats and ruffles
Those who like a polished pressed look
Suppose you're a fan of heavy denim, strong creases, or super thick fabrics. In that case, a traditional iron is more likely a better choice for you. While a garment steamer will relax the fibers in most fabric types, some clothing items are better suited to ironing. These are materials such as cotton, denim, and linen. You can see my results on steaming a pair of jeans in this post.
You also have more control to press creases in pants, dress shirts, trousers, skirts, and smooth wrinkles from collars and cuffs.
Also, if you enjoy using starch for a crisp and pressed look, a clothes iron is a better choice. Steamers are designed to relax fibers in the clothing. Using starch and steam together will not be effective.
Handheld Clothing Steamers
Best For:
Daily steaming
Quick touch ups
Heat sensitive fabrics
Refreshing dry clean only fabrics
College students
Apartments and smaller spaces
Steaming curtains
Handheld steamers are everyday household items in 2022 for versatility, efficiency, and cost-effectiveness. They are smaller to store, fast to heat up, and loosen the fibers in clothing just as well as a standing clothes steamer.
Suppose you have clothing that may melt when heated (polyester, for example). In that case, a handheld steamer will work brilliantly to remove wrinkles without coming into direct contact with the fabric. If polyester is prominent in your wardrobe, a handheld steamer is a better choice than a dry or steam iron, which can burn or damage your clothing if not used carefully.
Many handheld steamers also offer a variable temperature and steam setting, making them just as flexible as their larger counterparts. Hot steam output can be just as good as a full-sized steamer.
A handheld vertical steamer is also fantastic for wrinkle removal from curtains, steaming upholstery, and refreshing other areas around your home.
Clothes Steamer and Ironing Board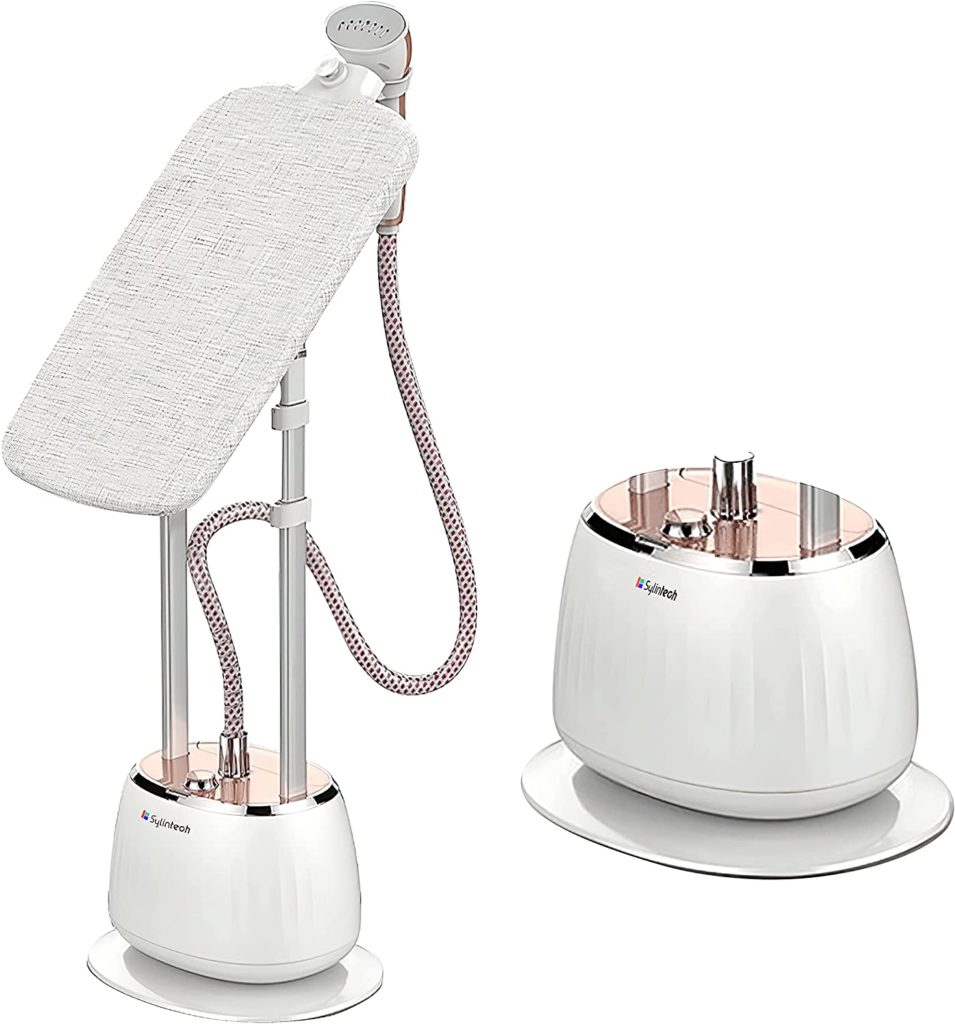 Best For:
Those who prefer a clothes steamer but with the option to press like an iron
If you can't decide between a clothes steamer vs iron, there are hybrid options available.
These are fabric steamers with a built-in backing board that can be tilted horizontally and vertically. You can use it for vertical steam or lay it flat and use the steam head to press down collars, cuffs, pleats, and folds like an iron.
This gives you a choice to both iron and steam simultaneously.
However, this type of clothes steamer is not as large as a traditional iron and ironing board. You will likely be frustrated at the small soleplate if you prefer ironing over steaming. In this case, sticking with an electric iron may be better.
Irons with Vertical Steam Function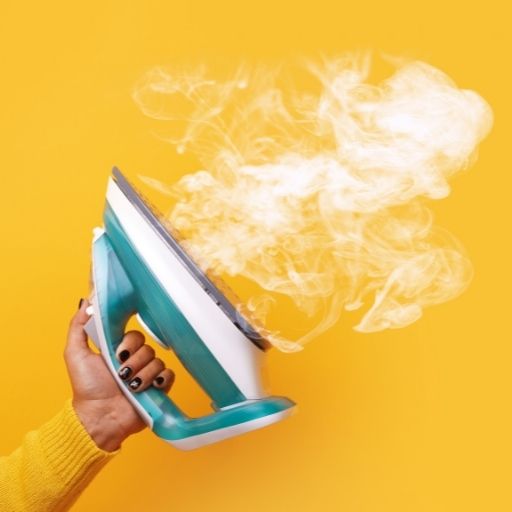 Best For:
Those who prefer to iron
Use the steam function for delicate or heat sensitive fabrics
If you enjoy the precision of ironing but would also like the benefit of steam, an iron with a vertical steam function could be a good choice. You can use the iron to output a jet of steam to help steam out wrinkles. An example of an iron with vertical steam function is the Electrolux Steam Iron.
The downside of using an iron as a steamer is that irons are usually quite heavy. Could you imagine holding an electric steam iron full of water vertically to steam your clothes or curtains? Probably not.
Overall, while the thought was there to promote the benefits of steaming, the practical application of using an iron as a steamer is doubtful.
Instead, use the steam function to help remove stubborn wrinkles as you iron. This will be more efficient than using an iron as a vertical steamer. 
Portable Steam Irons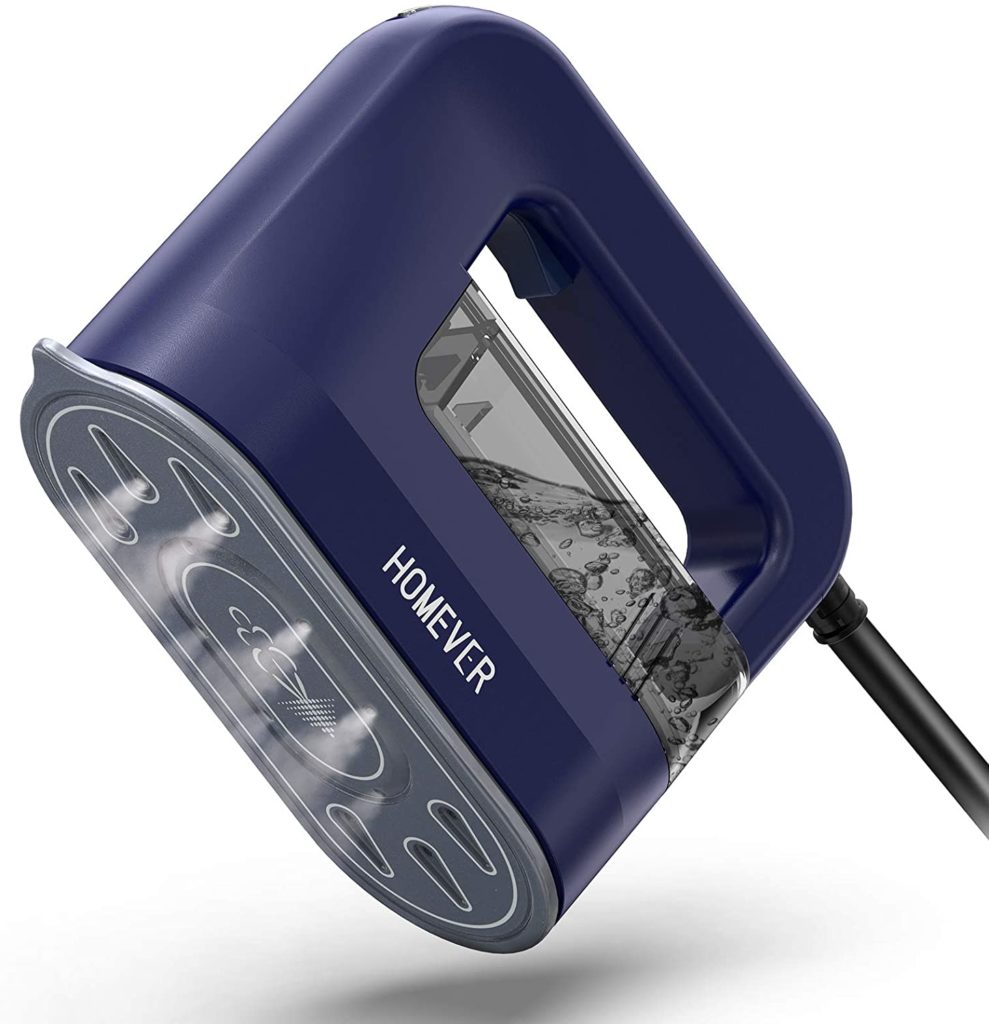 Best For:
Travel
Quick touch ups before work or during the day
A backup iron
Small, portable steam irons are an excellent choice for travel or a quick touch-up before work. Many also have a vertical steam function, so you can steam your clothing simultaneously. 
They are cheap to buy but aren't that suitable for steaming or ironing full loads of laundry. They are also better suited to lightweight items than heavier fabrics. 
A portable steam iron won't generate steam like a handheld fabric steamer or full-sized clothing steamer. Nor will the mini iron be as effective as a full-sized one. A portable iron is an excellent backup if you are regularly on the go or need a quick touch-up. 
I wouldn't rely on this as your only method of removing wrinkles from your clothing.
Clothes Steamer vs Iron – Have We Helped You Decide? 
We hope this article has helped you weigh up the benefits of both clothes steamers and irons.
It's great to see that newer designed fabric steamers are adding features for more precision – as steaming your clothes removes wrinkles effectively and is far more efficient than ironing.
Not to mention the other uses for your garment steamer, such as steaming curtains, drapes, bedding, linen, and soft furnishings.
There are many benefits of steam, in particular the antibacterial properties. Hot steam kills 99.9% of bacteria and germs and will kill dust mites and bed bugs on contact. 
Buying a good quality clothes steamer is an excellent investment for your home. It will save you time ironing clothes and has multi-purpose uses to keep your home clean and fresh.
Do you agree? Let us know in the comments below!