Does Steaming Clean Clothes?
If you don't have time to wash and dry your clothing between wear, try cleaning your clothes using your garment steamer.
Steaming can clean your clothes, without the need for laundry detergents or washing. You simply need to ensure the steamer is hot enough to kill bacteria and odor causing germs, and steam for a little longer than usual.
A clothing steamer needs to heat above 175 degrees Fahrenheit to effectively kill micro-organisms, bacteria, viruses, salmonella, surface mold and any other germs, dust mites or critters (such as bed bugs) sharing your home with you.
Choosing the Right Garment Steamer
Most garment steamers heat up above 175 degrees, particularly if you have a steamer that has 1000 watts of power or more. Newer steamers that have a double steam capability producing super dry steam definitely do.
If you are unsure, check the user manual of your steamer, or manufacturer website.
Does Steam Help Clean Clothes?
There are plenty of statistics about using steam to kill germs and bacteria. But at the end of the day, I wanted to test for myself if you could steam previously worn clothing and have it come up like a freshly laundered item.
I've always washed and dried my clothing prior to steaming. I might wear a shirt twice in Winter (particularly if layering), but never in Summer. I'm fairly fussy when it comes to the cleanliness of my clothing.
I decided to test using a steamer to clean clothes on two items:
A shirt I had previously worn
A dry clean only coat worn to a bonfire
Steaming a Shirt Worn Previously
Here is a shirt which I have previously worn. It wasn't particularly dirty, there were no food or makeup stains, but I could smell it had been worn, particularly if you stick your nose in the underarm area.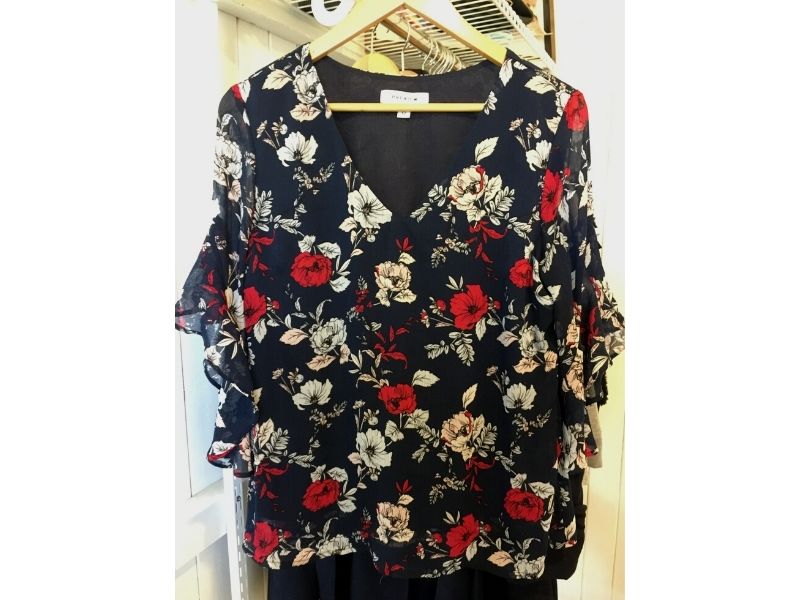 It wasn't bad, but even a slight sweaty deodorant smell isn't my cup of tea. Normally, I would have washed this shirt before wearing it again.
For the purpose of this article, I wanted to test for myself just how well the steamer cleaned my clothing and if steam took away any odors.
How to Use Your Steamer to Clean Clothes
Using my handheld steamer on the highest setting, I focused on the underarm area and steamed the shirt.
Holding the sole plate or head of the steamer against the fabric I maneuvered it around the underarm area, including the front and back of the shirt for at least 30 seconds on each side.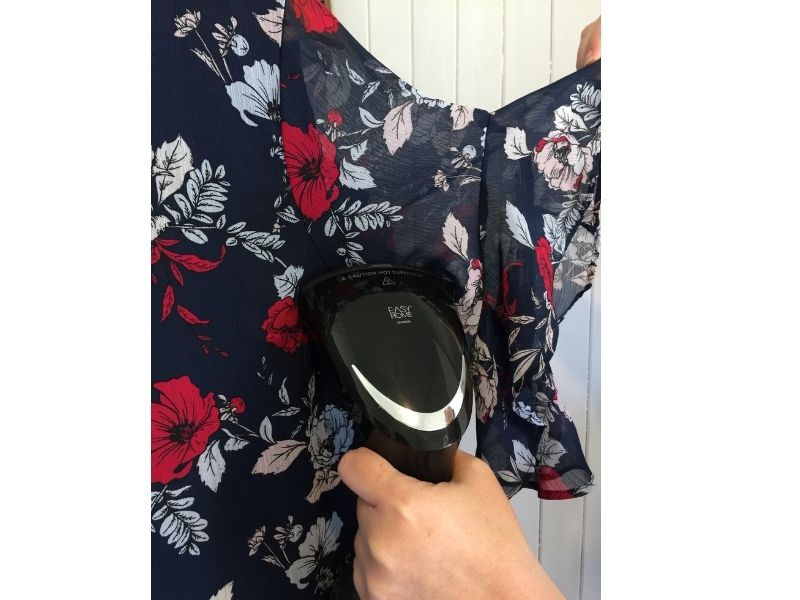 This is a fairly lightweight shirt, with a thicker lining in the bodice area, but no lining on the sleeves. If you have a thicker fabric shirt you may need longer than 30 seconds.
I was careful not to hold the steamer in one position for too long, but move it around the underarm area of the shirt as I steamed. This ensured I didn't cause any damage to the shirt.
I repeated the process on the other underarm of the shirt – ensuring the steam penetrated the underarm section of the shirt for at least 30 seconds on each side.
With such a direct hit of steam for a prolonged period of time, the shirt was damp. I hung it near an open window to air dry. Drying time was approximately 10 minutes.
The result was a cleaner smelling shirt with no funky underarm smell. I could still smell a slight hint of deodorant, but not to the extent of the smell prior to steaming.
I would wear this shirt again without needing to wash it. As always, test the fabric and read the washing label for your item of clothing – make sure the fabric can withhold direct heat.
Note: I recently steamed a shirt with a coffee stain on it. The steam did not remove the stain. If your clothes are visibly dirty, you probably need to wash them and treat any stains.
Steaming a Dry Clean Only Coat
Next up was a coat which I had worn to a bonfire. It smelt like smoke, had visible dirt patches on the outside and dog hair all over the front, where I may have been cuddling an irresistible pooch!
I had also worn a red scarf, which as lovely as it is, leaves red fluff all over everything it touches. This coat really needed to go to the dry cleaners. Here are the before photos: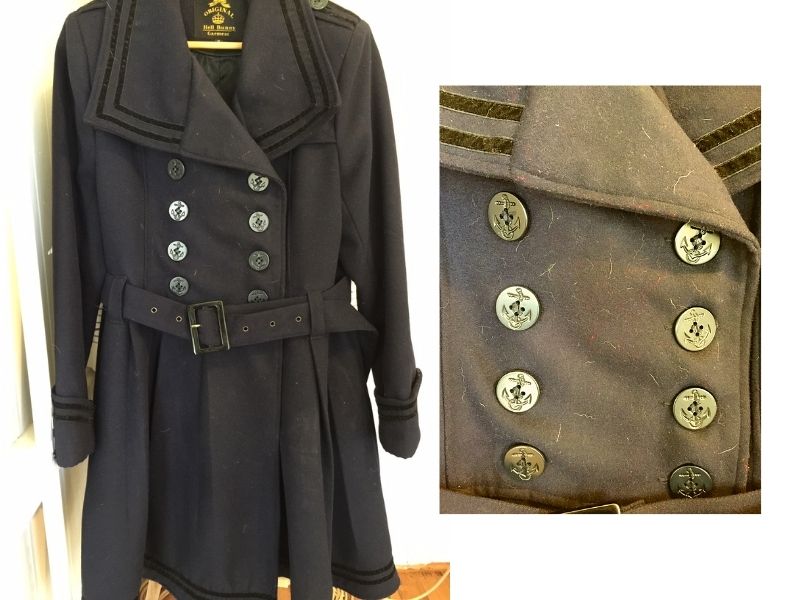 The coat is a felt like fabric with velvet trims that catch all sorts of fluff and dirt. This was the perfect coat to test if steaming clothes cleaned them as well.
Here are a couple more close ups of the dirt: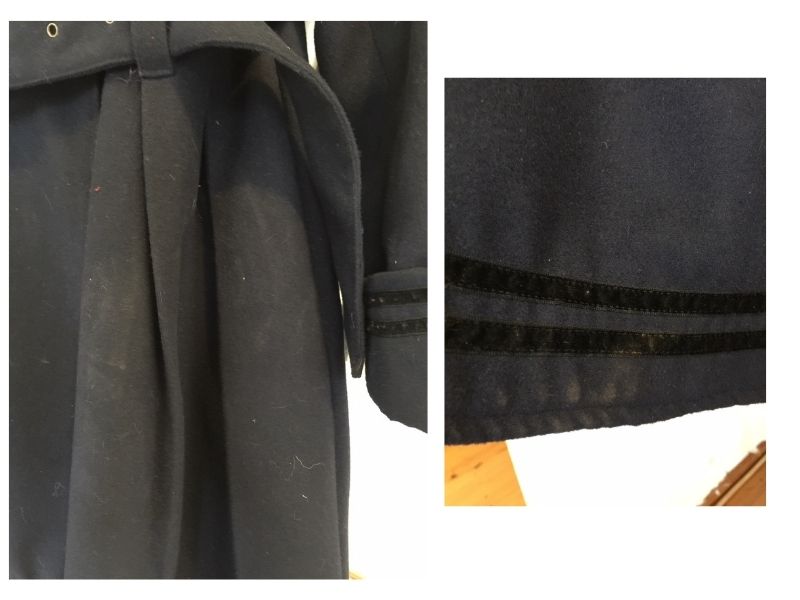 Using the steamer without any attachment wasn't going to remove the lint from the scarf or the dog hair. Nor would it be likely to remove the dried dirt, so I attached the fabric brush to the head of the steamer.
Starting at the top of the coat, along the collar and epaulets and working my way down, I steamed the coat using the fabric brush.
As a thicker fabric, I also used the steamer on the highest steam setting. The fabric brush worked wonders helping to remove lint, dog hair and dirt from my coat.
As you can see from my images, I am no professional photographer, but I was really happy with the results: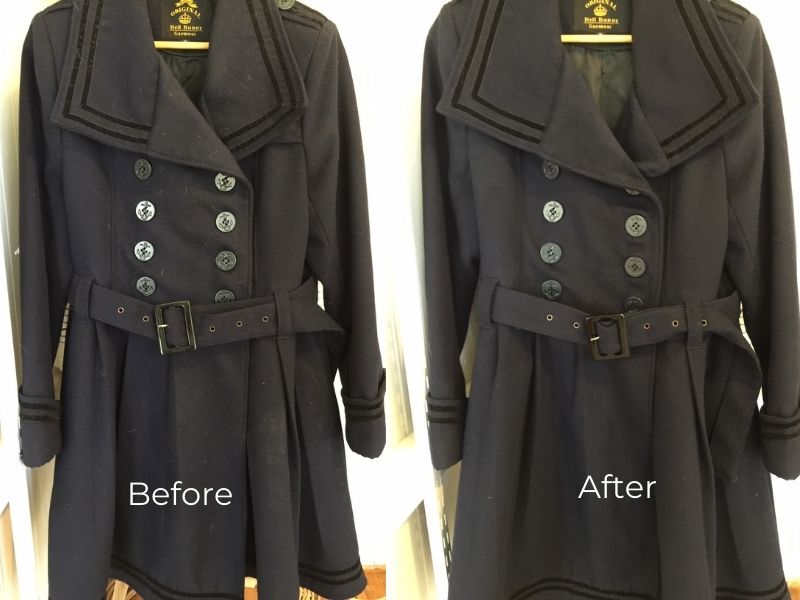 The fabric brush combined with the steam helped to remove the dirt from the trims of the coat:
Does a Steamer Clean Your Clothes? – The Final Verdict
Using my handheld garment steamer to clean both a worn shirt and very dirty coat was effective both times.
The shirt odor was significantly reduced leaving a deodorant type smell to the shirt. Could I wear it again if I needed to? Absolutely.
The dry clean only coat was most impressive for me. If I were wearing this coat out again, I'd probably run a lint roller over it also, but the garment steamer with the fabric brush did an excellent job of removing dirt, dust, lint and dog hair.
Here is a close up of the fabric brush after using the handheld steamer on the coat: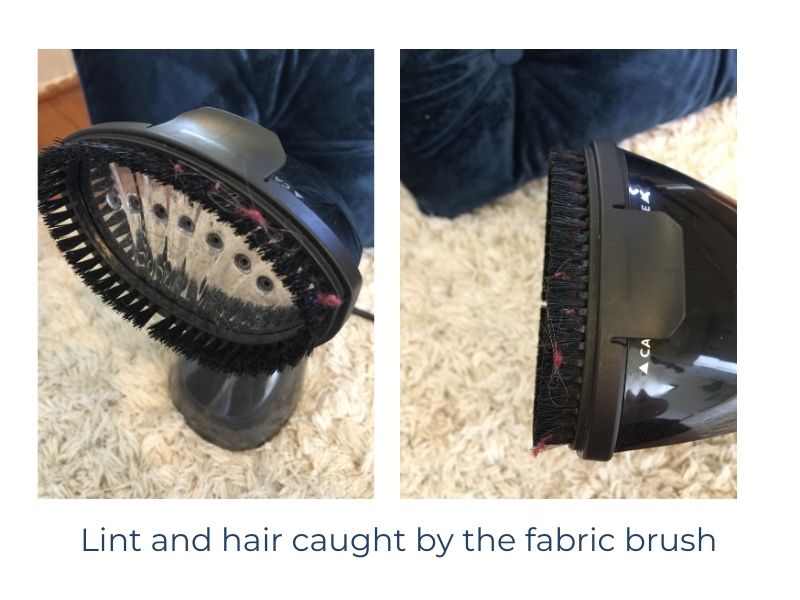 When it comes to the smoky smell, it was still embedded in the fabric a little. A light spray with a fabric and linen spray is likely to remove this smell, until I can get the coat to the dry cleaners.
Other things to consider if your clothes have an odor is adding some white vinegar to the distilled water. The vinegar will help to remove odors in clothing so you can wear your clothes again.
I'm confident however, that I could reduce the need to send the coat to the dry cleaners throughout the winter season, simply by using my garment steamer to refresh the garment whenever it needed it.
Avoiding the chemicals used in dry cleaning will hopefully extend the life of my coat, as well as saving me money in the long run!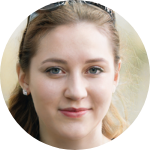 About the Author
Hi I'm Lauren. Passionate organizer, t-shirt folder and owner of a commercial garment steamer, steam cleaner and handheld steamer. I'll discuss all things steaming, so if you need help with buying or using a clothing steamer or steam cleaner, I'm here for you. Please join me on Facebook and don't hesitate to reach out if you have any questions. Happy Steaming!