Can You Use a Clothes Steamer on Your Face? (Risks vs Benefits – and Why It's Not a Good Idea)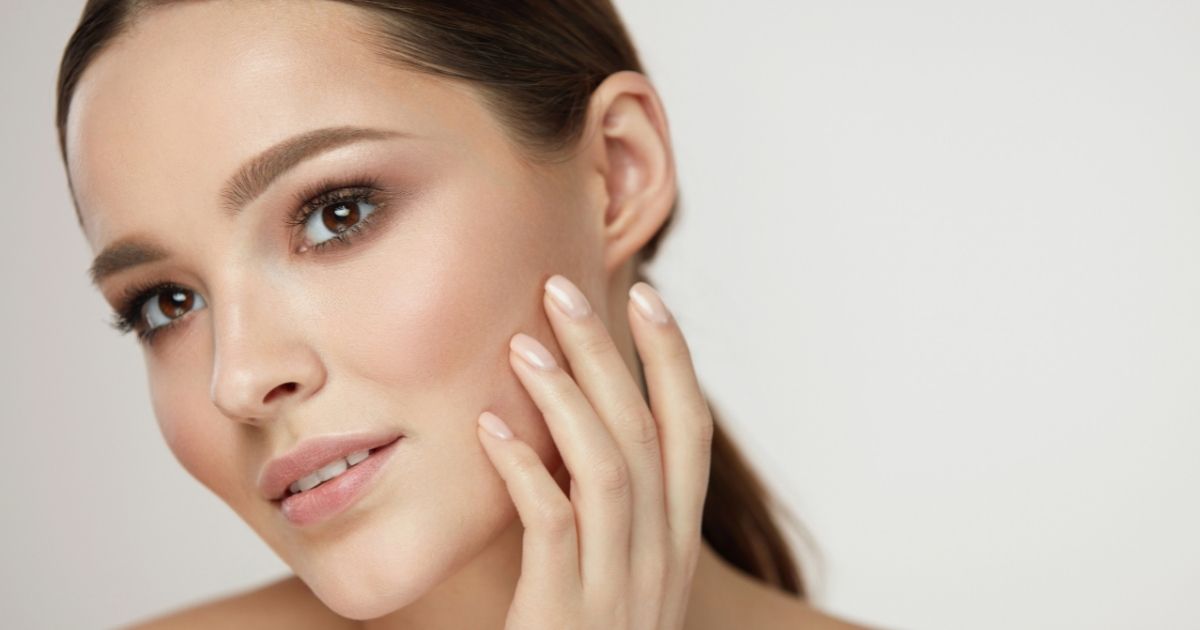 A facial is a luxury not everyone can afford, so do it yourself facials are becoming increasingly popular.
Using steam as part of your facial has many benefits, such as opening up your pores and deeply cleansing and hydrating your skin. From teenagers to mature women, most skin types will benefit from steam as part of their personal skin routine.
If you don't own a facial steamer but have invested in a clothing steamer, can you use a clothes steamer on your face? In short, you can, but you shouldn't. Here's why:
The Differences Between a Clothes Steamer and Facial Steamer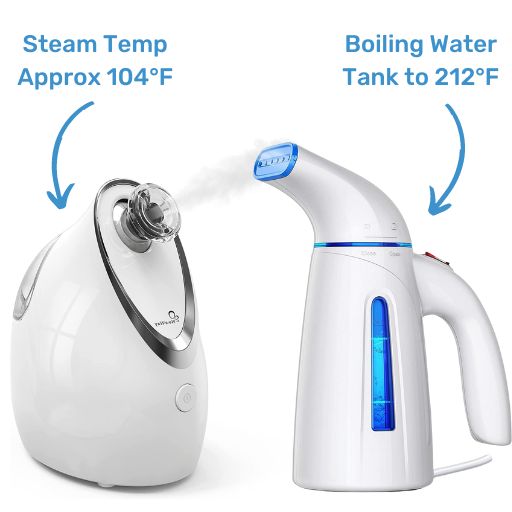 Steamers for facials run very low wattage (between 20 watts and 150 watts) and maintain the temperature for around 30 minutes.
This means the volume of steam coming from the facial steamer isn't a lot. This makes facial steamers perfect for the delicate skin on your face, neck and around your eyes.
In contrast, a handheld clothes steamer runs at approximately 1200 to 1800 watts and a full sized garment steamer pumps out steam at 1500-2000 watts.
Can You Use a Clothes Steamer on Your Face?
The volume of steam and temperature of the steam from both a handheld and full sized clothes steamer is much greater than a facial steamer.
The risk of sustaining burns or serious injury to your face by using a clothes steamer is high. Therefore, you should avoid using a clothes steamer on your face.
How Do You Steam Your Face With a Clothes Steamer?
Take a look at DIY facials on You Tube and you'll find people who are using either handheld steamers or garment steamers on their face. If you understand the risks but still want to use a clothes steamer on your face, follow our top tips to avoid injury:
Use the lowest heat setting
If your clothes steamer has multiple heat settings, please use the lowest heat setting and lowest volume of steam.
Hold the steamer well away from your face
Hold your travel steamer an arms length away from your face at all times. If you must try facial steaming with an upright garment steamer hold the nozzle as far away from your face as possible.
Steam for a couple of seconds only
I watched a person on you tube use a full sized home garment steamer on her face. She did this for 2-3 seconds only and held the steamer head an arms length away from her face before removing the steam away quickly.
Also, try circling your wrist so the steam does not stay in one place for any length of time.
Keep your eyes closed
Always close your eyes while the steam is pointing in the direction of your face. You do not want to risk injury to your eyes.
Have cold water handy
In case of injury or burns. If you do suffer a burn, run the affected area under clean cold water for 20 minutes. Do not apply ice or ice packs to burns. Seek medical advice.
Using a Low Wattage Handheld Steamer
The makers of iSteam Portable Steamers have gone as far as to advertise using their handheld steamer as a facial steamer. Given it has only 900 watts of power the steam output won't be as good as the garment steamers I recommend here on Steamer Advice.
When a retailer of iSteam Luxury Edition Portable Steamer was questioned by a consumer, the response was:
…take extra care and certain distance from the skin and hair to avoid skin irritation.

Exagora
Ideally, your garment steamer should only be used on your clothes. It also works wonderfully on other soft furnishings and curtains, but using the hot steam from a clothes steamer on your face isn't recommended.
The risk of injury or serious burns by using your garment steamer far outweighs the benefits of having a facial with steam.
If you do burn yourself, not only will your relaxing facial be ruined, but you could be left with pain and scarring to your face. Don't risk it.
A Facial Steamer is Designed For Your Skin
Most facial steamers are priced under $30 and pose far less of a risk of burns to your face than if you were to use a garment steamer for a facial.
A facial steamer heats up in around 30 seconds and runs for around 10 minutes, which is far more beneficial for your skin than the couple of seconds of steam on your face if you were to use a high powered garment and fabric steamer.
By using a facial steamer you get the full benefit of steam such as the steam penetrating your skin, opening pores and relaxing skin tissues. Some can also double as diffusers for aromatherapy, humidifiers and towel warmers.
The Best Facial Steamer Choices
Using a facial steamer at home may produce just like you would get at the salon. They generally sit on on any flat surface, are portable, stylish, and unlike using a clothes steamer on your face, are safe for use for facials.
Here are some good options:
Kingsteam Nano Ionic Facial Steamer
$36.99
$26.99 ($26.99 / Count)
Produces gentle steam for your face at around 40 degrees Celsius (104°F)
Runs for 8-10 minutes on a full water tank
Includes tools for blackhead removal
Add essential oils to the aromatherapy filter
Small, lightweight and portable - a great choice for travel
We earn a commission if you make a purchase, at no additional cost to you.
05/17/2023 09:08 pm GMT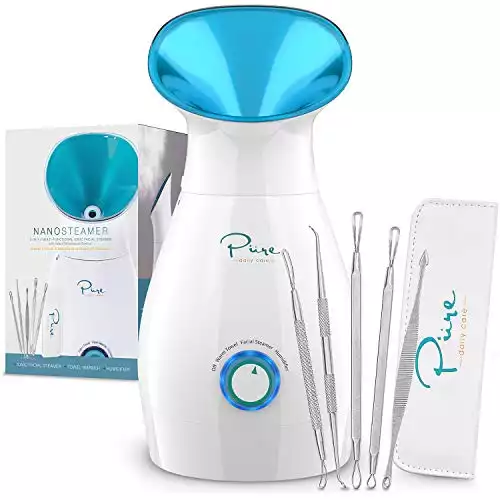 Pure NanoSteamer 30 Minute Facial Steamer
$64.95
$39.95 ($39.95 / Count)
This larger facial steamer runs for up to 30 minutes
Includes a set of blackhead and blemish skin care tools
Can also be used as a small towel warmer and humidifier
Drop some essential oils onto a cotton ball and place in the towel warmer to create aromatherapy
We earn a commission if you make a purchase, at no additional cost to you.
05/17/2023 09:48 pm GMT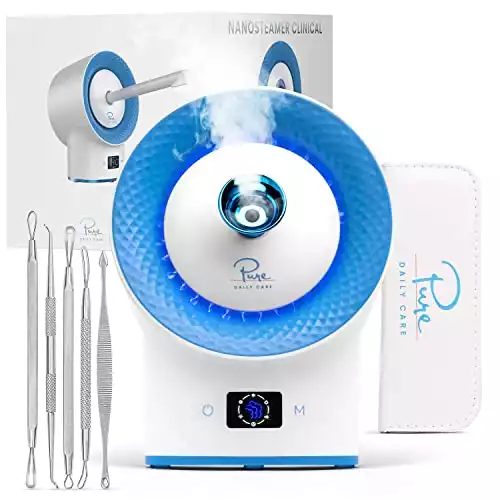 Pure NanoSteamer Dermatologist Grade Facial Steamer
$94.95
$79.95 ($79.95 / Count)
Do it yourself professional grade facial treatments at home with six pre-programmed modes
Can use in cold mode, hot mode and a combination of both
Aromatherapy basket for adding essential oils, herbs or dried flowers
Includes a long arm attachment and 5 piece skin care tool kit
We earn a commission if you make a purchase, at no additional cost to you.
05/17/2023 11:15 pm GMT
Frequently Asked Questions About Facial Steaming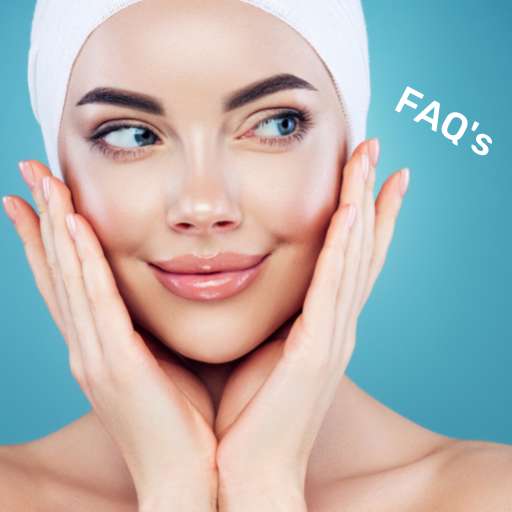 Does a Steamer Get Rid of Blackheads?
A steamer opens pores of your skin, loosening dirt and softening blackheads making them easier to remove.
Is Steam Good for Face Wrinkles?
Steam can help to increase blood flow to the surface of the skin, boost collagen production and add moisture to ageing skin. You may notice a reduction in fine lines and wrinkles with regular use.
Should I Wash My Face After Steaming?
Wash your face with a gentle cleanser and toner after steaming to remove any softened oil and dirt present when the pores were opened. Follow with your usual moisturizer.
What Are the Disadvantages of Steaming Your Face?
Disadvantages of steaming your face mostly relate to those with sensitive skins, and dermatological conditions such as eczema or rosacea. The heat and steam can aggravate these conditions and cause increased redness. In these instances the disadvantages may outweigh the facial steamer benefits.
Conclusion
Buying a facial steamer is a far better choice than using a garment steamer on your face. As technology advances, garment steamers are increasing in wattage, which in turn, increases the heat and steam output. This is likely to cause serious burns to your skin if used for a facial.
I highly recommend not using a clothes steamer on your face and instead choosing a facial steamer which operates at a much lower temperature and steam output. Your skin will still benefit from steam, without the risk of redness, burns and peeling skin.
Price wise, they are not too much different in cost than a handheld garment steamer.