Best Steamer for Wedding Dress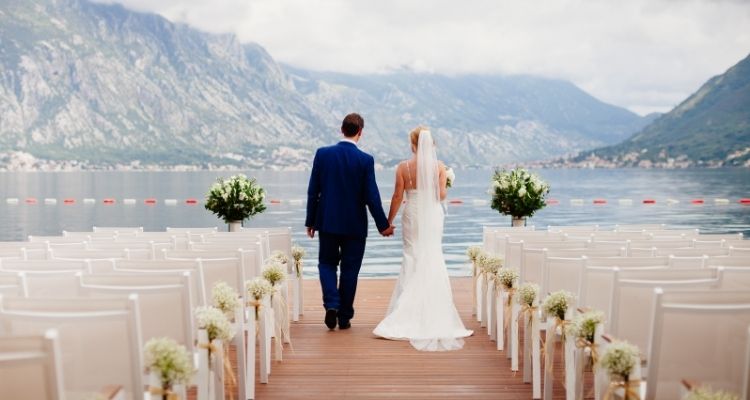 You've got your wedding dress, the date is set, and preparations are underway – congratulations! If you're looking for a wedding dress steamer to touch up any creases and wrinkles that have formed during storage, look no further.
In this post, I'll cover the best steamer for wedding dresses, whether a handheld steamer, commercial steamer, or travel steamer. I'll look at the pros and cons of each type of steamer so that you can make the best choice. Let's jump right in:
Best Portable Steamer for Wedding Dress
My choice for a portable steamer for wedding dresses is the Electrolux Handheld Steamer.
Here's why this is my best choice for a portable steamer for wedding dresses:
Two steam settings – great for lower steam output and lower heat for delicate fabrics.
10oz water tank – allowing the steamer to run for around 15-18 minutes between refills. This is more water than the Conair and Rowenta steamers, so you won't need to stop and refill as often.
Ergonomically designed with a good balance between the steamer head and the water chamber.
A ceramic sole plate holds heat much better than cheaper plastic varieties.
It can be used horizontally and vertically, so you can get up under the dress and go sideways across the fabric if needed.
Quality brand and appliance.
The downsides with this steamer:
It can get heavy as you are holding the steamer and water.
Slightly higher priced than non-branded steamers. Comparable in price to other leading brands such as Conair and Rowenta.
UK Buyers
If you are in the UK, take a look at the Rolipo handheld steamer. It is inexpensive and has two steam settings with excellent steam output.
Canadian Buyers
The Electrolux handheld steamer is also available in Canada. Also, take a look at the CHI garment steamer with 1600 watts of power and a 10ft cord.
Why a Portable Steamer is a Good Choice for Wedding Dresses
If you are travelling for your wedding or getting ready somewhere other than home, a portable garment steamer is easily transported with you.
Portable or handheld steamers tend to heat up much faster than full-size garment steamers, and the length of the steaming hose does not restrict you.
Handheld steamers are also more affordable than full-size steamers or commercial steamers.
The downside is the small water chamber you will need to stop and refill. They can also get a little heavier in your hand than just holding the steamer nozzle with full-size garment steamers.
Best Full Size Clothes Steamer for Wedding Dress
When looking at a standing steamer or home steamer for steaming a wedding dress, one of my absolute favorite steamers is the commercially rated Jiffy J-4000 steamer.
Not only can you steam your wedding dress, but you can also do the bridesmaid dresses, mother of the bride's dress, all the men's (or women's) suits, and more with this heavy-duty machine.
The reason I suggest the J-4000 over other Jiffy models, is the wattage. The J-4000 is a 1500 watt steamer, compared to 1300 watts in the other models. The J-4000 offers superior steaming performance and steam output.
The J-4000 is designed to be set up and left in standby mode. You will need to allow around 15 minutes for the boiler to heat the water, but after that, it will only take 2 minutes to reheat back to steaming from standby mode.
The downside with the Jiffy steamer is it is built like a tank. The base unit is heavy, and although it is on castors so you can roll it around, the idea with this (and most) standing steamers is to stay in one room.
If you are getting ready at home, this steamer is ideal.
A higher price tag comes with a brand such as Jiffy and the quality of the appliance. However, worthwhile if you are in the market for a clothing steamer that you will use repeatedly.
For a cheaper option than the Jiffy steamer, look at the Anthter Steamer.
This 1500 watt garment steamer by Anthter has two steam settings, so you can steam any delicate lace, silk or embellishments on your wedding dress on the lower steam setting, and use the higher steam setting for thicker fabrics or tougher wrinkles.
It is backed by a 3-year warranty, heats up in 45 seconds and steams for around 90 minutes continuously – plenty of time for a wedding dress and the bridesmaid's dresses too!
The steamer weighs around 12 pounds when empty, so not super heavy to transport. You can also collapse down the telescopic poles, making the unit more compact.
Best Travel Steamer for Wedding Dress
Eloping, getting married overseas or if you are located outside of the USA, take a look at the dual voltage travel steamers below. These can be switched between 110V and 220V, usually at the flick of a button on the machine.
My top choice for a dual-voltage travel steamer for wedding dresses is the new Conair Power Steam.
Wedding Dress Steaming
If you're planning on steaming your wedding dress, take a look at my guide to wedding dress steaming. Using my wedding dress as an example, this guide includes instructions and images of how the wedding dress steaming turned out, as well as my at home simple cheat for making a steam bonnet!
How to Choose a Steamer for a Wedding Dress?
When considering a clothing steamer for your wedding dress, think about where you will be steaming the dress. If you are at home, with plenty of room, a power outlet or extension cord close by, and a good supply of distilled water, you could probably choose a larger standing garment steamer.
These are the types of steamers that sit on the floor and hold larger volumes of water, resulting in longer steaming time. The downside is the fixed length of the steam hose. You don't have as much flexibility as a handheld clothing steamer.
Handheld clothing steamers are larger than they look online. Standing about as tall as a kettle, holding around 10oz of water. Some offer different steaming modes for different types of fabrics.
The functionality of handheld garment steamers and standing garment steamers are the same. Generally, the wattage and steam output are comparable too. The downside with handheld steamers is they hold much less water, making it necessary to refill every 10 minutes or so.
The weight of the steamer can also become heavier on your arm, compared to holding the nozzle only with a standing steamer.
Handheld steamers offer better portability, particularly if you are traveling to get married or need some quick touch-ups on the day. You still need to consider power outlets and extension cords for handheld steamers – there are no cordless steamers on the market yet.
Whatever you choose, make sure you have some distilled water handy. Created from steam, distilled water is the best choice for wedding dress steaming and avoids the build-up of minerals in your steamer. These can cause spitting, marks on your dress, and poor performance from your steamer, with the likelihood that it will stop working fairly quickly.
When looking at the performance of a steamer, I generally look for a minimum of 1500 watts to get the best steam output. If you have a silk, lace or other delicate fabric wedding dress, you can choose a lower wattage steamer for more gentle steam output.
Alternatively, consider choosing a steamer with multiple steam settings. Use the lowest for your wedding dress, and then you'll be able to steam other articles of clothing after your big day.
If you are heading overseas, consider a dual-voltage steamer to take it abroad on your honeymoon. My article on travel steamers is helpful for other dual-voltage travel steamer options.