Can You Use a Steam Cleaner on Clothes?
If you have a handheld steam cleaner or canister steam cleaner then you know the invaluable benefits of steam when it comes to cleaning your home. You might be wondering, can you use a steam cleaner on clothes? Yes you can. This guide will show you how, as well as some of the problems I experienced when using my handheld steam cleaner on clothes.
A handheld steam cleaner or canister steam cleaner can be used to steam clothing, as well as other items around your home. Some steam cleaners also come with attachments to make steaming your clothing easier, avoiding the need for a designated clothing steamer.
What is the Difference Between a Clothing Steamer and a Steam Cleaner?
The difference between a clothing steamer and a steam cleaner is how the steam is projected.
A clothing steamer has a wider head with multiple steam holes so steam can flow out gently. A steam cleaner operates around the same wattage and temperature as a clothing steamer, but instead pushes the steam out via a single nozzle for more concentrated steam pressure.
Does a Steam Cleaner Kill Germs on Clothes?
A steam cleaner is effective at killing germs on clothes. A study by Deakin University showed that 99% of bacteria and viruses were eliminated by at least 3 minutes sustained contact with steam. The steam temperature needs to be between 175 degrees Fahrenheit and 212 degrees Fahrenheit to achieve this.
Please check your clothing label prior to steaming it to ensure it can withstand 3 minutes of continued contact with steam.
Steam Cleaners With Garment Steaming Attachments
I've compiled a list of popular steam cleaners on the market that come with attachments to make steaming clothing easier. They are:
Shark Lift Away Pro Steam Mop
Light n Easy Multifunctional Steam Mop
Puetz Golf Handheld Steam Cleaner (use the upholstery tool)
Comforday Handheld Steam Cleaner

Pursteam Handheld Steam Cleaner

Bissell Powerfresh Slim Steam Mop
Wagner Spraytech 915 Steamer and HR Elite model
Commercial Care Handheld Steamer (unclip the squeegee and use the bonnet)
Dupray One Plus (use the triangle tool and bonnet)
Dupray Hill Injection Commercial Steam Cleaner
H20 X5 Steam Mop
I'm sure there are many others out there, and this list isn't exhaustive. Some steam cleaners have upholstery attachments and whilst not technically designed for steaming clothing, this would be sufficient.
Can I use a Handheld Steam Cleaner on Clothes?
Handheld steam cleaners are incredibly versatile and a great option for use on clothing if you don't have a garment steamer. If your handheld steam cleaner doesn't have a clothing attachment, try using the window squeegee covered with a microfiber bonnet to diffuse the steam.
I tested out my handheld steam cleaner on a dress shirt. I used the window squeegee attachment, both with and without a steam bonnet, and the steam nozzle on its own. The handheld steam cleaner wet the fabric far more than a garment steamer does.
Here is how wet the sleeve of the shirt was after using the window squeegee without a cover over it:
I took off the window squeegee and tried using just the steam nozzle. The pressure of the steam blew the shirt away even when I was holding it. It was let wet than the window squeegee, but not a great steaming result in terms of wrinkle removal: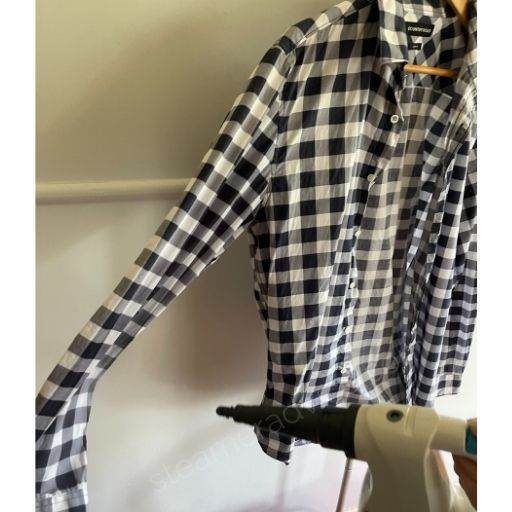 The dampness on the fabric was improved by using a steam bonnet and turning the steam pressure down to the lowest setting. This was by far the best result in terms of drier fabric and wrinkle removal: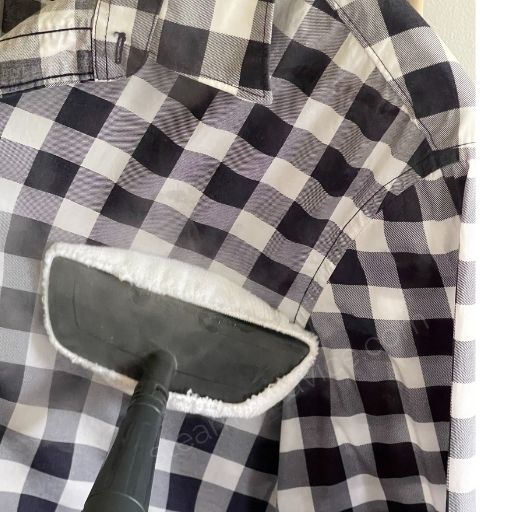 For comparison, I steamed the opposite side of the shirt with my clothing steamer. This left the shirt much drier, just one drop of water on the fabric.
So, whilst you can use a handheld steam cleaner on clothes, I suggest using a microfiber bonnet to diffuse the steam and catch the water droplets. Otherwise, your clothing is likely to end up saturated from the steam, unless you have a vapor steam cleaner that emits super dry steam.
Can You Use a Steam Cleaner on Starched Clothes?
You should avoid using steam on starched clothes. Steam relaxes the fibers in clothing, essentially undoing everything the starch has done to keep the fabric stiff and crisp.
Try using a dry iron (no steam) and press the iron along the clothing, rather than moving it back and forth. This should help to keep any permanently starched clothes looking crisp.
Can You Use a Steam Cleaner on Dry Clean Only Clothes?
Steam is gentle enough to use on dry clean only clothing. If using a steam cleaner, diffuse the steam with a steam bonnet and try not to get too close to the fabric, as you don't want to get it wet.
Can I Use a Steam Cleaner for Stains on Clothes?
As luck would have it, the shirt I was testing with the steam cleaner had a stain on it. It looked like a small coffee stain. I tested the handheld steam cleaner on the stain for 20 seconds. It did not remove the stain.
I then sprayed the stain on the shirt with a pre-wash stain remover, waited another 20 seconds, then steamed the area again for 20-30 seconds. The stain was not removed.
The shirt however, had a new wrinkle from where I had wiped it with a microfiber cloth (and subsequently creased it) and was very wet from the steam cleaner. Here are the photos: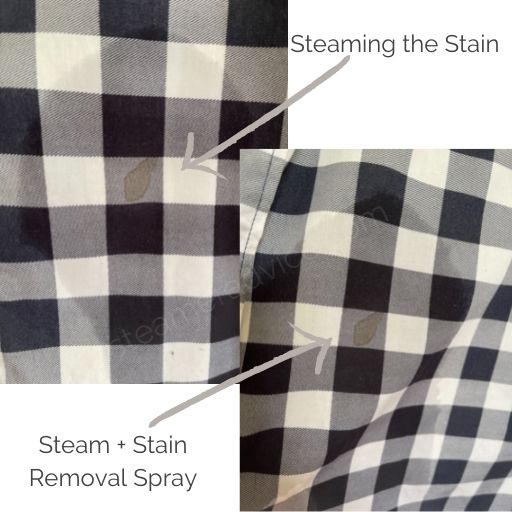 As you can see from the photos the area I steamed was very wet from the handheld steam cleaner. I would not do this on any fabric that wasn't machine washable, you could ruin your clothing.
How to Use the McCulloch MC1275 Heavy Duty Steam Cleaner on Clothes
The McCulloch MC1275 is a great little canister steamer. If you have this model, use the triangle brush for steaming clothes. Be careful with the bristles on the bottom on delicate clothing, try not to touch the bristles to the fabric, you could damage them.
Alternatively, you could use the window squeegee attachment. I'd suggest covering this with a microfiber cloth, or lightweight towel, something like a face washer or thin hand towel will work.
This will help to catch any steam or water droplets that come from the attachments as you use them.
How to Use a Shark Steam Cleaner on Clothes
If you have the Shark Premium Portable Steam Pocket (model number SC630), this includes a garment steamer attachment, as well as a brush for the garment steamer. You attach these onto the steam hose of the handheld steamer. Please note this is an older model and no longer sold by Shark.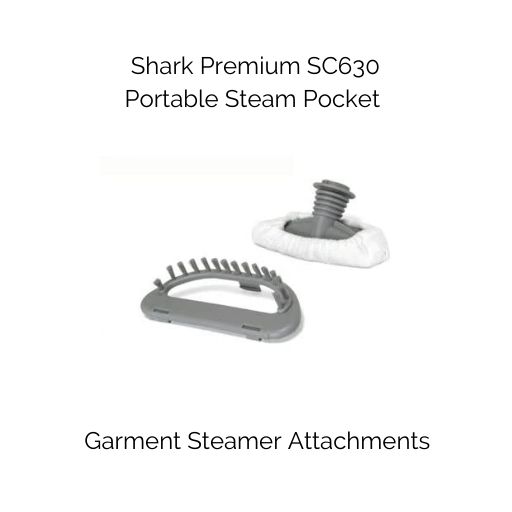 If you have the Shark Lift Away Pro Steam Pocket Mop, this also comes with a garment steamer attachment with a built in fabric brush, as well as a garment steamer bonnet. This attaches to the handheld steamer that lifts away from the steam mop. This is designed to adequately produce steam for clothing and fabrics as well as curtains and drapes.
If you have a Shark steam mop, this won't be suitable to use on clothing. Most Shark steam mops have a push and pull action to make them work, and there is no way of steaming your clothes with a steam mop unless you hold it up in the air.
Conclusion
There you have it, my experiment using a steam cleaner on clothing. So, can you use a steam cleaner on clothes? Absolutely! Is it better than a garment steamer? Not in my tests above.
When it comes to clothing, I'll be sticking to my handheld garment steamer, or standing steamer and leave the steam cleaner for the cleaning jobs at home.