Best Steamer for Curtains and Drapes 2022
Steaming your curtains and drapes allows you to remove wrinkles and creases whilst they are hanging. I generally recommend handheld steamers for curtains, as you are not restricted with reaching the top of curtains like with a standing steamer.
The exception to this is the Jiffy Drapery Steamer, which is a professional curtain steamer specifically designed with a 7.5 foot hose to reach the top of curtains.
Here are my top choices for the best steamer for curtains in 2022:
Does Steaming Curtains Clean Them?
Steam is a great way to refresh your curtains and remove wrinkles. The high heat of the steam also aids to kill bacteria, dust mites and other nasties lurking on your curtains.
If your curtains are physically dirty you may need to take them down and either hand wash them, or gentle machine wash. Always check the care label on your curtains before washing them, or steaming them.
Before steaming, vacuum your curtains using a brush tool to remove any dirt, pet hair and dust. Use the lowest setting of your vacuum so you don't suck your curtains up into it!
If your clothing steamer has a brush tool, you can use this also to help open the fibers of the curtain material.
Can You Steam Velvet Curtains?
You can steam velvet curtains, however, please check the manufacturer label beforehand. If your velvet curtains are dry clean only, it is best to take them to the cleaners.
Also, check the direction of the nap of the velvet curtains before you steam them. Then steam the curtains in the opposite direction of the nap. The steam will help to lift the nap and restore the vibrancy to your velvet curtains.
You can steam velvet curtains from behind also, if needed. Test on a small area of your velvet curtains first, like the bottom corner.
Can You Steam Linen Curtains?
Absolutely. Steam is an excellent choice for linen. As linen easily crushes, you may need to use the highest steam setting. Steam from the top of the curtains to the bottom in slow strokes.
A helper can pull the linen curtains taut from the bottom to help remove the wrinkles. Allow to air dry.
Can You Steam Blackout Curtains?
When steaming blackout curtains, you'll need to use the highest steam setting of your garment steamer as blackout curtains are usually thicker. I recommend using a minimum 1500 watt steamer.
Generally, I steam curtains from top to bottom, however, if you are having trouble removing the wrinkles, try steaming from bottom to top. As steam rises, it will penetrate the curtains.
Use the fabric brush of your steamer also to help relax fibers. Depending on the backing of your curtains, you may also find it easier to steam from the back of the curtains. The weight of the curtain dragging over the steamer head will help to remove the wrinkles.
Make sure you wear a steaming glove when doing this so you don't burn yourself. As always, check the manufacturer label before steaming.
Can You Steam Thermal or Insulated Curtains?
Thermal or insulated curtains with a rubber backing can be steamed on the front side. It is best not to apply heat or steam directly to the backing. This also applies to acrylic backed thermal curtains.
You will need to work slowly with insulated curtains due to the thickness. If you have someone who can help you, they can hold the bottom of the curtains taut whilst you steam them. Steam from top to bottom whilst the curtains are hanging and allow them to dry.
You should use the highest steam setting of your clothing steamer for insulated curtains.
Can You Steam Silk Curtains?
Clothing steamers are wonderful for silk clothing and work well on silk curtains as well. If you have a fabric steamer with multiple steam settings, choose the lowest setting when steaming silk. Test your curtains in an inconspicuous area first, and as always read the care instructions on the label before steaming.
If you find the lowest setting isn't getting the wrinkles out of your silk curtains, gradually increase the steam. Make sure however, that you test in an inconspicuous area each time you increase the steam level, and try not to get the silk curtains too wet from the steam.
What Water Do You Use When Steaming Curtains?
Distilled water should be used in your steamer, both when steaming drapery and curtains, but also for home furnishings and clothing.
If you use tap water in your steamer you will need to descale it on a regular basis. The following articles covers everything you need to know about descaling a steamer:
This article covers exactly why you should not use tap water in your steamer.
What is the Best Steamer for Curtains?
With so many handheld steamers to choose from, as well as different types of curtain fabrics, choosing the best steamer for curtains really needs to come down to personal preference.
For thicker curtains, choose a more powerful steamer with higher heat and steam output, to tackle those tough wrinkles.
For more sheer and lightweight curtains, any steamer on this list will work.
For a commercially rated machine, with excellent warranty and made in the USA, the number one choice is the Jiffy Drapery Steamer.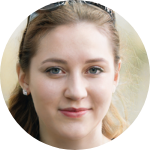 About the Author
Hi I'm Lauren. Passionate organizer, t-shirt folder and owner of a commercial garment steamer, steam cleaner and handheld steamer. I'll discuss all things steaming, so if you need help with buying or using a clothing steamer or steam cleaner, I'm here for you. Please join me on Facebook and don't hesitate to reach out if you have any questions. Happy Steaming!