How to Get Wrinkles Out of Curtains
You may have struggled with getting wrinkles out of your curtains in the past but will never again! Yes, we all love decorating our spaces with curtains, but it can be a bit overwhelming when it comes to removing wrinkles. 
In this post, I will take you through a step-by-step guide on how to get wrinkles out of curtains. Follow it, and you will have perfect flowy and smooth curtains in no time! 
Why Are My Curtains Wrinkled? 
We all have experienced our new curtains fully covered in wrinkles as soon as removing them from their packaging. It is due to the tight packaging of the fabric to keep it secure from damage.  
After-effects of washing can also cause wrinkles. Stuffing your curtain in the washing machine with too many other fabrics leads to wrinkles. 
Or it can also be created by leaving your curtains too long in the dryer. 
Best Ways to Get Wrinkles Out of Curtains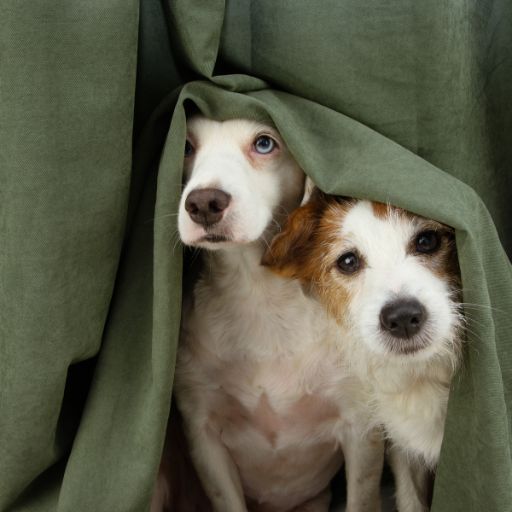 There are many different ways of getting wrinkles out of curtains. Let us explore some of the most effective and affordable methods out there: 
Use a Clothing Steamer 
As the name suggests, clothing steamers use steam to smoothen the curtains while still hanging. Clothing steamers heat their water to 200-250°F to generate steam. 
Using a clothing steamer is one of the most effective ways to get wrinkles out of curtains, regardless of the fabric. 
For general curtain and drapery fabrics, steam on the front of the material, either from top to bottom or bottom to top. For thicker fabrics, you may need steam on the curtain's underside and front sides. 
Further down this post, I'll cover how to use a clothing steamer to remove wrinkles from specialty curtain fabrics (such as thermal-backed, velvet, silk, etc.). 
Use a Steam Cleaner 
If you have a steam cleaner, you can use this to remove wrinkles from curtains. Depending on the steam cleaner, it may push out more water than a clothing steamer. 
Make sure to only use your steam cleaner on curtains that can be washed, so the water doesn't stain the material. 
Wrinkle Release Spray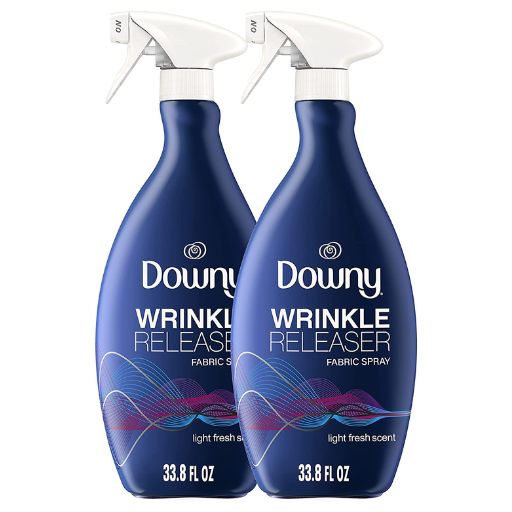 Wrinkle Release spray is one of the fastest ways of getting wrinkles out of curtains. You can use this in conjunction with a steamer or on its own.
All you need to do is:
Lightly spray the wrinkle release spray over the curtains. They should feel damp but not wet.
Use your hands to smooth out wrinkles, tugging gently on the curtains as you do so.
Leave your curtains hanging to air dry.
Note: On fabrics that may water spot such as rayon or silk, test in an inconspicuous area first.
Iron Curtains 
Second to steaming, ironing is one of the most common methods of removing wrinkles from curtains. 
If your curtains are hanging, you must take them down before ironing them. If your iron has a vertical steam setting, you could try this first before taking down the curtains. 
If using the vertical steam setting on your iron, hold the iron an inch or two away from the curtain material, particularly on delicate fabrics.
Check the fabric and care instructions on your curtains before ironing. You may need a press cloth to protect against scorching, shine, water droplets, or press marks. My recommended choice is the Dritz Silk Organza Press Cloth.
Use Drapery Weights 
Drapery weights are usually made from lead or ceramic. You can pin them to the bottom of your curtains or sew them into the curtain hem. Not only will the weight of the drapery weights help wrinkles drop out, but they also keep your curtains hanging nicely and not blowing away on breezy days. 
Remember to choose the weight based on the type of fabric you own. The inexpensive, lightweight ones are between 12g and 20g each (0.4-0.7 ounces) and aren't good for anything except sheer curtains. 
You could also try magnetic shower curtain weights such as these. They weigh 1.28oz per magnet, so one set will be 2.56oz. They can easily be removed and used again once the curtain is straight.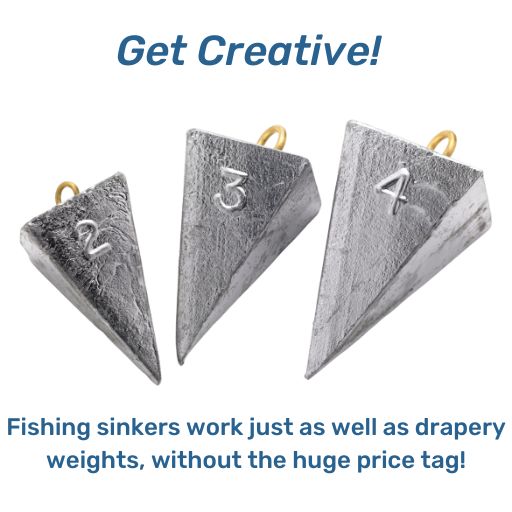 For more sturdy curtains, you can get creative with rolls of nickels in the bottom or pick up some lead fishing sinkers. These are just as effective as drapery weights and generally cost less too. 
This 50 pack of 3/4 ounce lead weights (approx 21g per weight) would slide nicely into the bottom hem of the curtains. The weights can straighten the curtain and allow them to stay in place. 
Wash Curtains 
This may not work for every fabric, but it does for some. Remember to read the care instructions before you proceed. If it says dry clean only, it would be best to take them to the professionals.  
Steam in the Bathroom Method: 
To follow this method:
Hang your curtains over the shower curtain rods.
Point the shower head in the opposite direction of the curtains and turn on the hot water.
Run the hot water for 15 minutes or until sufficient steam is formed to relax the fabric.  
Alternatively…
Fill a bath with hot water.
Push back your shower curtain and hang your curtains over the shower curtain rail.
Allow the steam to rise from the tub and the wrinkles should gradually drop out.
Use a Clothes Dryer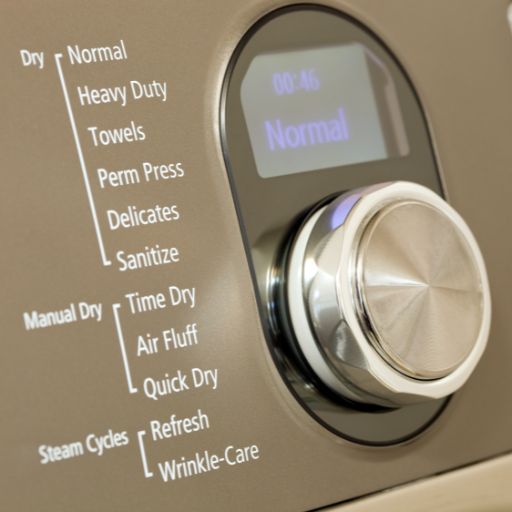 Washing your curtains is optional here; you can directly use the dryer – after you have checked the care instructions on your curtains. If you have velvet curtains, thermal-backed curtains, or any lining inside your curtains, it is best to avoid the dryer.
First, fill the dryer with curtains, but ensure not to overload it. Doing this would resist the free movement of curtains and re-wrinkle the curtains in the process.  
Now put a clean damp towel along with those curtains into the dryer. Make sure that it is not too wet. 
Once again, check that the dryer is not too tight to move. Don't hesitate to take out 1 or 2 drapes if it feels crowded after putting in the towel. 
Set the dryer settings to low heat. The blend of the damp towel and dryer's heat would be enough to create a steamy atmosphere to get rid of wrinkles. 
Run the dryer for 20-30 minutes. Remove the curtains straight away and hang them on the curtain rods. It is okay if the drapes are a bit damp, you can let them air dry on the curtain rod later. 
How to Remove Packing Creases From New Drapes?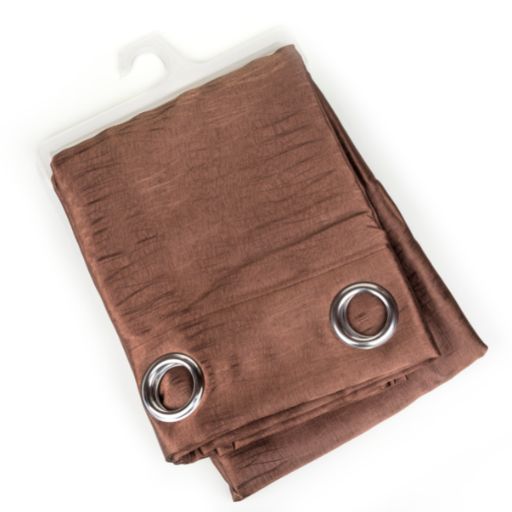 Buying off-the-shelf drapery is undoubtedly easy to hang on drapery rods. Unfortunately, they are full of creases when you take them out of the packaging. These creases stay long after being hung on the curtain rods. 
The easiest way to get wrinkles out of new curtains is to use a handheld clothing steamer. Steam from the top of the curtains to the bottom on the front side. 
For thicker fabrics, you may also need to steam from the underside. 
Remember to always check the care instructions on the labels first. 
How to Get Wrinkles Out of Specialty Curtains
Below is the list of different types of curtain fabrics and their respective best methods to remove wrinkles. 
Blackout Curtains 
Blackout fiber is usually made of multi-layered heavy microfiber fabrics. They completely block the sunlight from entering the room, so they are often heavy and thick. 
A clothing steamer would be the best choice for blackout curtains. You can also use a steam cleaner if the fabric is too thick. The dryer and shower method will also work if there are few wrinkles. 
Sheer Curtains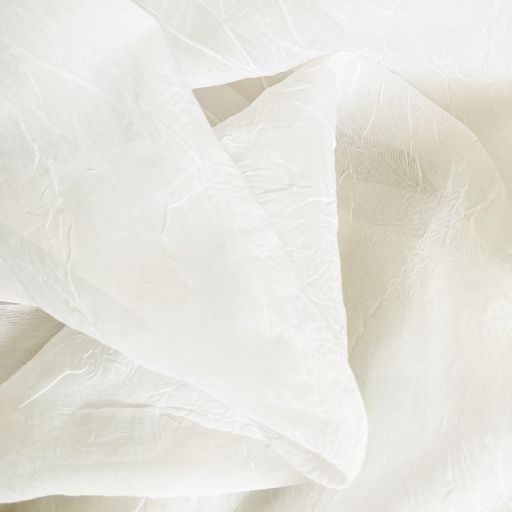 Sheer curtains are made of light fabrics making your room bright and airy. If you are someone who loves to get some filtered Vitamin D, then these curtains are for you. 
A garment steamer is an excellent choice if you want to remove all the creases while hanging. Sheer curtains will also work well with drapery weights and wrinkle release spray. 
Washing sheer curtains by hand or on a gentle cycle in the machine and hanging while still damp is also effective. The curtains usually dry from top to bottom as gravity pushes the water down. This is a natural weight to help the wrinkles drop out of curtains naturally. 
Polyester Curtains 
Polyester is one of the most commonly used fabrics, lasting longer even with minimal care. You can easily remove wrinkles from polyester curtains with the help of a garment steamer. 
Polyester is sensitive to heat, so it should not be ironed without a protectant cloth over the top. I like the Dritz Silk Organza Cloth. Polyester is a man-made fabric that can melt under the heat from an iron. If you are going to iron your polyester curtains, make sure you do so on low heat. 
If your clothes dryer has a permanent press setting, you can also place one curtain at a time in the dryer on this setting. Ensure you remove the curtain as soon as the dryer has completed the cycle. Otherwise, new creases will form.
Some lined polyester curtains state they are dry clean only. The lining can shrink if you wash them and put them in the dryer. You can use a clothing steamer on dry clean only polyester curtains. For longevity of the curtains, it is best to take them to the dry cleaners.
Velvet Curtains 
Velvet is a thick fabric that gives a luxurious look to the house. But it takes a bit of effort to maintain it. If your velvet is dense with many creases, then a steamer (either a clothing steamer or steam cleaner) cleaner is the best choice. 
Top Tip: Steam opposite the nap, so the steam helps lift the fibers and fluff up the velvet.
You can also use wrinkle release spray on velvet or try the shower method mentioned above. Another option if you have a bath is to fill the tub with hot water, hang the velvet curtains over the curtain rod, and allow the steam to rise gradually up into the curtains. 
According to Zebra Blinds, velvet curtains should never be ironed. It is also essential not to put velvet in the clothes dryer – unless you want to shrink it! 
After you have steamed your velvet curtains and left them to dry, you can use a velvet brush to brush up the nap. 
If your velvet curtains are lined, or you are unsure about steaming them at home, err on the side of caution and take them to the dry cleaners.
Thermal Backed Curtains 
Thermal curtains are made of insulated thermal-backed fibers to keep you warm in Winter and cool in Summer. You can use a clothing steamer on the front side of thermal-backed curtains to remove wrinkles. 
Avoid direct heat on the thermal backing. Don't put thermal curtains in the dryer or iron the backing side. A combination method is the best approach for removing wrinkles from thermal-backed curtains:
hang them up as soon as possible
use a clothing steamer to remove wrinkles on the front side
use weights in the bottom to help the creases drop out
Linen Curtains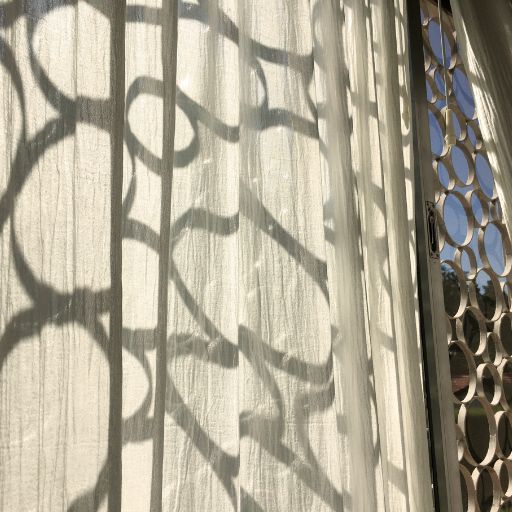 Linen fabrics look fantastic but are prone to wrinkles. Using a garment steamer is the best method for removing wrinkles from linen curtains. Choose the highest heat and steam setting on your steamer. 
You can steam both on the front side and underside of the linen if needed. Linen can also be ironed on a hot setting and sprayed with wrinkle release spray.
Drapery weights work well to keep your linen curtains hanging beautifully. I would use these after either the ironing or steaming method. 
Silk Curtains 
Silk is a thin fabric that gives a luxurious look to your home. It may be expensive sometimes, but it's worth it. Isn't it? 
You can safely use a garment steamer to get wrinkles out of silk curtains as long as you use the lowest heat and steam setting. If your steamer doesn't have multiple settings, hold it further away from the silk.
Avoid using a steam cleaner on silk. The pressure of the steam and extra water may cause water spots on your curtains.
Be sure to vacuum your silk curtains before steaming using a soft-bristled attachment and a low suction setting. 
Silk is sensitive to heat, so never directly iron silk. If you don't have a garment steamer and want to iron your silk curtains, use a silk organza press cloth between your iron and the silk curtains. 
Set your iron to a low heat setting (use steam as well), and iron gently on the reverse side of the curtains. 
Dry Clean Only Curtains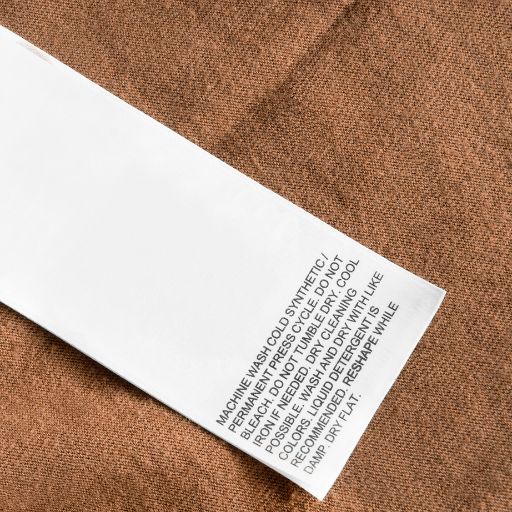 Curtain fabrics mentioned as dry clean only are often sensitive to heat and water. You can easily give these curtains a clean look by vacuuming them on a low setting with a brush attachment and using a garment steamer.
Dry clean only curtains should not be washed in water or put in the clothes dryer. If your dry clean only curtains are expensive, I'd recommend taking them to a professional cleaning service. 
Otherwise, use your clothes steamer to remove creases. Be mindful of any water droplets – try not to get these on dry clean only curtains; it could cause a water stain. The silk organza press cloth I mentioned in this post can help catch water before it hits your curtains. 
Frequently Asked Questions
Can You Steam Curtains? 
Steaming is one of the best and fastest methods to remove wrinkles from curtains. Depending on the fabric of your curtains, you can choose either a garment steamer or a steam cleaner.
Will Creases Drop Out of New Curtains?
You can remove creases from your new curtains just by hanging them. It will take time, but creases will eventually drop out.
I hung blackout curtains straight from the packaging, only to find the wrinkles were still visible several months later.
Hang your curtains straight out of the packaging, but come back with your garment steamer to help remove the wrinkles. 
How Long Does It Take for Wrinkles to Fall Out?
It can usually vary based on the fabric and wrinkle removal method. If you go for washing, shower method, or using weights, it can take 1-2 days. 
For steaming, wrinkle removal spray, or ironing, you can see results immediately after the curtains dry or during steaming and ironing.
As I mentioned above, it can take months for wrinkles to drop out on their own.
Enjoy Your Wrinkle Free Curtains
Curtains accent our room, offer privacy, and help to block out sunlight. Removing wrinkles would aid us in enjoying their appearance to the fullest. 
There are various types of curtain fabrics, and each has its respective wrinkle removal method. So, the whole process can be a bit confusing. 
I hope this complete guide clears any questions and doubts about using a steamer on curtains and drapes. You may also like to check out the guide for the best steamer for curtains and drapes. These choices will make your life a whole lot easier!
Next time you are unclear about the best wrinkle removal option based on your curtain fabric, go through this guide. You will have those perfect wrinkle-free curtains without much effort.