What Floors Can You Use a Steam Mop On?
Cleaning your floors can be an arduous task. From mopping up spills to vacuuming debris, the effort needed for a thorough clean can seem overwhelming.
But what if there was an easier way? What if you could make light work of grime and dirt with one simple tool? Enter the steam mop.
With its powerful steam jets, it promises sparkling surfaces in no time. And it's true. I'm a once-a-wet mop with tons of chemicals converted.
But I learned the hard way sometimes what floors can you use a steam mop on. So here is your ultimate guide.
What Floors Can You Use a Steam Mop On?
Steam mopping is a popular household cleaning technique that provides efficient, hygienic results. However, not all floor surfaces are suitable for steam mopping and could be damaged by the intense heat of the steam.
Before using a steam mop on any surface, it is essential to understand how and when steam can cause damage. Here is our quick table to guide you:
| Floor Type | Suitable for Steam |
| --- | --- |
| Sealed ceramic or porcelain tile | Yes |
| Hardwood | Yes – with caution |
| Laminate | Not recommended |
| Vinyl/LVP | No |
| Linoleum | Yes |
| Marble | Yes |
| Terrazzo | Yes |
| Granite | Yes |
| Polished Concrete | Yes – with caution |
| Waxed Floors | No |
| Limestone | No |
| Sandstone | No |
| Carpet | Some types yes |
| Area Rugs | Yes – it depends on the fabric |
Hardwood Flooring Considerations
Hardwood flooring is prevalent in many households due to its natural beauty and durability.
Unsealed hardwood flooring should never be steamed, along with engineered hardwood.
I have hardwood flooring in my home and use my steam cleaner regularly. The risks associated with this are:
Premature wearing down of floor polish and coatings due to the heat of the steam.
White marks in the wood when the steam mop is left in one place for too long (see the photo below).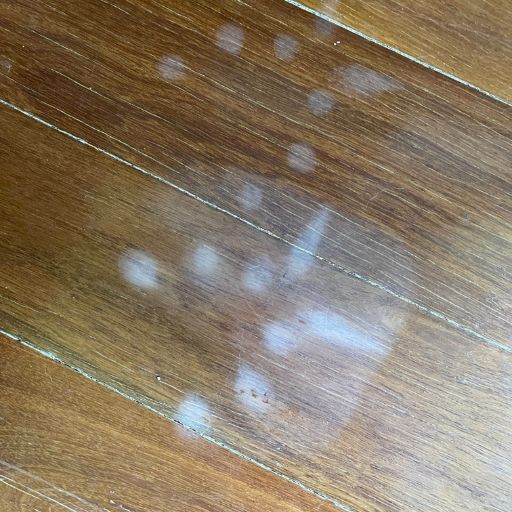 The temperature setting should be adjusted when steaming any timber floor, always use a low steam setting.
Vinyl Floors
Vinyl sheet flooring can be a beautiful addition to the home with its elegant colors and intricate designs. The smooth surface of vinyl floors is ideal for those looking for an easy-to-clean option.
You would think steam cleaning would be suitable for sheet vinyl, but it isn't. The surface of vinyl sheet flooring has a polyurethane coating. The heat from the steam will prematurely wear away this coating. 
Steam cleaning is a no for luxury vinyl plank floors and tiles, primarily for the same reason.
 Ceramic and Porcelain Tile Cleaning
Ceramic and porcelain tiles are standard in many households, providing a durable flooring option that can withstand years of use.
A steam mop is an excellent tool for cleaning tile floors without harsh chemicals or scrubbing.
The following list outlines why steam mopping ceramic and porcelain tiles are beneficial:
Steam cleaning eliminates dirt and grime with ease;
No soapy residue is left behind after cleaning;
It does not require any additional cleaners or solutions;
You can safely clean grout with a steam cleaner.
The high steam temperature helps sanitize surfaces while loosening stubborn stains from tiles and grout lines. 
Laminate Floors
Laminate flooring is an attractive, cost-effective alternative to hardwood floors. However, a few key considerations must be considered when maintaining laminate floors.
Remember that most laminate floor manufacturers do not encourage steam cleaning of their products.
When cleaning laminate floors with a steam mop, the water temperature should never exceed 140°F (60°C). This will help ensure the heat does not damage or warp the material.
The following table outlines some additional tips for keeping your laminate floor in good condition:
| | |
| --- | --- |
| Vacuum regularly | Use a soft brush attachment (no beater) |
| Place rugs near entrances | Reduce dirt tracked onto the floor |
| Wipe up spills immediately | To prevent staining or warping |
| Avoid harsh chemicals | No bleach, vinegar, or ammonia |
It is also important to remember to avoid waxing or polishing laminate floors. These substances can build up over time, causing discoloration and dullness.
Instead, consider using a product made explicitly for laminates, such as Bona Laminate Floor Cleaner or Bruce Hardwood & Laminate Floor Cleaner.
By regularly taking care of your laminate floor, you can keep it looking new for years.
Carpet Care With A Steam Mop
Before using any steam mop on carpeting, it is essential to test an inconspicuous area first to ensure that there will be no discoloration or other damage caused by the heat generated by the machine.
Once this has been established, steam mopping can help keep carpets looking fresh longer than traditional vacuuming alone.
They are great for spot-cleaning stains and penetrating deep into carpet fibers. You will need a carpet glider to use a steam mop on the carpet effectively. Many steam mops include this as standard.
Area Rugs and Mats
When using a steam mop on area rugs and mats, it is crucial to consider the materials they are made from. Natural fibers such as wool can shrink from the high heat of steam.
Polyester and synthetic rugs can be steamed.
Never use steam on Persian rugs; always send these off for professional cleaning.
The textile industry has adopted internationally accepted symbols that provide information regarding how certain fabrics should be cleaned; these same symbols can help guide users wanting to steam clean their rugs.
Concrete Floors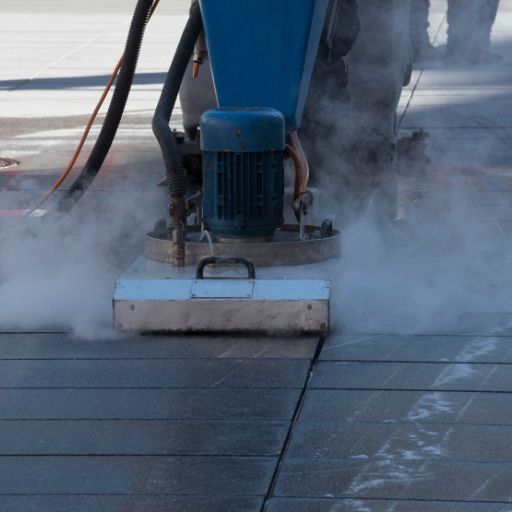 Steam mops are an effective and efficient way to clean hard surfaces, such as concrete floors. The National Concrete Masonry Association (NCMA) reports steam is an effective method for removing dirt and grime from concrete masonry without causing damage to the surface. 
The problem with concrete floors in home and commercial settings is the polished surface.
Like hardwood floors and vinyl, polished concrete has a coating on top. The high heat of steam can cause this coating to wear prematurely, with resealing and polishing needed earlier than usual. 
Linoleum Floors
Linoleum flooring can be safely cleaned with a steam mop. Linoleum is made from natural materials such as linseed oil, cork dust, wood flour, and mineral fillers, making it highly durable and stain-resistant.
These surfaces will not suffer any damage when exposed to heat generated by a steam mop so they can be used confidently. 
Cork Flooring
Cork floors have become increasingly popular due to their durability, thermal insulation, and soundproofing qualities. Cork flooring is typically coated with a layer of polyurethane or wax to protect the cork and enhance its durability.
Polyurethane is a synthetic material that provides a clear, durable finish, while wax is a natural material that gives the cork a softer, more natural look. The coating helps to protect the cork from scratches, stains, and moisture, making it an excellent choice for high-traffic areas like kitchens and living rooms.
Some cork flooring products may also have an additional cork veneer or vinyl layer for added protection and durability.
You risk wearing down the coating if you steam mop polyurethane-coated cork floors. 
Never use steam on a waxed floor – you'll melt the wax and damage the floor.
Marble, Terrazzo, Granite, and Natural Stone
Whereas cork flooring offers softness, durability, and sound absorption, marble, terrazzo, granite, and natural stone offer a more traditional look. While these materials are rugged and durable, they require special care to preserve their beauty.
Marble, terrazzo, granite, and natural stone can be cleaned with a steam mop, provided it has been set on the lowest temperature setting.
It is important to remember that using too much heat or pressure could damage the material's surface. Also, ensure your natural stone surfaces have been sealed and polished before steam mopping. 
How Often Should I Steam Mop My Floor?
Steam mopping floors is recommended once or twice weekly. If you have pets that spend time indoors or live in an area with high dust and pollen levels, you may need to increase the frequency. Some sites may require more frequent mopping due to heavy foot traffic or spills on the floor. 
Can Steam Mops Be Used On Outdoor Surfaces?
Steam cleaners are suitable for outdoor tiles and can clean patio furniture, cars and car interiors, boats, grills, and more. The McCulloch MC1385 has attachments ideal for outdoor cleaning, making it an affordable dual-purpose steam cleaner. 
With so many different flooring types available, it can be challenging to determine which ones are safe for steam mops or steam cleaners.
Before you break out your steam mop, check the manufacturer's recommendations (particularly if you have new flooring installed) to avoid any potential damage.
If you have multiple flooring types in your home, a steam mop with variable steam settings can adjust to each type and help you keep your floors looking fabulous.