Should I Mop Before Steam Mopping?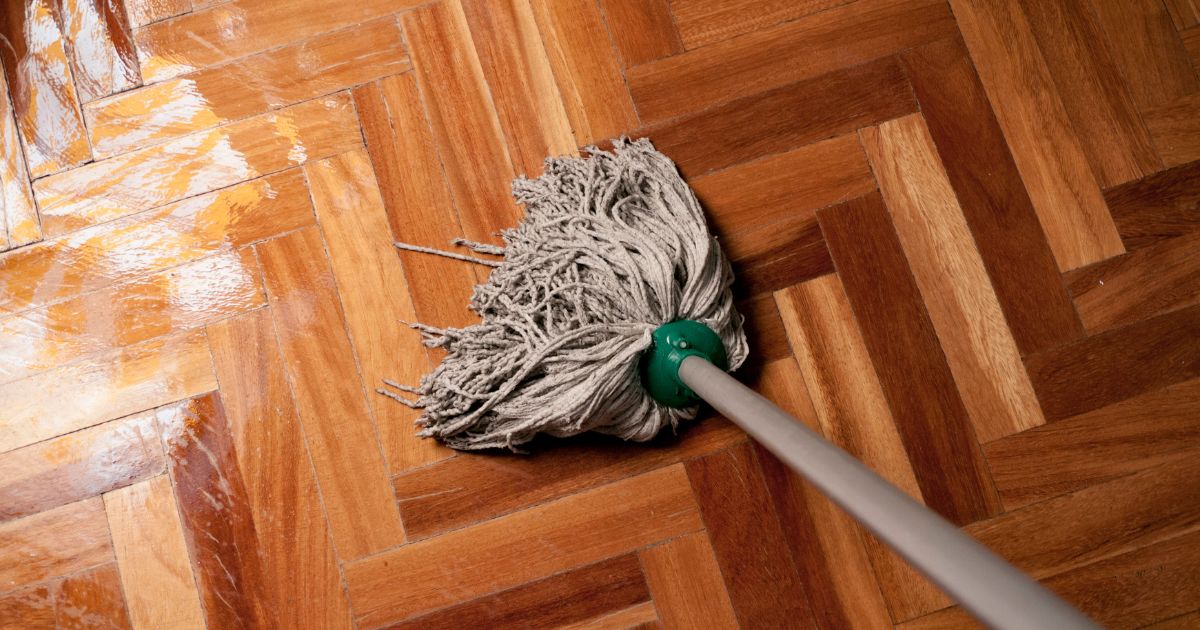 Clean, welcoming, or carefree, your home is the showcase of how you want to live. This is why people enjoy the convenience of a steam mop.
Steam mops make it easy to keep up with the everyday messes life brings and make light work of cleaning. They are lightweight, maneuverable, chemical-free, and easy to use. 
But I am sure most of us have many doubts regarding steam mop usage. I often get asked by new steam mop users – should I mop before steam mopping? What about sweeping or vacuuming too?
In this article, I will clarify your doubts and also provide you with some steam mop usage and maintenance tips. 
How Does a Steam Mop Work? 
A steam mop works by heating water inside to 212°F. Temperatures can vary between models, with some heating closer to 300°F. With steam mops, it takes 30 seconds to 1 minute to heat the water and start producing steam.
Canister steam cleaners hold larger volumes of water and usually heat the entire reservoir at once. Canister steam cleaners take around 7 to 15 minutes to heat the water before it transfers from the reservoir to the mop pad.
The vapor emitted is used to clean the flooring with the help of a reusable microfiber pad or cotton towel. We refer to this as the mop pads, which absorb all the stubborn dirt and tough stains on the floor while the steam simultaneously loosens all of it. 
Heat and moisture from the steam mop work together to loosen up all the dirt, and the mopping pad later absorbs it. Unlike a traditional mop and bucket, a steam mop leaves the floor much drier. The heat from the steam mop also helps in sanitizing the floor.  
Do You Have to Sweep Before Steam Mopping?
Steam mopping without sweeping or vacuuming can be similar to using a dirty cloth to clean a window.
If you don't sweep before steam mopping, the steam mop gradually picks up all the dirt, crumbs, and hair on the floor while inhibiting its cleaning ability. So, it is essential not to miss sweeping or vacuum the floor before you steam mop it. But, you don't need to use a traditional mop before steam mopping.
Should I Mop Before Steam Mopping? 
A regular steam mop primarily uses steam to loosen and clear away the dirt, but it doesn't employ any suction features. So, it is necessary to vacuum or sweep the floor before you steam mop it to ensure a squeaky-clean surface.  You do not need to mop the floor before steam mopping.
Using Steam for Sanitizing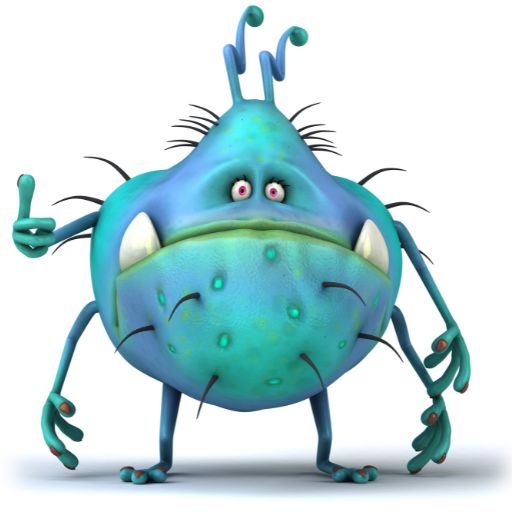 Natural or organic products are in high demand during the past few years, especially with the pandemic.
Many believe that a steam mop can clear away 99.9% of germs or even kill coronavirus. This is technically correct, the process isn't as simple as just running the steam mop on the floor, assuming your job is complete. 
A steam mop kills bacteria and viruses effectively. But it requires you to steam mop slowly by holding it against the floor for 15-30 seconds. If you have delicate flooring in your home such as laminate or vinyl, steam has the potential to damage it.
Surfaces require a constant high-heat for effective sanitizing. With hardwood flooring, exposure to prolonged amounts of steam can cause white marks in the timber.
I have timber floors in my home, and by Vax steam mop has caused white marks when left in one position. So has my commercial steam vacuum, however, this is hotter and more powerful than your average steam mop.
Incidentally, my Shark steam mop has never left a white mark on my timber.
Steam Mop Pros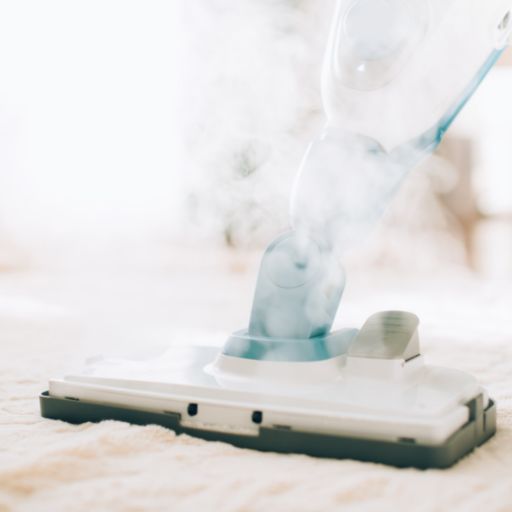 Steam mops require little to no effort to get a very clean floor. A few glides across the floor, and you are done. They are also eco-friendly as they use no other chemicals except water. 
Steam is primarily used in different healthcare provisions and hospitals for quick and easy sanitization. But lately, even single-family homes prefer to use a steam mop for the benefits it provides.  
Best for Tough Dirt, Grease and Grime
Believe me, a steam mop is the best when it comes to tackling stubborn dirt, grease and grime around the home. It also comes with the advantage of a fast drying time compared to traditional mopping.
Safe for Kids and Pets 
A clean and safe space is a must when you have a large busy family. Isn't it? Luckily, steam mops are eco-friendly as they use no other harsh chemicals except water. Your kids and pets can happily have fun on the floor without you worrying about their health. 
Make sure to keep your children and pets away while cleaning as the hot steam can damage their skin. 
Kills Harmful Germs 
As per a study conducted by CDC, almost 1.35 million infections are caused by Salmonella bacteria every year in the US. Fortunately, steam kills Salmonella and other bacteria to help you stay safe and healthy. 
Many other studies prove that steam mopping can kill MRSA and VRE. I promise you will be thanking yourself later, for using a steam mop or steam cleaner to clean your home. 
Less Scrubbing Effort 
Steam mops are easy to use and get the job done with not much effort. Just a little prep and you are good to go. 
You only have two steps to use it. First, fill in the reservoir, and second connect the cord to the power outlet. Simple. Isn't it? 
Steam mopping is not much different to vacuuming, you simply move the mop at a slower pace. It can be done even with a single hand. 
Steam Mop Cons 
There's not a lot of cons to owning and using a steam mop, but here's what you need to keep in mind:
Requires Electricity
Steam mops run on electricity to release constant hot steam. Like vacuuming, it requires unplugging and plugging the steam mop between different power outlets.
You Need to Use Distilled or Demineralized Water
Many steam mop manufacturers don't openly disclose that you need to use distilled or demineralized water in your steam mop to keep it in good working order.
Many people use tap water, and find that their steam mop stops working in a short amount of time.
You need to factor in the cost of buying distilled water. Don't be tempted by tap water – with over 85% of the US having hard water, this will clog your machine quickly, effectively wasting your money.
Having said that, a few dollars a gallon on distilled water is generally cheaper than chemical based cleaning.
Upfront Cost and Ongoing Consumables
Steam mops cost more than your average mop and bucket. There's also the replacement cost of accessories such as mop pads, which should be replaced every 3 months.
If you have a steam cleaner, or a multifunction steam mop, there's replacement brushes such as grout brushes and bristle brushes.
Does a Steam Mop Clean the Floor?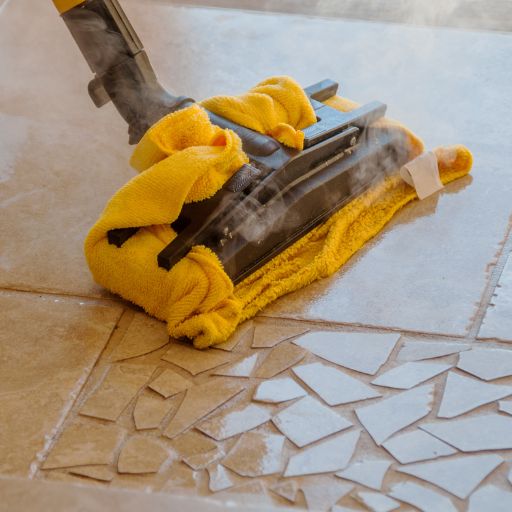 One of the biggest reasons most people opt for steam mops is their efficiency. They are powerful enough to quickly and easily cut through dirt and grime on tile, linoleum, slate, marble, and gentle enough to clean sealed hardwood floors.
Some latest steam mops have modern cleaning features that help you customize your cleaning process such as variable steam settings and the ability to convert to a handheld steam cleaner, for above floor cleaning.
Ultra microfiber cleaning pads break down and absorb stains, dirt, and debris. They only use water to convert steam. There are no harsh chemicals or expensive cleaning solutions – unless you opt to buy scented demineralized water.
Steam mops generally don't leave any sticky residue or streaks after cleaning. Now your kids/pets can freely crawl around the house without risking their health. 
Using just distilled water in steam mops provides a safe, effective, and economical way to clean, and deodorize almost all the surfaces in your home. Just fill the water tank and plug in the steam mop and be ready to clean. 
Steam mops clean almost every surface or floor type. But, there are still some floors that should not be cleaned with steam. These include luxury vinyl flooring, unsealed floors, and anything painted with water based paint.
How to Get the Most Out of Your Steam Mop
Here are some tips and tricks to make the best use of your steam mops: 
If you have stubborn dirty spots in your home, try holding the steam mop for around 8 seconds before gliding. Holding the steam mop in place is best on tile floors.
If you have hardwood or laminate, always keep the mop moving.
Never skip sweeping or vacuuming the floor before steam mopping. 
Change the mop pad regularly. I always buy extra mop pads for my steam mop and change them with each room. With my steam cleaner, I cut up old towels and clip them on to the steamer head – they're not as effective as the microfiber cloths, but are economical and reduce waste.
Always use distilled water or demineralized water to prevent build up inside the steam mop.
Understand that your steam mop pads are rarely going to look like they did when new. I soak mine in warm water and napisan after using (I'm in Australia), before washing them in the machine. Don't use any fabric softener, or dryer sheets on microfiber. In the US, you could try Lysol or OxiClean (Amazon affiliate links).
Is it Better to Mop or Steam Mop?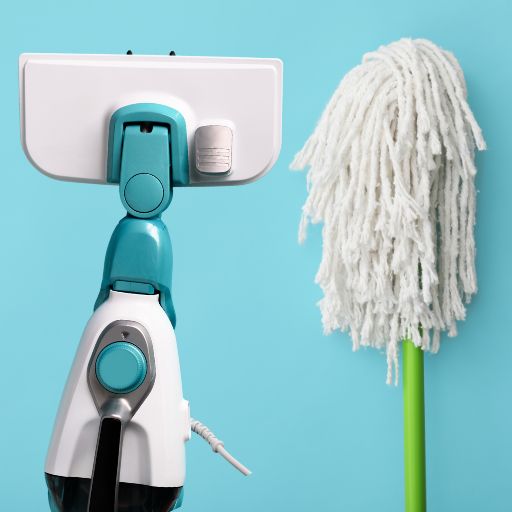 When it comes to the comparison between a steam mop and a regular mop, everyone has different perspectives and reasons. I much prefer steam mopping over regular mopping. How can you compare the heat of steam vs a bucket of water and chemicals?
Here is a comparison between both of them. 
Effort 
Cleaning with a regular mop is quite strenuous and takes more time. Grout cleaning by hand is a tedious process, compared to using a steam cleaner.
Whereas the steam mop doesn't require much labor and takes very less time compared to a regular mop. It moves quite easily and is more effective. 
The Cost 
Steam mops are more expensive in comparison to regular mops. They also distilled water, replacement pads and electricity to run.
Regular mops are more affordable. Comparatively, you have the cost of replacement mop heads, and detergents used in cleaning.
Results 
Steam mops are considered eco-friendly (although one could argue this considering the production of electricity, purchasing bottled distilled water, replacing mop pads, and the eventual sending of the steam mop to landfill at the end of its life).
They are easy to use and save time. The floor also dries fast after cleaning. 
When I switched to using my commercial steam vacuum, I was surprised at the amount of detergent residue that came up off my floors. This is left behind by traditional mopping.
You are also rinsing the mop in dirty water, then putting that back on your floor. Yuck.
In conclusion, I believe it is better to invest in a good steam mop for quick and easy cleaning, or a quality steam cleaner to replace all your detergent based cleaning in the house.