Best Steam Mops Under $100
Looking for a quality steam mop but don't want to break the bank? Look no further! This comprehensive guide will look at 6 of the best steam mops under $100.
We'll discuss what makes each one unique and help you decide which is the best option for your needs. Whether you're looking for a powerful steam mop that can get rid of tough stains or a lightweight model that is easy to use, we have you covered.
Keep reading to learn more about the top 6 best steam mops under $100! 
Steam Mops Reviewed in this Guide
07/22/2023 04:42 am GMT

The Hoover complete pet steam mop tops this list as the most versatile steam mop under $100. I have an almost identical steam mop at home in Australia (Vax brand) and love it. (If you are in Australia, I picked this up at Bunnings for under $100). It can be used as a handheld steamer as well as a steam mop.
With variable steam settings, the steam output is powerful, and on full steam is so hot it has left white marks on my timber floors when I left it in one spot for too long.
The water tank is easily removable and holds enough water to steam for around 15 minutes continuously on the highest steam setting. You can turn the steam setting to lower for less steam output and longer running time. There is also a detergent tank on the back of the machine, which you can add the Hoover detergent for steam mops.
If I had to fault this steamer it is that you have to hold down the lever for continuous steam output. It's not too bad, but can tire your hand if you are doing a lot of cleaning.
Also, the on/off switch is on the top of the machine. Many times when cleaning under chairs, coffee tables, bench seats or lower furniture I have bumped this switch and turned the machine off. This isn't a deal breaker, but be aware of this if buying this steam mop.
Variable steam settings
Steam mop and handheld steam cleaner
Extra attachments for a whole house clean
Includes a carpet glider
Large lift off scrubber for stuck on mess and grout
On/off switch can be easily bumped, turning off the steamer
Need to hold down the trigger for steam to work
Where to Buy the Hoover Complete Pet Steam Mop
Hoover Complete Pet Steam Mop
Variable steam settings
Detachable handheld steamer
Added detergent tank for steam mop
Use on carpet and rugs with included glider
Every basic accessory needed for a whole house clean
Buy on Amazon
Buy from Walmart
We earn a commission if you make a purchase, at no additional cost to you.
07/22/2023 04:42 am GMT

The Shark 3504 is a convenient steam mop that makes light work of cleaning. It is lightweight and easy to push around, covering a large area in a short amount of time thanks to the wide rectangle head.
There are many different models of Shark steam mops, I've chosen the S3504 model because it comes with both the rectangle head and a triangle shaped head for under $100. There are no on/off switches on Shark steam mops, they work by the forward and backward motion of the steamer across the floor, which pumps the handle and generates steam.
Having a Shark steam mop at home also, I enjoy the contoured handle and excellent steam output in larger areas. The double sided mop head doubles your cleaning area before needing to change the microfiber cloth, which is an excellent design by Shark. The swivel head is quite swively – for lack of a better word – sometimes I wish you could lock this into place.
What I find difficult is when you need to slow the mop down and get around tight spaces. As the steam isn't always continuous and relies on the pumping mechanism of the handle, the output drops when going around places like table legs, the toilet bowl and other tight spaces. You can get around this by continuing to pump the handle while the mop is still. With the Shark 3504 steam mop, you don't get the functionality of the two in one steam mop and cleaner like the Hoover featured above.
Overall, Shark is an excellent brand and if it's a simple steam mop you're after, Shark have got you covered.
Fast heat up
Wide double sided cleaning head
Long power cord
Lightweight
1 Year warranty
Doesn't stand up on its own
No extra functions or accessories
Where to Buy the Shark S3504 Steam Mop
Bissell are a leading brand in household cleaning machines, with many variations of steam mops and PowerFresh steamers. The Bissell PowerFresh 1940 model is my choice not only because it is priced under $100, but also because of the flip down scrubber on the back for stuck on messes and 3 steam settings.
The steam settings make the Bissell PowerFresh suitable for use on delicate flooring such as laminate and timber. You can steam for around 15 minutes on a full water tank (16 ounces).
This steam mop also includes two Spring Breeze fragrance discs – the most popular fragrance choice by Bissell. You can put these in the microfiber pad and the hot steam will pass through, releasing a delightful scent as you clean.
NB: When you are ready to buy more Spring Breeze fragrance discs stick with the genuine brand – the cheaper copies smell nothing like the original Spring Breeze scent!
You can also detach the water tank for easy refilling and buy replacement parts (such as a new water tank if you accidently drop it or it gets broken).
1500 watts of steam power for deep cleaning
Long 23ft power cord
3 steam settings and fast heat up time
2 year warranty (longer than Shark and Hoover)
Easy to use scrubbing brush
Mop pads are easy to put on and remove
No above floor cleaning options
Where to Buy the Bissell PowerFresh Steam Mop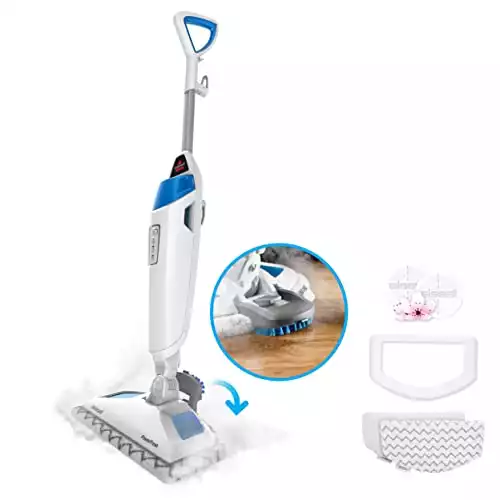 Bissell Power Fresh Steam Mop
3 steam levels
flip down floor scrubber
2 microfiber pads included
2 fragrance discs included
refresh carpets and rugs with the included carpet glider
We earn a commission if you make a purchase, at no additional cost to you.

The PurSteam Steam Mop Cleaner is a versatile steam mop with a detachable handheld unit. The handheld unit can clean tough stains and surfaces in tight spaces, such as corners and crevices. The steam mop also comes with various attachments, including a squeegee, brush, and scrubber, making it ideal for using just one cleaner for a whole house clean.
The PurSteam Steam Mop Cleaner is also lightweight and easy to use. It has a comfortable ergonomic handle and a large water tank (12.8 ounces) that provides between 12 and 25 minutes of steam, depending on the setting you choose. Its three adjustable steam modes (high, medium, low) make it perfect for all types of surfaces. 
PurSteam is a trusted name in steaming appliances, their clothing steamers are incredibly popular and it is no surprise this steam mop is number one on the Amazon best seller list.
Multifunction steam mop and handheld steam cleaner
1550 watts of power
3 steam settings
Trusted brand
Compact to store with a folding handle
Power cord is shorter than other steam mops on this list, at only 15.9 feet
Users have complained it has stopped working after 6 months – make sure you use distilled water or descale regularly
Where to Buy the PurSteam Steam Mop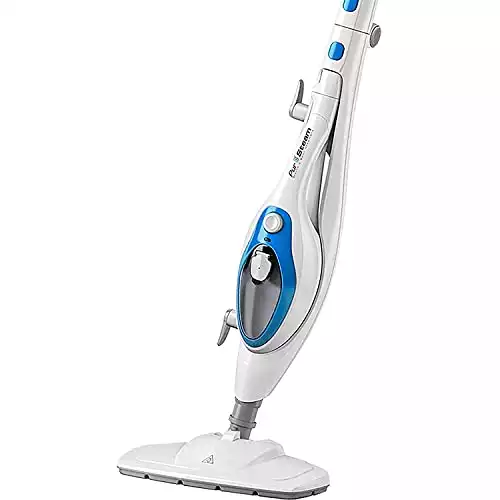 PurSteam Steam Mop Cleaner
Steam mop and handheld steam cleaner
Excellent accessories for above floor cleaning
Affordably priced
Adjustable steam settings
Lightweight
Buy on Amazon
We earn a commission if you make a purchase, at no additional cost to you.
07/22/2023 10:17 am GMT

The Secura Steam Mop is a multipurpose steam cleaner used for various tasks. It comes with a detachable handheld steamer with multiple attachments for cleaning windows, grout, your oven and more. The Secura warms up in 25-30 seconds and provides up to 15 minutes of continuous steam. 
I really like the low mop head and handle design, which lays down almost flat to the floor without lifting the mop head off the floor. This is great for getting under low furniture.
The Secura has a longer power cord than the PurSteam steam mop, holds 10 ounces of water, weighs just under 6 pounds and is easy to store. Priced well under $100 this is one steam mop that is budget friendly, but should also be treated with care.
Multifunction – mop head detaches from steamer for above floor cleaning
Adjustable steam settings
Lightweight at just under 6lbs
20ft power cord
Inexpensive
Plastic parts can easily break – treat with care
Smaller water tank
Not as powerful as other options on this list
Where to Buy the Secura Steam Mop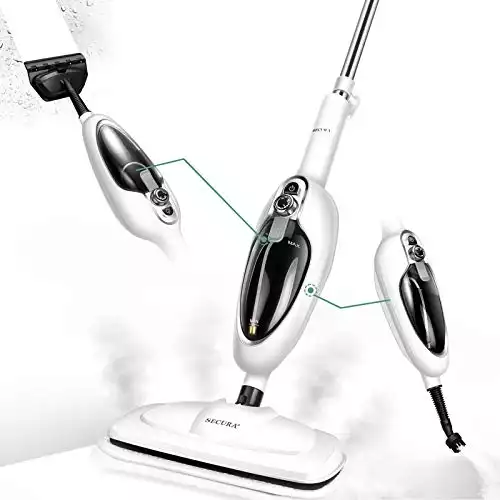 Secura Steam Mop and Handheld Cleaner
Versatile steam mop that converts to a handheld steam cleaner
Attachments for whole house cleaning
20ft power cord
Adjustable steam settings
Carpet glider included
Buy on Amazon
We earn a commission if you make a purchase, at no additional cost to you.
07/22/2023 10:50 am GMT

The Ultralight is a no fuss no frills steam mop from Light n Easy. It is definitely lightweight, at 3.5 pounds, you'll be zipping around the floors with very little effort.
This model is priced well under $100 and in some opinions, you get what you pay for. The steam mop has no on or off switch, so it will start to heat up as soon as you plug in the power cord and turn it on.
It is powered by 1150 watts, which is about the lowest I'd recommend for any kind of steamer. Some users have complained it didn't generate enough steam, or hot enough steam, and that is likely due to the lower power level. Also, you have to use a similar pumping action to the Shark steam mop when you first start to use the steamer.
The power cord is 20ft, comparable to the Secura steam mop and good for smaller rooms. You'll likely need to refill the 7.5oz water tank after each room, but the handy cup and funnel makes this easy.
It comes with two mop pads, I'd recommend ordering an extra couple of sets to have on hand as well.
Very lightweight
Fast heat up
Simple to use
Inexpensive
Includes two 11 inch x 6.29 inch mop pads
Small water tank
Steam head doesn't swivel
Single steam setting
Where to Buy the Light n Easy Steam Mop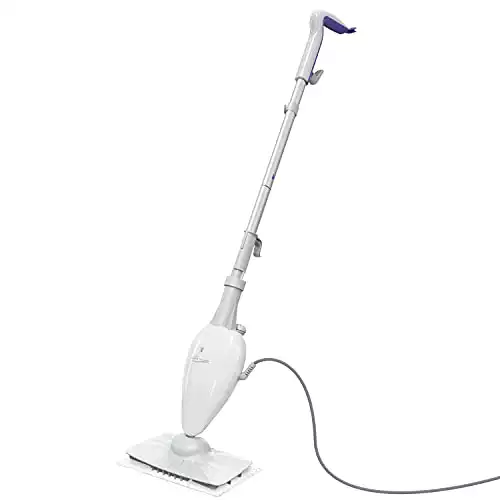 Enjoy Your New Steam Mop Under $100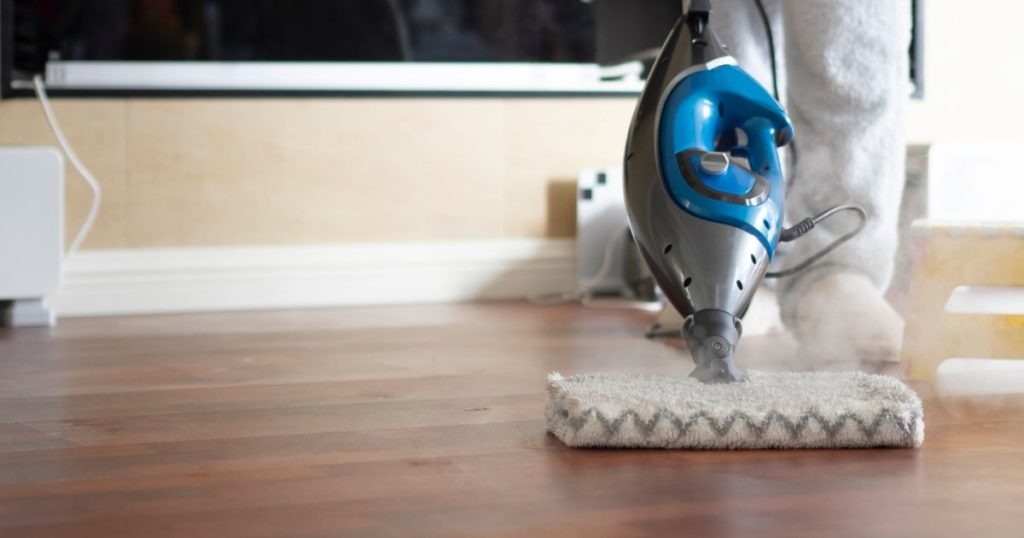 There are plenty of economical steam mops to buy for under $100. Depending on whether you need a steam mop for your floors only, or a multifunction steam cleaner that can clean your bathroom, shower screen, windows and oven, there is something on this list of best steam mops under $100 for everyone.
You'll find plenty more steam mop reviews in my cleaning hub if you need further information or are looking for an individual product review. Check out my Bissell steam mop list for more information on the Bissell PowerFresh models. If you have a particular floor type in your home, I also have information on steam mops best suited to tile, laminate, hardwood and so forth.