How to Steam Clean a Couch
Cleaning a couch can seem like a daunting task, but it doesn't need to be. You can use different methods, such as chemical cleaning, foam cleaning, carbonation, and steam cleaning.
In this post, I will focus on how to steam clean a couch or sofa using a steam cleaner. Steam is highly effective in cleaning even the dirtiest sofas, including stains and odors. 
Can You Steam Clean a Couch?
Before you start steam cleaning your couch, you need to check the labels or tags provided by the manufacturer. This will help you determine if your couches fabric is suitable for steam cleaning.
These codes are: 
W – This means that you can use water or a steam cleaner  
S – These types of couches can be easily damaged by water-based cleaners. Therefore, you should use a dry solvent, especially when removing stains. 
WS – You can use dry or wet cleaning methods on these sofas. 
X – Only suitable for vacuuming since they can be damaged by dry or wet solvents. 
O -These couches are made of organic materials meaning that you should only clean them in cold water. 
Please consult a professional cleaner before steam cleaning any couch made from delicate materials. This includes suede and velvet. 
Vacuum Your Couch
It is essential to vacuum your couch before steaming it. Use your vacuum to remove dust, pet dander, dirt, or other small pieces of debris.
If you don't start with vacuuming, those pieces of debris will make your sofa even dirtier when steaming. You can use a soft bristle brush to help loosen dirt and open the fabric fibers. Use a crevice tool to reach tight spaces.  
When vacuuming, you should use short and slow strokes to ensure that you have covered the whole surface. Flip over cushions and seats and vacuum all crevices. If your vacuum has a brush attachment, use this to help collect pet hair and open up the fabric fibers.
This uproot cleaning tool is also excellent for removing pet hair from couches, carpets and some types of clothing.
Pre-Treat Stubborn Stains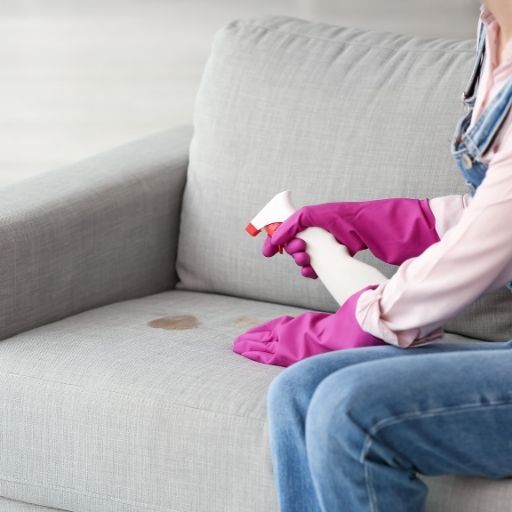 Protein-based stains are common in upholstery. These stains are due to spilled wine, milk, urine, juice, foods, or blood spots.
You can find various stain removal products on Amazon. A good allround stain remover that can be used on lounges, carpets and clothing is the Incredible Stain Remover.
Connect Your Steam Cleaner
After vacuuming and removing odors and stains from the couch, now you can start the steam cleaning process. Add water to the boiler, and connect the steamer to a power outlet. Wait until the maximum pressure or boiler temperature is reached before you start steaming your couch.
If you have a steam vacuum with an upholstery attachment, clip this on to your steam cleaner. An upholstery attachment looks like this:
If you have a steam cleaner only, attach the upholstery tool. It should look like a small part of your window squeegee, or a smaller triangle brush tool. Either way, cover this tool with the fabric bonnet, or a microfiber cloth.
If Your Couch Has Some Odors
Notice some unpleasant smells coming from the sofa when cleaning? Try a home made solution of vinegar and water.
Fill a spray bottle with 1/3 white vinegar and 2/3 water. Lightly spray your couch before steam cleaning. The good thing about vinegar is that it is very effective in removing odors.
The vinegar smell will dissipate with time (and some fresh air, so open the windows).
Start Steam Cleaning Here…
When steam cleaning a sofa, you should start with the loose cushions and the removable throw pillows. Steam on one side, then put them to aside to dry before steaming the other side.
Steam cleaning on its own may not remove all dirt and stains, especially if you don't have a steam vacuum. For stubborn stains, try this oxy stain remover from Rocco & Roxie. It's a little pricey, but you don't need much – and it works.
Move to the larger parts
Once you are done with the smaller surfaces, you can now move to the larger parts of the couch such as the seat cushions, back cushions, arms, sides and back.
Clean it in small portions, covering all areas, and work slowly, allowing the steam to penetrate the fabric.
Leave the couch to dry
Once you are done cleaning, you should leave your sofa to dry. You can use a fan or open the windows to speed up the drying process.  
What is the best steam cleaner for upholstery?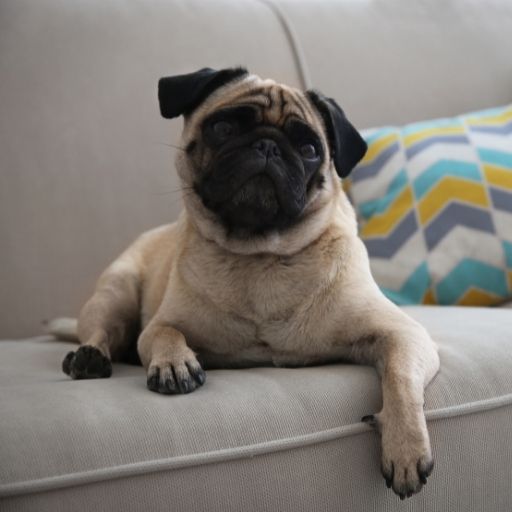 A steam vacuum is the best choice for steam cleaning upholstery. You can use the high heat of steam to sanitize and the vacuum function to suck back up dirt, stains and excess water from your couch. Take a look at these steam vacuum reviews:
Steam vacuums can be quite pricey however. Many people choose a hot water upholstery cleaner instead, such as the Bissell Pro Heat Carpet and Upholstery cleaner instead.
What makes the Vapor Clean Desiderio Plus better than the Bissell Little Green Proheat? 
In terms of performance, the Vapor Clean Desiderio Plus provides a higher steam temperature of 318⁰F and a steam pressure of 75 PSI. As a result, it is more effective than the Bissell Proheat. The Bissell Pro Heat uses hot water, not steam. Besides that, the Desiderio Plus is among the most powerful steam cleaners meaning that you can use it for residential and commercial purposes.  
When cleaning, the Bissell Little Green uses Heatwave Technology to maintain the water temperature, but it is not a steam cleaner. On the other hand, the Vapor Clean Desiderio Plus provides a continuous refill, so you don't need to stop and wait for the steamer to cool down before refilling.  
Unlike the Bissell Little Green, the Desiderio Plus has better features such as the dual tank, wet/dry vacuuming, powerful heating element, and a long steam hose. It is also heavier since it is made of top-quality materials. Due to its unmatched quality, the Desiderio Plus comes with a 5-year warranty. It is indeed built to serve you for decades.  
What are the advantages of steam cleaning couches?
There are many benefits of steam cleaning couches which include; 
Effective in removing dirt and dust – One of the significant benefits of steam cleaning is that the hot steam can remove dirt and dust traces from your sofa altogether.  
Takes less time – Compared to cleaning your sofa manually, steam cleaning gives you excellent results within minutes. Again, you do not need to wait for days for the couch to dry. 
Ability to kill bacteria – When steam cleaning, you can extinguish all microorganisms such as bacteria, germs, viruses, etc. This might not be possible when using water and cleaning detergent only. 
Removes stains and odor – A steam cleaner will give you incredible results if your sofa has tough stains or an unpleasant smell.  
How to take care of couches and upholstery
Sofa or couches plays an essential role in our living rooms. Therefore, you need to ensure that they are always in good condition. To achieve this, you should do the following; 
Vacuum regularly – Vacuuming your sofa every day is a perfect way to ensure that it is always in good condition. This will also prevent the accumulation of dirt and dust, making it difficult to clean. Apart from avoiding the buildup of dirt, vacuuming also helps control dust mites and other microorganisms from infesting your sofa. Some of these microorganisms may cause damage to the couch or allergic reactions in your family. 
Treat the material – Once in a while, you should treat the fabric using a suitable fabric conditioner. You should choose a conditioning agent according to the type of materials. You may also use a fabric protector spray to prevent stains or watermarks.
Throw blanket or Couch Cover – A throw blanket or couch cover over your sofa can help trap dirt, pet hair, and debris from embedding into the fabric. This makes your work easier since you only need to clean the cover instead of the sofa. The Ameritex Waterproof Dog Bed Cover Pet Blanket for Furniture is among the best-selling models.  
Stains protector- If you have kids who are likely to spill fluids or food on the couch, you should always have a good stain cleaner like the Extra Strength Fabric Protector Spray 32 oz. This product can repel liquids, and it is also among the most effective in preventing stains. 
Slipcover- Even if you use an old sofa, using a slipcover will enhance its appearance. These covers are also affordable and easy to customize according to the design of your sofa. The Easy-Going Sofa Slipcover Reversible Sofa Cover Water-resistant Couch Cover is among the best on the market. 
How to Clean Your Couch Without a Steam Cleaner
You can use different methods to clean your upholstery apart from steam cleaning. These methods include; 
Spot Cleaning: Using a cleaning shampoo is one of the simplest methods to clean your sofa. Follow these steps when cleaning; 
Mix the right amounts of the cleaning shampoo or detergent with water 
Dip a clean cloth in the mixture and then use it to wipe the sofa. 
Foam cleaning: When using this method, you just need to wipe the couch using a foam solution. It is one of the most effective methods of removing tough stains. However, this method can cause damage to the material since it exposes the couch to a lot of moisture. 
Dry cleaning: This method is almost the same as foam cleaning, but it is safer since you don't need to use water. Instead, just sprinkle a cleaning powder on the surface to remove stains. After that, you need to use a vacuum cleaner to get rid of the powder.  
Frequently Asked Questions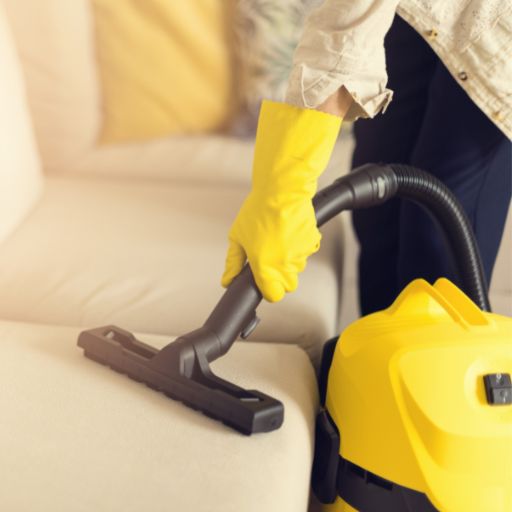 Is steam cleaning good for couches? 
Yes, steam cleaners are highly effective in removing tough dirt, odors, and stains from the surface. However, check the tags to ensure that the materials are suitable for steam cleaning.
What is the best steam cleaner for couches and upholstery?
If you are searching for the best steam cleaner for couches, the Vapor Clean Desiderio Plus will give you the best value for your money. Compared to other models, it is the most powerful. Again, it has more advanced features meaning that you can use it even for commercial cleaning tasks.
How often should you steam clean a couch? 
If you have pets or kids who play a lot on your couch, you should steam clean it frequently to ensure that it is in good condition. However, you should steam clean it once or twice per year if it is not too dirty.  
How long does a coach take to dry after steam cleaning? 
Most couches will require 5-6 hours to dry, depending on the material and the weather.
How do I choose the best steam cleaner for couches and upholstery? 
When searching for the best steam cleaner for couches, the first thing you need to check is the following; 
Flexibility – One of the most important things you should consider is the flexibility of the steamer. It should allow you to navigate even the inaccessible parts of the couch. You should also check the length of the cord to ensure that it is flexible enough for navigating even the tight spaces. 
Run-time – The run-time refers to the number of hours or minutes you can use the steamer continuously without refilling. This is typically determined by the water tank capacity. Therefore, you should ensure that the tank can accommodate enough water for cleaning your sofa. The best ones should have a 25-35 ounce water tank. 
Portability – You don't need a cumbersome machine for cleaning couches. It should have a lightweight and compact design since, at times, you may need to use it for long hours. 
Accessories – Ensure that the unit comes with all the necessary attachments suitable for different upholstery materials.  
Final Verdict 
Steam cleaning is the most effective way of cleaning your couches and upholstery. Since it uses steam instead of water, it doesn't cause damage to your sofa. Apart from that, you can easily reach all the parts of your couch, including tight spaces.
Now that you know how to steam clean a couch, it's time to get started! Follow the steps I have outlined, and you'll get excellent results.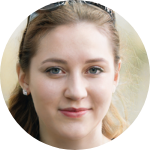 About the Author
Hi I'm Lauren. Passionate organizer, t-shirt folder and owner of a commercial garment steamer, steam cleaner and handheld steamer. I'll discuss all things steaming, so if you need help with buying or using a clothing steamer or steam cleaner, I'm here for you. Please join me on Facebook and don't hesitate to reach out if you have any questions. Happy Steaming!