Desiderio Steam Cleaner | Vacuum + Steam Cleaning in One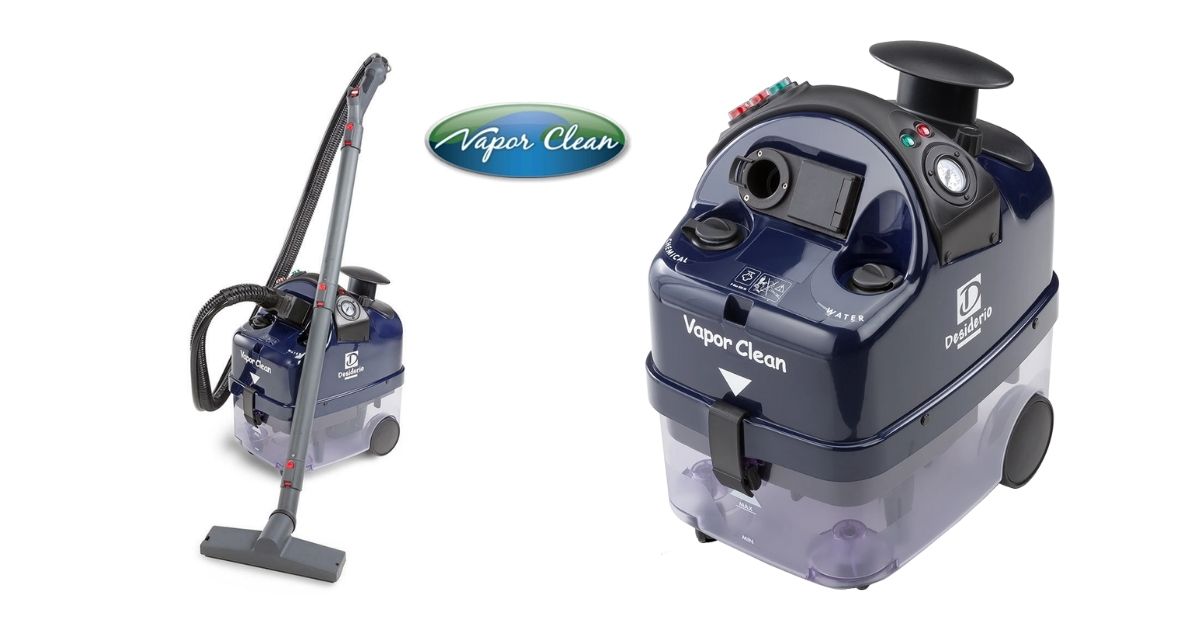 The Vapor Clean Desiderio Plus is not your average steam cleaner. It combines powerful steaming performance with water or detergent injection and vacuum function for a complete cleaning system in one machine. 
In terms of performance, the Desiderio Steam Cleaner is undoubtedly among the best dry vapor steam cleaner and vacuums on the market. 
If you offer steam cleaning services or are looking for a powerful cleaning machine for residential or commercial cleaning, this machine will give you unmatched value for your money. 
In our Vapor Clean Desiderio Plus Steam Cleaner review, we shall look at the main features that set it apart from its competitors. Check its features below. 
Specifications
| Specification | Vapor Clean Desiderio |
| --- | --- |
| Dimensions | 18 inches x 11 inches x 14 inches |
| Weight | 30lbs |
| Power | 1700 watts |
| Reservoir Capacity | 91 ounce boiler / 50 ounce reservoir |
| Pre-heat Time | 12 minutes |
| Power Cord | 17ft |
| Steam Temperature (Boiler) | 318 degrees Fahrenheit |
| Steam Tip Temperature | 240-290 degrees Fahrenheit |
| Max Operating Pressure | 75PSI |
| Outer Casing | ABS Plastic |
| Boiler Construction | Stainless Steel |
| Certifications | UL Certified |
| Warranty | Up to 5 years (parts) Lifetime for Boiler |
| Country of Manufacture | Italy |
5 Functions of the Desiderio Steam Cleaner
The Desiderio can clean effectively in various ways by combining both steam and vacuum functions. The result is that the device can safely be used with just water, or you can use a cleaning solution to achieve sanitizing purposes. This innovative approach allows you to use harsh chemicals on your own terms! In short, this machine can:
Deliver steam on its own for steam cleaning
Work as a stand-alone vacuum
Steam and vacuum at the same time
Steam with detergent added at the same time
Wash with detergent and water and vacuum at the same time
It is a popular choice for car detailers but is also worthwhile considering for home use. The Desiderio can replace your steam mop, handheld steamer, and vacuum, all in one compact package. 
Pros and Cons
Here are the best and worst features of the Desiderio Steam Cleaner. Scan these pros and cons before diving deep into the nitty gritty of all the features:
Pros
Up to 1700 watts power 
Commercially rated, quality machine

Flexible 5ft vacuum hose 

High steam temperatures up to 318⁰F, with a tip temp up to 290⁰F
High impact ABS casing 

Multipurpose steam cleaner, vacuum and water or detergent injection

Two-stage filtration system 
5 years warranty on parts
Lifetime warranty on the boiler
Italian made
Cons
Initial heat up time around 12 minutes
Heavy – weighs 30 pounds with a full boiler tank
Hose can be heavy for overhead cleaning, especially if you are shorter and not particularly strong
Lifting the top section of the machine off to empty the collection tank can also get heavy
Any repairs after the first year attract a labor charge
Having used a very similar design steam cleaner (I have tested the Maxima Athena 8) I have to agree with some of the reviews – the top was heavy to lift and overhead cleaning was tiresome. Having said that, the steaming power of these commercially rated steam cleaners don't compare with your everyday steam mops and cleaners. The giant steamer head had my floors clean in half the time, compared to a steam mop. I won't be going back to using a standard steam mop.
If you are considering this machine for use at home, take a look at the Vapor Clean Pro7 Steam Vacuum instead. It has more of a sleeker vacuum like design, which is not as weighty as the Desiderio.
Desiderio Steam Cleaner Design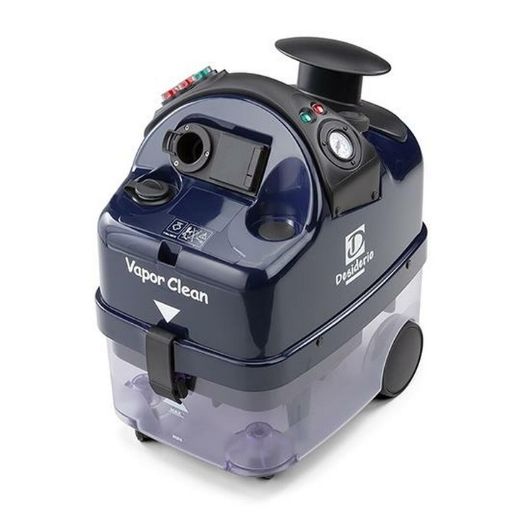 To look at the Desiderio steam cleaner, it appears quite plastic. But that is not a reason to discount this machine. The plastic exterior is crafted from high-impact ABS housing – the same material that helmets are made of. It is tough and durable. 
It is very compact in size for a steam cleaner with so many capabilities. Measuring 11.5 inches wide x 18.5 inches tall and 14 inches in length, you can easily store, transport, and maneuver this unit. 
One design flaw is the positioning of the chemical tank reservoir. When using the vacuum extraction hose, this is positioned right above the opening for the chemical tank. If you need to refill this tank while in use, it is easier to disconnect the vacuum hose. A minor design flaw to be aware of.
Also, it is top heavy. Weighing 30 pounds when the boiler tank is full, majority of that weight is in the top section of the unit, which you will need to lift off when emptying the water from the collection tank underneath.
Vacuum Capabilities
The commercial-grade two-stage vacuum is suitable for people who have a lot of allergies or asthma sufferers. The bag less water filtration system traps dust, pollen, and microscopic particles. It has an adjustable dial setting that allows the user to adjust the desired suction intensity level. For example, you can turn it on to full suction when steam cleaning and extracting water from carpets or flooring and light suction when cleaning curtains and drapery.
Performance  
With the Desiderio steam cleaner, you can easily deep clean even the dirtiest surfaces. You can also use it to remove even the toughest stains and kill bacteria, mold, mites, etc. This is because it uses super-hot steam up to 318⁰F.
You will also be pleased to note that you can use it to clean wet messes like when using a shop vacuum. This means that you can use it to vacuum liquids and dry debris and dirt particles. After vacuuming, the captured dirt is stored in the collection reservoir. It is a desirable option for both commercial and residential cleaning with essentially two machines combined into one. 
You can use the Desiderio steamer at 1000 watts or press the boost button for an additional 700 watts of power, bringing the total to 1700 watts for outstanding cleaning ability. Even though this is a high powered steam cleaner, you don't need any special electrical outlets – it is designed to plug straight into a standard 3 prong wall outlet.
I rented carpet cleaners in the past: the Desiderio Plus cleaned up what those machines leave behind.
Residential Use
Even though the Vapor Clean Desiderio Plus Steam Cleaner is suitable for commercial cleaning purposes, you can also use it at home. Clean kitchens, living rooms, carpets, furniture, appliances, bathrooms, and countertops, just like you would with a standard steam cleaner. The steam and vacuum combination is an excellent choice for steam cleaning couches.
If you have a large home, use the vacuum and steam function at the same time to cut down on cleaning time.
Commercial Uses
Since this machine is more powerful than some other steam cleaners, it can easily handle complex commercial cleaning tasks such as; 
Restaurants and hotels – A powerful cleaning machine like the Vapor Clean Desiderio Steamer removes dirt from the floor, carpets, bathrooms, mattresses, and bedding. It is very effective in killing microorganisms such as bedbugs and dust mites which may cause allergies. 
Pest control – You can use this machine for safe and natural pest control without costly chemicals and poisons.
Auto Detailing – The Desiderio is a popular choice among car detailers, combining all the benefits of steam cleaning, vacuuming, and carpet shampooing with extraction in one compact unit. You can also use it on engines, rims, and car exteriors.
Save Time with Continuous Refill 
The continuous refill boiler is another incredible thing you will absolutely love about this unit. You don't need to wait for the steam cleaner to cool down and depressurize before refilling with water. Simply fill it up when the water gets low, wait for the unit to build pressure, and continue cleaning. As the boiler has already heated, it takes next to no time to rebuild pressure and you can get back to steam cleaning.
The water is pressurized up to 75 PSI, enabling it to reach high temperatures up to 318⁰F. You will hear an audible signal when it is time to refill the 91 ounces (2.7L) boiler tank. There is also a 50 ounce reservoir that you can use to continuously refill the Desiderio steam cleaner. Top this up regularly and you're more likely to run out of steam before the machine does.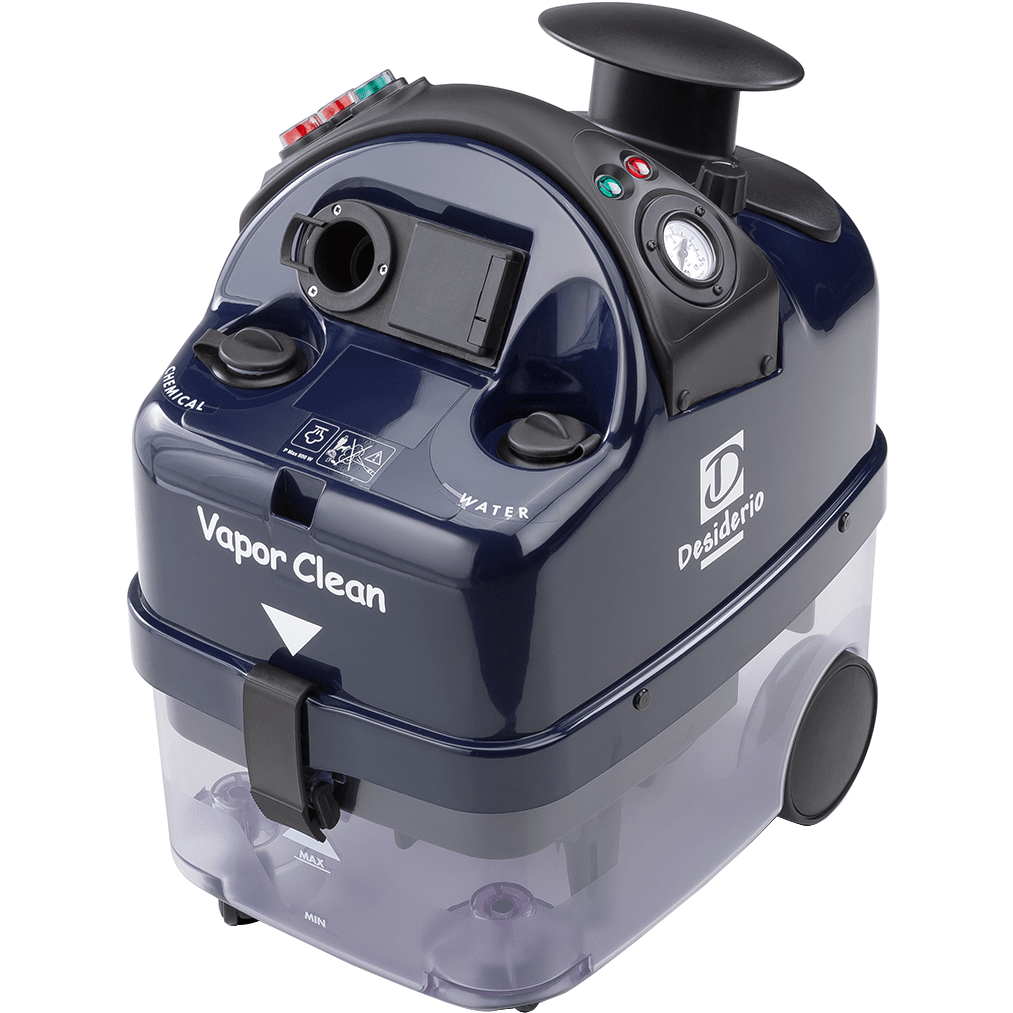 Inject Additional Water or Detergent
Unlike most dry vapor steam cleaners, the Desiderio Steam Cleaner allows you to inject detergents and water. It has a separate reservoir tank (50 ounces/1.5L) for detergents and another one for water. If you prefer to clean without detergents, you can simply put water in the chemical tank. This allows you to inject more water into the steam for areas that need more of a wash down after steaming.
Adjustable Steam
There is a steam adjustment knob that you can use to adjust the amount of steam you want according to your cleaning requirements. The lower the steam output, the lower the PSI. If you turn down the PSI a little, you will not need to stop and wait for the pressure to rebuild as much. Also, if you don't let the pressure reduce to zero, it will rebuild faster. 
Another thing to keep in mind, lower steam pressure results in a more consistent higher temperature and drier steam. Most cleaning jobs can be achieved using low and medium steam pressure. 
Accessories  
The Vapor Clean Desiderio Plus comes with 19 accessories which include; 
Upholstery/ deep cleaning tool 
Round brush with hard bristles  
Rectangular brush complete kit 
Turbo brush for carpets
½ small brush for lance 
2 extension tubes 
Microfiber towels 
 Stiff triangle bush insert 
Curved detail attachment 
Microfiber towels 
Nozzle with ½ brush 
Self-lubricating O-ring 
Small brush for nozzle 
Boiler fill bottle 
Window cleaner  
Warranty  
Crafted from an 18/10 grade stainless steel with 12/10 thickness, the boiler on the Desiderio steam cleaner comes with a lifetime warranty on the boiler tank. There is a 1 year parts and labor warranty if anything goes wrong within the first year. After that, the parts are covered for an additional 4 years, but labor will apply. 
The ABS plastic housing, commercial grade fittings, and lifetime warranty on the boiler give confidence that the Desiderio steam cleaner is built to last. 
Operating the Desiderio Steamer 
This machine is straightforward to use once you get the hang of it. There are different buttons for vacuum, steam, water, and/or detergent injection, so familiarizing yourself with these is the first thing you need to do. 
There are different setups for cleaning, such as having the steam come out of the floor tool directly onto the flooring. Alternatively, a small attachment can change the steam coming out of a sprinkler-style nozzle, which is excellent for lightly spraying carpet. 
You can speed up the preheating process by pressing the superpower button on the boiler. Wait for the boiler to attain the required temperature. Once it is ready, the green light indicator will illuminate so that you can start cleaning. 
The first thing you need to do is to attach the appropriate accessory that matches the type of cleaning you want to do. After that, use the buttons on the handle to operate the unit. Press the red button to release steam or the white one when you want to vacuum the surface. The detergent water switch provides water or detergent. If you're going to steam and vacuum simultaneously, you should press the red button. The white button delivers detergent/water, and it also allows you to vacuum at the same time. If there is no water or detergent in the tank, the appliance will produce an audible alert. 
Watch the Desiderio Steam Cleaner in Action
Maintaining the Boiler 
The stainless steel boiler is one of the most important parts of the Desiderio Steam Cleaner. If it is not functional, it will affect the unit's overall performance. To ensure that it is working as required, you should service it after 300 hours of operation or every 6 months.  
If you use hard water frequently when steam cleaning, you should try to service it more regularly. When cleaning it, you should use a de-scaling product recommended by the manufacturer. Remember to disconnect the appliance first from the power source when performing any maintenance tasks such as cleaning. 
What is the Difference Between Desidero Plus and Desiderio Auto? 
The Vapor Clean Desiderio Plus and Vapor Clean Desiderio Auto have similar features. The auto is designed for automotive detailing and therefore lacks the injection feature for deep cleaning. 
Besides that, it takes just 9 minutes to heat up, while the Desiderio Plus takes 12-14 minutes. Overall, the Desiderio Plus has better functionality than the Desiderio Auto.  
Final Verdict: What Makes the Vapor Clean Desiderio Plus Unique? 
Compared to other dry vapor steam cleaners, the Vapor Clean Desiderio Plus is truly the best. It is more powerful than the rest, making it perfect for commercial applications. If you are looking for a steamer with vacuum function, the Desiderio steam cleaner gives you the best value for your money. It is comparable to the Dupray Carmen Inox and Reliable Tandom Pro, both of which are around twice the price.
 The Desiderio steamer provides a high steam temperature, which kills all microorganisms when cleaning. Besides that, it comes with a 5 year warranty on parts and a lifetime warranty on the boiler tank. In terms of price, it is more expensive than a standard steam cleaner, however, you are getting the vacuum function, and detergent injection function built in. With these features combined, it will give you unmatched results when cleaning or disinfecting even the dirtiest surfaces.
You can purchase the Desiderio steam cleaner online at Sylvane with free shipping in the USA.