Can You Use a Steam Mop on Peel and Stick Tile?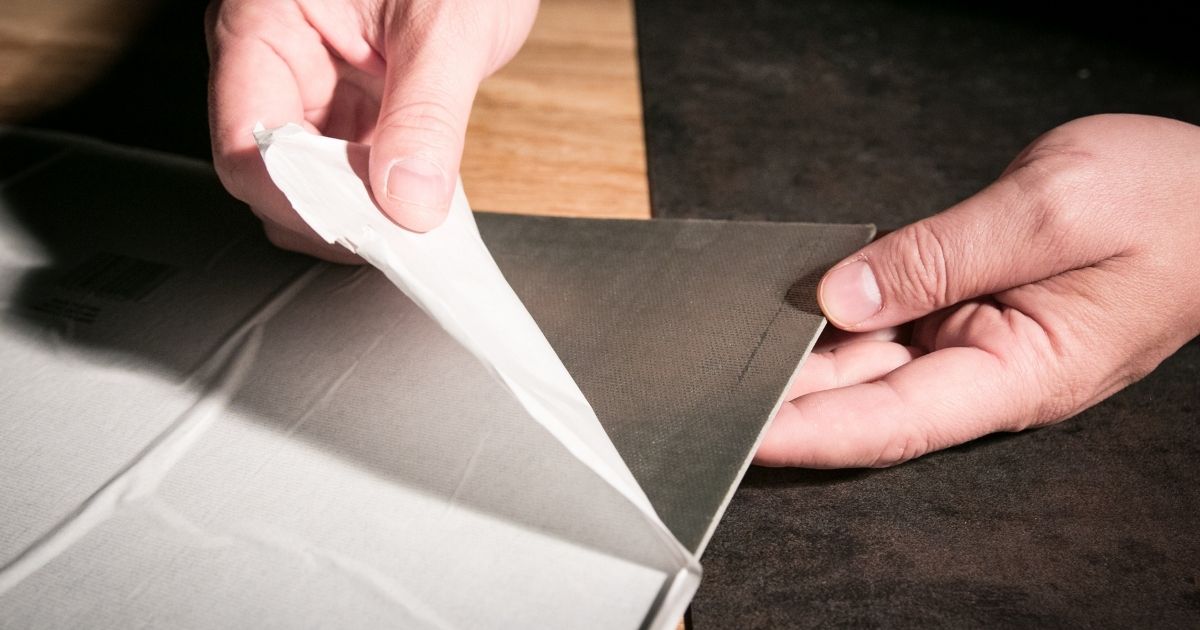 There are lots of benefits to peel and stick floor tiles. They are relatively affordable, simple to install, and low maintenance. But can you use a steam mop on peel and stick tile? Unfortunately, no.
Using a steam mop on peel and stick tiles will cause the adhesive to melt, resulting in loose and warped floors. Tiny water droplets could also wedge under the tiles causing buckling. Peel and stick tiles should be cleaned using a damp microfiber mop and pH-neutral cleaner.
How to Clean Peel and Stick Tile Flooring
Here are a few tips for the general care and maintenance of your peel and stick vinyl tiles. Using the correct cleaning tools will prevent damage to your floor. Correct tools include:
a mop
a dust mop
a soft-bristled broom
a vacuum cleaner
Suggested floor mop for self adhesive tile floors:
The heat from steam cleaner mops will cause the adhesive to loosen. Soft bristle brooms and vacuum attachments are best for removing dust and debris from your tile surface.
Corn brooms and rigid plastic vacuum attachments can cause scratches to your peel and stick tile. Regularly sweep, vacuum, and damp mop your floor using a household cleaner safe for vinyl. The use of detergents or soaps will dull your floor, leaving a haze on the surface. 
A pH-neutral cleaner combined with a damp mop will help to remove sediments on the stick on flooring. Chemicals should not be used. As vinyl tiles are finished with a protective coating layer on top, you should avoid using beater-style vacuums. These can wear down the top coating causing damage to the flooring.
Suggested pH-neutral cleaner:
It is vital to protect your floor using felt pads on furniture. Soft sliders are recommended to move large objects across your floor. Your warranty could be voided if the furniture is not protected using the recommended methods.
With proper care and maintenance, peel and stick tiles can last for years to come.
Types of Peel and Stick Flooring
The most prevalent type of peel and stick tiles are the ones that look like timber, marble, or ceramic tile. You can also get cork, rubber, and linoleum peel and stick tiles. 
In 2022, newer luxury peel and stick tiles have been released, made from real stone, stone look tiles, aluminum, and glass. These are designed more for wall use, often with glass peel and stick tiles needing grouting.
Vinyl Tile Flooring
There are generally two types of vinyl tiles, solid vinyl and vinyl composition. Depending on the quality of peel and stick vinyl tiles you choose, the composition of vinyl could be as little as 11 percent or up to 55 percent. 
Peel and stick vinyl also contains fillers, stabilizers, pigments, plasticizers, and vinyl resin.
Vinyl floor covering will last around 5-10 years. The quality of the product you buy, the installation process, and wear and tear can affect the longevity of your vinyl tile flooring. 
Linoleum Tile Flooring
This all-natural resilient floor covering option is available in self-adhesive tile form. It has much of the residential or commercial properties of vinyl. In fact, sometimes lino and vinyl are considered the same thing. 
This isn't the case, however. Linoleum is a natural product that contains linseed oil, wood flour, and ground cork dust, among other natural products. 
Using a steam mop on sheet linoleum cleans it nicely. With linoleum stick on tiles, you have the same problem as with vinyl – the heat from the steam mop may loosen the glue, causing the peel and stick tiles to loosen, lift and warp. 
For this reason, I don't recommend using a steam mop on peel and stick lino tiles. 
Cork Tile Flooring
Cork is a relatively soft material but still durable due to its multi-functional capabilities. Cork can be sealed against staining with a clear protective coating. 
Cork comes from the bark of oak trees. As a natural product, it is inherently absorbent, so it should be maintained with a clear protective sealer annually. 
Like vinyl, do not wet mop cork. This is simply too much water. Likewise, using a steam mop on peel and stick cork flooring isn't advised. 
You may not see instant damage, but the heat from a steam mop can penetrate between tiny gaps between the cork tiles. This can cause your cork tiles to swell and warp.
Stick to a Swiffer style soft mop and a pH neutral cleaner for cork tiles.
Rubber Tile Flooring
I feel like a broken record here, but a steam mop should also not be used on rubber tile flooring. Again, heat and moisture from the steam can get in between the rubber tiles and cause lifting, swelling, and warping. 
The best way to clean rubber tile flooring is with a soft microfiber mop. This will glide effortlessly over the rubber, collecting dirt and dust as you sweep. 
Like the other peel and stick tiles mentioned in this article, use a pH-neutral cleaner and a damp Swiffer style mop if needed. 
What Do You Clean Peel and Stick Floors With?
Sweep or vacuum your peel and stick floor tiles using a soft brush, microfiber pad, or suction only setting on the vacuum.
Use a pH-neutral cleaner to spot clean any stubborn dirt and stains. Don't wet mop peel and stick flooring. Use a dry mop or damp microfiber pad.  
Can You Steam Clean Peel and Stick Wall Tiles?
A handheld steam cleaner should not be used on peel and stick wall tiles. Even if they are good quality peel and stick tiles that can be used on both walls and flooring, the heat from a steam cleaner will cause the glue to loosen, and the tiles will eventually fall off the wall. 
Also, many vinyl peel and stick tiles require 100lbs of pressure rolled over the surface of the tiles to bond them to the underfloor. Trying to do this on a wall would be rather tricky. 
Cheap dollar store self adhesive wall tiles should definitely not be steam cleaned.
If I Use Extra Adhesive With Peel and Stick Tile Can I Steam Them?
The adhesive on the back of the tile is typically sufficient to hold the tile in position without the need for extra glue.
Basically, any heat over 85°F (29°C) will start to affect the glue bond on your tiles. 
I wouldn't recommend using a steam mop on peel and stick tiles unless you can find glue that can withstand temperatures above 212°F. Most steam cleaners heat up to this or higher.
How to Make Peel and Stick Tiles Shine
Gloss or satin floor finishes will help vinyl peel and stick tiles retain their shine. Avoid traditional soap-based cleaners, as these can cause a build-up of film on your vinyl stick on tiles, causing dullness over time.
Murphy Oil is a terrific option for peel and stick tile cleaning. Murphy's oil is made from 98% natural ingredients.
What Cleaning Products Should Not Be Used on Peel and Stick Tiles?
Aside from not using a steam mop on peel and stick tiles, you should also avoid:
Bleach
Abrasive cleaners and powders
Some oil-based cleaners
Detergent based cleaners
Does Peel and Stick Vinyl Require Grout?
No. Unlike actual tile, peel and stick vinyl flooring doesn't require any grout at all.
Armstrong Flooring offer a tutorial on using grout with peel and stick tiles, by using standard tile spacers and premixed flexible grout. This is different to traditional mortar based grout.
An ammonia based cleaner can be used to on the peel and stick vinyl tile to remove any excess dried grout. You should wait 5 days before washing your newly installed peel and stick tile. Watch the tutorial here:
Conclusion – Can You Use a Steam Mop on Peel and Stick Tile?
Peel and stick floor tiles are attractive, affordable, and great for those who love to DIY their home. Steam mops are an excellent way to deep clean most hard floors, but you should avoid them when cleaning peel and stick tiles. Stick with a Swiffer style or soft microfiber dry mop, and your peel and stick tile will stay stuck on and last longer.