Best Steam Cleaner for Curtains to Keep Them Looking Fresh
If you've ever had the unfortunate experience of cleaning your curtains, you know just how tedious and difficult it can be. Not only would you usually take them down, but then figure out how to wash them without damaging the fabric, dry them, iron them, and hang them back up again.
Sound exhausting? Absolutely.
That's why a steam cleaner for curtains is such a great solution. You can easily keep your curtains fresh and spotless with the right steam cleaner.
In this blog post, I'll discuss the benefits of steam cleaning curtains, the different types of steam cleaners available, and how best to use them.
I'm not going to cover using a garment steamer in this post. I've already written a list of the best garment steamers for curtains and drapes.
I specifically want to focus on multipurpose steam cleaners and steam mops that you may already have at home but haven't thought to use on your curtains.
Let's get started:
Benefits of Steam Cleaning Curtains
Steam cleaning curtains carries many benefits, including:
It's a fast and efficient way to clean curtains.
It helps to remove dirt, dust, and other debris from the fabric of your curtains.
It can help with removing tough stains from curtains.
An eco-friendly way to clean curtains. It uses less water than traditional cleaning methods and doesn't require harsh chemicals.
It helps to kill dust mites and other allergens, making it an excellent option for those who suffer from allergies.
Steam cleaning is gentle on fabrics, so you don't have to worry about damaging (most) curtain fabrics.
It helps to keep your curtains looking fresh and bright.
Different Types of Steam Cleaners for Curtains
When I first thought about steaming curtains, I naturally thought about my handheld fabric steamer.
But in reality, you can use most steam cleaners to clean, refresh or remove wrinkles from curtains.
Here are some choices:
Handheld steam cleaners: These are small, lightweight steam cleaners that are easy to maneuver and use. The downside is that they don't run for very long, which can be a bit tedious.
Canister steam cleaners are larger steam cleaners holding more water and running for longer. You usually get extra attachments that can help clean and refresh curtains, such as a fabric brush attachment.
Multipurpose Steam Mops: A steam mop with a removable handheld steam cleaner with attachments for cleaning above-floor areas. I'll show you how to use these for your curtains.
The Best Steam Cleaners for Curtains
When choosing the best steam cleaner for curtains, I didn't want to focus just on wrinkle removal.
So, here are some steam cleaners that can help you remove dust, dirt, and stains effectively without having to take your curtains down or call in a professional curtain steamer:
Eave Continuous Use Handheld Steamer
H20 X5 Elite Steam Mop
Black + Decker Multipurpose Steam Cleaner
Bissell PowerFresh Slim
Dupray Neat Steam Cleaner
McCulloch MC1385
Wagner Spraytech 915
Ladybug Tekno 2350
Handheld Steam Cleaners for Curtains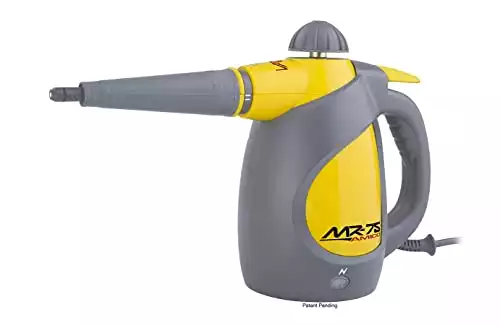 Vapamore MR-75 Handheld Steam Cleaner
Small, portable and lightweight handheld steam cleaner
Outputs steam at 43.5PSI
Includes accessories
Lifetime warranty
We earn a commission if you make a purchase, at no additional cost to you.
Best Multipurpose Steam Cleaner
Love the Accessories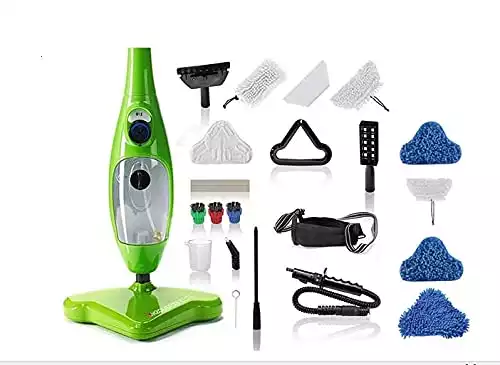 H2O X5 Elite Steam Mop
Steam mop with a removable handheld steam cleaner
Loads of accessories for cleaning blinds, carpets, windows, textured floors, mattresses, and more
Adjustable steam settings
We earn a commission if you make a purchase, at no additional cost to you.
05/21/2023 07:54 am GMT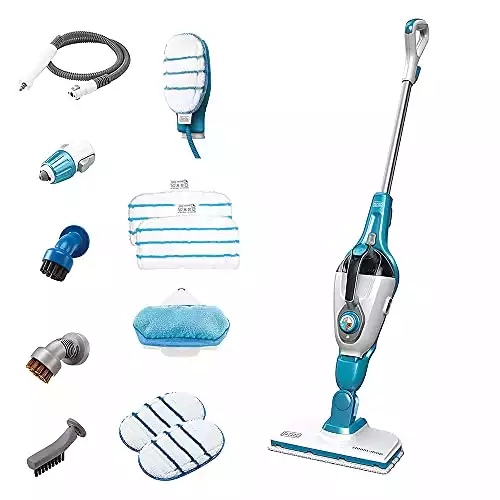 Black + Decker Multipurpose Steam Mop
Multifunction steam mop for floors and handheld steam cleaner
Uniquely styled steam glove protects your hands
Accessories for grout, tile, grill cleaning, curtains and clothing
Adjustable steam settings
We earn a commission if you make a purchase, at no additional cost to you.
05/21/2023 03:37 pm GMT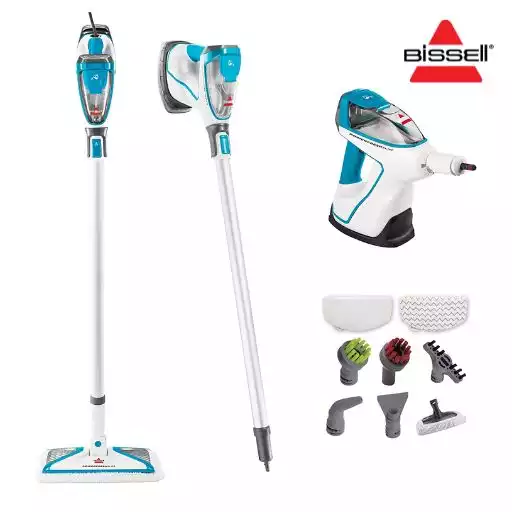 Bissell Powerfresh Slim Handheld Cleaner and Steam Mop
Steam mop that converts to a handheld steam cleaner
6 attachments and onboard storage
great for small area cleaning
We earn a commission if you make a purchase, at no additional cost to you.
Best Canister Steam Cleaner for Curtains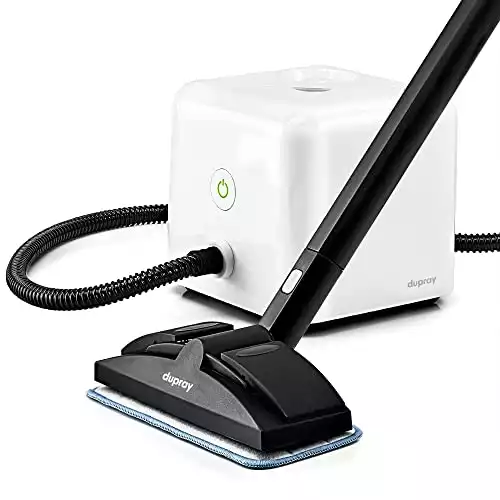 Dupray Neat Steam Cleaner
Compact yet powerful
Boiler heats to 275°F
Versatile attachments
Lifetime warranty on boiler
We earn a commission if you make a purchase, at no additional cost to you.
05/21/2023 12:03 pm GMT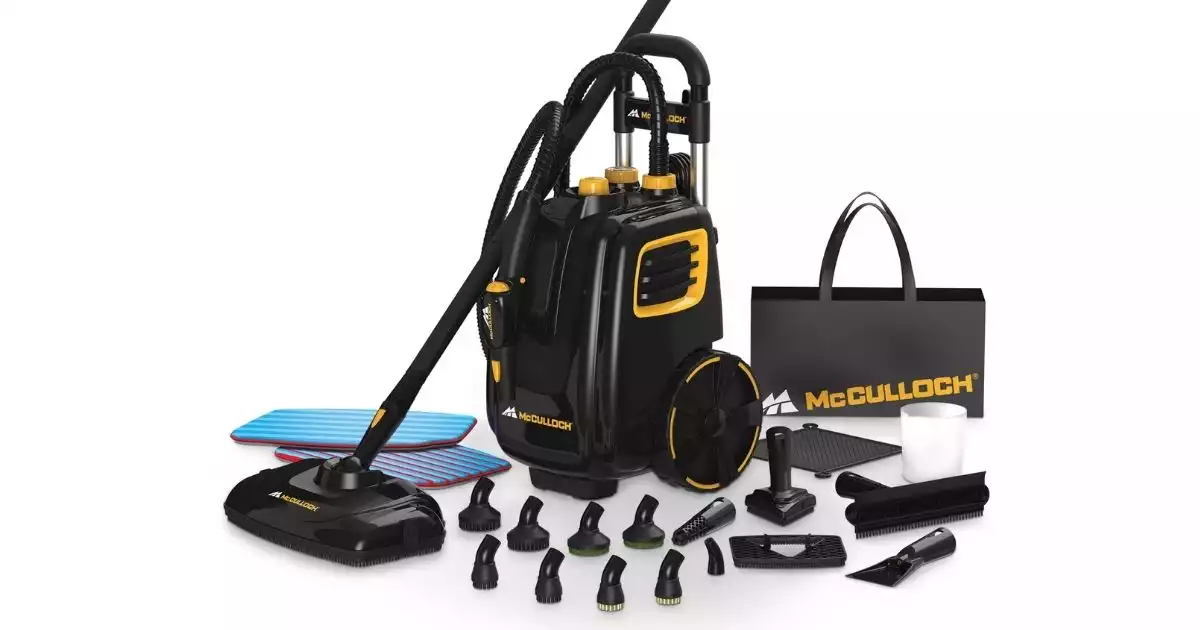 McCulloch MC1385 Steam Cleaner
Top of the line model from McCulloch
Great range of accessories for cleaning both indoors, outdoor items such as grills, boats and car interiors.
Variable steam settings
Runs for up to 2 hours, depending on steam setting
We earn a commission if you make a purchase, at no additional cost to you.
Best Commercial Steam Cleaner for Curtains
Quality Choice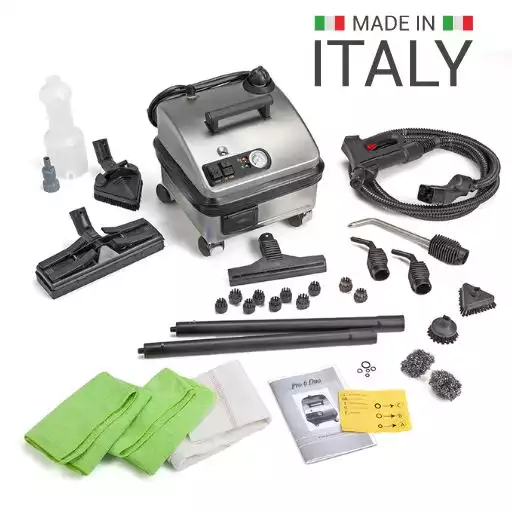 Vapor Clean Pro6 Duo Steam Cleaner
Italian made continuous refill steam cleaner with copper tubing, brass fittings, tungsten welded stainless steel boiler heating to 311°F and operating at a powerful 87PSI. This compact steam cleaner packs a punch and doesn't cost thousands of dollars - an excellent price for a continuous fill steam cleaner. A worthwhile buy for home or commercial use.
We earn a commission if you make a purchase, at no additional cost to you.
Best Steam Vacuum for Curtains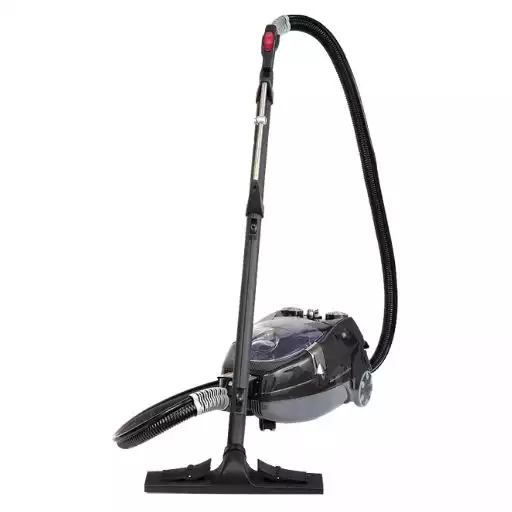 US Steam Sea Hawk Steam Vacuum
Versatile steam vacuum good for grout cleaning, but no large floor scrubber for tiles
Can vacuum up water left behind after steam cleaning
A range of scrubbing brushes included, as well as excellent attachments for upholstery cleaning
1 year warranty (standard across this brand) lets it down a little
We earn a commission if you make a purchase, at no additional cost to you.
How to Steam Clean Curtains
To steam curtains, follow these steps below:
Read the care label on your curtains first for laundering instructions.
Start by vacuuming the curtains to remove any dust and debris. If you have thick or blackout curtains, vacuum the front and back sides.
I used my steam vacuum to do this and was surprised at the color of the water in the waste tank after vacuuming two small window curtains: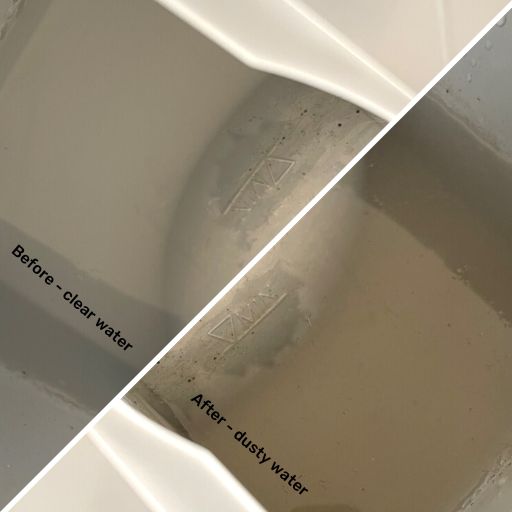 I shouldn't be though, this is how dirty the back of the curtains were: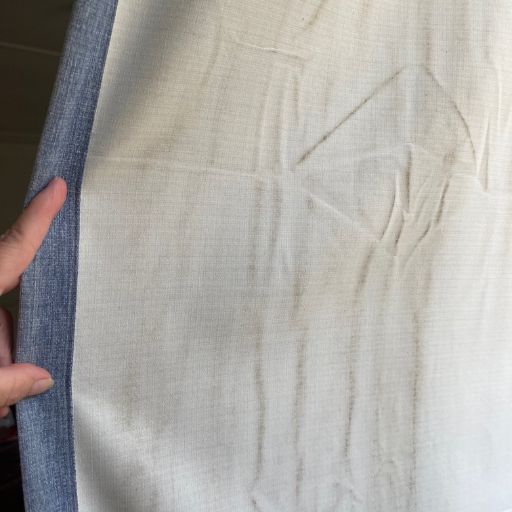 As we live on a farm, our windows stay open all Spring and Summer. It get's pretty dusty here, so when the backs blow against the flyscreens, they end up like this.
If you're curtains look like this, take them down and wash them, they are beyond steam cleaning.
But for the purpose of this post, I thought, what an excellent experiment for me to test my steam cleaner on!
Fill the steam cleaner with the appropriate amount of distilled water and let it heat up.
Attach the fabric, upholstery, or triangle brush to the steam cleaner (depending on your model and the attachments you have available).
Cover this with a microfiber bonnet or cloth to trap the dirt as you clean.
As I was using my steam vacuum, I used the triangle tool wrapped with a microfiber cloth. You'll find similar tools on the Dupray Neat, McCulloch, and Vapor Clean steamers.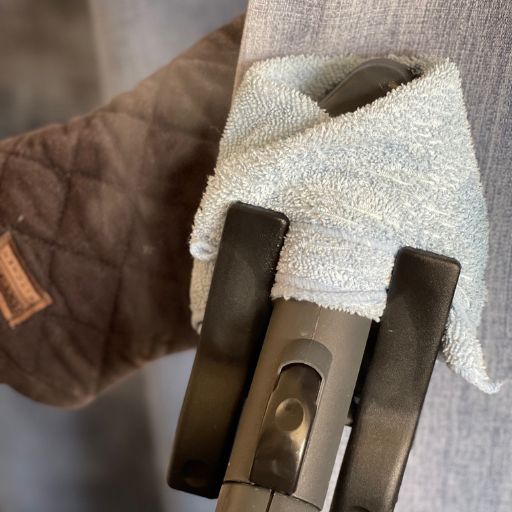 Begin steaming from the top of the curtains and work slowly to the bottom of the curtains.
As I left my curtains hanging, I pulled them as tight as possible with my left hand while holding the steamer in my right.
Eventually, I got out my oven mitt and used this as a backing behind the curtain so the steam could penetrate the fabric better. If you have a steaming glove, use this as the oven mitt gets hot!
Move the steam cleaner slowly over the fabric.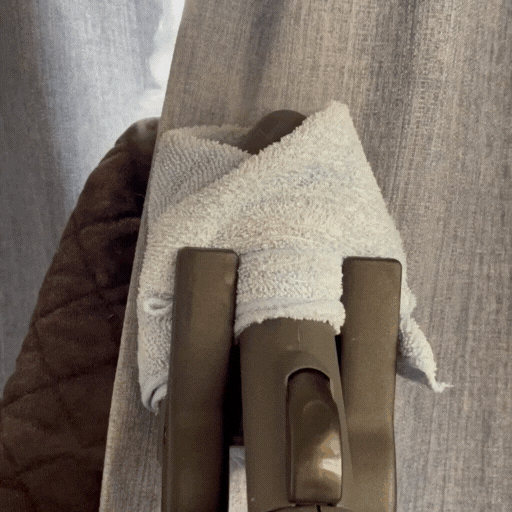 Clearly, these are thicker curtains, so what about the backing? Remember those pics above? It was pretty dirty.
I love to test out things with my steamer so I can bring you the best advice. So, if you have inexpensive polyester curtains with the "blackout" style backing – don't use your steam cleaner on the back.
I tried this to get the dirt off and it melted away the rubbery feeling polyester: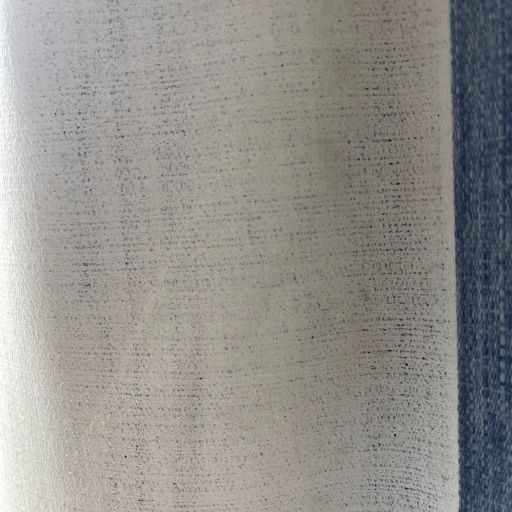 Needless to say, I stopped steaming the back of the curtains. Cold machine washing on another day will have to do.
I was impressed at the level of dirt that came out of the curtains however. I took this photo before I started steaming the very dirty backing: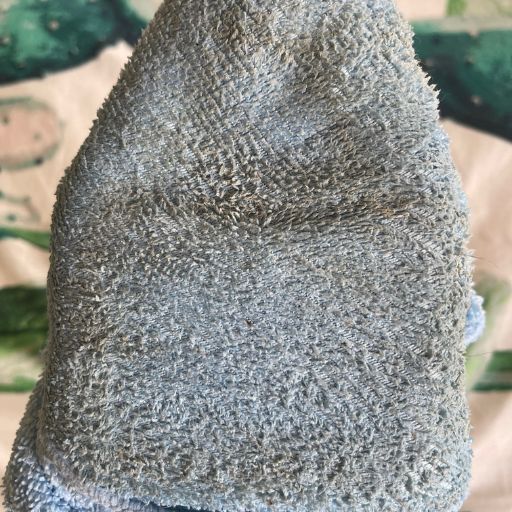 I'm impressed with the amount of dust and dirt the cloth was able to pick up just from the front of two window curtains. They're not very wide, which goes to show just how dirty there are! These are bedroom windows as well, so that dust is right next to us when we are sleeping.
Frequently Asked Questions About Steaming Curtains
Where Does the Dirt Go When You Steam Clean Curtains?
The microfiber bonnet or cloth that you cover the steamer head with will trap and absorb dirt as you steam.
Do Handheld Steamers Work on Curtains?
A handheld steamer is a flexible way to steam clean curtains. If you don't have a fabric or upholstery attachment, aim steam at a small section of curtain, then wipe with a microfiber cloth. Continue until you have cleaned all of the curtain.
How Often Should I Steam Clean My Curtains?
Depending on where you live and how often you have the windows open, you may want to steam clean your curtains during your annual Spring clean. Dusty areas, homes with open fireplaces, cities with smog may need more frequent cleaning.
Is it Safe to Use a Steam Cleaner on Curtains?
Most curtain fabrics can be safely steamed, it is the curtain backing that poses a problem. Be careful with polyester backings which can melt.
How Do I Dry My Curtains After Steam Cleaning?
Leave your curtains hanging after steaming and allow them to air dry. Depending on the ambient temperature, this shouldn't take long, especially if you used a microfiber bonnet over your steam cleaner to absorb any excess water.
Enjoy Refreshed Curtains
Cleaning curtains can be a tedious and difficult task, but it doesn't have to be. There are several different types of steam cleaners for curtains, so make sure to choose one that meets your needs.
Remember to follow the tips and advice in this blog post to ensure that your curtains stay looking great.