Can You Bring a Clothes Steamer on a Cruise Ship?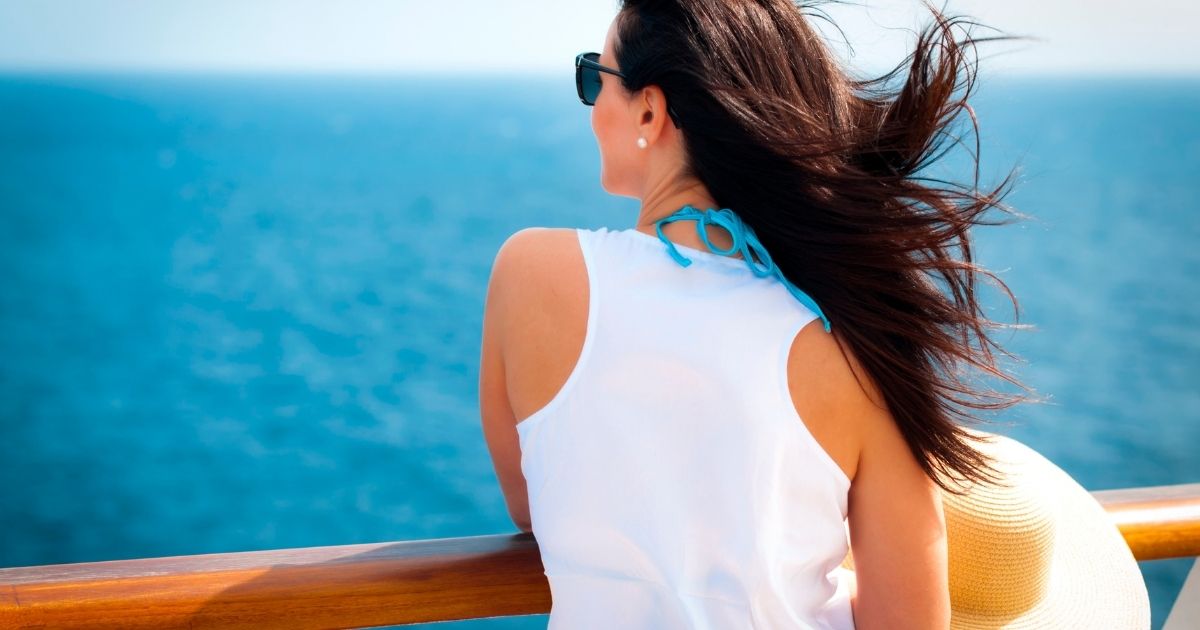 As the world reopens post pandemic, we are starting to plan our getaways and holidays again. Cruising is such a popular and affordable way to travel. You might be wondering, "Can you bring a clothes steamer on a cruise ship?"
Most cruise liners do not allow clothing steamers as they contain a heating element. Such devices (including travel irons, heated blankets and humidifiers) are prohibited as they pose a fire risk. Most cruise ships have ironing facilities on board.
The exception to this is luxury cruise liners. I've collated a list of the most popular cruise liners and their policies below:
Royal Carribean
Royal Carribean are a firm NO on bringing a clothing steamer on their cruise ships. The official statement from Royal Carribean is "Irons and clothes steamers are prohibited items and should not be brought with you on your vacation."
Princess Cruises
Princess Cruises haven't been so specific with their wording on bringing a portable or handheld steamer on board their cruise ships. Whilst they have stated clothing irons are prohibited, they are yet to mention clothing steamers in their wording. Furthermore, Princess Cruises will allow electrical items such as small fans, power strips, power adapters and extension cords, even if a surge protector isn't fitted. Click here to read their policy on these items.
Celebrity Cruises
Celebrity Cruises also have not specifically stated that a portable garment steamer cannot be taken on board the ship. Celebrity seem to be more concerned with items that generate heat, such as clothing irons, candles, incense etc. Curling irons for your hair and hair dryers are allowed on board. Click here to read the FAQ that covers prohibited items. If in doubt, contact the cruise liner to confirm.
Disney Cruise Line
We were really impressed with how specific Disney Cruise Line were with their prohibited items list! Unfortunately, garment steamers are included on this list and not allowed on board.
Here's the wording from the Disney Cruise Line prohibited items list: "Electric irons and Steamers (all ships offer self-service laundry facilities equipped with irons and ironing boards)". Click here to view the entire prohibited items list.
MSC Cruises
MSC Cruises have specified that heat-generating devices including irons & hair irons, electric kettles, bottle warmers, electric blankets etc are not allowed on board. Although they haven't specified travel garment steamers aren't allowed, the "etc" here may cover this as a "heat generating device". We've asked for clarification on this and will update this post when known.
Holland America Line
Holland America Line has the same standard clause as Princess Cruises regarding electrical devices without surge protectors as long as they are used with proper caution. Furthermore, we could find no mention of clothing irons being prohibited, or any hair styling products. For further information on Holland America Line prohibited items, click here.
Carnival Cruises
Clothing steamers and clothing irons are prohibited on Carnival Cruises. Carnival Cruises have advised they offer laundry facilities on board which includes irons and ironing boards.
Fred Olsen Cruise Lines
Fred Olsen Cruise Lines prohibit items with heating elements or open flames, specifically "clothing irons, hotplates, candles, incense, kettles and any other item that may create a fire hazard".
As travel steamers have heating elements to covert the water into steam, it is likely they will fall into this category. For clarification, we have emailed Fred Olsen Cruise Lines who have advised the following:
Please be advised that we do not allow clothes steamer on board our ships due to safety reason. We have a launderette on board our four ships where you may use the laundry and ironing facilities, token for this can be purchased via our Guest Services on board. Alternatively we also offer pressing, washing and dry cleaning services – the relevant price lists will be in your room. If you are on board our river boat Brabant however, there is only the option of the chargeable laundry/pressing services. 
Norwegian Cruise Lines
Another cruise liner who hasn't been specific regarding travel steamers, Norwegian Cruise Lines offer the following advice from their prohibited items list:
"Items brought on board the vessel and not supplied by the Company containing any kind of heating element, such as but not limited to: immersion heaters, heating blankets, clothing irons, water heaters, coffee machines with heating/hot plates, etc."
Saga Cruises
We contacted Saga Holidays directly to ask if they allowed portable clothes steamers on either their river cruises and ocean cruise liners. Saga Holidays advised: "You are free to take on what you wish as long as it meets the airline's regulations for travel and it fits in your luggage allowance."
Marella Cruises
Marella Cruises are operated via TUI Group. We inquired directly regarding taking a travel sized clothing steamer onboard any cruise ship operated by TUI Group. This includes TUI Cruises, Hapay-Lloyd Cruises and Marella Cruises.
A representative from TUI Group has advised a travel sized clothing steamer is "fine" to take on board.
P&O Cruises
Another cruise liner with a less than specific policy, P&O cruises state that clothing irons are prohibited, but have not made mention to handheld or travel garment steamers. The official statement surrounding this is:
…Certain electrical items and personal grooming devices, such as power boards (without surge protection devices), laptops, phone and camera charges, hair dryers and straighteners, curling irons and shavers may be allowed onboard if they are deemed to be in a safe and proper working condition, and used with proper caution.
Contact P&O if you have any questions.
Cunard
Cunard have included the exact same clause as Norwegian Cruise Lines (see above) in their prohibited items list. We've emailed Cunard for clarification. Cunard have advised any kind of heating element appliance such as immersion heaters, heating blankets, clothes irons, water heaters, etc are not permitted on board. Curard offers ironing stations in each of the launderettes. There is also a pressing service available on board their cruise ships.
Viking Ocean Cruises
Viking Ocean Cruises offer irons on board their cruise liners, as part of their complimentary self-service laundry facilities. Unfortunately, portable clothes steamers are not allowed on board this cruise ship as they are considered a safety hazard.
Costa Cruises
The official wording from the Costa prohibited items list is quite similar to Norwegian Cruise Lines and Cunard, stating:
"Power tools, cooking appliances and items containing heating elements e.g. immersion heaters, heating blankets, infrared heaters, flat irons, water heaters, coffee machines etc."
Crystal Cruises
Absolutely no information could be found regarding prohibited items on any of Crystal Cruise ships, including their ocean, river or yacht cruises.
We did find however, that Crystal Cruises offer a complimentary pressing service for guests in categories CP, SP, SH, PS and PH. If you've booked in one of these categories, save the space in your luggage and leave your travel steamer at home.
Crystal Cruises also offer complimentary launderettes for self service use on all Crystal ships. This includes detergents and softeners, clothes dryers, irons and ironing boards.
We've also emailed Crystal Cruises directly regarding their policy on garment steamers and will update this post when we receive a response.
Update:
Crystal Cruises have linked us to their guidebook, however, didn't answer our questions specifically about taking your portable garment steamer on their cruise ships.
Regent Seven Seas Cruises
Regent Seven Seas Cruises will allow personal grooming devices, such as hair dryers, shavers, curling irons and flat irons, which we assume they are referring to your hair.
Their prohibited items list includes the standard clause regarding heating elements ( immersion heaters, heating blankets, flat irons, water heaters, coffee machines with heating / hot plates, etc.). We've taken this wording direct from Regent Seven Seas website and can only assume that the flat irons in this second paragraph is referring to a clothing iron, as they have used the same wording in the first paragraph to allow flat irons for hair.
We've asked for clarification from Regent Seven Seas Cruises regarding travel clothing steamers. We'll update this post when we receive a response.
Sea Cloud Cruises
Laundry services available on board Sea Cloud Cruises are limited to washing and ironing. For safety reasons, passengers are not permitted to iron in their cabins. Sea Cloud Cruises have also confirmed that they do not allow any type of garment steamer on board their ships.
Seabourn Cruises
As a luxury cruise liner, Seabourn Cruises offer full laundry services including dry cleaning and pressing. Suite attendants take care of pick-up and delivery.
All Seabourn ships also offer complimentary washing machines, clothes dryers, laundry soap and ironing facilities. This is one cruise liner where you can leave your travel steamer at home and utilize the pressing service instead.
If you are interested in taking your travel steamer with you on a Seabourn Cruise, we've reviewed the prohibited items list, which makes no mention to travel steamers not being allowed onboard.
Furthermore, Seabourn Cruises have advised: "Electrical devices such as small fans, power strips, multi plug box outlets/adaptors, and extension cords without surge protectors are allowed onboard when used with proper caution." 
Silversea Cruises
Another luxury cruise line, Silversea Cruises offer complete valet services, including laundry, pressing and dry cleaning at an additional charge.
A self-service launderette on board Silversea Cruise Line offers washing machines, dryers, irons and laundry supplies, allowing you to limit the amount of cruise luggage needed, especially for longer voyages. This is another luxury cruise liner where most services are included and you could leave your garment steamer at home.
The Round Up – Can You Bring a Clothes Steamer on a Cruise Ship?
There's quite a mix of answers when it comes to knowing if you can take a clothing steamer on a cruise ship. Most luxury liners seem to allow this, but also offer services to take care of your wrinkled clothing for you. The most popular and budget cruise lines seem to be a firm no when it comes to bringing along your clothing steamer.
If you are unsure about whether you can take your garment steamer on your cruise, please contact the cruise company or travel agent directly prior to packing for your cruise.
What Other Solutions are Available If I Can't Bring a Clothes Steamer?
Instasteam was first brought to the market in 2020 as a solution to electricity free steaming that is portable and ecofriendly. It is also approved for use on cruise ships. Take a look below:
Instasteam – Electricity Free Clothes Steaming
InstaSteam is the worlds first electricity-free & hands-free mini travel steamer.

Steams & Deodorizes your garments within minutes

No batteries or electricity needed. Eco-Friendly & All Natural Minerals.

Portable, Cruise Ship & TSA approved for all travel plans.
Prices pulled from the Amazon Product Advertising API on:
Product prices and availability are accurate as of the date/time indicated and are subject to change. Any price and availability information displayed on [relevant Amazon Site(s), as applicable] at the time of purchase will apply to the purchase of this product.
We hope that this comprehensive list has been helpful! If there's a particular cruise line that we haven't covered, please let us know in the comments below. We'll be more than happy to make an inquiry and add the cruise line to our list.