Jiffy Steamer J-4000 | All The Pro-Line Models Explained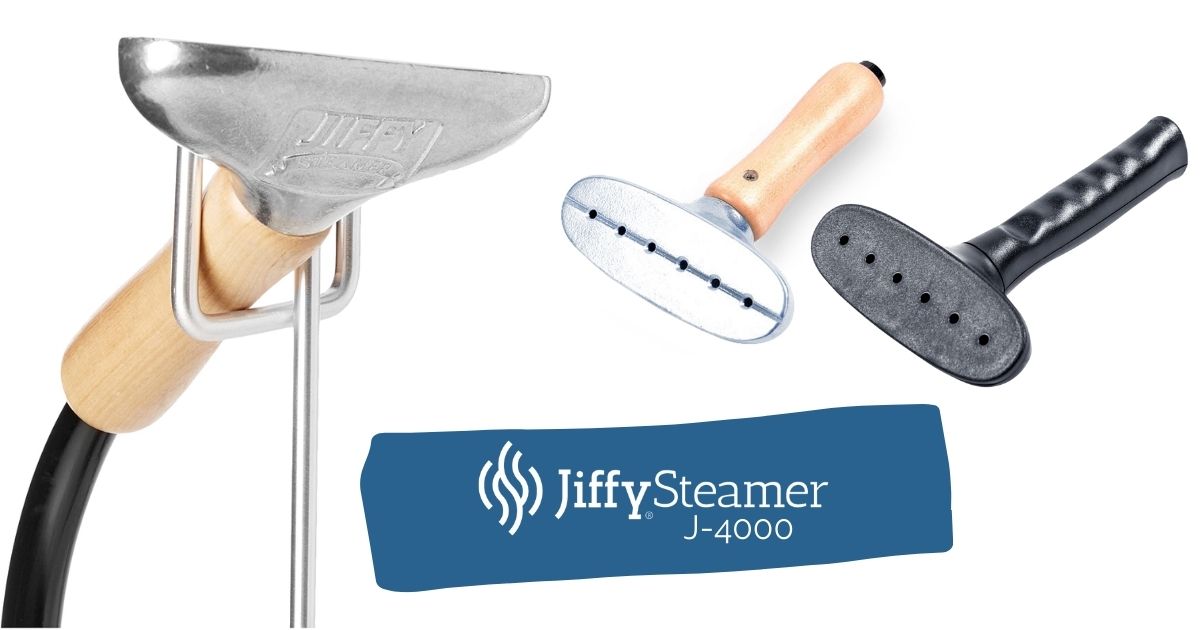 The Jiffy Steamer J-4000 models are from the pro-line series of commercial garment steamers. Built for use in commercial and industrial settings, these robust steamers have stainless steel boilers, brass fittings and no water lines that can be clogged with tap water use. This makes Jiffy steamers an excellent choice as as a commercial steamer, but also as a home use steamer as well.
Available with multiple steam head and attachment configurations, you can use the Jiffy Steamer J-4000 as a garment steamer, for wallpaper removal, carpet installation, automotive steaming, steam cleaning, wig steaming and more.
Let's take a closer look at how the Jiffy J-4000 steamer could benefit your home or business.
About Jiffy Steamers
Jiffy steamers are made in the USA, in Union City Tennessee. The J series steamers offer a 3 year parts and labor warranty, in addition to a lifetime warranty on the boiler tank for the J-4000 model. Jiffy are the largest manufacturer of steamers in the world, available in 47 countries and carry 5 international safety certificates.
When you are buying a Jiffy steamer, you are buying the brand, and a quality product that has been around for 80 years.
The J-4000 steamer isn't the fastest steamer to heat up and doesn't offer any fancy digital displays, multiple steam settings or new age nano filter technology. This is what is appealing about Jiffy steamers however, they are simple machines, designed to get the job done and last an extremely long time.
The Jiffy Steamer J-4000 Model
The Jiffy Steamer J-4000 is the Pro-line model. It is the largest clothing steamer available from Jiffy and among the best for commercial garment steaming, such as retail and department stores, wedding hire companies, and hotels. It runs for hours and when cared for correctly, will most likely last you for decades.
There are many variations of the J-4000 steamer, all of which have to do with the type of steamer head. The basic J-4000 model is the 1500 watt garment steamer with a plastic head. Here is a table overview of the variations of the models. I'll explain the further below also.
| Model Number | Steam Head | Hose Length | Use On |
| --- | --- | --- | --- |
| J-4000 | Plastic | 5.5ft | Fabric, clothing, linens, drapery |
| J-4000M | Metal | 5.5ft | Fabric, clothing, linens, drapery |
| J-4000D/J-4000DM | Plastic or Metal | 7.5ft | Drapery, backdrops, not recommended for clothing |
| J-4000i | Metal | 5.5ft or 7.5ft | interchangeable head with 4 attachments for multiple uses |
| J-4000A | Metal | 7.5ft | Upholstery, auto detailing, 2 heads |
| J-4000B | Metal | 5.5ft or 7.5ft | Cleaning |
| J-4000C | Metal | 5.5ft | Carpet installation, furniture dents in carpet, wallpaper |
| J-4000W | Metal | 5.5ft | Wig steaming |
| J-4000H | None | None | Hat steaming |
| J-4000SBR | Metal | None | Leather footwear |
| J-4000SB | Metal | 7.5ft | Window tint, film, vinyl wrap, lettering |
| J-4000XDM | Metal | 7.5ft | Pest control, bed bugs, dust mites etc |
Please note any of these model numbers that have an additional -P at the end, means they are available in pink.
Common Specifications Across All J-4000 Models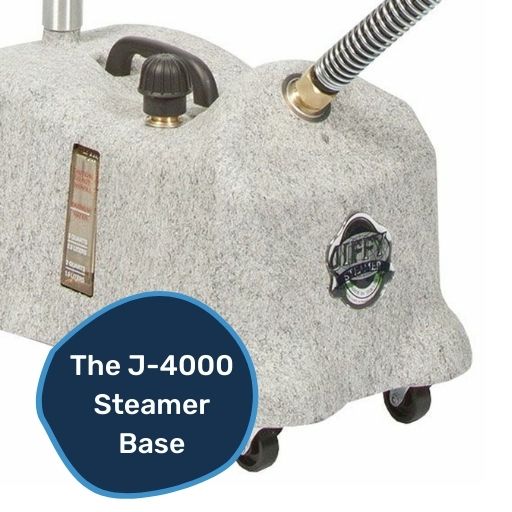 The J-4000 model has been described as 'built like a tank', which I completely agree. It's not pretty to look at, but it is sturdy, durable and practical. You will find this base across the J-4000 range. Here are the common specifications which all the models share:
1500 watt steamer
120 volts for USA, 230 volts for other countries
Internal boiler tank crafted from 304 grade stainless steel
Outer housing crafted from solid die cast aluminum
Brass fittings and high temperature wiring which is color coded
Incoloy heating element
Ability to use tap water if desired
Water capacity 1 gallon
Water level gauge
Steam time of up to 2 hours from full
7ft power cord
Initial heat up time of 15 minutes
Ability to leave in standby mode
2 minute heat up time from standby
Made in the USA
3 Year Warranty
J-4000 – Metal vs Plastic Head
The J-4000 pro line steamer from Jiffy is the commercially rated fabric steamer with a 5.5 foot steam hose.
When considering purchasing this steamer, most people have a hard time choosing between the metal steam head and the plastic steam head. There are pros and cons with both metal vs plastic steam heads and your decision will come down to what works best for you. Both heads are the same size in width (6 inches) and have 6 steam holes.
Personally, I love my metal steam head. It retains heat, makes creases, and has less condensation and drips than plastic. The heat retention makes steaming so much more efficient than plastic. The downside? It's heavy.
Plastic on the other hand is much lighter, making it easier on your wrist and arm, particularly when steaming for long periods of time. It is also a little bit thinner and longer in the handle than the metal head, which makes it more comfortable to hold than the wooden handle. If you have smaller hands, arthritis, or fatigue easily in the wrist and arms, the plastic head will most likely be the better choice.
If you want the upmost in quality and performance from your J-4000 steamer, the metal head is it. You can differentiate the plastic and metal steam head by the model numbers. J-4000M is the metal head, no M on the number means the plastic head. You will pay around $20 extra for the metal head, which is well worth it.
Jiffy Steamer J-4000D
The Jiffy J-4000D is the drapery steamer. Designed with a longer 7.5 foot hose, and a taller rod set so you can reach the top of tall curtains, backdrops, props, photography backings, (you name it) with ease.
It is important to note that Jiffy don't recommend using the drapery steamer on clothing. It is not that it won't work for clothing as well as curtains and drapes, however, if you don't have the steam hose stretched out it can cause condensation build up in the hose. This can cause spitting and spluttering of the steamer head and a gurgling sound in the hose, just like what happens when you hold a regular sized steam hose down too low.
I believe you can get around this by standing further away from the steamer so the hose is more stretched out. This will allow any condensation buildup in the hose to run back down into the steamer.
Jiffy Steamer J-4000i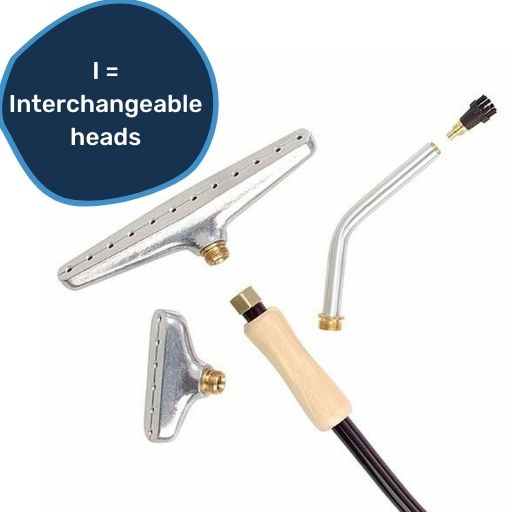 The J-4000i is an incredibly versatile option from Jiffy steamers. Available in both a 5.5ft seam hose and a 7.5ft steam hose, this professional steamer has 4 interchangeable parts. You get:
Standard metal garment steamer head – 6 inches wide
Large steamer head for carpet installation or wallpaper removal – 12 inches wide
Bent aluminum pipe head – 9 inches long – use for sticker removal, window tint removal, wig steaming, auto detailing
Brush attachment – attaches to the 9 inch aluminum pipe for grout and hard surface cleaning
The carpet tool would also be a great choice for pest control, with the wide steaming head, you could destroy bed bugs in a mattress quickly, then use the bent pipe to get under pillow top creases or into tight spaces.
This innovative design makes this steamer ideal for car detailers, pest control companies, or an adaptable choice for all areas of cleaning at home.
Jiffy Steamer J-4000A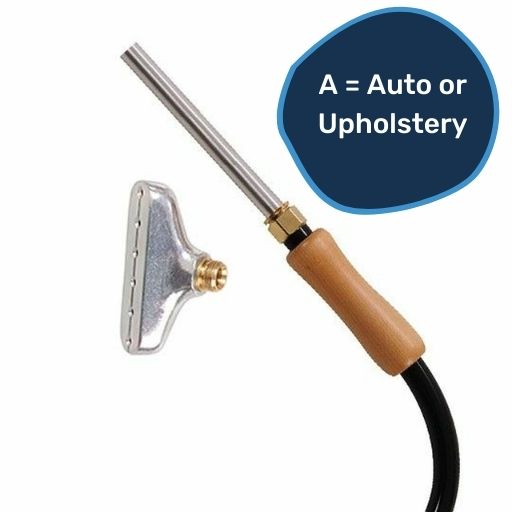 The Jiffy J-4000A has been designed for upholstery and automotive detailing. The straight 9 inch steam pipe can be positioned in between seat creases, where bottom seats join the back of the seats, aimed into air vents, cup holders, under seats and more.
It comes with the standard metal garment steamer head which is 6 inches wide. The steam hose length is 7.5 feet and there is no 5.5 foot hose length option for this particular model.
Jiffy Steamer J-4000B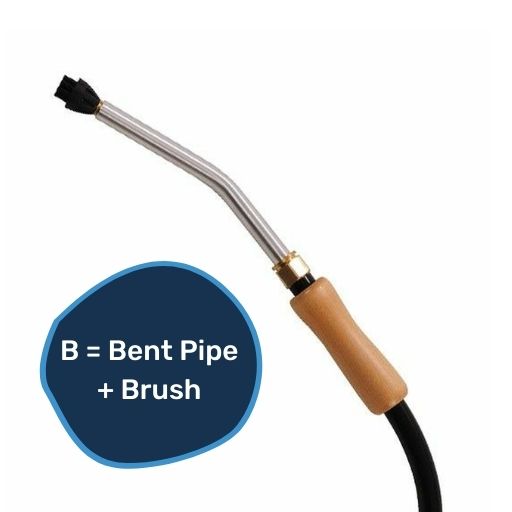 The J-4000B steamer is the cleaning steamer from Jiffy, designed to easily remove tough, ground-in dirt or stains. The steam produced kills bacteria and other microorganisms. It also comes with a stiff-bristled brush for scrubbing, making it an excellent choice for grout cleaning. You could also use it for oven cleaning, stovetop, and possibly the grill – depending on how well the bristles held up.
It is a little disappointing that this model doesn't come with a garment steamer head as well, however, you can purchase one separately for under $50. Replacement brush heads are $10 each, which is a little on the pricey side.
This tool is also included in the J-4000i combo with the interchangeable heads, which represents better value than buying just the steamer, bent pipe and one scrubbing brush on its own. Both the J-4000B and J-4000i are available in 5.5ft and 7.5ft steam hoses.
Jiffy Steamer J-4000C
The Jiffy Steamer J-4000C has an extra wide 12 inch steamer head for stretching and installing carpet. There are 12 holes in the steamer head, which also makes this tool ideal for wallpaper removal.
The solid output of steam safely removes indents in carpet from heavy furniture, restoring the pile to its original condition. This wide tool would also make light work of curtains, refreshing bedding, sheets, and mattress steaming.
Consider this also for DIY home pest control, particularly if you suffer with bed bugs or dust mites. The wide tool and long running time allows you to cover a large space efficiently.
If you are considering purchasing the J-4000C, take a look at the J-4000i above, which offers additional attachments and much better value purchasing as a bundle.
Jiffy Steamer J-4000W
Whether you wear wigs or sell wigs, the J-4000W wig steamer by Jiffy will keep them in fabulous shape. This looks very similar, and could possibly be identical to the Jiffy Pro-Line SteamBlade, which is used for window tint removal.
The different between the two machines is the color of the housing and the price. Granted, the SteamBlade by Jiffy includes a pair of steam resistant nitrile gloves, which would allow for the slight increase in price.
If you don't need the gloves, then the J-4000W will no doubt suit you for window tinting, vinyl lettering and sticker removal at a slightly less cost. Either way, whether it's wigs or window tint, the powerful J-4000 models will make life easier.
Jiffy Steamer J-4000H
The Jiffy J-4000H is the heavy duty commercial hat steamer, perfect for blocking and shaping hats. With just the right amount of moisture content in the steam to remove nesting rings, hat wrinkles or packing marks, as well as shaping hats for individual fit.
If you're in a hat store, this handy professional hat steamer can stay on standby, then quickly heat in 2 minutes to get your customer's hats shaped in no time.
If you have a large collection of hats a home you may want to consider this model, otherwise, I've broken down all the Jiffy hat steamers in another post. The smaller models are less expensive and popular choices for home use.
Jiffy Steamer J-4000SBR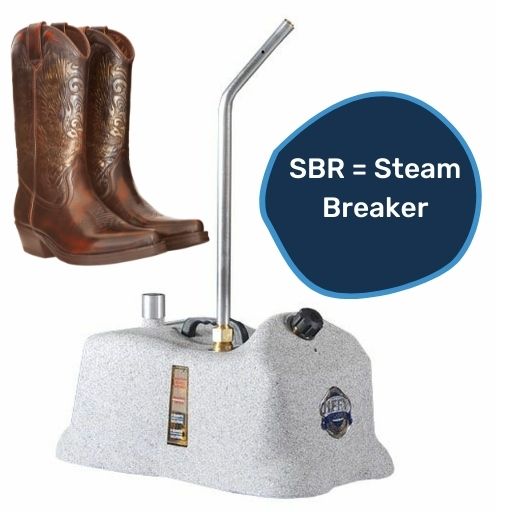 The Jiffy Steamer J-4000SBR is the perfect solution to break in exotic or leather footwear without discomfort. Heat the boot or shoe using the pure steam from the Jiffy Steamer J-4000, then put the shoes on whilst they are hot and steamy.
As you wear the shoes over the next couple of hours they cool and conform to the shape of your foot – no painful breaking in, blisters, or Band-Aids required.
This is ideal for boutique shoe stores, western stores or anyone who wears genuine leather or exotic animal skin shoes.
Jiffy Steamer J-4000SB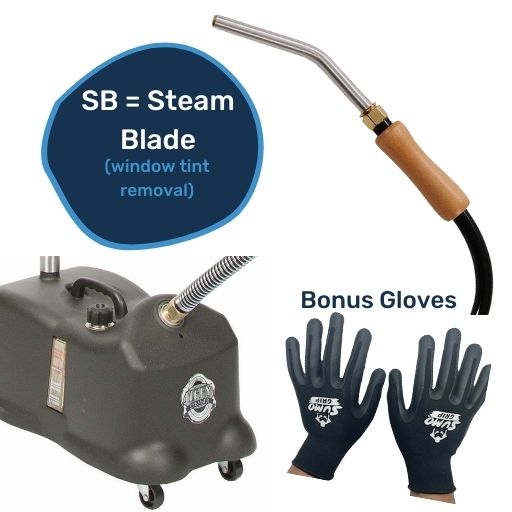 The Jiffy SteamBlade J-4000SB is a window tinting professional's best friend. Anyone who deals in vinyl lettering, signboards, removing or installing window tint or film needs a Jiffy SteamBlade.
Described as the "greatest invention since window film itself" you simply steam the film as you pull it away from the glass. Natural steam is far better for your health than harmful ammonia based products used in traditional methods of window tint removal.
The gloves are included with the Jiffy SteamBlade to ensure your hands remain safe and free from burns, while the 7.5ft steam hose easily reaches to far corners and high windows.
Jiffy Steamer J-4000XDM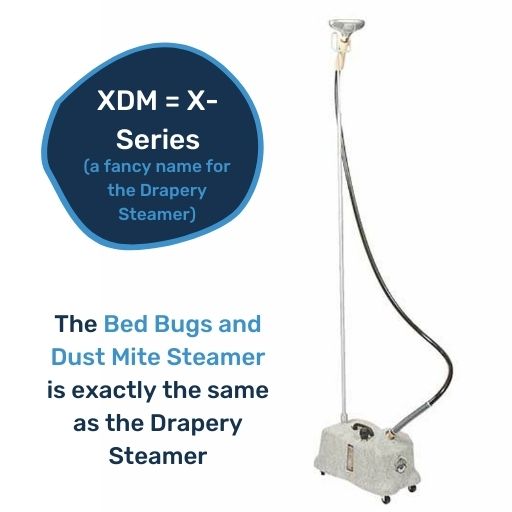 The J-4000XDM is from Jiffy's X-Series, aimed at either pest control professionals, those with allergies, or who prefer to DIY pest control at home.
Don't be confused by the fancy X-Series name, or DM for dust mite steamer. This is the same base unit as all the other J-4000 steamers, and identical to the Jiffy Pro-Line Drapery Steamer. In fact, DM also applies to Drapery with the Metal Head. That's exactly what you get with the J-4000XDM.
The steam hose is 7.5 feet long and the steamer head is the same as the standard garment steamer and drapery steamer – 6 inches wide.
There is only the option of a metal steam head with the XDM. I've mentioned earlier in this post about the pros and cons of metal vs plastic steam heads, and I'm sure when it comes to pest control, the retained heat from the metal head is ideal.
If you are a pest control professional considering the J-4000XDM for your business, take a look at the J-4000i earlier in this post with the interchangeable heads. This model and the extra heads will give you greater flexibility in getting into cracks and crevices with the same 1500 watt base unit. And yes, you can kill bed bugs and dust mites with this steamer (among other pests).
Buying a package deal also represents better value than individual accessories alone.
Jiffy Steamer J-4000 vs J-2000
There are 4 main differences between the Jiffy Steamer J-4000 and the J-2000 steamers. They are the water tank design, outer housing, power and size. Here is a rundown of the differences:
Design 
The J-4000 is a much larger, professional steamer with a die-cast aluminum casing and a stainless steel boiler. The boiler tank holds all the water and heats it all up at once. In comparison, the J-2000 steamer has a hard plastic polymer outer, removable water tank and heats a smaller amount of water at once.
The J-4000 is heavier, more durable and suitable for commercial use. The J-2000 is best for home or light commercial use.
Power 
The Jiffy Steamer J-4000 has a incoloy heating element and operates at 1500 watts. The Jiffy Steamer J-2000 has a stainless steel heating element, with a brass housing. The J-2000 operates at a lower 1300 watts. When it comes to performance, the J4000 is more powerful, will output a more steam, and is my preferred choice in wattage for a fabric steamer.
Water Tank Capacity 
The J2000 features a ¾ gallon reservoir while the J4000 can accommodate up to 1 gallon of water.  As a result, the two models provide a continuous steaming performance for about 2 hours.
The benefit of the J-2000 over the J-4000 is the ability to refill the steamer and continue on immediately. In contrast, you will need to allow 5 minutes for the J-4000 to cool down slightly before opening the boiler tank and refilling the water. You also then need to allow time for the boiler to heat up again before you can continue on steaming. As the boiler is already warm, this won't be as long as the initial 15 minute heat up time.
Heating time 
As the J-2000 steamer heats a smaller amount of water at once, you can start steaming in around 1 minute after switching the machine on. This is the big contrast to the J-4000 steamer which takes 15 minutes to heat the full boiler of water from cold.
Safety features 
Both Jiffy fabric steamers offer safety features like automatic shut off. Both Jiffy steamers have brass fittings and 3 year warranties. Both steamers are also made in the USA, with a 24 hour service guarantee offered. You can buy replacement parts for both steamers, and provided you follow cleaning and descaling instructions, either of these Jiffy steamers should last you for years to come.
Enjoy Your New Jiffy Steamer J-4000 Model
Regardless of which model of J-4000 steamer you choose, you are not likely to be disappointed. Jiffy make quality clothing steamers that can be used in both residential and commercial settings. The Pro-Line J-4000 steamer with 1500 watts of power is superior to other Jiffy Steamer models. It is a solid choice for a commercial clothing steamer, even if you only use it at home.