Ladybug Steam Cleaner Review [2023 Update]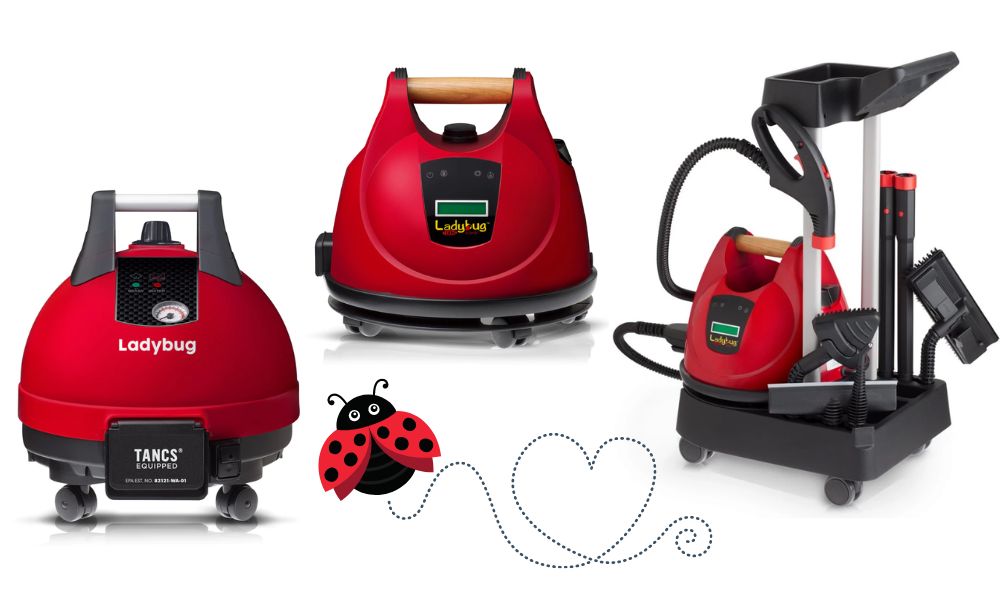 Ladybug steam cleaners were a popular choice ten years ago, but in the last decade, plenty of steam cleaners have been released to compete with this brand.
With a price tag upwards of $2000, a Ladybug steam cleaner is undoubtedly an investment, and I'm wondering why they are so expensive. If you've landed on this review, you're probably asking the same question.
At first glance, these top-of-the-line steam cleaners are backed by up to 1700 watts of power and can heat up to 325⁰F to produce dry steam with less than 5% water content. Great. So do Dupray Tosca and Hill Injection steam cleaners, as do (at least) 5 models from Vapor Clean (by far my favorite brand).
Not to mention, seven models from the two different brands mentioned above all cost less than a Ladybug steam cleaner. So, is there anything to consider?
It turns out there is.
Let's take a closer look and see why investing in Ladybug vapor steam cleaners is worthwhile.
TANCS Is What Makes Ladybug Different
Watch the video below to see how the TANCS system works:
One main feature that sets this machine apart is its unique TANCS disinfection system. This system helps to destroy all dangerous viruses, germs, bacteria, and fungi within 2-7 seconds.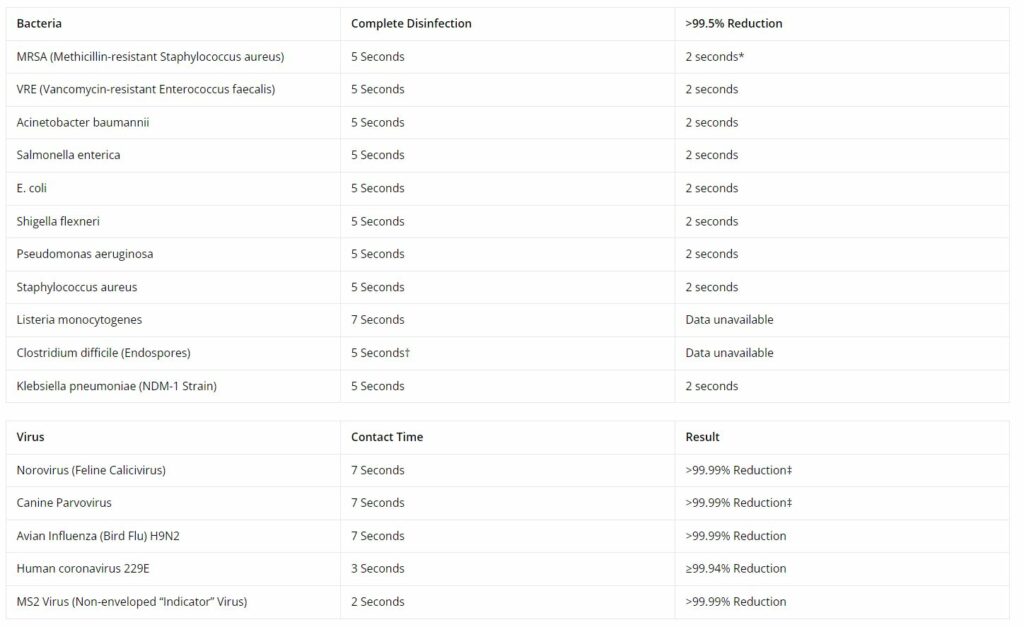 This system helps convert tap water's natural minerals into specialized Nano Crystals. As these crystals move from the boiler to the steam hose, they get energy from the hot steam. 
Once the Nano Crystals get into direct contact with the dirty surface, the steam disrupts the cell membranes of the harmful microorganisms. This makes the unit suitable for sanitizing floors and hard surfaces without using chemicals.
TANCS-equipped steamers are more effective in killing bacteria and viruses than bleach. Advap, Ladybug's parent company, has gone to great lengths to have this technology tested and publish peer-reviewed studies on its website.
Another great thing about this machine is that it uses dry vapor to clean. Dry vapor means that the steam it provides contains less than 5% water. As a result, it dries the surface almost immediately after cleaning.
The dry vapor is highly effective in deep cleaning surfaces, so the machine offers a better cleaning performance than other brands like Wagner, Dupray Neat, and McCulloch. This isn't unique to Ladybug; however, many high-end steam cleaners, particularly commercially rated models, produce dry vapor steam. 
What Ladybug Vapor Steam Cleaners Are Available in 2023?
Ladybug used to make four models. They were:
Ladybug 2150
Ladybug 2200S
Ladybug XL2300
Ladybug Tekno 2350
In 2023, you can still purchase the Ladybug 2200S, 2300, and 2350 via the official site. At Sylvane, my preferred choice of authorized reseller, the 2200S has been discontinued.
The 2350 model has recently been launched on Amazon by Advap (the parent brand).
The 2350 model is the most advanced. It has an LCD display screen and 1700 watts of power to generate steam up to a whopping 87 PSI. The boiler heats up to 329 degrees Fahrenheit for superior cleaning without harsh chemicals.
Specifications – A Comparison of Each Model
| Specification | 2200S | 2300 | 2350 |
| --- | --- | --- | --- |
| Dimensions | 11 x 12 x 16 inches | 11 x 12 x 16 inches | 16 x 12 x 16 inches |
| Power | 1500 watts | 1700 watts | 1700 watts |
| Dual Water Tank Capacity | 1.8 + 1.5 Quarts | 1.8 + 1.5 Quarts | 1.1 + 2.9 Quarts |
| Pressure Gauge | Analog | Analog | Digital |
| Steam Temperature | 290°F | 290°F | 325°F |
| Tip Temperature | 260°F | 260°F | 260°F |
| Maximum Pressure | 60 PSI | 85 PSI | 87 PSI |
| Pre-heat Time | 6-10 minutes | 6-10 minutes | 6-10 minutes |
| Weight | 15 pounds | 15 pounds | 13 pounds |
| Accessories | 13 | 13 | 13 |
| Power Cord Length | 15ft | 15ft | 15ft |
| Steam Hose Length | 6.5ft | 6.5ft | 9.6ft |
| Voltage | 110-120V | 110-120V | 110-120V |
| Safety Certifications | ETL, EPA | ETL, EPA | ETL, EPA |
| Made in | Italy | Italy | Italy |
| Warranty | Lifetime boiler, 1 year parts | Lifetime boiler, 1 year parts | Lifetime boiler, 1 year parts |
Outstanding Features of Ladybug Vapor Steam Cleaners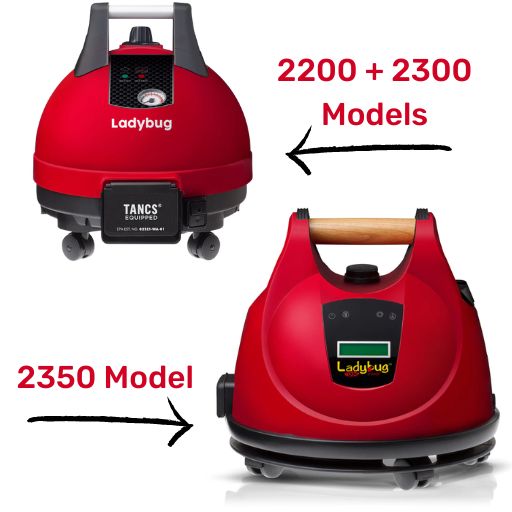 Stainless Steel Boiler Tanks
Stainless steel is resistant to corrosion and lasts a lifetime. That's why Ladybug offers a lifetime warranty on their stainless steel boilers. You will also find stainless steel boilers on:
All Dupray models EXCEPT the Neat
All Vapor Clean Models
Continuous refill 
Steam cleaners with dual water tanks that offer continuous refills are worth the investment. Keep cleaning as long as you like by filling up the reservoir, which feeds the pressurized boiler.
All Ladybug models can be refilled anytime. This adds to the cost of the machine, with a dual tank system. I have a dual tank system on my steam vacuum, and I never have to worry about when I'm going to run out of water. It's a game changer, particularly for large homes.
Similar dual tank steamers are:
Design
You've got to admit, the design is pretty cute, and it deserves the name Ladybug based on that alone. All models are on castors and have a handle for easy maneuverability.
Accessories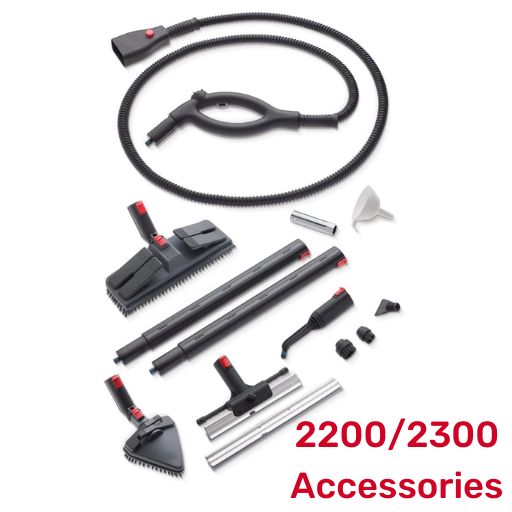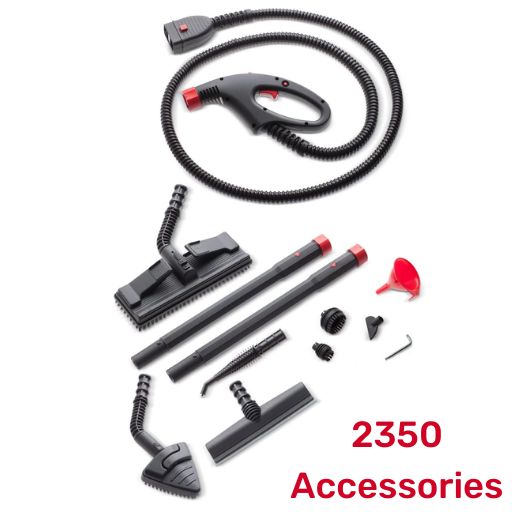 The accessories vary slightly between the base models and the Tekno 2350 model. The squeegee is the most notable change, as well as the curvature of the accessories – the 2350 appears more durable.
You don't get many accessories as standard, but you also don't need them. The ladybug steam cleaner accessories are all commercially rated and of excellent quality.
Quality
Many users complain that lower-end models have handles that get hot quickly, accessories melt easily, aluminum boiler tanks don't hold heat, and steam cools quickly.
Then there are steam cleaners that stop working after a couple of months, or the wheels fall off… Just look at the 1-star reviews on Amazon of cheap Chinese steamers, and you'll see what I mean.
This is where the ladybug steamers shine, and you get what you pay for. A ladybug should last you 10+ years. All are free from lead, formaldehyde, BPA, and phthalates.
You can use tap water – usually a no-no for most steam cleaners but not Ladybug. The TANCS technology puts the minerals in tap water to good use.
This saves on distilled water and having to descale the boiler. The US Environmental Protection Agency (EPA) regulates Thermo Accelerated Nano Crystal Sanitation (TANCS) under their disinfection regulation. This differentiates Ladybug from anything else on the market.
Functionality 
Unlike other steamers designed to tackle light-duty cleaning tasks, a Ladybug can handle everything, including:
 Disinfecting bathrooms and pet areas 
Deodorizing and cleaning upholstery
Deep cleaning hardwood floors, tile floors, and grout
Clearing grease from kitchen floors and appliances 
Removing oil spots, spills, and stains from surfaces
Eliminating weeds and moss along pavements or cracks
Spot cleaning carpets
Perfect for car interiors, boats, and RVs
Removing dirt from high areas like ceilings without using a ladder
Leaves your mirrors, glass, and windows with a sparkling appearance 
Clearing mildew or scum from bathroom fixtures
The 2350 model also includes an optional cart for around $300 extra.
Who should buy a Ladybug TANCS Steam Cleaner? 
This machine will be an excellent choice for someone who: 
Needs a steamer that can clean continuously for long hours. 
Wants a versatile steam cleaner that comes with many accessories. 
Suffers from asthma or allergies.
Is looking for a dry vapor steamer with less than 5% moisture.
Is serious about cleaning with steam only and not using chemicals.
Is concerned about viruses and bacteria and disinfecting their home.
Those searching for a long-lasting steamer with excellent built quality.  
Ladybug Steam Cleaner vs Dupray
The most comparable Dupray steam cleaner to Ladybug vapor steam cleaners is the Dupray One Plus or Dupray Hill Injection.
Also made in Italy, the Dupray does not offer the TANCS technology – this is unique to Ladybug.
The One Plus is comparable with a continuous refill, boiler temperature, PSI, good accessories, and a lifetime warranty on the boiler tank.
The Dupray Hill has an extra feature, which is adding detergent. As a commercially rated machine, this is an excellent feature for cleaning commercial kitchens, health facilities, and high-traffic areas.
Ladybug are not commercial steam cleaners. They are designed for home use. It would be best if you upgraded to the Advap MondoVap or VaporJet models for a commercially rated machine with TANCS technology.
Frequently Asked Questions 
How do you drain a Ladybug steamer?
Use the included tool to unscrew the boiler plug underneath the steam cleaner's base.
What is a dry steam cleaner?
A dry steam cleaner has less moisture in the steam output than ordinary steam cleaners. The water content is less than 5%. These are also referred to as dry vapor steam cleaners.
Are steam cleaners effective?
Steam cleaners are highly efficient when it comes to cleaning even the dirtiest of surfaces. They are also versatile since they come with various attachments for different surfaces. These machines are perfect for cleaning floors, carpets, furniture, kitchen appliances, bathrooms, stovetops, countertops, car interiors, and more.
Final Verdict
Undoubtedly, Ladybug is the gold standard in steam vapor systems. The high-temperature steam, advanced vapor technologies, and cleaning accessories make steam cleaning a breeze. No other brand can compete when it comes to EPA-regulated TANCS technology.
When you consider just how fast Ladybug steam cleaners can kill life-threatening viruses, imagine what they could do with dust mites, bed bugs, fleas, and other pathogens around the home.
If you can justify the price tag, I don't think you'll be disappointed with the quality or efficiency of these steam cleaners. Ladybug is certainly on my wish list to own.