Vapamore Steam Cleaners (An Overview of the 5 Models)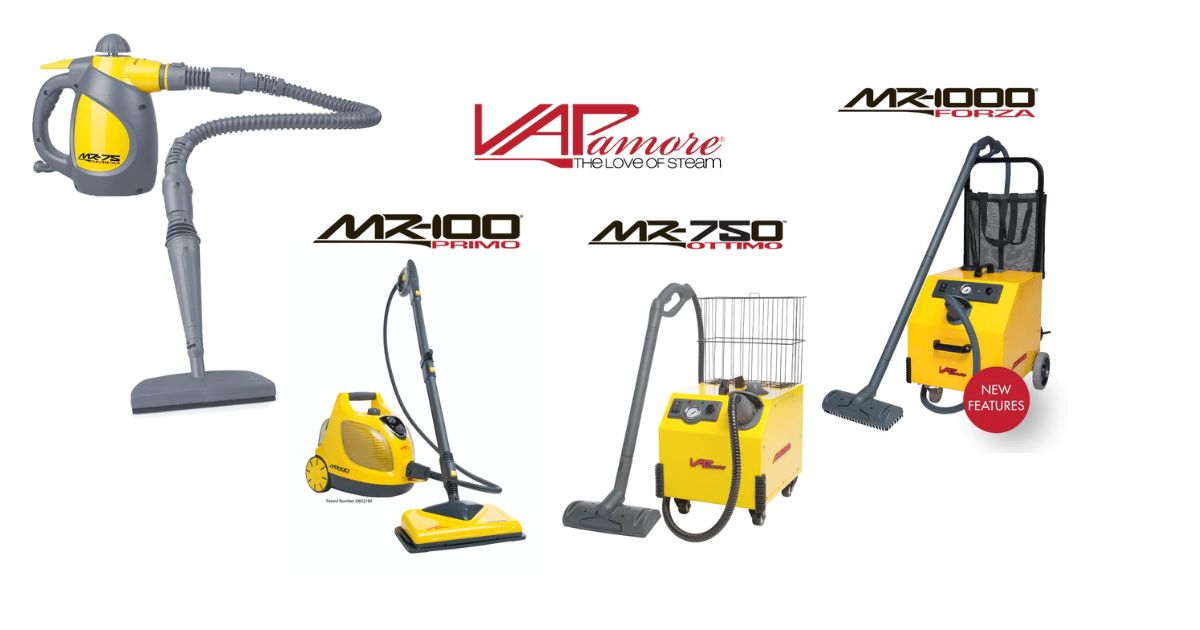 When searching for the best steam cleaner, you can never go wrong with the Vapamore brand. With a lifetime warranty, commercial grade materials, high heat and steam pressures, a Vapamore steam cleaner ticks all the boxes. There are several models on the market in 2022. We've compared each model, to help you choose the best Vapamore steam cleaner for your needs.
Buyers outside the US: Vapamore head office is located in the USA. Should you have a warranty issue, you will have to pay to send the steamer back to the USA (UPS or FedEx). Please consider the costs associated with this before buying.
The 5 Vapamore Steam Cleaners

Vapamore MR-1000 Forza Steam Cleaner 
If you are searching for a commercial-grade steam cleaner that can handle heavy-duty cleaning tasks, the Vapamore MR-1000 Steam Cleaner is an excellent choice.
With a steam tip temperature of 280⁰F and up to 90PSI, you will blast away tough grease, grime, dirt and stains in no time. This model also makes our list of best commercial kitchen steam cleaners, given the heat, power and continuous cleaning ability (holding 3 gallons of water, and can be refilled when in use).
With a barrage of accessories and backed by a lifetime warranty, the Vapamore Forza is an industrial steam cleaner that's worth considering. It's been on the market since 2013, and both the Vapamore brand and reliability of the machines have stood the test of time.
Our full review of the Vapamore MR-1000 (Forza) gives you more information, if needed.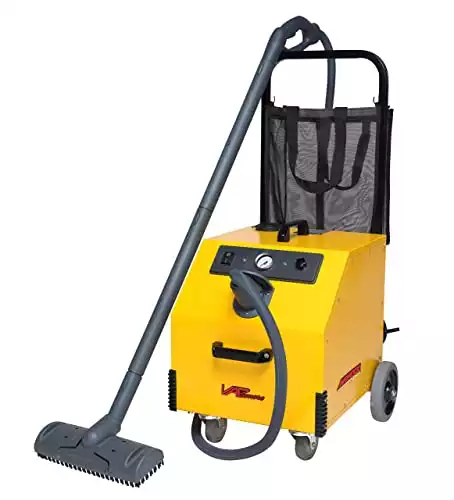 Vapamore MR-750 Ottimo Steam Cleaner
The Vapamore MR-750 Steam Cleaner is designed for light commercial and heavy-duty home cleaning tasks. It performs almost the same as the Vapamore MR-1000 Steam cleaner although it has a smaller design. The machine is made using commercial grade and powder-coated steel to enhance durability.  The boiler has a capacity of 1 gallon, offering continuous cleaning for up to 3 hours.
You get a slightly lower boiler temperature than the Forza, heating to 302°F (210-240°F steam tip temperature) and a steam pressure of up to 75PSI. This combination of heat and power is more than enough for home cleaning, and suitable for light commercial cleaning. It has a water level indicator plus an adjustable steam output. Just like the Vapamore MR-1000, the Ottimo comes with multiple accessories and a lifetime warranty.  
Read our full review of the Vapamore MR-750 Steam Cleaner.

Vapamore MR-100 Primo Steamer
The Vapamore MR-100 Primo Steamer is a popular choice for home steam cleaning machines due to its price and efficiency. It comes with 1500 watts heating element plus an adjustable steam output for different surfaces. It offers 50PSI (3.5 bars) steam pressure and the boiler heats up to 220°F.
The stainless steel boiler has a running time of up to 60 minutes. Heating in 11 minutes, the output of steam is up to 40 grams per minute, which is an impressive steam output. It's also a quiet steam cleaner – running at 30 decibels.
It may not be the best for commercial applications but it is effective in removing grease, dirt, grime and stains. The steam produced can kill dust mites, bed bugs, germs, allergens, bacteria, mold and mildew. You can adjust the steam output to suit your cleaning requirements.
You can read the full review of the Vapamore MR-100 here.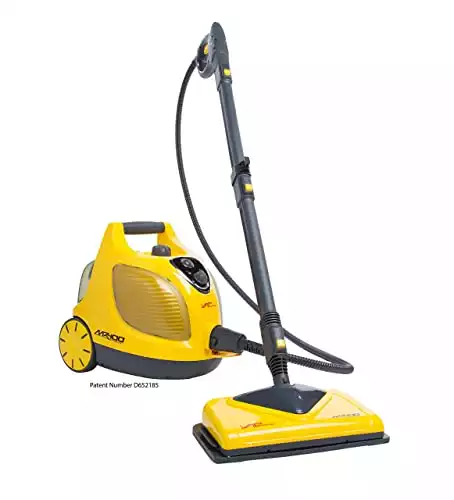 Vapamore MR-75 Amico 
The Vapamore MR-75 makes our list of best handheld steam cleaners given the lifetime warranty. It's small and lightweight, with a water tank of 6.7oz. There's pros and cons to this – the pro being lightweight and good steam output (43.5PSI), the con being it won't run for very long. Like all handheld steam cleaners you have to wait for the unit to cool slightly and depressurize before refilling.
It's also pricier than other handheld steamers, but then again, you're paying for slightly better quality and a lifetime warranty. Take a look below for more information.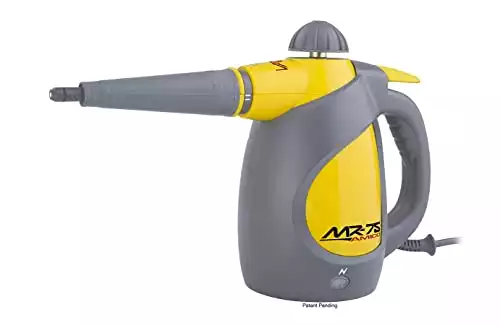 Vapamore MR-50 Steam Vacuum
I'm a little confused by what Vapamore are trying to achieve with this handheld vacuum cleaner, than also operates as a steam cleaner. Possibly aimed at parents or pet owners, you can use this as a wet or dry vacuum, then a steam cleaner – but not both at the same time.
I'm imagining needing to clean up a puppy wee from the rug – you could suck up the moisture with the wet vacuum, then steam the rug to kill any bacteria and odor causing germs.
It works in theory, but with a steam pressure of 1.3 bars (17.4PSI), my handheld clothing steamer would do a better job.
The wet and dry vacuum might be useful in the car, but users have complained the suction is pretty poor. I'll be leaving this one on the shelf (particularly with that price tag), but if you want to read some of the Amazon reviews, click on the link below.
I should note that the MR-50 also has the same lifetime warranty as the full size steam cleaners – the pump, heating element and internal electronics are all covered.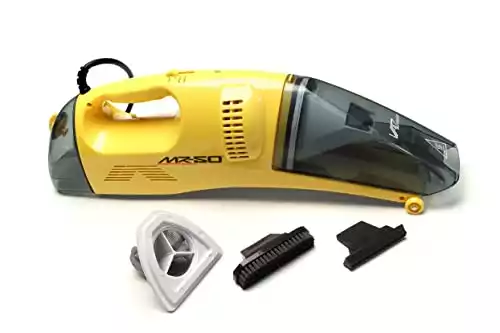 Frequently Asked Questions About Vapamore Steam Cleaners
Where are Vapamore steam cleaners made?
Vapamore steam cleaners are made in China. The company was founded in Italy, with the original design and engineering in Italy. There is a head office in Scottsdale, Arizona.
Is Vapamore a good brand? 
Vapamore steam cleaners are one of the few brands who offer a lifetime warranty on all their steam cleaners. There are some caveats to this, such as using distilled water only, regularly maintaining the seals, and registering the product. Vapamore steamers have been on the market since 2012, proving stability and longevity in the steamer market.
Whether you are searching for a quality steamer for commercial, home use, auto detailing, hospitality or allergens and bedbug elimination, Vapamore steamers are among the best.
Final Verdict: Are Vapamore steam cleaners worth it? 
Vapamore are not the cheapest steam cleaners on the market, however, the lifetime warranty is reassuring. It is important to note that you need to purchase the Vapamore steam cleaner new (ie, be the first owner), register the product within 15 days of purchase, and always use distilled water.
Vapamore also list authorized distributors on their website, which include Syvlane, but not Amazon.
Whilst their warranty doesn't mention anything about needing to purchase from an authorized distributor, I'd err on the side of caution just incase. You don't want to give Vapamore a reason not to honor a lifetime warranty, especially given the cost of these machines.