Vapor Clean Pro6 Duo Commercial Steam Cleaner Pros & Cons
The Vapor Clean Pro6 Duo Steam Cleaner is a professional steam cleaner with a powerful PSI and above average boiler temparature. When it comes to Italian steam cleaners, the Pro6 Duo is one of the best. Affordably priced, compact in size and suitable for home or commercial use, the Vapor Clean Pro6 is worth a look.
Here is my complete review of the Vapor Clean Pro6 Duo:
| Specification | Vapor Clean Pro6 Duo |
| --- | --- |
| Size | 11.5 inches x 12 inches x 12 inches |
| Weight – empty | 16 pounds |
| Weight – full of water | 23 pounds |
| Steam Temperature | 327⁰F |
| Steam Pressure | 87 PSI (6 Bars) |
| Boiler Capacity | 1.8 quarts |
| Reservoir Capacity | 2 quarts |
| Initial Heat up Time | 9 minutes |
| Accessories | 31 |
| Child Safety Lock | Yes |
| Continuous Refill | Yes |
| 120V power | Yes |
| Warranty | 5 years parts, lifetime boiler |
| Country of Origin | Italy |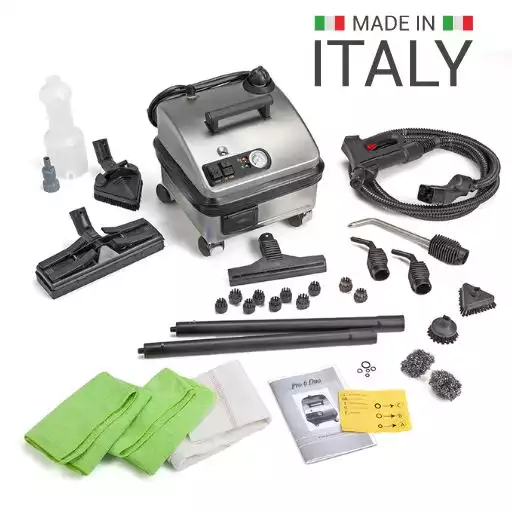 Main Features of the Vapor Clean Pro 6 Duo Steam Cleaner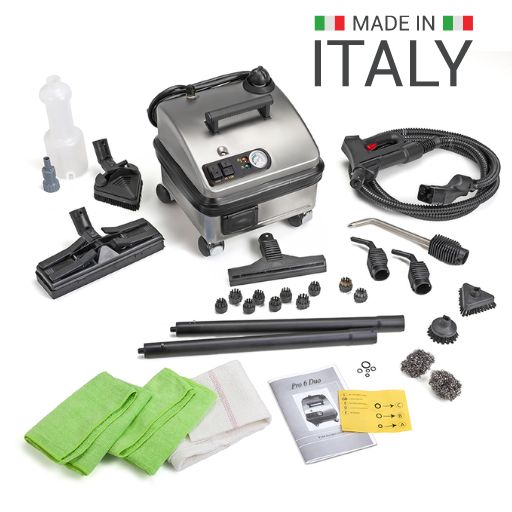 Design
The first thing you will be quick to notice about this machine is the compact and stylish design. The outer stainless steel housing provides durability and strength. For easier movement, there are 4 large casters that roll smoothly on any type of floor and a carry handle on top. The round rubber edges protect your furniture, walls, appliances, corners or delicate surfaces from damage.
Components
Some of the unique components that enable the Vapor Clean Pro 6 Duo Steamer to provide a great performance include:
Cooling fan
One of the amazing features you will find in this machine is the cooling fan that helps to dissipate the internal heat. This protects the internal parts from overheating and it also extends it durability.
Big CEME Water pump
The other extraordinary feature that comes with this machine is the large CEME water pump. This feature provides consistent steam pressure when cleaning.
Copper and Brass Fittings
Unlike inferior models, the Vapor Clean Pro6 Duo features upgraded copper tubing, double coated circuitry, and heavy gauge wiring to enhance durability and provide exceptional quality in a vapor steam cleaner. You can even pull the steamer by the hose without worrying about damage, the heavy duty locking port ensures the hose stays firmly in place.
Water Level sensor
The Pro6 Duo features an internal water level sensor that activates the low water alert when you need to refill the reservoir.
Dual 180c Thermal Fuses
In order to protect the internal fuse from blowing or tripping, it features a dual 180c thermal fuse that resets it when the heat is too high. This also helps to remove stress on some components.
Fast 9 Minute Pre-Heat
Another major benefit of using the Pro6 Duo is the fact that it preheats faster than most Vapor Clean models. Once you connect it to a power outlet, it takes only 9 minutes for the heating element to reach 327⁰F. With a continuous refill reservoir that holds additional water separate to the boiler tank, the heavy duty steam cleaner offers quick recovery so you can continue on cleaning.
304 Grade Stainless Steel Boiler
The boiler is made of a top-quality 304 stainless steel which protects it from corrosion and oxidation. For easier water removal, this boiler features a draining hole at the bottom. Steam is transferred from the boiler to the surface through the 9.75 feet steam hose – a longer hose than found on other models.
6 Bar Steam Power
The steam power refers to the pressure or force of steam that comes from the nozzle. It is among the most important features you should consider since it determines the performance of the unit. Compared to most of its competitors, this model has a higher steam power of 87 PSI (6 bars of steam) meaning that it is more effective in deep cleaning even extremely dirty surfaces. Depending on the type of surface you are cleaning, you can adjust the steam pressure to get the best results using the steam knob.
Warranty
Like other Vapor Clean steamers, the Pro6 is made in Italy. It comes with a 5 year warranty on parts and a lifetime warranty on the boiler and heating element.
31 Accessories
In terms of versatility, this machine comes with 31 accessories for cleaning different parts of your home or business. These attachments include;
Floor brush
16 x 16 microfiber towel
2 stainless steel brushes
7 nylon brushes
1 brass brush
Window squeegee
Triangle brush
Medium triangle brush
Medium round brush
2 stainless steel scrubbies
Water fill bottle
Jet nozzle with 3 hole
Jet nozzle with a single hole
2 extension wands
9.75 ft flexible hose
2 extension wands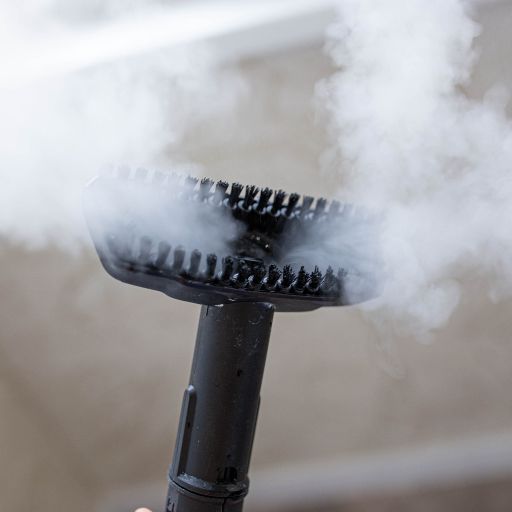 Pros
Tap water friendly
Commercially rated machine
Continuous refill
Safety features and certifications
Italian made
Loads of accessories
Excellent warranty
Cons
Requires routine maintenace (descaling – all steam cleaners need this)
Steam trigger is easy to accidentally press
Pricey for home use (but worth it)
Water Requirements for the Pro6 Duo
Filtered water or bottled water is the best choice for Pro6 Duo. This is because the sensors in the steam cleaner detect minerals in the water, not water itself. If you use distilled water there are no minerals for the sensor to detect.
You can use a combination of distilled water and tap water at a ratio of 80% distilled to 20% tap water.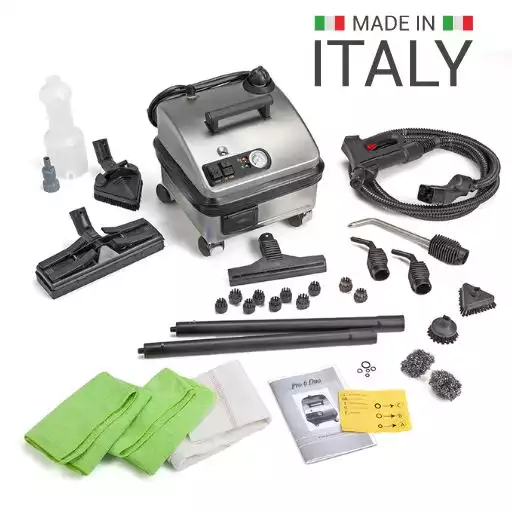 Maintenance Requirements for the Pro6 Duo
Like all steam cleaners, the Pro6 Duo requires routine maintenance to keep it operating at peak performance. For domestic use, descaling is recommended every 3 months. In a commercial setting, you may need to descale more often, or use filtered water.
To descale the Pro6 Duo:
Wait until the steamer has completely cooled down.
Turn off and unplug the steamer from the power point.
Empty the boiler by unscrewing the drain plug underneath the machine.
Put the drain plug back in and tighten.
Fill the tank with approximately 2.1 quarts of water.
Add a standard descaling product to the reservior.
Plug the steamer back in and turn it on.
Wait for the green light to display, showing the boiler has heated.
Turn off the steamer.
Press the steam trigger on the handle to discharge any built up steam.
Unplug and allow the steamer to cool for a few hours.
Empty the boiler thank by unscrewing the drain plug underneath the machine.
Rinse the tank with clean water (at least twice) to ensure all of the descaling product and mineral build up has been removed.
Fasten the drain plug back into the bottom of the tank.
Your Pro6 Duo steam cleaner is now ready to use again.
What are the benefits of a commercial steamer like the Vapor Clean Pro 6 Duo?
When searching for the best steam cleaner, you should look for the most powerful machine especially if you need a model that can deep clean very dirty surfaces. In this regard, commercial steam cleaners such as the Vapor Clean Pro6 Duo are the best because they are more powerful, versatile and durable. Due to their unique features, you don't need to hire a cleaning company or a professional to deep clean various parts of your home.
If you offer commercial cleaning services, the Pro6 Duo combines functionality with portability for effective cleaning of grout, tiles, upholstery and more.
Frequently Asked Questions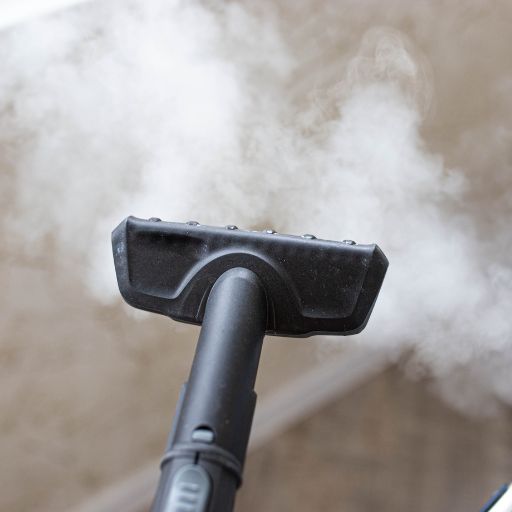 How Do Vapor Steam Cleaners Work?
Vapor steam cleaners produce steam with high temperatures and low moisture content, generally 5% of less. This dry steam helps to break the bonds between the surface and the dirt for easier cleaning. The high heat of the vapor steam is highly effective in killing all microorganisms and allergens.
Vapor steam cleaners also have multiple steam settings and operate at higher PSI than home use steam cleaners. You will find that the water content of the steam varies with different pressures. The trick to effectively using a vapor steam cleaner is the use the low steam setting and let the heat do the work. That way you are not stopping and waiting for pressure to rebuild – a steady pressure is maintained.
Where Can I Use the Vapor Clean Pro 6 Duo?
The Vapor Clean Pro 6 Duo is a commercial-grade model meaning that you can use it for general cleaning and more complex cleaning tasks. It is suitable for cleaning in both home and commercial uses. Use the Pro6 Duo to clean your floors, car interior, furniture, upholstery, carpets, bathrooms, oven, walls, windows and many others.
How Do I Choose the Best Commercial Steam Cleaner?
Choosing the best commercial steam cleaner can be a time consuming task. The things I look for most in steam cleaners are:
Overall Construction: Make sure that the outer casing is made of top-quality and long lasting materials. In this regard, the Vapor Clean Pro 6 Duo Steam Cleaner is made of sturdy materials which can with stand tough cleaning conditions.
Steam temperature and pressure: Apart from the construction, you should check the steam temperature and pressure to ensure that the machine is suitable for deep cleaning tasks. You should consider a steamer a combination of high temperature and high pressure.
Number of accessories: If you are searching for a versatile unit, you should ensure that it comes with many accessories. For example, the Pro 6 Duo Steamer comes with 31 commercial-grade accessories to enhance versatility.
Portability: Most commercial steamers are a bit heavy due to their rugged construction. When buying, you should look for a machine that comes with a carrying handle and caster wheels. With such a steamer, you can clean houses with many rooms easily.
Use: Even if steam cleaners are used for the same purpose, they do not work the same. Before you invest in a steam cleaner, you should make sure that it is perfect for the type of cleaning you want to do such as auto detailing, grout cleaning, oven cleaning etc.
What is a Commercial Steam Cleaner?
Compared to ordinary steam cleaners, commercial steamers offer higher steam temperatures, more pressure, longer running times, heavy duty parts and built to withstand continous use and tough conditions.
Enjoy Your Vapor Clean Pro6 Duo Steamer
If you are in need of a powerful and durable steam cleaner with continuous fill to tackle lengthy tasks, you really can't go past the Pro6 Duo from Vapor Clean. From auto detailing to commercial cleaning or if you want the best machine on the market for home steam cleaning, this 6 bar steamer can handle any specific cleaning task with ease.
The Pro6 Duo is comparable in PSI and boiler temparature to the Vapamore Forza and Mondovap 2400. Both machines are more expensive than the Pro6 Duo, making the Pro6 duo steam vapor cleaner a worthwhile buy.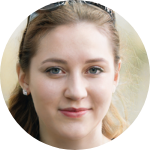 About the Author
Hi I'm Lauren. Passionate organizer, t-shirt folder and owner of a commercial garment steamer, steam cleaner and handheld steamer. I'll discuss all things steaming, so if you need help with buying or using a clothing steamer or steam cleaner, I'm here for you. Please join me on Facebook and don't hesitate to reach out if you have any questions. Happy Steaming!