Top 5 Best Steam Vacuum Cleaners in 2023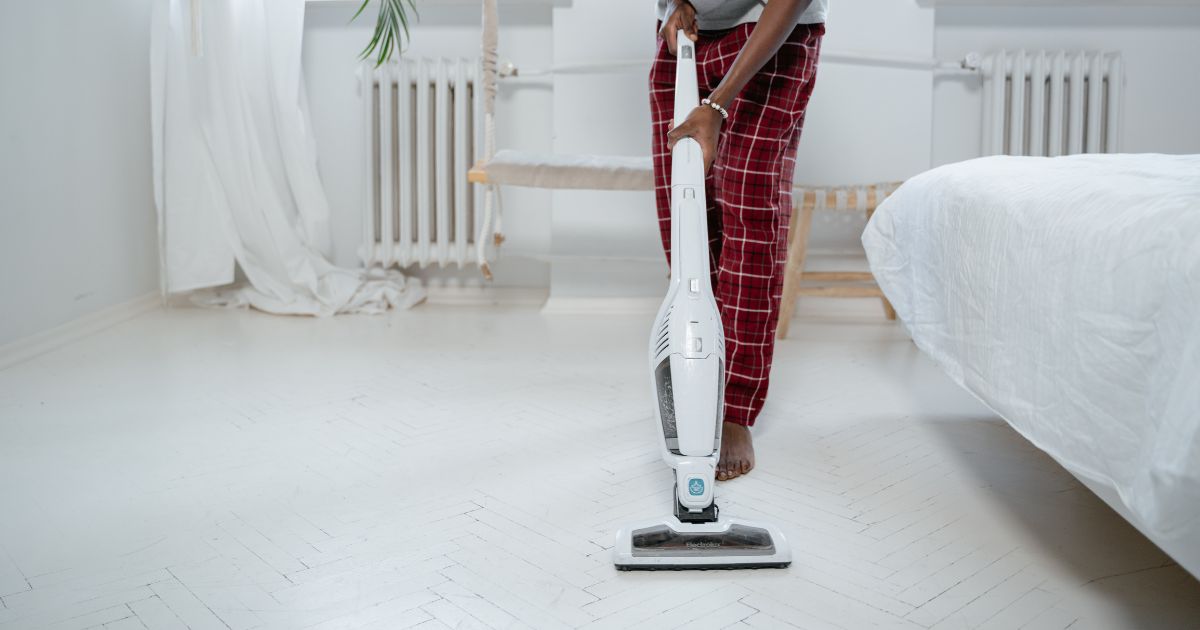 A steam vacuum cleaner is a multifunction machine that can steam clean and vacuum separately or simultaneously. Excellent for allergy sufferers, steam vacuums use water to trap dirt and grime instead of using vacuum bags or canisters.
Steam vacuum cleaners can clean almost any surface, including hard floors, carpeting, furniture, and mattresses. If you want to learn which steam vacuum cleaner is right for your household or business, check out the following recommendations:
What Is the Best Steam Steam Vacuum Cleaner?
Here are my top picks for the best steam vacuum cleaners: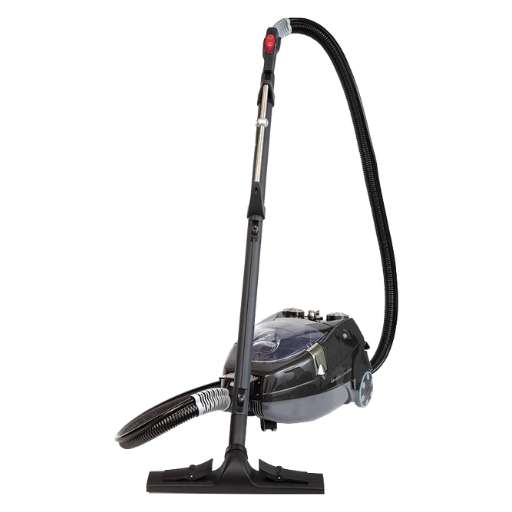 US Steam SeaHawk Steam Cleaner
Made in Italy, this steam vacuum by US Steam looks the most like a traditional vacuum. It is compact, heats up quickly, and has excellent accessories for steaming and vacuuming hard and soft surfaces. Suitable for residential and commercial use, it has a HEPA filter and runs for up to 60 minutes.
If you are looking for a middle-of-the-range (price-wise) steam vacuum suitable for either home or commercial use, consider the US Steam SeaHawk steam vacuum cleaner.
It uses a sophisticated 2-stage filtration system to trap large dirt particles during the first filtration stage.  After the large particles are removed, a HEPA filter traps even the tiniest particles up to 0.3 microns.  
This machine has a hot water injection function that effectively removes odors and stains, such as soda, wine, juice, etc.  You can also use it to remove tough stains or embedded hair from fabrics, carpets, or furniture once you connect the appropriate attachments.  
Apart from the effective filtration system, it takes just 5 minutes to heat water up to 330⁰F, and the steam comes out at a pressure of 80 PSI.  The steam tank has a capacity of 2.11 quarts and offers a cleaning performance of 60 minutes.
There are up to 24 accessories in the package box to ensure that you have all tools for your home or commercial cleaning needs. 
To enhance mobility, it features easy-rolling wheels at the bottom. Other features you will find in this machine include a steam-ready indicator, low water alert, and steam trigger on the hose. 
Key Features:
Heats up to 330°F
Outputs steam up to 80PSI
Three steam settings
Runs for up to 60 minutes
HEPA filter
Using the SeaHawk Steam Vacuum
The SeaHawk is an easy-to-use steam vacuum suitable for hard floors, soft furnishings, or upholstery cleaning.
You don't get the detergent functionality you do with the Desiderio, nor is the warranty as good. It is for the design, however, that I chose a model similar to this to purchase. There are no heavy parts to lift off, and attachments come on and off at the click of a button.
The HEPA filter is a must for allergy sufferers, although you will find this on other models as well. You can vacuum and steam at the same time on the low and medium steam settings.
I rarely use the high steam setting (it's not needed), and after owning a steam vacuum for the last 12 months, I don't often steam and vacuum at the same time either, so being able to use the vacuum on low and medium steam isn't really a problem.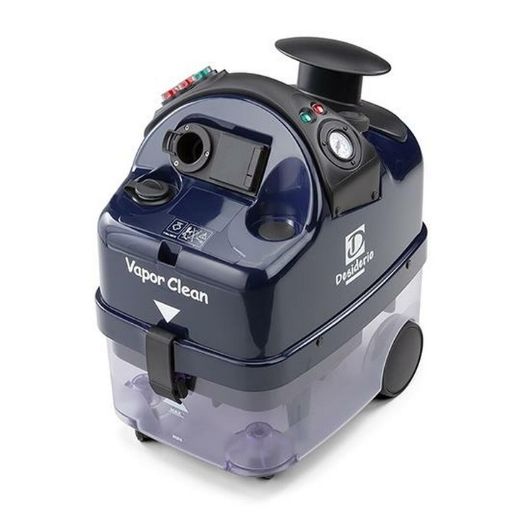 Vapor Clean Desiderio Steam Vacuum
The Desiderio steam vacuum by Vapor Clean is a compact commercial machine. It's a little top-heavy, and you need to lift the top off to add water underneath. Cheaper than the US Steam SeaHawk and offering a better warranty, this is one to consider for both residential and commercial settings.
The Vapor Clean Desiderio is another commercial steam vacuum cleaner you can use to deep clean even the dirtiest surfaces. It is made in Italy, and you can use it for residential or commercial cleaning.
One of the unique features of this machine is the water injection and detergent tank. As a result, you can add your preferred detergents to enhance performance when handling tough or stubborn dirt.  This also enables it to offer a continuous performance since you don't need to stop to refill. 
It provides wet and dry vacuum functionality, making it ideal for cleaning all types of dirt, including wet messes. The 2.7 liters stainless steel boiler heats water to 318⁰F to produce dry vapor steam.  You will find up to 19 cleaning attachments for cleaning different areas. 
There is a steam adjustment knob for setting your preferred steam output, plus super heater buttons that allow you to alternate between high or low wattage. This gives the machine more heat when required. 
Key Features:
Heats up to 318°F
Outputs steam up to 75PSI
3 steam settings
Runs for up to 60 minutes
HEPA filter
Using the Desiderio Steam Vacuum
The Vapor Clean Desiderio is simple to use. You can use it as a steam cleaner, a wet vacuum, a dry vacuum, or steam and vacuum simultaneously.
The square design is a little bulky, and if you don't have a lot of upper body strength (like myself), you may find the top section heavy to lift off.
The large black section on top serves as a handle and a place to store the power cord when not in use.
With the Desiderio, you get the functionality of the higher-end industrial steam cleaners at a much cheaper price, especially the detergent feature that is not found on most steam vacuums. This makes the Desiderio a worthwhile buy.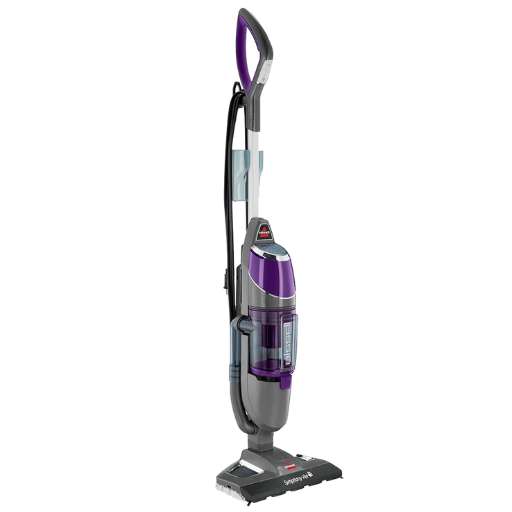 Bissell Symphony Steam Mop and Vacuum
If you want a steam mop that can lightly vacuum for quick cleanups on hard floors, consider the Bissell Symphony. Use it as a vacuum, steam mop, or both simultaneously. It has a low and high steam setting and runs for up to 15 minutes.
The Bissell Symphony Vacuum and Steam Mop is a budget-priced, entry-level steam vacuum. Bissell is available in many countries worldwide, and when it comes to their steam mops, they are hugely popular.
It's a bit heavy and bulky, like an upright vacuum, but it can be a great addition to your home for daily cleaning, in conjunction with a steam cleaner for deeper cleaning weekly.
The digital controls on the handle are convenient, as are the washable steam mop pads and optional disposable cloths. You can also use it on low pile rugs and the steam mop on the carpet – but the vacuum is only for hard floors.
The pet version has an extra strainer in the collection tank to separate dirty liquid from larger debris, such as clumps of hair. This is great in theory, but if you have a lot of pet hair, you may need to empty this filter during use and change the mop pads.
Key Features:
Heats up to 212°F
Two steam settings
15-minute cleaning time
Heats in 30 seconds
Using the Bissell Symphony Steam Vacuum
The Bissell Symphony is a simple machine. Plug it in, choose your steam setting and start cleaning.
Having pets in my home, I chose not to buy a Bissell Symphony but rather a more expensive steam cleaner and a vacuum for above-floor cleaning. This all-in-one setup has some slight design quirks, such as the vacuum at the front and the steam mop behind.
This leaves a gap around the edges of the room, or furniture, the width of the vacuum section. I also found the vacuum isn't very strong and best for light cleaning. My full review of the Bissell Symphony explains this further.
If you are in the UK, the Bissell Symphony is named the Bissell Vac and Steam (model number 1977E).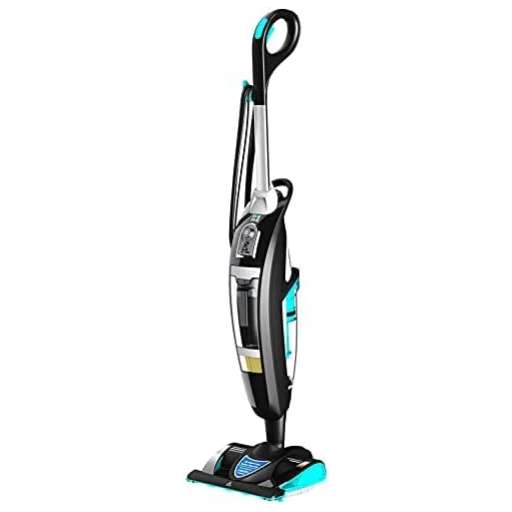 Five Fine Steam Vacuum Cleaner
If you're in the UK, consider the Five Fine steam vacuum as an alternative to the Bissell Vac and Steam. It steams at least double the time and has a HEPA filter on the vacuum and an extra large water tank. It is similarly priced to the Bissell and is backed by a 2-year warranty.
This vacuum and steam mop has similar features to the Bissell Vac & Steam Cleaner, although the two machines are different.
Like the Bissell model, the Five Fine Steam Mop allows you to vacuum and steam separately or simultaneously.  It has a suction power of up to 10KPa, which effectively removes hairs or other small dirt particles from the floor.   
For easier use, it has a swivel steering plus a corner brush for cleaning the edges of the floor, baseboards, or furniture.
The control buttons are located on the handle to make your work easier. The 730ml water tank enables it to run continuously for 40 to 60 minutes. Unlike the Bissell Vac & Steam, this one features a high-quality filtration system known as the dust cyclone separation technology to remove 99.99% of dust particles.
It also has a carpet glider for cleaning carpets, floor mats, and rugs.  
Key Features:
Heats up to 320°F
Two steam settings
Up to 60 minute cleaning time
Heats in 30 seconds
Using the Five Fine Steam Vacuum
This upright steam vacuum is bulky and heavy, weighing around 10 lbs. With a slight design change, it has an extra large water tank and dirt collection tank, so you don't need to stop and clean it out so regularly.
You get the same problem as the Bissell Symphony, where the vacuum is in front of the steam mop, but it's relatively narrow. There are also little brushes on the edges, which help to remove dust from the edges of furniture and baseboards.
Some users found it didn't vacuum up pet hair as well as they would have liked. With a 500-watt vacuum, this isn't hugely strong and would be best for light cleaning.
Like the Bissell Symphony, it comes with a carpet glider to refresh rugs and carpets, but deep vacuuming is not ideal.
What is a Steam Vacuum Cleaner?
A steam vacuum cleaner is a multifunctional household cleaner that combines the benefits of steam cleaning and vacuum cleaner into one unit.
It uses forced steam from the tank to break down dirt and grime. The vacuum can then suck back up any excess water. The steam can clean almost any surface because of its high temperature, which means fewer chemicals are involved, and is safer for the environment.
Steam vacuum cleaners can also vacuum water, just like a wet vacuum. Steam vacuum cleaners don't necessarily provide better cleaning results than vacuuming and steam cleaning separately. Combining two machines into one can save space and time, particularly in commercial settings.
Are steam vacuums any good? 
Steam vacuums are good for cleaning hard floors and refreshing carpets. The suction isn't as good on carpets alone, so if you have a lot of carpets in your home, they may not be the best choice for you.
Are steam vacuums safe for hardwood floors?
Any steam cleaner should be used with care on hardwood flooring. Too much heat or steam can cause white marks to appear in the timber and the breakdown of timber coatings. Always use the lowest steam setting when using a steam vacuum on hardwood floors.
Do you have to vacuum before steam cleaning? 
Unless you have a steam vacuum cleaner, you should sweep or vacuum your floors before steam cleaning. Otherwise, you will push around dirt, pet hair, and dust, leaving marks on your flooring.
Does a steam vacuum kill bedbugs? 
Canister-style steam vacuums are the best choice to kill bedbugs, as they have various attachments for accessing hard-to-reach areas and mattress cleaning tools. Adult bedbugs and eggs die when exposed to a temperature of at least 122⁰F; most steam vacuums produce steam at least double this temperature.
My Experience Using a Steam Vacuum Cleaner
A steam vacuum is a perfect way to cut down on cleaning time. You'll be able to vacuum your floors and steam clean them simultaneously for spotlessly clean surfaces. This sounds like a dream come true.
From experience, however, vacuuming and steam cleaning at the same time isn't as easy as it seems. I found the vacuum tends to suck the steam back up quickly. The most efficient way I found to use a steam vacuum is to steam clean a section of the floor, then suck back up any water using the vacuum feature.
I've also used my steam vacuum to clean windows, which did an incredible job. The vacuum prevented water from running down the windows onto the sills and walls below. It was faster and much less work than steaming alone and wiping a cloth over the glass.
So before you buy a steam vacuum, consider how you will use it. If you are likely to clean your windows, mattress, lounge chairs, or sofas, you'll get great value from a steam vacuum cleaner. Keep in mind there is a learning curve to using them effectively, and they require cleaning afterward, too.